No Comments
STL Brewers Heritage Festival to Debute Exclusive Beers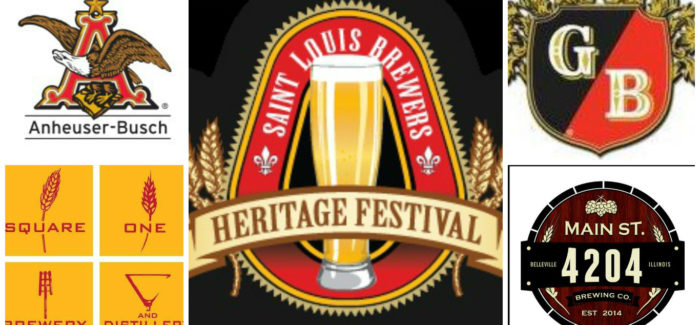 We're counting down the days till St. Louis' biggest local beer festival. With as many as 100 styles of beer from over 40+ STL-based breweries, the event seems like it couldn't get any bigger. However it seems like a trio of collaborations that will debut at the festival will accomplish just that.
The three to be on the lookout for, involve three local breweries, Square One Brewery & Distillery, 4204 Main Street Brewing Company and Griesedieck Brothers Brewery  who will be collaborating in partnership with Saint Louis' biggest and oldest brewer, Anheuser-Busch.
The special batches are:
Land Bier (Anheuser-Busch + Griesedieck Brothers) – Crystal-brown color lager. Dried fruit notes. Nice caramel malt flavor and sweetness with German hop bitterness at the end.
Fest Bier (Anheuser-Busch + 4204 Main Street) – Crystal-brown color with a creamy foam. Nice clove and banana notes. Taste of ripe fruit and bananas. Sweet, with a caramel malt flavor.
Session IPA (Anheuser-Busch + Square One) – Golden color with a unique hop aroma of citrus from the Mosaic and El Dorado hop. Nice malty, bitter IPA.
The beers will be released on Tuesday, May 31 during a special event at the Anheuser-Busch Biergarten, where guests can also purchase tickets to the Heritage Festival and enter to win raffle prizes.
These beers can also be sampled at the Heritage Festival, which is being held on June 11 by the St. Louis Brewers Guild on the riverfront beneath the Gateway Arch. This year's festival will showcase more than 100 styles of beer from over 40 St. Louis-based breweries. Tickets may be purchased at www.stlbg.com/heritage.
While a ticket to the Heritage Festival will include samples of each limited-edition beer, guests will be able to try a full glass of the beers at The Biergarten event – and for just $3! A portion of the proceeds from the event will go to the St. Louis Brewers Guild, a nonprofit whose mission is to promote the St. Louis region's beer scene and breweries.
WHEN
Tuesday, May 31
4 – 8 p.m.
WHERE
Anheuser-Busch Biergarten
1200 Lynch Street
St. Louis, Mo. 63118
---