No Comments
Event Recap | The 10th Annual St. Louis Brewers Heritage Festival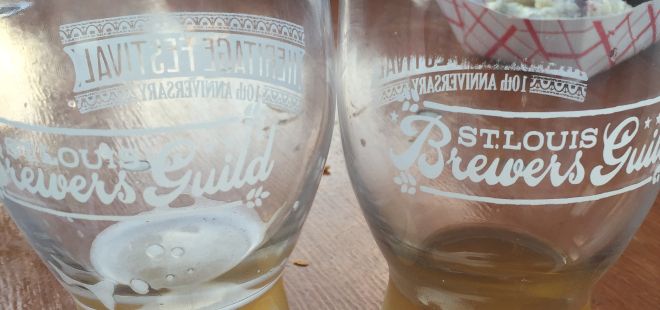 It was a big deal to move a festival as large at the St. Louis Brewers Guild's Heritage Festival from Forest Park to the Arch grounds, so my first reaction is this: it was the right decision.
There was and is nothing wrong with Forest Park, but folks, there is just something about drinking a beer along with thousands of other beer lovers, with the Mississippi River on one side and the Gateway Arch towering over you on the other.
The Layout
Being back on the river was treat.  The layout of the Heritage Festival was really quite perfect, with each beer tent on the same side, with the walkway wide enough to accommodate lines at the tent with walkers crossing through.  On the riverside, festival goers had plenty of room to sit at some tables or lean on the new walkway bridges overlooking the Mississippi River.
At the event, 44 local brewers poured more than 100 beers including a few that stood out for us.  With so many breweries to try our festival game plan was to try breweries we can't frequent on a regular basis, or new breweries we've never sampled.
2nd Shift Brewing
The brewery, known for beers like "Cat Spit Stout" and "Albino Pygmy Puma," has been located in New Haven, Missouri, since 2009.  But it will soon be calling St. Louis home too, with plans announced to build a 18,000 square foot facility on the edge of The Hill neighborhood.  Their Czech Pils (Technical Ecstasy), an International-Style Pilsner (ABV: 5.4% IBU: 35 SRM: 4) was the perfect way to start off an evening of beer sampling on a hight St. Louis night.
Bastard Brothers Brewing Company
The "Bastard Brothers" are among a handful of new breweries entering the local market and it was a pleasure welcoming them and meeting a few of the brothers.  Don't let the name fool you, these are good people who got their start as many brewers do, brewing for themselves.
Deslogetown Brewery
I've been writing this blog for about a year and remarkably there a still a quite a few folks I've not had the pleasure of meeting.  So, when I saw the familiar crest of the Deslogetown Brewery, I went to say hello.  I got to meet the Greg and Kristie Camp, who've been running DB since 2009 when the began as simple homebrewers in a basement on the west side of Desloge, Missouri. 
When I introduced myself, Greg instantly made my night by remembering my using his Kölsch for a recent article entitled: From Portangelo to Tarasenkolsch – here are your St. Louis Blues Brews.  
We sampled Greg's Shotgun Wee Heavy (ABV: 7% IBU: 17 SRM: 15), and promised we would meet and drink together soon.  Beer really is best way to meet new people. 
Stubborn German Brewing Company
Another local brewer we finally had the pleasure of trying for the first time, the brewery from Waterloo, Illinois where they say they brew real German beer, in a real German town, made by real Stubborn Germans.  Stubborn German not only served up a great Munich Dunkel style lager, but they get the award for best beer name.  
Festival Standouts
The beer walk was complete with plenty of other tents and well positioned food trucks.  Some of our favorite stops: Meeting Brian Colon, owner of Crooked Craft Brew Tours, which will be coming to St. Louis late Summer  2016!!
Stand Out Brews
Along the nearly 3/4 mile beer boardwalk, we had plenty of time to sample brews from some of our favorite local beer makers.
American-Style Brett Beer
ABV: 5.4% | IBU: 14 | SRM: 3
American Brown Ale | Civil Life
American-Style Brown Ale
ABV: 4.8% | IBU: 40 | SRM: 21
Kolsch
ABV: 4.4% | IBU: N/A | SRM: 5
Imperial India Pale Ale
ABV: 8% | IBU: 80 | SRM: 5
Amber Ale
ABV: 5.5% | IBU: 25 | SRM: 9.8
India Pale Ale
ABV: 6.7% | IBU: 60 | SRM: 10
The St. Louis Brewers Guild should take a bow.  They created a fun festival that was easy to navigate.  Provided a beer list that, let's face it, can't be beat.  But then remembered to celebrate St. Louis as a beer town by bringing this important festival back to the river front which helped make St. Louis the brewing capital of the world.
And, like any good river festival, they even remembered the fireworks.
See you next year for sure.
---