No Comments
Event Preview | St. Louis Centennial Beer Festival @ Lafayette Square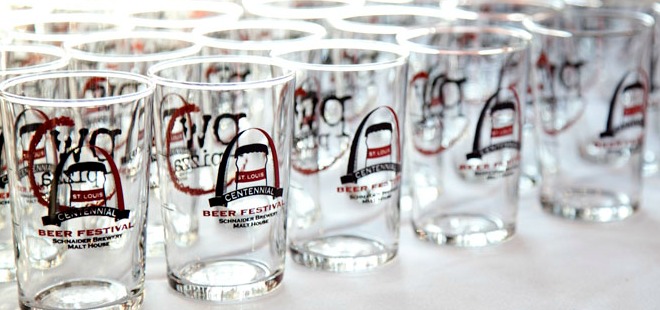 What's better than enjoying amazing craft beer?
Enjoying that amazing beer while talking about it with the men or women who actually made it. That's the basic idea behind the St. Louis Centennial Beer Festival, now in its 8th year, according to founder Jason Arnold. The festival is held in the Lafayette Square neighborhood of St. Louis in a restored malt house built in 1876 for the Schnaider Brewery and will feature 80+ breweries and more than 200 beers.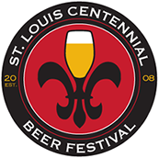 "What I love most about the Centennial Beer Festival is the opportunity to see friends on the other side of the table pouring the beer," wrote Arnold  "From owners, to brewers to the ones in the know, it is festival filled with so many faces of community. Drink up and take it all in."
While the main beer drinking begins on Friday, the festival actually kicks off on Wednesday with Yoga Buzz to get you stretched out before a special preview of some of this year's new beers. The yoga begins at 6pm followed by the tasting which runs till 8pm.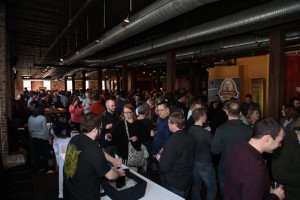 Details
Brewmaster Dinner (Sold Out!) – Thurs, Feb 25th
6-9pm | $69.50 + tax
Beer Tasting and 2nd Annual Home Brewer's Competition
Fri, Feb 26th  6-9pm | $36.75 + tax
As part of the Friday festival ticket, guests will be offered an opportunity to taste & vote for their favorite Home Brew from a variety of local craftsman. The winning Home Brewer determined by the guest's votes will have an opportunity to brew a commercial batch of beer with the Brewmaster. The winning beer will be offered at 21st Street Brewer's Bar with the spring line-up of beers.
Beer Tasting – Sat, Feb 27th
2-5pm | $39.75 + tax
6-9pm | $39.75 + tax
VIP Tasting Room
Extra $21 + tax
The VIP upgrade is available for Saturday afternoon and evening and features rare, vintage and cellared beer in the Malt House Cellar. Some light snacks are also included.
Current Pour List (subject to change)
Theresianer
Lager
Theresianer
Pilsner
Civil Life
Belgian Table Beer
Civil Life
Angel & Sword
Civil Life
American Brown
Civil Life
Belgian Blond
Civil Life
Burton Ale
Civil Life
Big American Stout
Piney River
Masked Bandit IPA
Piney River
Bronzeback Pale Ale
Piney River
Black Walnut Wheat
Piney River
Hot Date Ale
Anima
Anastasia
Anima
Leonardo
Anima
Newton
Anima
Dante
St. Nicholas-

Saturday

Only
Blood Orange APA
St. Nicholas-

Saturday

Only
Wee Heavy
Urban Chestnut
Zwickel
Urban Chestnut
Apotheosis
Urban Chestnut
Wolpertinger
Urban Chestnut
STIPA
Square One
Bavarian Weizen
Square One
IPA
Square One
Biscotti Brown
Square One
Maple Stout
Griesedieck
Bavarian Wheat
Griesedieck
Mild Pale Ale
Six Mile
Irish Red
Six Mile
Bavarian Hefeweizen
Six Mile
Winter Ale
Alpha
Belgian IPA
Alpha
Belgian Tart Blond
Alpha
Saison
2nd Shift-

Saturday

only?
Art of Nerosis
2nd Shift-

Saturday

Only?
Katy
2nd Shift
Vanilla Cat Spit Stout
2nd Shift
Coffee LSD
Deschutes
Pine Drop
Deschutes
Black Butte
Deschutes
Red Chair
Deschutes
E-Hop
Ferguson
Pecan Brown
Ferguson
Oatmeal Stout
Goose Island
312
Goose Island
Winter Ale
Goose Island
IPA
Goose Island
Green Line Pale Ale
Goose Island
BCS
Goose Island
Lolita
Hoegaarden
White
Leffe
Blonde
Leffe
Brun
Anheuser Bush-Bud Light
Margarita Watermelon
Morgan Street
Pilsner
Morgan Street
Black Bear
O'Fallon
Wheach
O'Fallon
Zeke's Pale Ale
O'Fallon
King Louie Stout
Perennial
Saison de Lis
Perennial
Southside Blonde
Perennial
Sump Coffee
Anheuser Bush-Shocktop
Pretzel
Anheuser Bush-Shocktop
Razz
Anheuser Bush-Shocktop
Apple
Southern Tier
Chokalat
Southern Tier
Crème Brule
Stella
Cidre
10 Barrel
Elysian
Blue point
Anheuser Busch
Best Damn Root Beer
4 Hands
Absence of Light-PB Chocolate Milk Stout
4 Hands
Cuvee Diable
4 Hands
Incarnation IPA
4 Hands
Devils Invention
Avery
Ellies Brown Ale
Avery
White Rascal
Avery
Avery Lilikoi Kepolo
Ace
Space Cider
Sudwerk
Farmer's Market Gose
Sudwerk
California Dropped Hop Lager
Crown Valley
Blackberry Cider
Crown Valley
Gunslinger Double IPA
Crown Valley
Farmhouse Lager
Excel
Eastside IPA
Excel
Lefty's Lager
Excel
Southside Stout
Firestone Walker
Double Jack
Firestone Walker
Opal
Firestone Walker
Union Jack
Firestone Walker
Pivo Pils
Founders
Dirty Bastard
Founders
All CAN
Founders
Mango Magnifico
Free State
Mix
Free State
Backus Barley Wine
Green Flash????
Great Divide
Big Show Variety
Great Divide
Candemonium Brewer's Sampler
Stone
Variety 2/12Pk
Stone
12th Anniversary Stout
Stone
Deliicious IPA
Stone
IPA
Stiegel
Grapefruit
Genesee
Cream Ale
Lakefront
New Grist-Gluten Free
Left Hand
Sawtooth ESB
Left Hand
Polestar Pilsner
Left Hand
Bittersweet-Imperial Coffee Milk Stout
Left Hand
Nitro Milk Stout
Logboat
Snapper IPA
Logboat
Marmoot Mild
Logboat
Barrel Aged Beer
Chimay
White-Triple
MDV-Westmalle
Trappist TRIPEL
MDV-Saison 1858
Saison 1858 – 25
MDV-Orval
Trappist Ale
MDV-Ayinger
Celebrator Doppelbock
New Holland
Dragons Milk-Chili
New Holland
Sampler
North Coast
Class of '88 Barley Wine
North Coast
Puck Petite
North Coast
Scrimshaw Pilsner
Oskar Blues
Can Sampler
Oskar Blues
IPA
Oskar Blues
Ten Fidy Imperial Stout
Public House
Cream Ale
Public House
Elusive IPA
Public House
Flynn's Irish Red
Rogue
Hazelnut Brown
Rogue
XS Dead Guy Ale
Santa Fe
Adobe Igloo Winter Warmer
Santa Fe
Java Stout
Seattle Cider
Dry 6/4Pk Canl
Seattle Cider
Gin
Seattle Cider
Semi Sweet
Hebrew
Lennys
Hebrew
A Trois Ipa
Ska
Mandarina
Ska
Sampler
Kronenbourg
Kronenbourg 1664 4/6Pk – 11.2Z
Schlafly
Rel Farmhouse Il
Schlafly
Grapefruit IPA
Schlafly
Barley Wine
Schlafly
Tripel
Schlafly
Grand Cru
Tallgrass
Saison
Tallgrass
Rope Ipa 6/4Pl
Tallgrass
Tooth Expr
Tallgrass
Variety 3/8Pk
Tallgrass
Vanilla Buffalo Sweat
Weihenstephan
Vitus
Two Brothers
Domain Dupage
Two Brothers
Wobble Ipa
Uinta
Birthday Suit
Uinta
Black Lager
Moosehead
Radler
Delirium
Tremens
Anchor
Steam
Bells
Porter
Breckenridge
Vanilla Porter
Hofbrau
Original Helles
Kraftig
Regular
Kraftig
Light
Lagunitas
Little Sumpin Sumpin
Lagunitas
Undercover Shutdown
Lagunitas
Brown Sugga
Lagunitas
Cappucino Stout
Odell
Mixer
Pilsner Urquell
Angry Orchard
Variety Pack
Sam Adams
White Nitro
Sam Adams
Coffee Stout Nitro
Sam Adams
Rebel Grapefruit IPA
Augusta
Imperial Stout Mokka
Augusta
Hefeweizen
Bells
Oarsman-Berlinerweiss
Bells
Two Hearted Ale IPA
Big Sky
Mixer
Blue Moon
Seasonal Mixer
Cathedral Square
Hail Mary
Cathedral Square
Repent Rye
Cathedral Square
Holy Moly
Cathedral Square-Bringing
Ava Maria
Charleville
Karate Kicks Coffee Stou
Charleville
Tornado Alley
Charleville
Half Wit
Charleville
Hoptimistic
Charleville-Bringing
Box of Chocolates
Kirkwood-Bringing
Brewer's Choice-Draft
New Belgium
Eric's Ale
New Belgium
Citradelic
New Belgium
Hoppy Blonde
New Belgium
Side Trip
New Belgium
Glutiny Pale Ale
New Belgium
Folley Seasonal Pack
Shiner
Birthday Beer-Hoppy Blonde
Sierra Nevada
Tropical IPA
Sierra Nevada
Berlinerweisse
Woodchuck
Whiskey Barrel Cherry
Woodchuck
Brewer's Pack
Woodchuck
Gumption
Old Bakery
Piney River
IPA
Piney River
Black Walnut Wheat
Bitburger
Pilsner
Kostritzer
Schwartzbier
Ballast Point
Sculpin
Ballast Point
Pineapple Sculpin
Ballast Point
Even Keel Pale Ale
Ballast Point
Victory at Sea Imperial Porter
Boulevard
Heavy Lifting
Boulevard
Early Riser Coffee Porter
Boulevard
Telltale Tart
Boulevard
Wheat
Boulevard
Tank 7
Boulevard
The Calling
Duvel
Duvel
Ommegang
Shadow Brewer Imperial Stout
Boulevard
Imperial Stout w/ Coconut
Ommegang
Rosetta
Modern Brewery
Citropolis
Modern Brewery
Odinson IPA
Modern Brewery
Arkham's Finest Coffee Stout
AB Pilot Brewer
Mark Twain
Habaneri Apricot Wheat
Mark Twain
Jumping Frog IPA
Mark Twain
Kolsch
Mark Twain
Chocolate Coffee Stout
Broadway
Big Muddy
India Pale Ale
Big Muddy
Sweet Stout w/ Madagascar Vanilla
Big Muddy
Spiced Winter Ale
Carson's
American Wheat
Carson's
Russian Imperial Stout
Carson's
Red IPA
Evil Twin
Gose
Evil Twin
Imperial Black & Tan
Stillwater
Saison/Farmhouse
Stillwater
Belgian Stout
The Centennial is proud to partner with the St. Louis Area Foodbank to raise funds to fee the hungry in our region.
---