No Comments
Schlafly Beer | Bonfire Box (Variety Pack)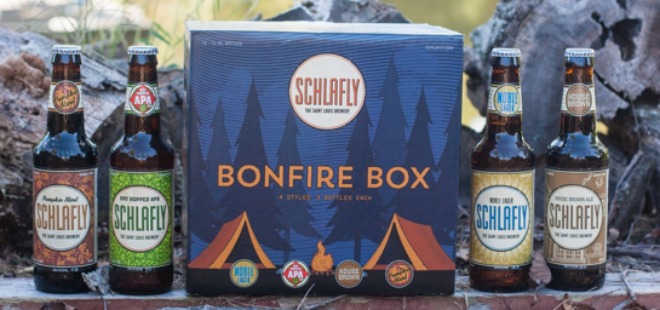 When hockey season starts in St. Louis, this is how I spend many a night:  I slip on my Blues ski cap to protect my balded head, throw on my jersey, bring out the big screen and connect it to my DirectTV Genie, light a fire and drink beer while watching the Blues. Cold beer in the backyard by the fire is one of life's true pleasures. But until now, drinking by the fire could be a random affair. Not anymore thanks to Schlafly Beer Bonfire Box — beers designed for campfire-style drinking.
This month, Schlafly Beer introduced beer brewed with fall camping trips, backyard bonfires and outdoor adventures in mind. Clearly they were thinking of me.
It's called the Bonfire Box and it's Schlafly's new seasonal sampler pack featuring four different autumn beers.
With the change of seasons from summer to fall, beer drinkers look for bolder styles of beer," said Ambassador Brewer Stephen Hale. "Whether hop-forward like our Dry Hopped APA (which is back in bottles) to fuller-bodied beers like our Pumpkin Stout."
Many of us got to try some of the beer found in the Bonfire Box during the August Hop In The City event. The Noble Lager and the House Brown Ale were my two favorites, but all four really will do the trick in giving you that little something extra when consuming outside in the cold next to the pit.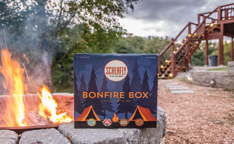 Pumpkin Stout (ABV: 6.8% | IBU: 20)
It has all the flavors of fall from autumnal spices to roasted sweetness for a well-balanced stout. The recipe is a result of an improvisational union between two of Schlafly's most popular beers — Pumpkin Ale and Oatmeal Stout. When looking to prolong the supply of the sought-after Pumpkin Ale at a beer festival, the team began mixing it with Oatmeal Stout. Thus, the now intentional brew of Pumpkin Stout was born.
Dry Hopped APA (ABV: 5.9% | IBU: 50)
The award-winning, refreshing Dry Hopped American Pale Ale (APA) is an American twist on an English classic. It's charged with American hops and malts to create a bold, balanced beer with pine/citrus aroma characteristics and a full body. After fermentation, the brewing team circulates the beer continuously for two days through dry Cascade and Chinook hops, boosting the distinctive flavor and hop profile of this crisp, refreshing, and satisfying ale.
Noble Lager (ABV: 5.0% | IBU: 30)
Brewed with the highest quality noble hops from Europe, this take on a traditional lager is rich in hop aroma without being too bitter. Light-golden in color, the beer has an invigorating crisp finish. Magnum and Tettnang hop varieties from Germany bring both floral notes and a definitive earthiness, while the Lubin hop, traditionally used in lagers, rounds out the medium-bodied malt character. The noble Hallertau hop lends a hint of spice for a smooth and balanced beer–everything a European lager should be.
House Brown Ale (ABV: 5.6% | IBU: 30)
The House Brown Ale is strong enough to hold the interest of those needing a bold hop dosing, but smooth enough for those craving something slightly sweeter. Brewed in the style of an American brown ale, it's straightforward in its maltiness and brings a full flavor, offering a simple refinement that appeals to any drinker.
---