No Comments
Cooking with Beer | Rivertowne's Old Wylie's IPA Baked Drumsticks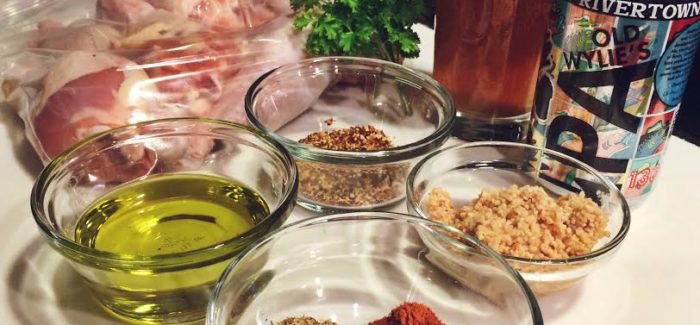 This recipe is featured on These Are My Storys.
In honor of National Beer Day this past April 7th, I wanted to create a special Cooking with Beer recipe full of flavor, spice, and of course, beer.
ABV: 6.2%
Rivertowne Brewing, located outside of Pittsburgh, Pennsylvania along the Allegheny River, creates brews such as its signature Babbling Blonde American blonde ale and Hala Kahiki pineapple ale.
Rivertowne's Old Wylie IPA is a brew full of delicious herbal notes and a hoppiness that enhances the juiciness of the chicken. At 6.2% ABV, it leaves all of its flavor in the drumsticks with no lingering boozy flavor. Adding a bit of spice to a dish that is either cooked with or served with an IPA really seems to enhance the flavor of both the dish and the beer.
Drumsticks are always a crowd-pleaser, so pair this with some baked asparagus and homemade mac and cheese for a tasty weeknight dish!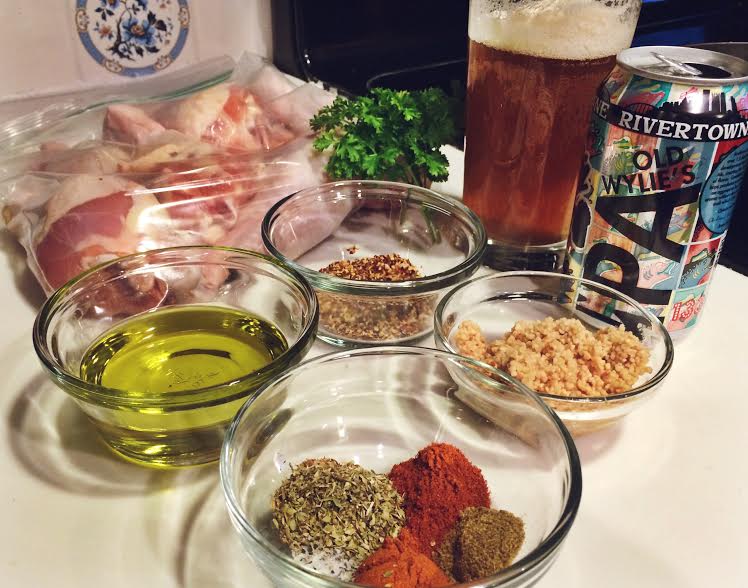 Ingredients
1 can of Rivertowne Old Wylie's IPA
8-10 chicken drumsticks
1/4 cup olive oil
4 cloves garlic, minced
1 tsp. paprika
1 tsp. cayenne pepper
2 tsp. oregano
1 tbsp. red pepper flakes
1/2 tsp. ground cumin
1/2 tsp. salt
1/2 tsp. pepper
1/4 cup chopped fresh parsley
Directions

1. Put the drumsticks into a gallon-size Ziploc bag
2. In a bowl, mix together all of the ingredients, except the parsley
3. Pour the mixture into the Ziploc bag and massage the liquid into each drumstick. Then place the drumstricks in the fridge for 1 hour to let them marinate
4. Place the drumsticks on a baking pan and pour the mixture leftover in the bag on top of the drumsticks
5. Bake the drumsticks in the oven at 400 degrees for 20 minutes; flip the drumsticks over and bake for another 20 minutes or until the chicken reaches 160 degrees on a meat thermometer
6. Sprinkle the chopped parsley over the drumsticks and enjoy!
---