No Comments
Urban Chestnut Zwickel Radlers to Debut at Oktoberfest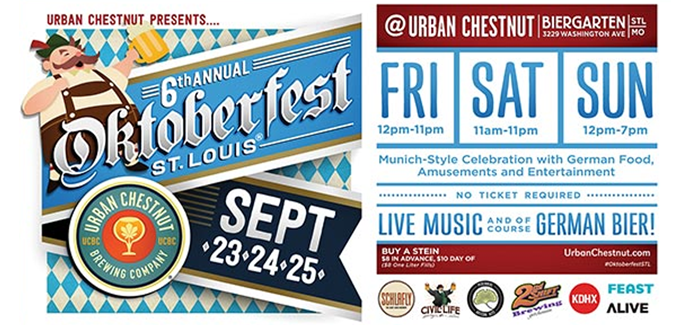 As the cooler temperatures of fall ascend on our city, it's time to welcome back fall beers and of course fall beer festivals. That's right it's time to drop the C in October and replace it with the K, and welcome back all of area's bests Oktoberfests.
Urban Chestnut Oktoberfest
The sixth annual Urban Chestnut Oktoberfest St. Louis kicks off Friday, September 23rd at the Midtown Brewery & Biergarten and will span three full days complete with a host of guest breweries and of course plenty of German style beer.
What We'll Drink
Urban Chestnut's German staples like Oachkatzlschwoaf (Annual Oktober-Festbier), Zwickel (Bavarian Lager), Schnickelfritz (Weissbier), Stammtisch (German Pilsner), and Dorfbier (Dunkel) will be available, along with Ku'Damm (a Berliner Weiss sour beer with optional house-made syrups). Xaver, an Amber Weissbier, brewed in collaboration with Karmeliten Brauerei in Straubing, Germany is making a special return for the event.
Additionally, German-styled beers from fellow St. Louis brewers Perennial Artisan Ales, The Civil Life, 2nd Shift, and Schlafly.
"Hosting our friends is one of my favorite aspects of the festival – it really adds to the convivial spirit that's such a big part of the tradition of an Oktoberfest celebration," said co-founder and brewmaster Florian Kuplent.
Rise of Radlers
But perhaps the most exciting new beer at this year's event is the debut of Radlers.
This is UCBC's first foray into the continuing surge of lemon or lemonade blends. While beer and lemon have been brewed together for years, it's been fun to see the attention Shandys and Radlers have received especially with local female beer lovers.
The legend of the Radler dates back nearly a century to post World War I Germany, when an innkeeper named Franz Xaver Kugler, opened a tavern and tried to capitalize on the newest craze of bicycling by working to have a bike path built right to his establishment.
On the day thousands of bicyclist showed up demanding beer, Kugler realized he would not have enough. He quickly remembers a stash of lemon soda, cut it 50/50 with his beer supply with it, and saved the day and gave birth to a legend.
To honor Kugler and his invention, UCBC will serve this traditional Radler, combining their flagship Zwickel, an unfiltered, unpasteurized German classic, with lemon-lime soda.
Event Information
Urban Chestnut Midtown Brewery & Biergarten @ 3229 Washington Ave, St. Louis
Friday, September 23rd from 12 p.m. – 11p.m.
Saturday, September 24th from 11 a.m. – 11 p.m.
Sunday, September 25th from 12 p.m. – 7 p.m.
Entry is free at Oktoberfest St. Louis.
---