No Comments
Brewery Showcase | Cypress Brewing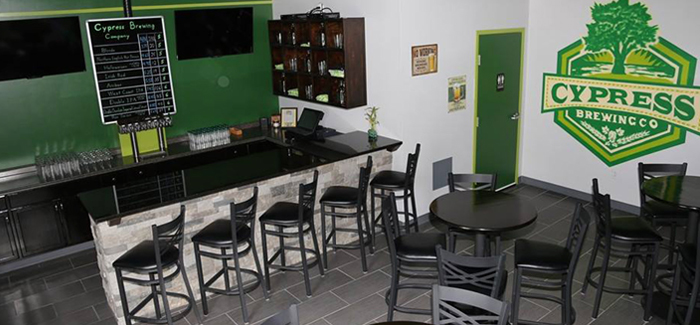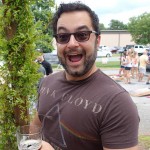 Address
30 Nixon Lane 1E
Edison, NJ 08837
Tasting Room Hours
Monday – Friday
2pm – 10pm
Saturday
12pm – 10pm
Sunday
2pm – 9pm
Assuming a beer is "handcrafted" could be a mistake that your taste buds will never forgive you for. There are fully automated home brew systems out there that let you set and forget, and many big-box breweries use systems so dialed-in that human hands rarely come anywhere near the raw ingredients of the beer. Cypress Brewing in Edison, New Jersey is redefining just how hands-on handcrafted can be.
"It's super handcrafted… we're on a 2 barrel system… I literally stand over the tank the whole time while it's going on, so there's not one second I'm not babysitting it, or in it," says Charles Backmann, co-owner and Head Brewer.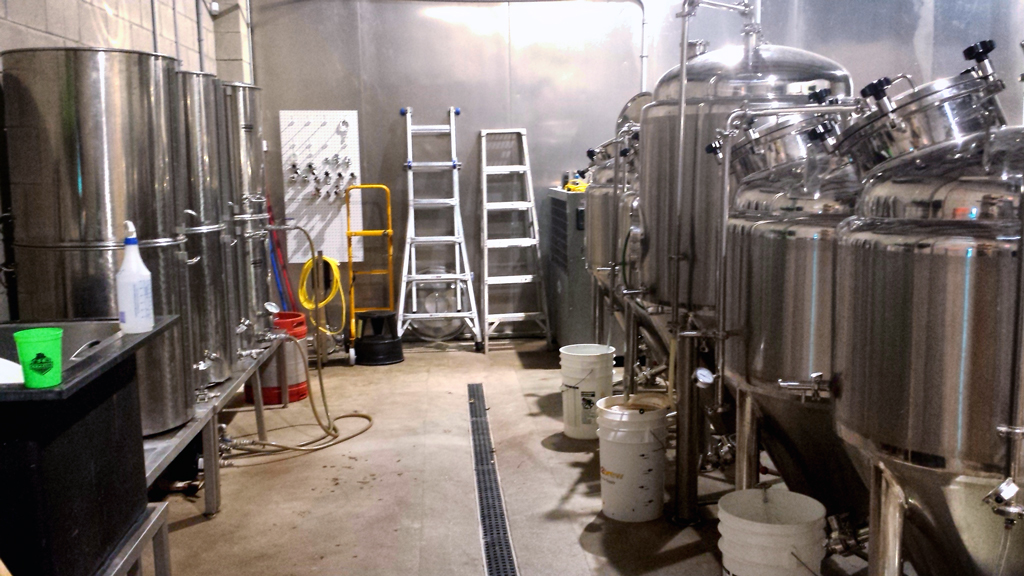 "The system itself is smaller than me… so I stand over it, and if there's a tiny piece of grain that hasn't gotten wet, I will stick my hand in there and break it up by hand and make sure it's perfect. I hand sparge so every drop of my grain is used. Some of my beers I'm at 94% efficiency."
Like Backmann said, he pays lots of hands-on attention to the beer. But lest we forget, a hand is nothing without the fingers that guide it. When Cypress Brewing  opened its doors less than a year ago, many of the helping hands and fingers belonged to family and friends.
"Everything you see is built by us… our fermenters and our brite tanks are made by Stout Tank, but they were actually made specifically for us…so they have all our fittings on them and they're all hand welded… so there are as many nooks and crannies in them as a Thomas' English Muffin," says Backmann.
The bar, tables, bathroom, ceiling, flooring, grain mill, freon unit, and even the refrigerator were all hand built or assembled by Backmann and his friends. The massive Cypress Brewing logo was spray painted by hand, and his mother painted the trees you see on the back wall of the tasting room.
"We built everything from scratch."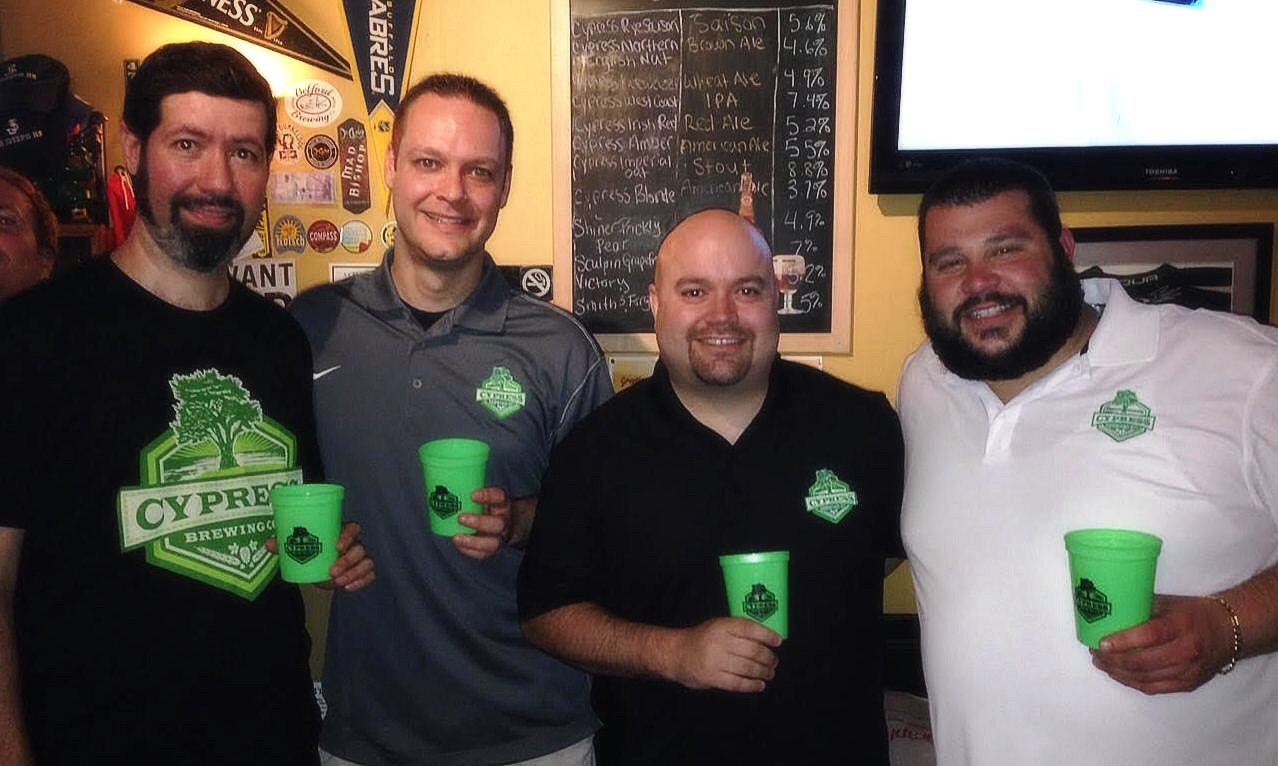 This incredibly hands-on approach is very apparent in the quality and flavor of each of Cypress Brewing's beers. Backmann says about 85% of all the revenue for Cypress Brewing comes from the tasting room. As such, he tries to keep eight beers on tap at all times.
Every beer at Cypress Brewing has standout flavor, but there are two crowd favorites that are must-tries. The Nut Brown is just about as perfect of an example an English Brown that I've ever tasted. Bachmann says it features a grain bill made up of 70% base malt, roasted barley, chocolate malt and a little bit of a "secret ingredient", along with two different types of hops, Fuggles and East Kent Golding. It presents fantastic earthy flavors and aromas coupled with classic wood and fruit tones.
Then there's the Mandarin Porter.
"The California navel oranges were zested right at the bar in front of customers and thrown into the boil kettle…and the second set was zested right at the bar, candied at my house, and put into the secondary," says Backmann.
Hand crafted indeed!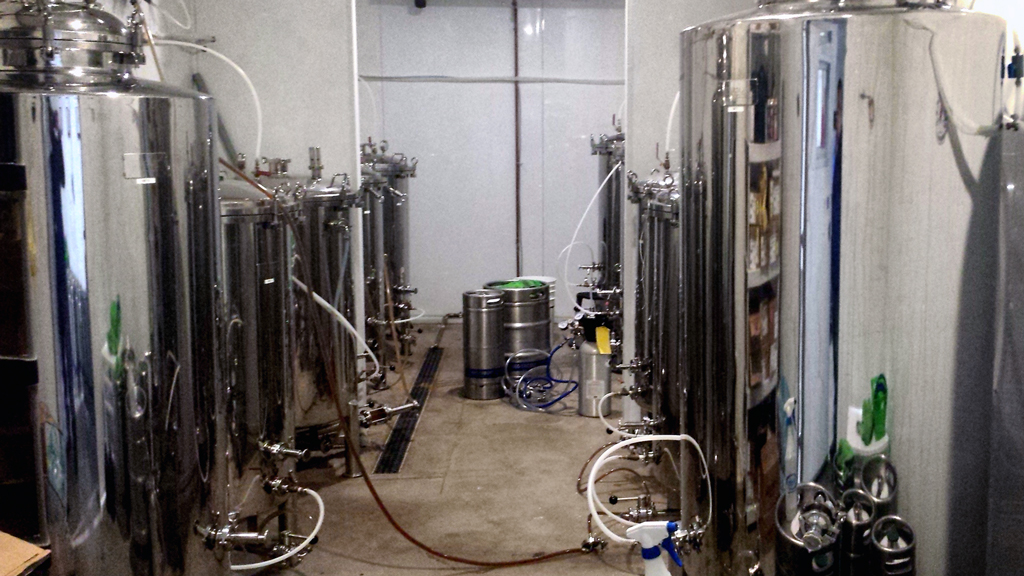 Touring Cypress' brewing facility, one thing is noticeably missing: a filtration system. Backmann has an easy explanation for this.
"There's no filter…we don't even own a filter. There's not one in the building… why would you take taste right out of beer? Every ingredient in it is what gives you the taste, why would you take it out? Do you care what it looks like if it tastes great? Did you ever have White Castle?! It looks like a pile of sh*t but it tastes great, and it's f***ing awesome!"
Let us all stand up and give Cypress a hand for making beer that we can all raise a pint to. Beer, that Backmann says, he has a hard time keeping on tap.
"Our next step is just bigger… just grow. Because we sell out every week. I brew three and four times a week and I'm stuck at the fermenters because I'm the yeast's b*tch…it tells me what to do. I don't tell it what to do… so that's our problem, I can't make enough!"
Certainly not a bad problem to have. We're sure that anyone stopping by Cypress Brewing would be happy to lend a helping hand for your beer, Charles.
---