No Comments
Urban Chestnut's Annual Oktoberfest St. Louis Returns for its 7th Year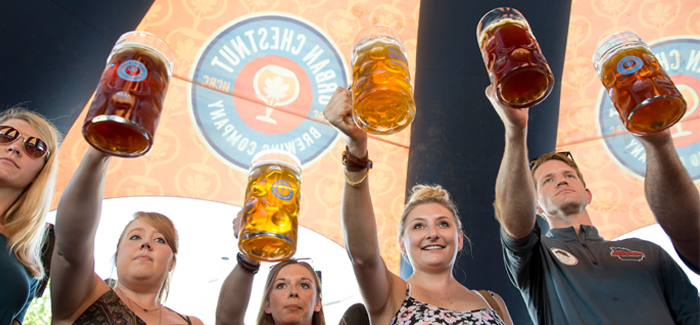 As the cooler temperatures of fall ascend on our city, it will soon be time to welcome back fall beers and of course, fall beer festivals. That's right, it's time to drop the C in October and replace it with the K, and welcome back all of the area's best Oktoberfests, starting with the one that actually takes place in September.
Urban Chestnut Brewing Company's (UCBC) annual Oktoberfest St. Louis returns for its 7th year on Friday, September 22, running through Sunday, September 24, at its Midtown Brewery & Biergarten. The festival will span three full days and about two full city blocks. Bier begins pouring and the fest grounds open on Friday at noon, but Oktoberfest St. Louis officially begins during a ceremonial keg-tapping at 7PM.  The special guest keg-tapper to be announced.

This year, UCBC is taking a page out from one of the largest Oktoberfests worldwide, The Munich Oktoberfest, by trying to make this year's experience smoother and more fun for everyone. This year, organizers are implementing a token-based payment system similar to Munich's Oktoberfest. The purpose of using tokens is simple: save time and save money. The token system simplifies the concept of "monetary exchange" by eliminating change, tipping, and interaction time—thus reducing lines.
During the festival, all beer, food and commemorative Oktoberfest steins will be purchased via the use of tokens, which are valued at $6 apiece. Tokens are purchased in advance of 'exchange' and UCBC strongly encourages anyone who is planning to attend Oktoberfest St. Louis to purchase Fest Packages, which will save the purchaser both time and money! At a discounted price of $25, Fest Packs include five (5) tokens valued at $30 and may be purchased August 23 through September 14.  All other tokens must be purchased, day-of-festival, via cash-only.
"Every year we dial in the Oktoberfest formula a little more. We implemented our token system this year to shorten lines by decreasing the transaction time for beer & food. The one or two-token payment system keeps things simple, especially with gratuity already built in. Festival-goers should really look at getting a Fest Pack ahead of time, which will save those individuals money and reduce their time in line at the festival!" explained Urban Chestnut events manager, Ryan Rakel.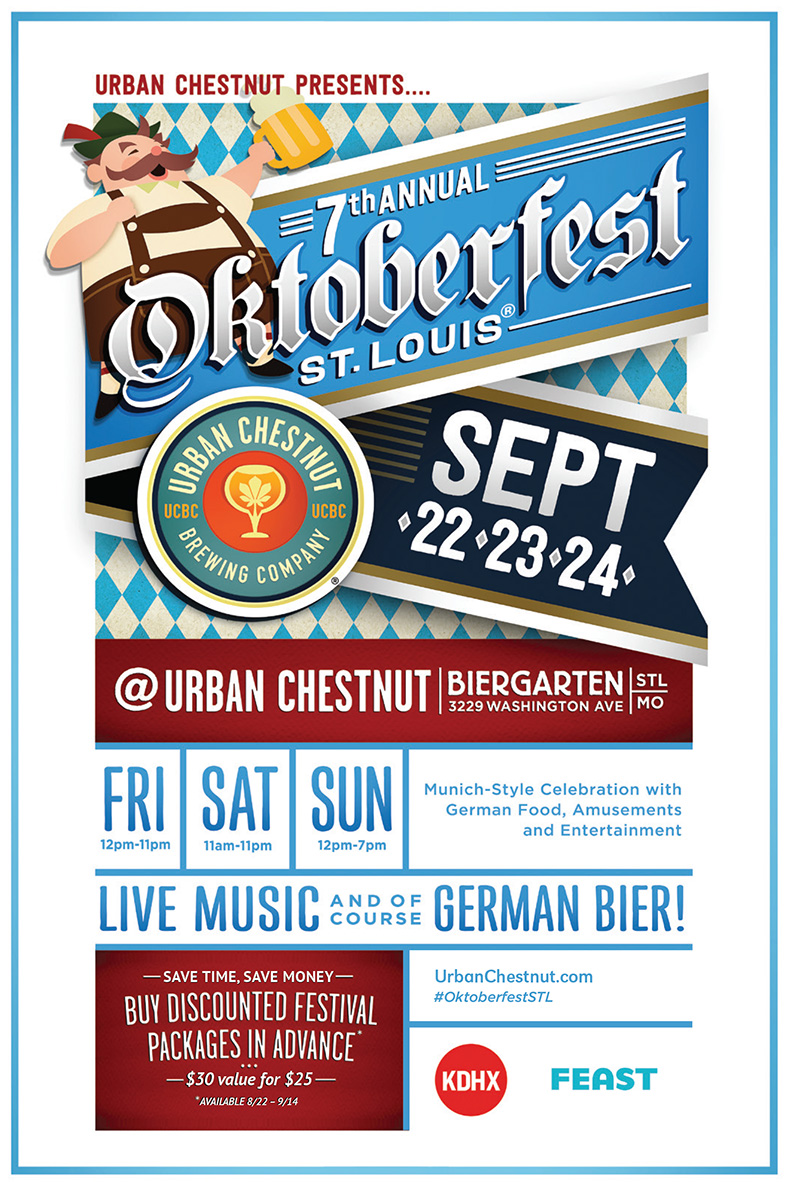 Win VIP Fest Packs via Social Media
Festivalgoers can also compete in a Twitter contest this year to win special VIP Fest Packages by tweeting what they're looking forward to the most about this year's fest and using the official Oktoberfest St. Louis hashtag #OktoberfestSTL
The VIP Fest Packages include a commemorative Oktoberfest stein, five beer & food tokens and a case of O-Katz 16 oz cans. Contest tweets must be published between August 23 and September 11 and contestants must be following Urban Chestnut on Twitter to qualify. One entry per person per day. For more details visit urbanchestnut.com.
What We'll Drink
UCBC's OktoberFestbier/Märzen (Oachkatzlschwoaf), Bavarian Lager (Zwickel) and Bavarian Weissbier (Schnickelfritz) will be available in half-liter and liter pours at the fest.
What We'll Eat
Oktoberfest St. Louis will also feature the standard fare found at Munich's Oktoberfest celebration, i.e. pretzels, brats, currywurst, roasted chicken and frikadellen.
How We'll Play
Popular Oktoberfest competitions like Masskrugstemmen (stein-holding contests) and Fingerhackeln (finger wrestling) will make a return.
What We'll Dance To
Oktoberfest will feature a great line-up of polka and oompah-thumping music from the Bolzen Beer Band, Die Spitzbaum, Dave Hylla's Good Times Band, The Deutschmeister Brass Band, St. Louis Express, Larry Hallar, Uber Cool and many more local, popular acts.
Event Overview
Location
Urban Chestnut Midtown Brewery & Biergarten at 3229 Washington Ave, St. Louis
Dates
Friday, September 22 from 12 p.m. – 11 p.m.
Saturday, September 23 from 11 a.m. – 11 p.m.
Sunday, September 24 from 12 p.m. – 7 p.m.
Cost
Entry is free at Oktoberfest St. Louis.
Festivalgoers may purchase Fest Packs, which include five (5) tokens valued at $30 at a discounted purchase price of $25, from August 23 through September 14 at the Midtown Brewery & Biergarten, the Grove Brewery & Bierhall and online at urbanchestnut.com/merch. Tokens may be purchased individually at the festival for $6 (CASH ONLY).
Tokens include gratuity, so there are no extra costs once they've been purchased.
All food and beer at the festival must be purchased using Oktoberfest tokens.
Special Note
Sunday is traditionally considered "family day" at Oktoberfest St. Louis and will feature a kids tent with Lebkuchen (cookie) decorating, music, coloring and more.
---