No Comments
Forbidden Root | Cherrytree Amaro Ale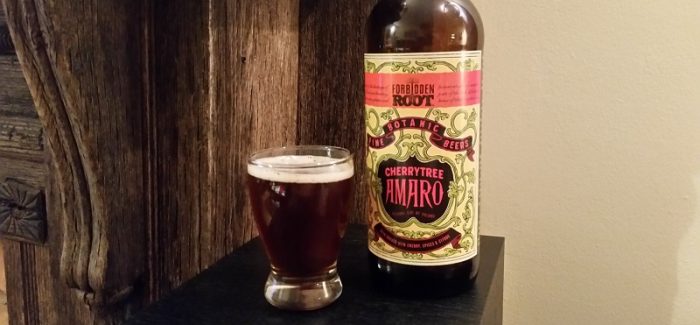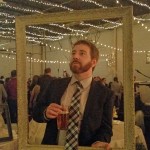 ABV: 9.0%
Botanicals are seemingly having their place in the sun right now. Plants are more popular than ever in America, with people ordering kale in unlikely places, foraging for wild plants to eat, lining up to witness Corpse Flowers blooming country-wide and enjoying some previously illegal ones recreationally in four states. It was only a matter of time before they started showing up in our beer.
Although, that would be an unfair classification, since flowers in beer is as old as beer. Hell, hops are a flower, so technically every beer is a botanical beer. But the term in craft beer lately refers to using any other flowers, roots, herbs, leaves, etc. in the process of brewing the beer. At the forefront of the botanicals in beer movement is Forbidden Root (see their Inside the Tank here!). And their recent bottling of the Cherrytree Amaro Ale is a fantastic example.
Amaro itself is a liqueur traditionally made with a dizzying variety of herbs, spices, roots and whatever other plants inspire the producer. Each brand contains its own secret recipe, with varying flavor profiles from different regions of Italy. The word is Italian for "bitter" and is normally drank neat or with ice as an after dinner beverage. Amaro has been having its own resurgence via the craft cocktail movement. As a result, many formally unknown brands are becoming widely popular.
Which makes it a great time for an amaro inspired beer. Forbidden Root's ale pays homage to the Italian digestif using a variety of elements such as cherry, cherry stems, spices and citrus. Also the bottle label looks like it could pass as an amaro bottle.
As for the beer, you can really smell the cherry as soon as the cap comes off the bottle. It pours a hazy cherry cola color with a fizzy, off-white head that lingers for a bit. The nose comes off a bit like cherry cola, but with an added herbal and citrus rind element. The initial sip really comes through with the herbal bitterness reminiscent of a true amaro, but then sweetens with the cherry flavoring and dries out at the end with the citrus rind. It works great as a slow sipper and increases in complexity as the beer warms.
This beer can be quite polarizing when getting people to try, as it doesn't fit in with any typical styles. Not quite a sour, not quite a fruit beer, and not the style bitterness that hop heads would typically gravitate towards. But it's an intensely interesting beer and shows off how truly unique beer can be. Definitely pick up a bomber if you're an amaro fan. Or if you have your reservations on committing to 22oz, plant yourself at the brewpub and try it on draft (and all their other beers, while you're at it).
---