No Comments
Gun Hill Brewing | Rise Up Rye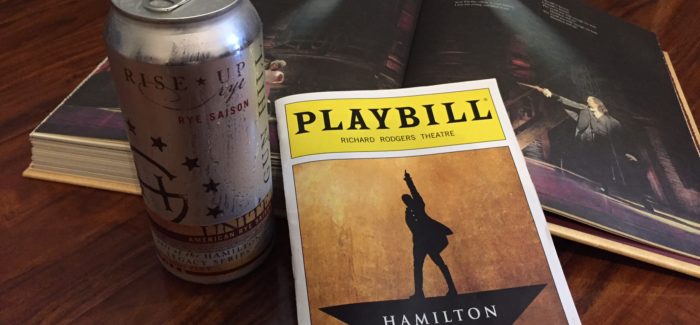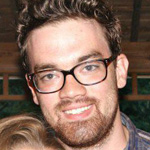 In "Hamilton," the musical that is STILL dominating Broadway (and taking home 11 Tony Awards), our entry point into the American Revolution is a toast between friends with a shared vision. Alexander Hamilton, played by Javier Munoz, is a tenacious revolutionary with humble origins and big aspirations.
Let's have another round tonight.
Raise a glass to freedom / Something they can never take away …
Raise a glass to the four of us / Tomorrow there'll be more of us
Telling the story of tonight.
What better way to capture that spirit than in a beer collaboration from a team of brewers and actors who are young, scrappy, and hungry? It was my pleasure to finally try Rise Up Rye, the "Hamilton"-inspired beer from Gun Hill Brewing in The Bronx, New York.
In June, PorchDrinking got to talk to Dave Lopez, co-managing partner at Gun Hill Brewing. He shared the story of how Gun Hill, The Happy Hour Guys, and cast members from "Hamilton" – including Javier Munoz – teamed up to make Rise Up Rye. Dave also did alright on our "Hamilton" quiz – though collaborator Jimmy Ludwig fared even better. For the complete story of how this beer came to be, check out that post. But at the time, what was missing was a taste of Rise Up Rye. For a while there, the "Hamilton" beer was almost as hard to get as "Hamilton" tickets.
Now, a new batch of Rise Up Rye has been canned and distributed. Those lucky enough to get tickets to "Hamilton" can purchase the beer at the Richard Rodgers Theatre, the musical's home on Broadway. And even those of us here in California can acquire the cans (thanks, Tavour!) now.
Whether you're a fan of rye saisons, a collector of rare beers with a story of their own, a "Hamilton" completest, or even a casual beer drinker, you should definitely check out Rise Up Rye.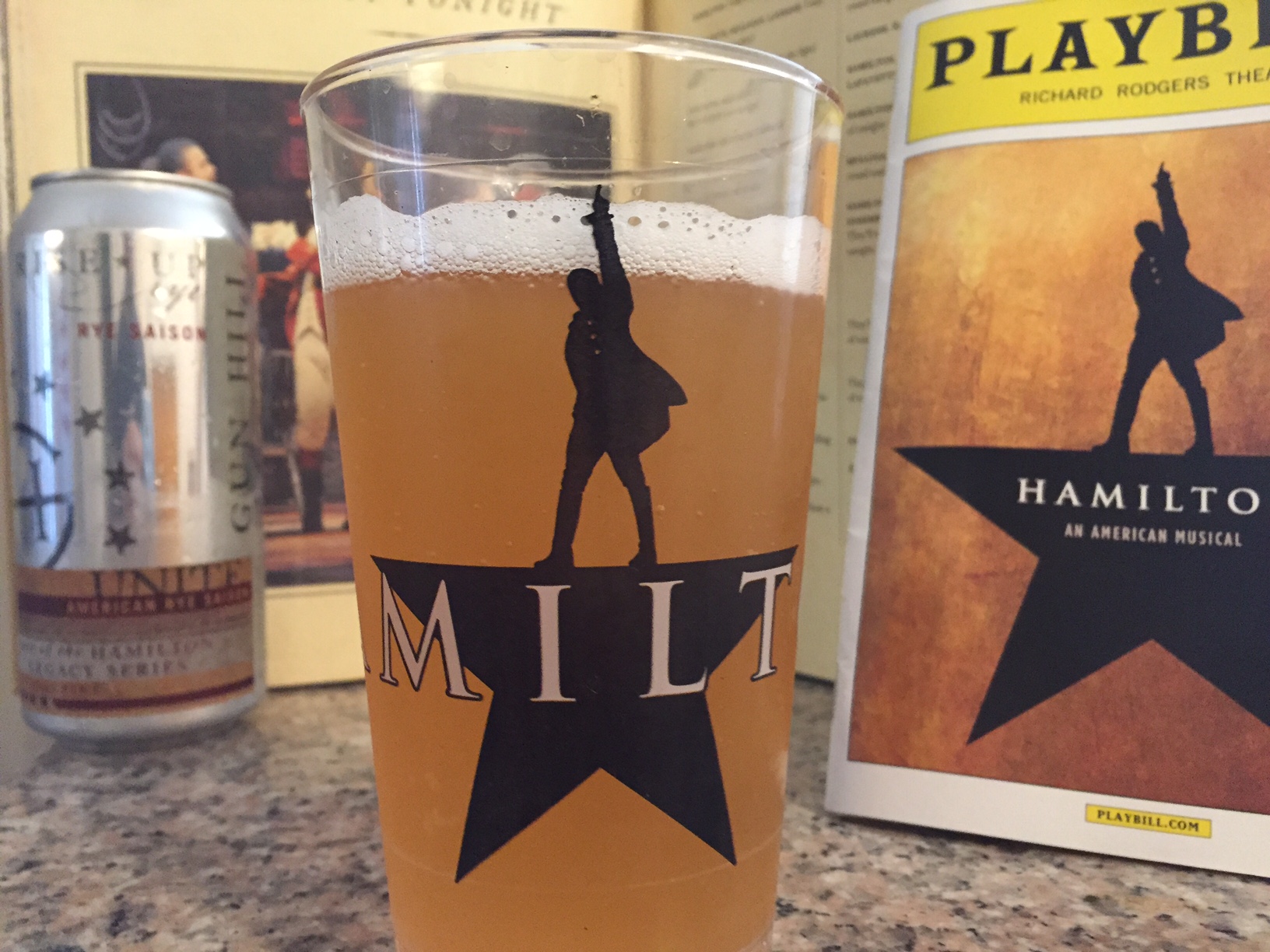 Rise Up Rye pours with a small head, and is lighter in color and body than I was expecting. Rye beers I've had in the past have been relatively dark and cloudy — when they call this an "American Rye Saison," the operative word is "saison." With a bit of spice and a hint of tangy fruit, no one ingredient overpowers the flavor. And with a modest 4.8% ABV, the cold 16 ounces left me feeling refreshed. I could've easily enjoyed another, if I didn't need to hoard the remaining cans for special occasions. Speaking of the cans, the level of detail printed on the can is insane.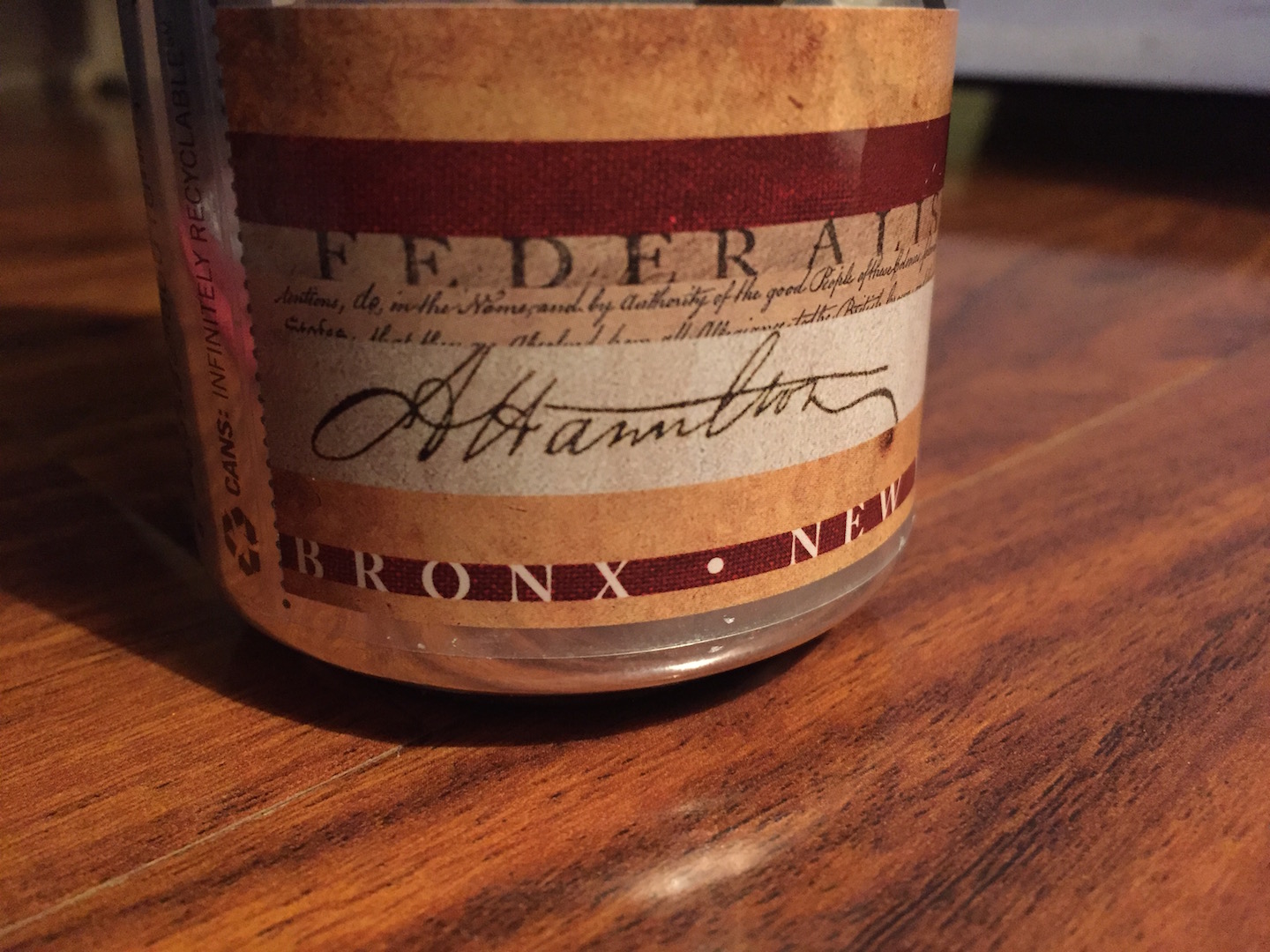 Rise Up Rye accomplishes the goals of its collaborators. Gun Hill used historically relevant ingredients (rye was an abundant crop in the real Alexander Hamilton's America) to make a delicious beer. The "Hamilton" era is honored in details down to the fonts on the can. And the Happy Hour Guys succeeded in merging the worlds of craft beer and Broadway to create a beverage that anyone can enjoy. And even though I'm a pop culture writer – not a beer expert – I do recommend Rise Up Rye. Call me cliché or reductive, but the two words I thought after enjoying this beer: refreshing and balanced.
I admit I'm more of a "Hamilton" fan than a saison fan, normally. But I thoroughly enjoyed Rise Up Rye – not just because #Javilton had a part in creating it. Gun Hill, the Happy Hour Guys, and the "Hamilton" cast have collaborated on a great craft beer which does honor to the legacy of its inspiration. They'e even gone as far as to donate proceeds to Graham Windham, the charity started by Eliza Hamilton. So, if you'll forgive one more forced "Hamilton" reference… do not throw away your shot to try this beer, if you get the opportunity.
Details
Style: American Rye Saison
ABV: 4.8%
16 oz can
Where to buy
Gun Hill Brewing
3227 Laconia Ave, Bronx NY 10469
Select bars/restaurants around NYC area
Online (select areas):
FINALLY! Available today from @tavour in WA, OR, CA, CO, NM, AZ, NV, OH, WI: #RiseUpRye cans!! Use… https://t.co/ern2nJP18W

— Gun Hill Brewery (@GunHillBrewery) July 22, 2016
---