No Comments
Event Preview | Schlafly's HOP in the City Festival in St. Louis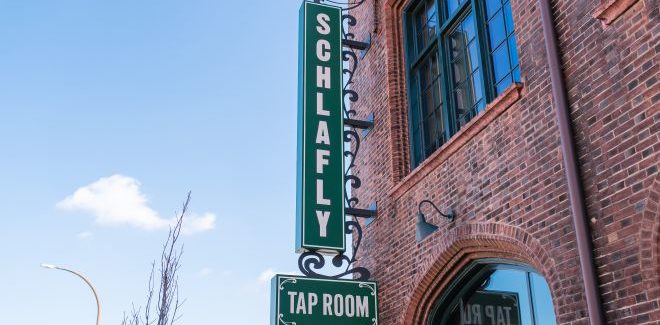 St. Louis has its fair share of beer festivals, but few incorporate music as well as Schlafly Beer's HOP in the City festival, which will hit our town on September 17th.
The one day annual festival will feature more than 40 Schlafly beers and six renowned bands including local band Union Rags, indie rocker A. Sinclair, blues/rock band Black Joe Lewis & the Honeybears, rock duo Black Pistol Fire, four-piece rock band White Denim, and headliner, Calexico.
Beer wise, come thirsty because among all the brews, Schlafly is likely to have one of your favs available.
You have two options on how you want to enjoy the festival.  Attendees can purchase Tasting Tickets for $30, which include unlimited beer samples during the tasting session from 1 to 5 p.m. and full access to the festival grounds. If that doesn't suit you, you can purchase a Lot ticket for $15 and gain access to the festival grounds.
The tasting session includes more than 40 Schlafly beers, some brewed exclusively for the festival, and three of our favorite Schalfly offerings.
American IPA
ABV: 7.2% | IBU: 65
APPEARANCE: Golden amber, slightly hazy
PROCESS: New World American IPA, dry hopped
HOPS: Amarillo, Simcoe, Centennial (US)
GRAINS : Pale, Crystal
YEAST: American Ale
SRM: 10
This beer is American IPA is bold, hoppy and comes from 100% American hops.  Its deep gold and full body from pale and crystal malted barley. A blend of Amarillo, Centennial and Simcoe hop varietals imparts AIPA with bitterness and prominent aromas of citrus and fruit. Our brewers select these hops on an annual pilgrimage to the hop farms of Pacific Northwest.
Tasmanian IPA
ABV: 7.2% | IBU: 65
APPEARANCE: Golden, slightly hazy
PROCESS: Dry hopped, single malt beer
HOPS: Galaxy, Topaz (AU)
GRAINS : Pale
YEAST: American Ale
SRM: 6
Guess what. This IPA is brewed with 100% Australian hops. The Tasmanian hop, Galaxy, is a strong, aromatic variety that is different from traditional strains in the Pacific Northwest. Our brewer's developed a recipe that showcases the hop's unique flavors of citrus and pineapple.
Pumpkin Ale
ABV: 8.0% | IBU: 16
APPEARANCE: Copper colored, bright
PROCESS: Brewed with pumpkin squash and a blend of spices
HOPS: Marynka (PL)
GRAINS : Pale, Crystal, Munich, Wheat, Chocolate
YEAST: American Ale
SRM: 27
This is pretty heavy Pumpkin Ale, but one of the best you'll try.  It blends the spices of the harvest with full-bodied sweetness for a beer that tastes like pumpkin pie. Pounds of pumpkin form a malty foundation that supports the fall flavors of cinnamon, nutmeg and clove.
Also scheduled to be enjoyed, Hop Trial beers (SMaSH beers with experimental hops), American Sour with Blackberries, Peach Saison, Watermelon Lager, Rye IPA, Imperial Oktoberfest, Pumpkin Stout, Weissbier (festival beer), and additional cask and small brews from the brewery's Pilotworks 20-gallon system.
Go Home With A Memory
And if you aren't already sold, Schlafly commissioned Knoxville-based designer Justin Helton of Status Serigraph to design a commemorative poster for this year's festival. Helton has designed materials for some of today's biggest musical acts including Phish, The Avett Brothers, My Morning Jacket, and The Black Keys, and festivals like Bonnaroo and Outside Lands.
---