No Comments
Brewery Showcase | New Terrain Brewing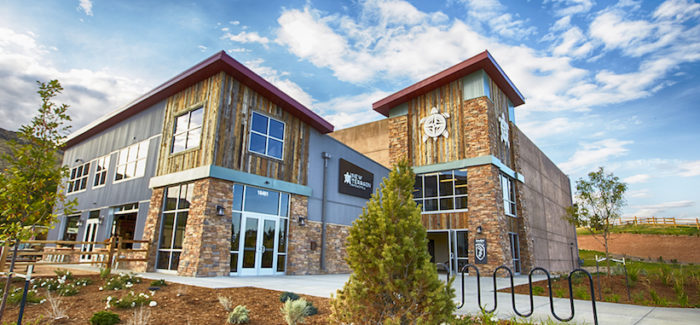 If you follow the trail long enough, you'll eventually hit new terrain. This is just as true for owners Kaylee and Josh Robbins as it is for the hiking trails and pump tracks near this brand new brewery – New Terrain Brewing Company – located on the north east edge of Golden, Colorado.
Both founders started their careers in science and engineering then shifted to the beer scene a few years ago. Josh received all his degrees from School of Mines and Kaylee completed her dissertation there – although they originally met at Golden City Brewery…like everyone else in Golden in those days. Kaylee was even working as a professor at the university the year they started Mountain Toad Brewing, their first foray into the beer scene.
The duo has always believed in the power of striking out on your own path.
"This is something that Josh and I have always believed in – as shown in solving new problems in our research careers, in our first brewery and now especially in our new venture.  We have a firm belief in trying things differently and solving problems by changing our perspective and finding our unique, individual way using this method." Kaylee says.
As Mountain Toad grew, Kaylee & Josh realized they had different goals and a different vision than their partners. The two decided to part ways with the team to hit the road –  blazing the path to a brewery of their own.
Breaking ground on the new terrain that would become aptly named brewery, presented it's own set of unique challenges. Talking with Kaylee and Josh revealed that building a new space can prove more challenging than taking over an old one.
https://www.instagram.com/p/BK9CNoiD6nj/?taken-at=699653496805544
The particular plot of land that New Terrain landed on, has been extremely rewarding and challenging for the team. Horses, dogs and bicyclists come through regularly. There is a swamp on the property and low-hanging power lines. In terms of office space, this was an "armpit" of a lot. Bad for an office maybe, but perfect for a brewery! In Kaylee's words "we can be as loud and as naked as we want here!"
Once the building started going up, a whole new element was introduced. Even seemingly simple infrastructure like phones and internet can become difficult when being installed it into a totally new space. Josh told me "when everything is new, it doesn't always work the first time."
Constructing a brewery big enough to allow expansion provided new challenges – how do you hang lights when there aren't ladders tall enough to reach the ceiling? Why is that door too short? Furthermore, all the brewing equipment for their 30 BBL system was brand new – and working out the timing between all the pieces, parts and landing zone was a challenge. Needless to say, the continuous challenges forced creative problem solving to be one of the most central drivers for the couple. But the challenge was welcomed – as they enjoy being the final decision-makers of these potential conflicts.
https://www.instagram.com/p/BLmjG9WhNM4/?taken-at=699653496805544
Having so much space is also a blessing – as the Robbins' have the freedom to expand and evolve the way they want to  giving them the opportunity to brew the beers they are passionate about.
In short, developing a brewery from scratch – between the building, the beer, the branding – has allowed the duo to take their previous experience as entrepreneurs and engineers and focus all it into New Terrain.
Of the ten beers on tap when I last visited, two managed to stand out among the already stellar lineup: Punky Masala and Lost.
Punky Masala is a savory seasonal with pumpkin and spice flavoring (not to be confused with pumpkin spice). This 6.5% beer pours an amber color and the savory flavor has a touch of sweetness without being dessert-y or overpowering. It's got an excellent balance of flavors with plenty of malt and a medium finish. Punky was also Kaylee's first beer after their daughter Luna was born last September!
Lost is New Terrain's Colorado IPA. Anyone who knows me knows I'm an IPA girl – and this one in particular has a lot of my favorite attributes. Coming in at 6.7% it pours a cloudy orangey/yellow. The flavors are piney and citrusy with a good balance of sweetness. The full bitter flavor leads to a long finish.
https://www.instagram.com/p/BLUhQt9BDN7/?taken-at=699653496805544
The future of Golden's newest brewery includes canning, a sour program, a yeast lab and further refining the mission of New Terrain. You can expect the same great service from their highly-trained, uber-personal staff. Expect them to experiment with their beers – to keep us on our toes.
While you might not be able to see where the trail leads, you can always expect Kaylee, Josh and their staff to push the boundaries, explore new territory and innovate their way through any challenges they may face.
---