No Comments
2 Days, 2 Nights | Detroit's Craft Beer Scene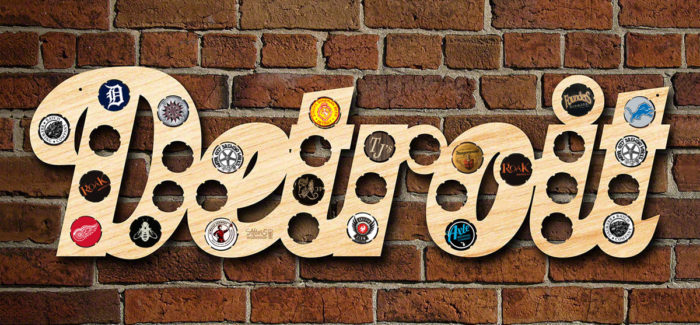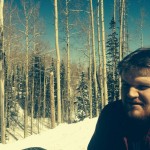 Detroit: You've heard of us. We're making a comeback! The real story is Detroit never really left, but the leaps and bounds it has made in the last decade are astounding to anyone who has lived in the area since the rebellion. The Motor City has so much history, art, music, and culture to share, but most importantly for our readers it has tons and tons of beer too!

Planning
Don't come in winter. It can be pretty occasionally, but don't do that to yourself. Especially don't came in February—everything is grey. If you like techno and house then come during Memorial Day Weekend for Movement. Gearheads into classic cars should come during Dream Cruise, which occurs in mid August but for anyone who utilizes Woodward feels like a whole month. If you like local bands and college-level drinking mixed with art come for Dally in the Alley or chase the devil away in March with crazy costumes for Nain Rouge.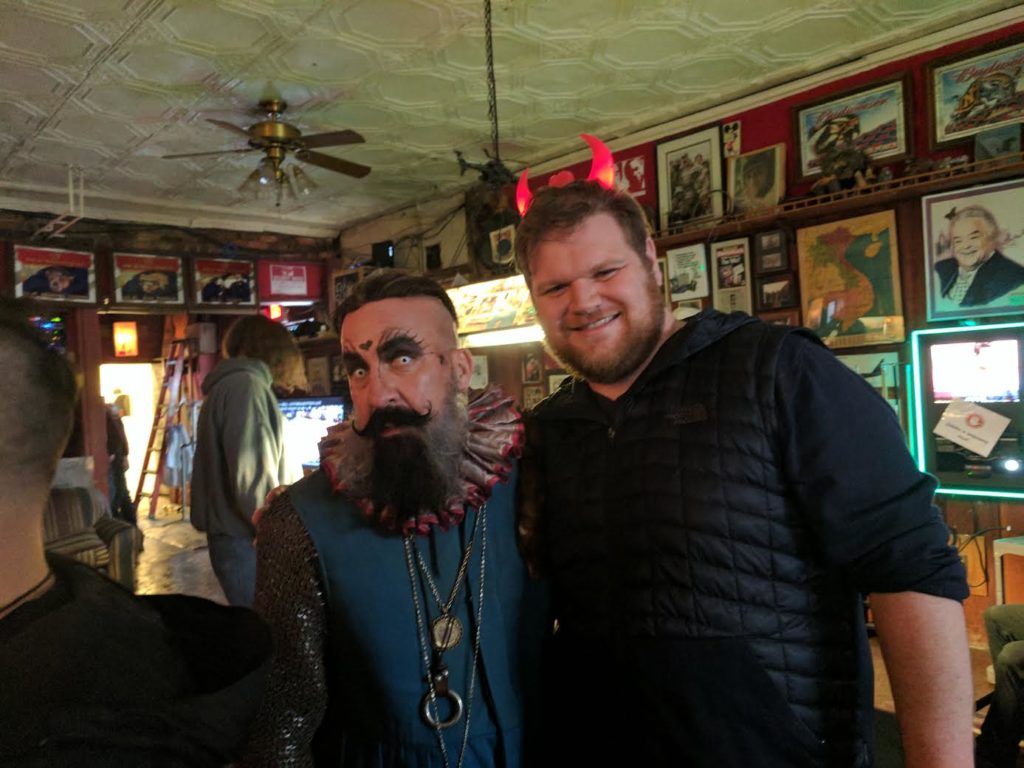 I'm keeping you within the region covered by MoGo!, our new version of Citibike. It'll allow you to navigate all the neighborhoods you've heard about. As the Motor City our public transit is somewhere between laughable and non-existent, so this way you're not gonna get stranded somewhere. If you make it back a second time by all means explore out of the confines I'm giving you. We're just introducing you to the place.
You aren't going to be attacked by rabid stray dogs. You most likely won't be attacked by people on the street, at least not moreso then any other city. Don't assume the worst of everyone.
There's tons of hotels opening up downtown, as well as Airbnb's up the wazoo. If you're within the similar confines of the MoGo map You should be fine. If you're looking for something cheap Hostel Detroit in Corktown fits the bill.
There are after-hours places in Detroit. However they aren't like, really legal(?) and so they get raided and don't open for a while occasionally. If you want after hours you're on your own. Also- you have to order in code so they can claim they aren't selling you booze per-se and so Beer is generally off the menu.
I'm including a variable Saturday in case your serious about hitting as many breweries as humanly possible and rented a car or are willing to shell out to Uber all day.
Friday Night
The Airport is about a 20 minute drive from Detroit, so you're gonna either Uber or cab it in. We're still working on getting a reliable public bus to the airport. If you've never had middle eastern food at all A) Who are you? and B) You should take a pit stop at Al-Ameer in Dearborn. It may look like a family restaurant but the first time the fancy-shmancy James Beard Foundation people came to town last year they made sure to honor it among all the restaurants in America. Otherwise we're heading to one of the oldest continuing neighborhoods in Detroit.
Corktown
Named for the region of Ireland that the majority of the O.G. population used to hail from, Corktown is where all the buzz around Detroit in the last 10 years started. First with the iconic and over-photographed Detroit Train Station (now with windows!) and also with Slow's BBQ, whose owner hustled every angle he could to get some eyes on positive aspects of Detroit. Since then it's nearly impossible to find an apartment in the area as new, cool places move in.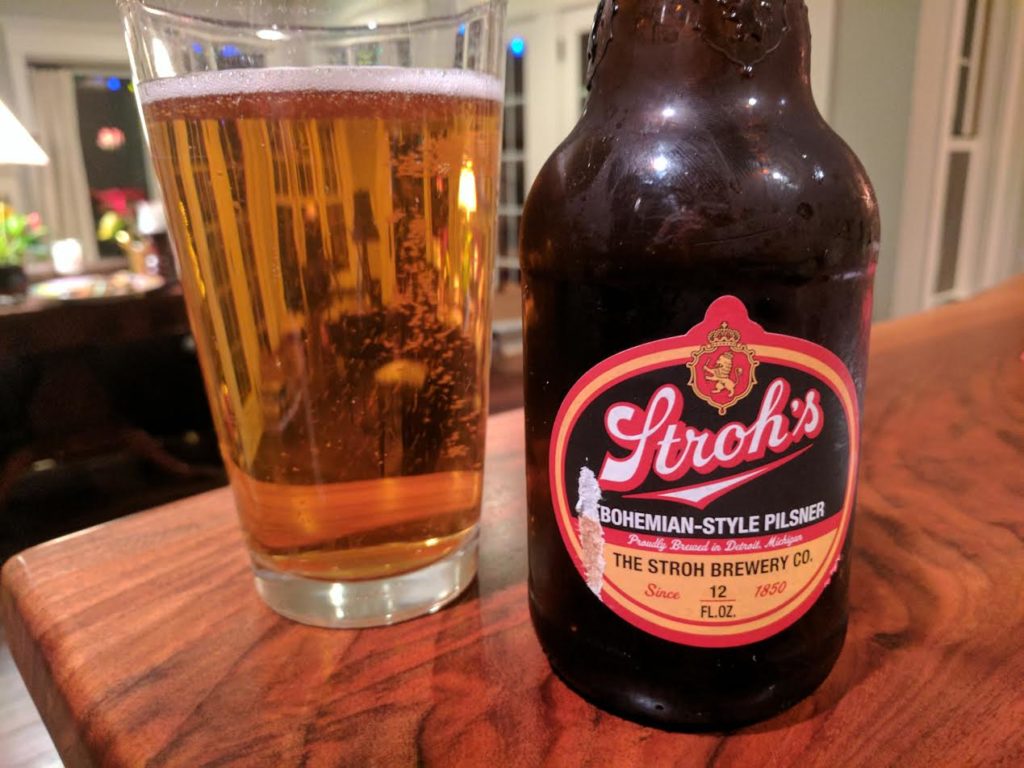 If you haven't been tempted away by BBQ or middle eastern, stop in at Mudgie's Deli. I'm not sure if they have more beer variations or sandwiches, but I do know that I've never met someone whose tried 'em all. After that head over to Detroit Beer Co. and grab a Stroh's Bohemian Pilsner.
Stroh's was our local brewery for years and years that sadly folded due to mismanagement issues. The brand was bought out and after years of existing but not brewing in Detroit, they've recently started brewing this new variation at DBC to every Metro-Detroiter's delight.
Then head to Batch Brewing Co., the nano-brewery with hands down the greatest pretzel in the history of breweries. I know that's a major claim due to it's ubiquitous nature but trust me. It's amazing. It's like they hid a croissant inside a pretzel. Also amazing is their beers. Since it's a nano-brewery they're changing quicker than you can plan for but the Anton's Animals is always good no matter the variation of flavors.
If you're still up for more drinking then wander over to Michigan Avenue and hit up any bar on the street. Bobcat Bonnie's has a great been menu (and a delicious Brunch), There's never a bad band at Motor City Wine and it's outdoor space is great. Suburbanites terrified of Detroit will still come in for the occasional trip to Nancy's Whiskey Bar and there's neighborhood mainstay's like LJ's Sweethearts Lounge, Gaelic League and Nemo's. If you're feeling more cocktails Two James Distillery is close by.
Now go to bed. You have a full day ahead of you.
Saturday
Working it on Woodward!
Today we're sticking to basically three blocks within Woodward Avenue on a three mile stretch. You'd be surprised how much we're gonna be able to get in. We now have this trolley thing called the Q line. Depending on who you ask, it's a Bro-boss made for Quicken Loans, or a quaint starting point to some massively needed infrastructure change. Either way it's convenient and it's gonna get you where you want to go today
Are you awake before 11am? then head to Avalon International Breads. Depending on where you are you can hit up the new massive downtown one or the one in midtown on Willis. Order two of everything, then depending on how nice the weather is either amble the grounds of Wayne State University, which has a great blend of historic homes and modern marvels, or head over to the Detroit Institute of Arts. Highlights include the Diego Rivera Court, a cast of Rodin's "The Thinker", and a shitter made by a distant relative of mine. If it's open then sit for a spell in the gorgeous Kresge Court. The Motown Museum is maybe another 20-30 minute walk to the north and west, but with it's major renovation you may want to wait a year for it to be finished.
By now you should be getting close to lunchtime (if you woke up, everyone else is about to start brunch). Either way head on down to the Canfield Stop on the Q line, and be prepared to hit up four major beer stops in the city. All four of these locations offer food as well so you can take your pick of which to eat lunch at.
Within this same strip is Shinola, the watch and leather good that's successfully capitalized on the revitalization wave to mass glory, City Bird gallery full of cutesy Detroit-labeled goods, and the Cass Corridor outpost of Jack White's Third Man Records. Stop by here for any easily identifiable Detroit gift.It's the afternoon and time to head back downtown.  Take a bike down Cass Avenue and hit up the new Founders if it's open. If not stop in at the crafty 8 Degrees Plato or the great Temple Bar, as seen on Detroiters. It's about the same bar, just with a better T.V.
Lions & Tigers & Red Wings, Oh My!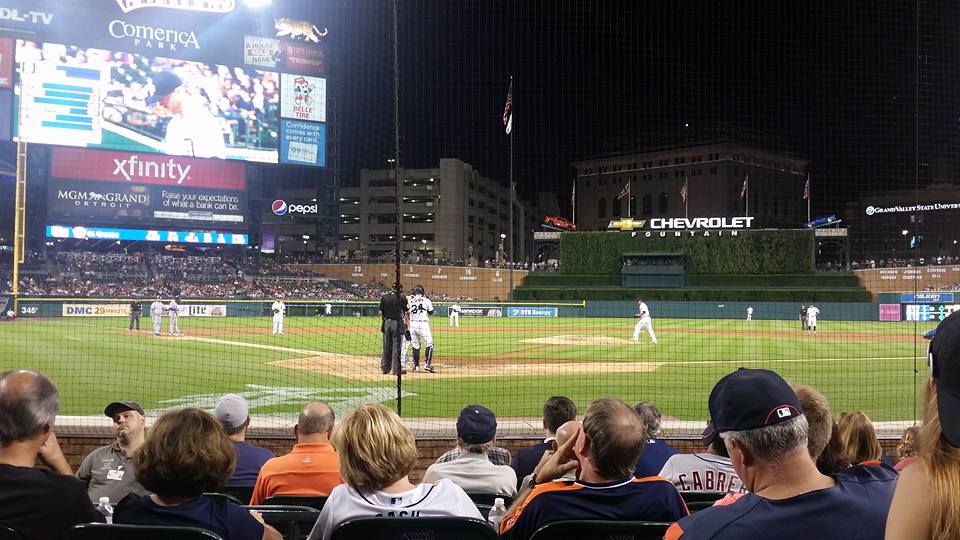 It doesn't really matter WHAT season it is when you're visiting, because with the soon-to-open Little Caesars Arena, Detroit is now the most sports-dense city in the nation. If MLS comes to town the soccer stadium will be just down the street (But fuck Gilbert, Gores and Garber. You wanna see the beautiful game? Head out to a Detroit City Football Club game in Hamtramck. Check The Northern Guard's Twitter for deets and sick burns).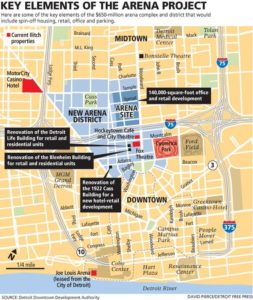 I'm not a big baseball fan but I love Comerica Park. Little Caesars Arena as stated will be brand new and has been lining up its beer team for a while. The old hockey arena had dedicated Bell's tables throughout and hopefully that will be a feature here too. As the venue is doubling as the home of the Detroit Piston's and lining up big name concerts, it's basically gonna be hopping all night (I've been to all of one Lions game because I have had enough depression in my life. They lost. I remember Ford Field being a nice venue though).
After the game you can wander the downtown bar scene. There's something for any taste. I would personally try to hit up Jacoby's Biergarten, Detroit's oldest Saloon. If you're looking for finger food, skip the (world's largest) Buffalo Wild Wings because Sweetwater Tavern is the only place to turn. There is one sauce, and it's the only one you'll ever need. If you're looking for a bigger meal then go to Pegasus and gorge on delicious Greek food and flaming cheese
If you wanna push your luck I'd head to one of our three casinos; all a quick walk or take less than 6 bucks for an Uber. For craft beer your best bet is MGM which has its TAP bar and is probably the fanciest. The casino hit-up by most Detroiters I know is Greektown, though it's not the fanciest. Motor City Casino has its Sound Board which pulls in the touring acts the other two don't. As to actual Gambling…
SUPER SATURDAY Variable
Okay—so you're fucking serious about hitting up breweries. Fine. Don't look at our wonderful culture or sports teams. Starting this tour de booze at Hopcat so you can still hit all the Canfield spots. If you're wondering "Can I just cut out Dragonmead? It's so far out of the way of the other breweries!" No. You can't. If you think you wanna cut Dragonmead, then what are you doing on this portion of the Detroit tour? Do you even BEER, BRO?! (Seriously though, don't drink at every outpost on this bad boy if you're driving).
Here's a quick rundown of who you're hitting up:
Axle Brewing: No nonsense brewers and DCFC supporters. Dress your kids in Rouge and Gold.
Roak Brewing: The Roaka Cadabra is Michgan's best seasonal.
Griffin Claw Brewing Co.: Interesting brews that rack up Medals.
Black Lotus Brewing: Strong Ass shit. The Gift is a Gift.
DragonMead Microbrewery: LARP Game of Thrones and Drink Final Absolution. Then make someone else drive.
Cellerman's: At Cellarman's the friendships last long as the Mountain stands. Just kidding-that's Kellerman's: Basically if it's possible to brew it they make it. Beers, Meads and Ciders.
B. Nektar Meadery: Did I really just send you to Three meaderies in a row?

You said you were hardcore. Go for the Zombie Killer. If they have a special version, pay the extra.
Sunday
Today we're gonna take it casual and outdoorsy, since you're about to lock yourself in a metal tube and fly away home like Anna Paquin. Head down to Hart plaza and take a leisurely ride along the riverside and look at Canada.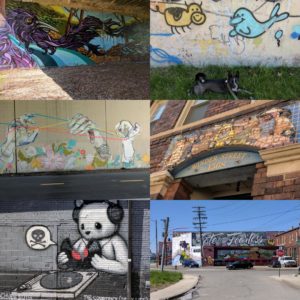 Then take the Dequindre Cut (a former railway that's been turned into a little parkway) up to Eastern Market. Eastern Market has been operating over 100 years as the wholesale market for the Midwest's grocers. On Sundays it's open to crafters, designers, artists and all types of food purveyors. This trip will take you on a crash course of area graffiti artists as well, in case you're into that.
Now get back on your bike and head further down the river to Atwater Brewery. It's a nice space full of the Tony Roko paintings that they've begun using for their labels. The Java Vanilla Porter has been invading bars at an alarming rate (but it's worth it). I love the Corktown Rye as well.
If you have some more time before catching your flight. Go get lunch in West Village at Detroit Vegan Soul, where magic turns vegan food delicious. Then get dessert at Sister Pie. Neither of these are beer-focused, but you've had a ton of beer this weekend, so bask in some good food and realize you gotta start planning a food weekend in Detroit next.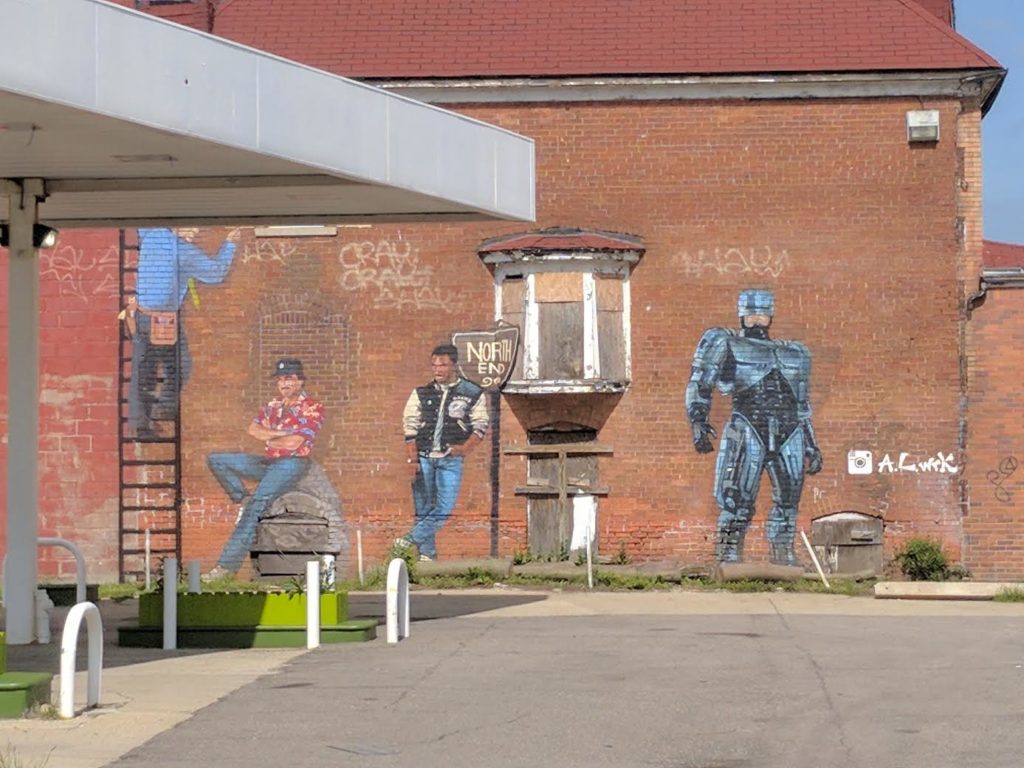 ---