No Comments
Amundsen Bryggeri | Beerfoot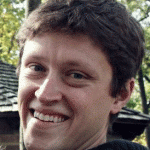 There once was a man from Nor-way
Wore a tube and bathed nude in the bay
Thought he was a Viking
Wore a shield to go biking
Drinks beer with grapefruit every day
Or at least that's what popped into my head when I saw this new arrival sitting on the shelf – Beerfoot from Amundsen Bryggeri out of Oslo, Norway. It's hard not to when Dr. Evil is skinny dipping with a tube designed by Ragnar Lothbruk on the can. Ok, I confess, I've been ruining my corneas with unholy binging of Vikings on Netflix. And I recently visited Denmark. What can I say? The beer spoke to me. And I'm glad it did, so tasty!
ABV: 4.7%
Credit to Amundsen for their branding. On a shelf of dusty old Belgians, their cans wrapped in wild colors jumps out of the shadows. And I also happen to be a card-carrying member of The Fruity Beer Fan Society. Magic Hat #9 was my gateway to this forbidden club of Un-Manly Beer. Of course, Magic Hat is no longer on the list of cool kid breweries so I hesitate to divulge my love of their flagship apricot ale. But it's true! The more peaches, passion fruit and coconuts used to brew the better. And ye gods, GRAPEFRUIT?! Love the stuff.
Beerfoot blends that yellow globe of citrus with a saison, not a combo I've seen before. But man is it a good choice. The can has one of those Big Gulp style tops that comes completely off allowing you to actually stick your beak in the liquid while snifting. This beer reeks of bitter citrus peel which was an initial cause for concern. I've had fruity beers that taste like liquid orange peel and leave your face puckered for days. Not so here. The biting vapors give way to a pleasant combo of fruit and black pepper with the grapefruit rind bitterness hanging back in the finish with a touch of sweetness. Saisons are known for being highly carbonated and Beerfoot fits the bill with its millions of tiny bubbles flying about.
I drank this beer on a 70-degree sunny NFL Sunday watching my Giants go to 0 and 3. So although Odell Beckham, Super Junior was figuratively urinating both on the end zone and my hopes for a watchable season, Beerfoot more than made up for it. A perfect salute-to-summer beer, I think the only thing that could make this refreshing treat better would be drinking it while floating nude in the Oslofjord.
Follow Niel on Twitter @WaveTrainLLC and Instagram @WaveTrainLLC
---