No Comments
Great Divide Announces 2018 Beer Release Calendar Lineup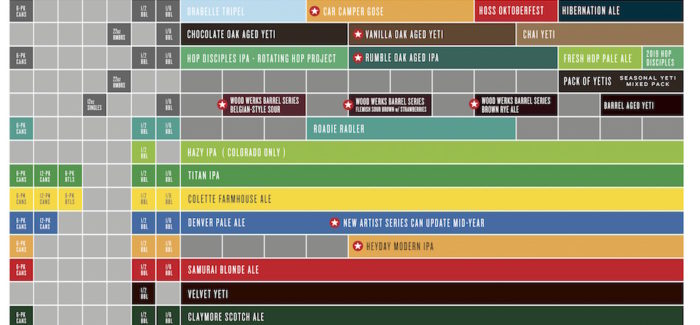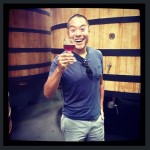 Fresh off the heels of a massive success in the introduction of Roadie Radler, Great Divide Brewing Company is gearing up for another loaded year of big time releases in 2018. This afternoon the Denver, CO-based brewery announced their 2018 Beer Release Calendar, which includes the addition of a new barrel-aged program, the return of a familiar brand, and a total of seven new beers the Great Divide lineup.
This year's new additions include Car Camper Gose, Heyday Modern IPA, Rumble Oak Aged IPA, which returns after a two year, Vanilla Oak Aged Yeti, and the new Wood Werks Barrel Series consisting of a Belgian-Style Sour, Flemish Sour Brown with Strawberries, and a Barrel Aged Brown Rye Ale.
"We have an amazing lineup for 2018 with some new beers and familiar favorites," said Brian Dunn, founder of Great Divide Brewing Company. "Whether it's introducing Heyday IPA, experimenting with guava and passionfruit for Car Camper Gose or bringing back Roadie Radler after its tremendous success in 2017, we are confident about the exciting changes happening in 2018."
The most notable change to Great Divide's lineup is the announcement of a newly introduced Wood Werks Barrel Series, which features limited edition barrel-aged and sour beers. The Wood Werks series kicks off in February with a Belgian-style Tripel that was soured for 15 months in red wine barrels and aged on plums. That debut release will be followed by a Flemish Sour Brown Ale in May, and a Barrel Aged Brown Rye Ale in August.
In response to the resounding success of last year's Roadie Radler, Great Divide will also introduce Car Camper Gose, a fruited German sour with guava and passionfruit,  Heyday IPA, a modern approach to an IPA, and the next iteration of the Great Divide Yeti family in, Vanilla Oak Aged Yeti. The final addition to the 2018 lineup is the return of Rumble Oak Aged IPA. Originally released in 2010 and then subsequently retired in 2015, Rumble is back by popular demand. The fan favorite will be released in May as part of the seasonal Tank Farm Series.
"Rumble is a classic Great Divide beer and had quite the following in its day. It was originally retired to make room for new styles but as we were looking at new releases for 2018, it felt natural to reintroduce the beer as part of our Tank Farm Series," said Dunn.
Explore the 2018 Great Divide Beer Release Calendar for their full lineup.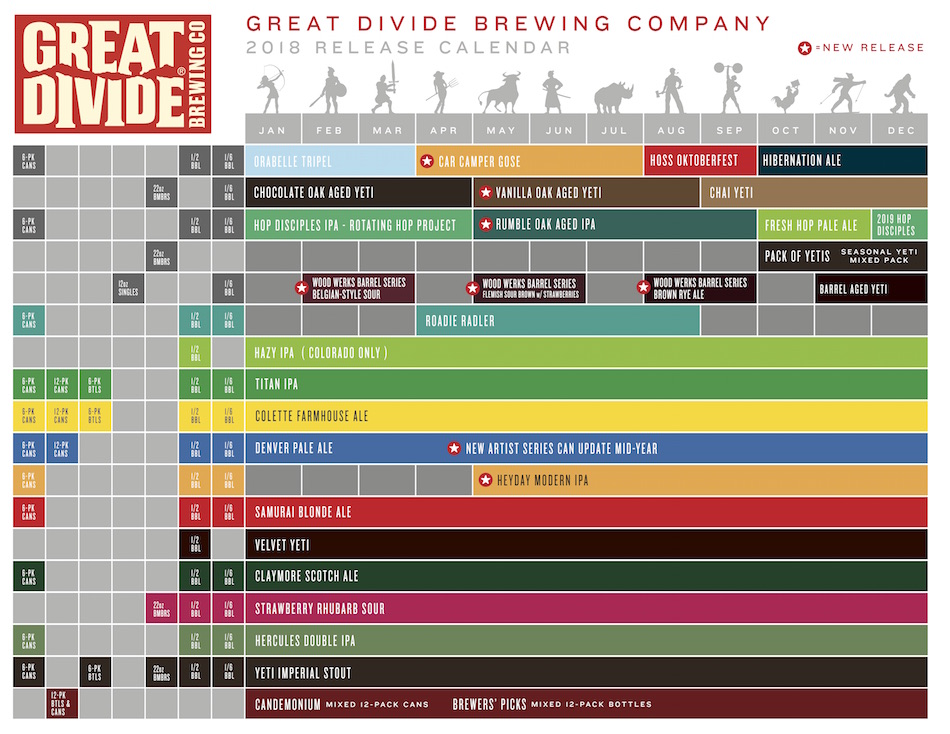 ---