No Comments
Brewery Showcase | Brewability Lab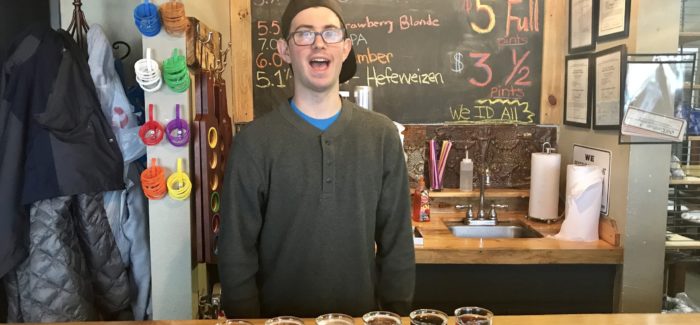 Many breweries begin with a familiar story: a homebrewer who's tired of a desk job and decides to make a go at scaling up.
Brewability Lab is not one of those stories. Founder Tiffany Fixter had neither brewing experience nor a business background. What the former special education teacher did have, however, was an ambitious—even radical—idea. Why not tap into Denver's affinity for craft beer to create jobs for adults with special needs?

Fixter had worked with adults who have autism and other developmental disorders at a daycare center where they passed the time with craft-making and other activities. But she knew that people like 26-year-old Tony Saponaro were capable of so much more—if someone would just give them the chance. The light bulb went off when one of her colleagues at the day center, himself a homebrewer, joked about turning the craft area into a brewing area.
"He was just kidding around and I was like, no—this could work," Fixter recalls. "I wanted to make a product that people wanted, and beer is really accepted here. It's a social atmosphere. I really just jumped all in."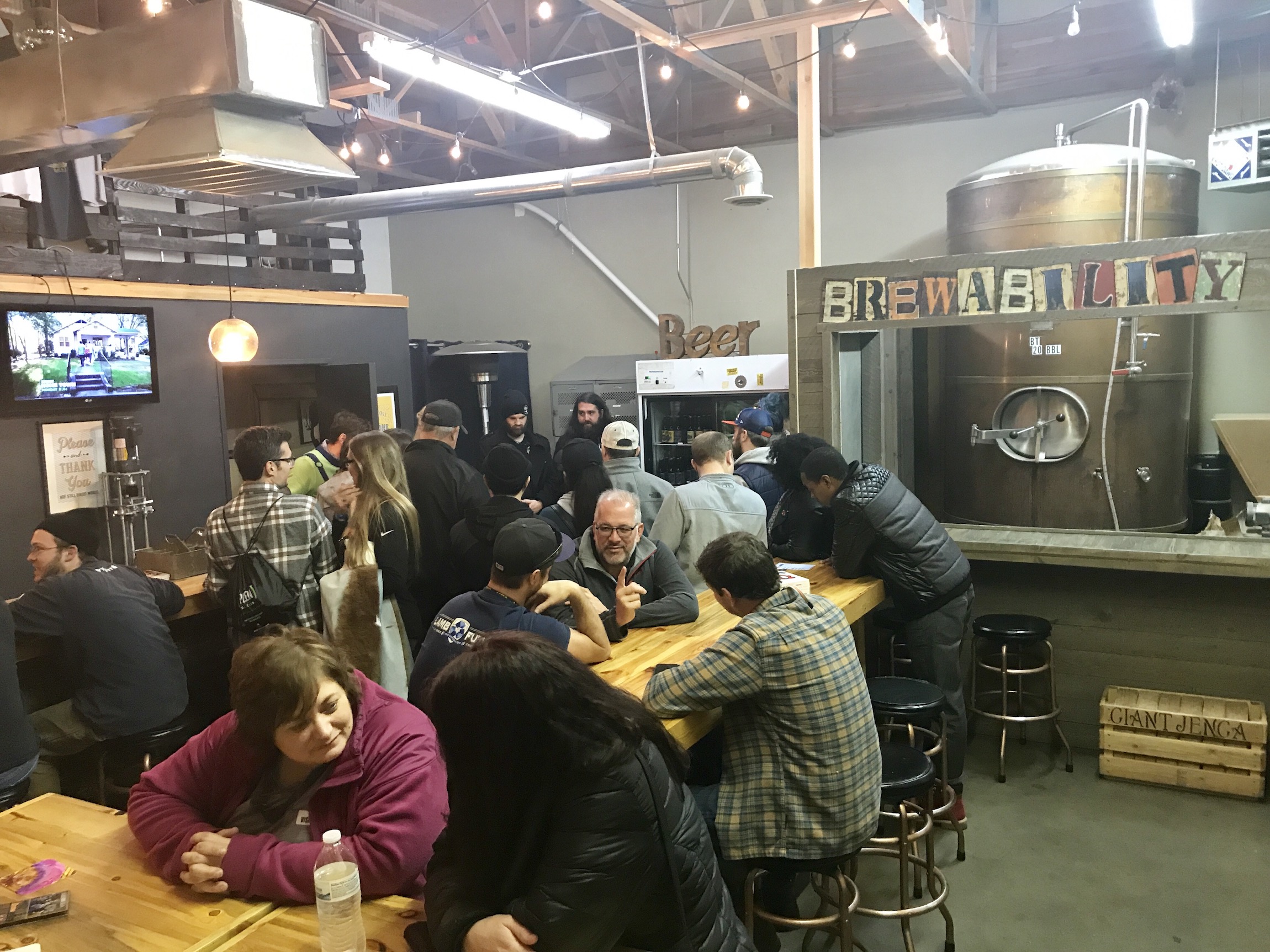 I can attest that Fixter's confidence was well founded. Indeed, I was struck by how knowledgeable Saponaro was in giving me the flavor profiles of each of the beers that Brewability had on tap when I visited on a recent Friday afternoon. He explained that he loves learning about beer and the brewing process, likening it to animal biology, which he studied in school.
The idea of a socially conscious brewery itself is not uncommon—Denver is home to many that routinely host fundraisers and other charity events. But Fixter's enterprise takes that ethos to another level. Each day the brewery is open, adults with special needs who otherwise lack the opportunity to excel learn critical social skills and job training in a major Colorado industry (as well as a paycheck, of course).
I sampled a flight of all six beers: blueberry sour, strawberry blonde, coffee porter, IPA, hefeweizen and amber. Customers are encouraged to order their beers using a color-coded system, streamlining the process for both employees and customers with special needs. Other accommodations include a picture-based POS system that makes it easier for beertenders to ring things up and tap handles with Braille to help an employee who's visually impaired.
The strawberry blonde is Brewability's best-seller, according to head brewer Tanner Schneller, who said he also tries to ensure there's always a sour on tap. Other mainstays include the amber, IPA and the coffee porter.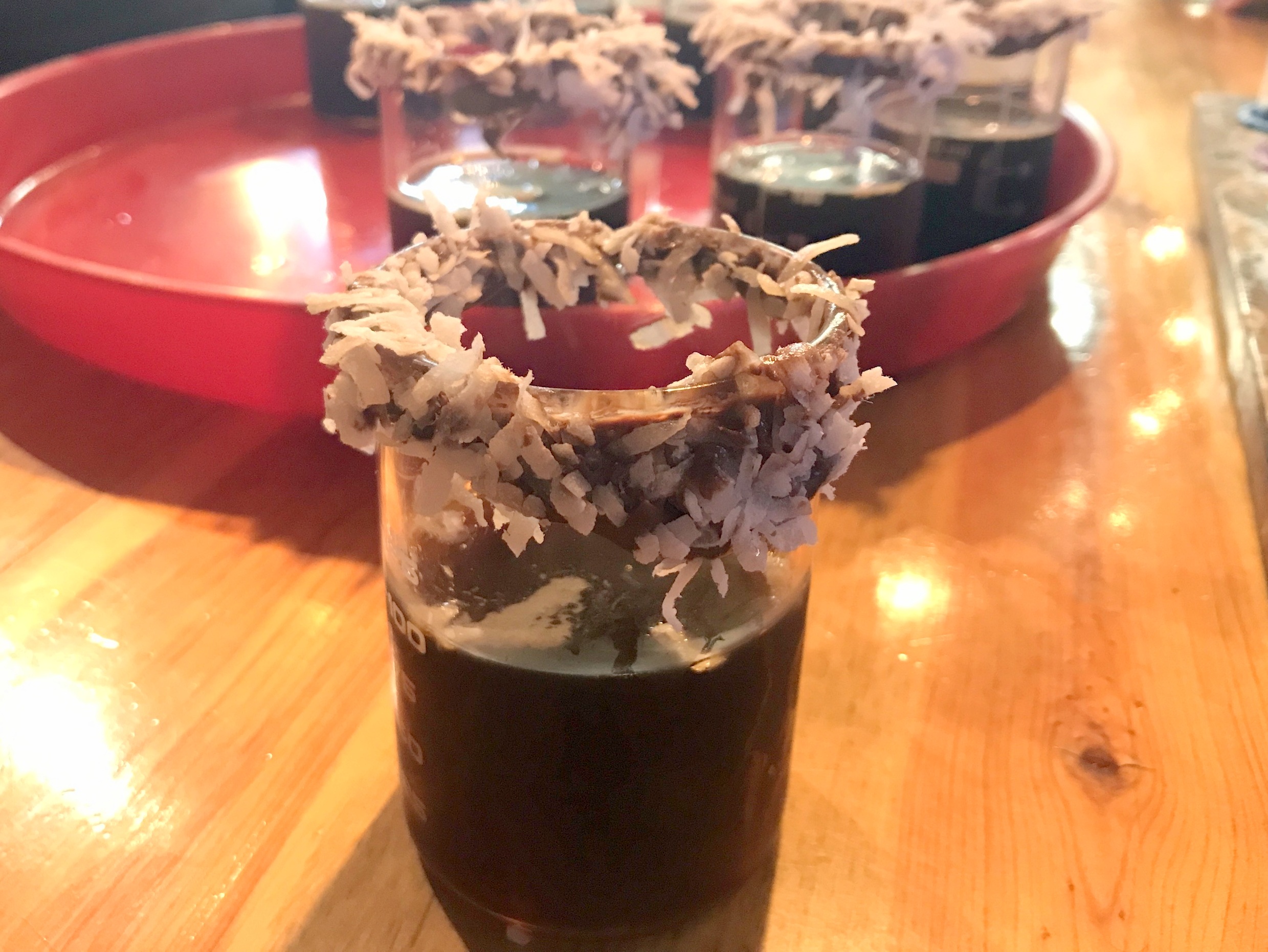 I found the amber (orange) true to style and easy to drink, while I liked the resinous aftertaste of the IPA (green). The roasted malt flavors of the porter (purple) played well with the coffee, and the Nutella and coconut that Fixter added to the rim of the tasting glass didn't hurt either. The blueberry sour (blue) was also solid, and I'd be interested to try another iteration of it after Schneller told me they rotate the fruit they brew it with.
The aim, Schneller says, is "to provide a variety of styles that would appease anybody who'd walk in the door."
Brewability just celebrated its one-year anniversary in October, and—thanks to the dojo down the street—the party that featured a medieval martial arts performance. Such unique events are key to driving traffic to the brewery, which is tucked away in an industrial area in northeast Denver. (Some local beer trivia for you: The location is the original site of Caution Brewing, which is now in Lakewood, and includes a five-barrel system that originally belonged to Odell Brewing of Fort Collins—the same one that Odell's 5 Barrel Pale Ale was brewed on!)
In addition to viewing parties of the "Bachelor," Brewability hosts a wide and often eclectic range of activities, such as inclusive yoga with Guided by Humanity (adapted for people with intellectual and developmental disabilities), or "drinks with owls," featuring birds of prey from Colorado nonprofit Nature's Educators. For Christmas, the brewery had a lizard in a Santa hat on hand.
https://www.instagram.com/p/BcywNEEBuve/?taken-by=brewabilitylab
Combined with the friendly and inclusive vibes animating the brewery, it's no surprise they've amassed a number of committed regulars who enjoy shooting the breeze with Tony and his coworkers. To be sure, the benefits for employees at Brewability go way beyond a paycheck; they learn brewing and service expertise that can be applied to future jobs. Interacting with customers from different parts of the world is one of Saponaro's favorite parts of the job, he tells me.
"The cool thing is we get a lot of people from the airport so I met a person from France, then I met a person from Germany, Ireland, England," he says. "That's the best part because I really want to travel but now I don't necessarily need to travel to meet those kinds of people."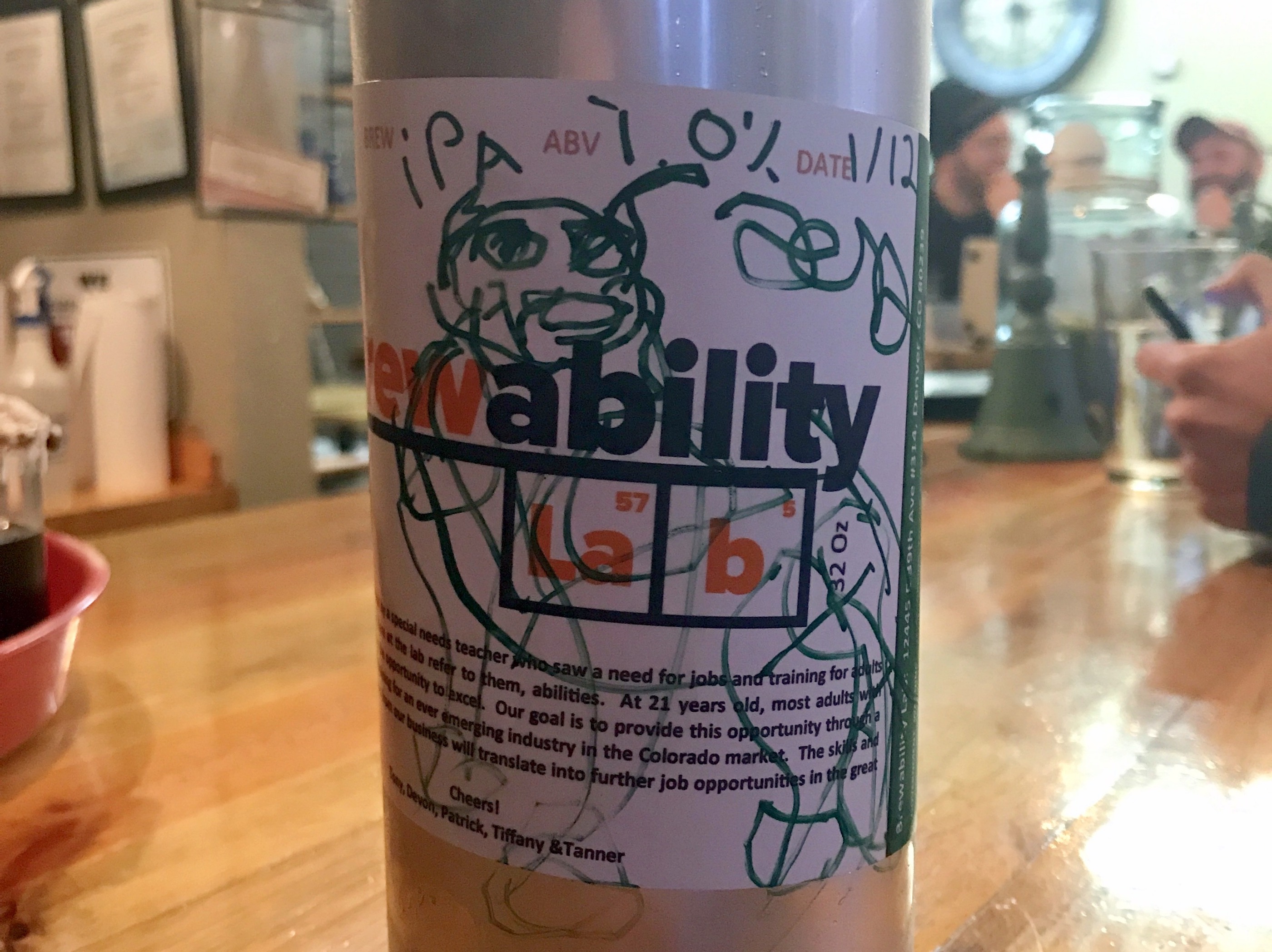 As for beer to go, Brewability fills crowlers (and if you're lucky, Tony may even draw you a special picture on your label!).
One can tell this is a labor of love for Fixter—with the emphasis equally on "labor." As with many small businesses, she wears just about every hat at Brewability, from running the taproom to managing the books to marketing and beyond. When business picked up rapidly as a result of a cannabis bus tour, she had to abruptly pause our interview and hop back behind the bar to sling pints alongside Tony and his colleague Devon.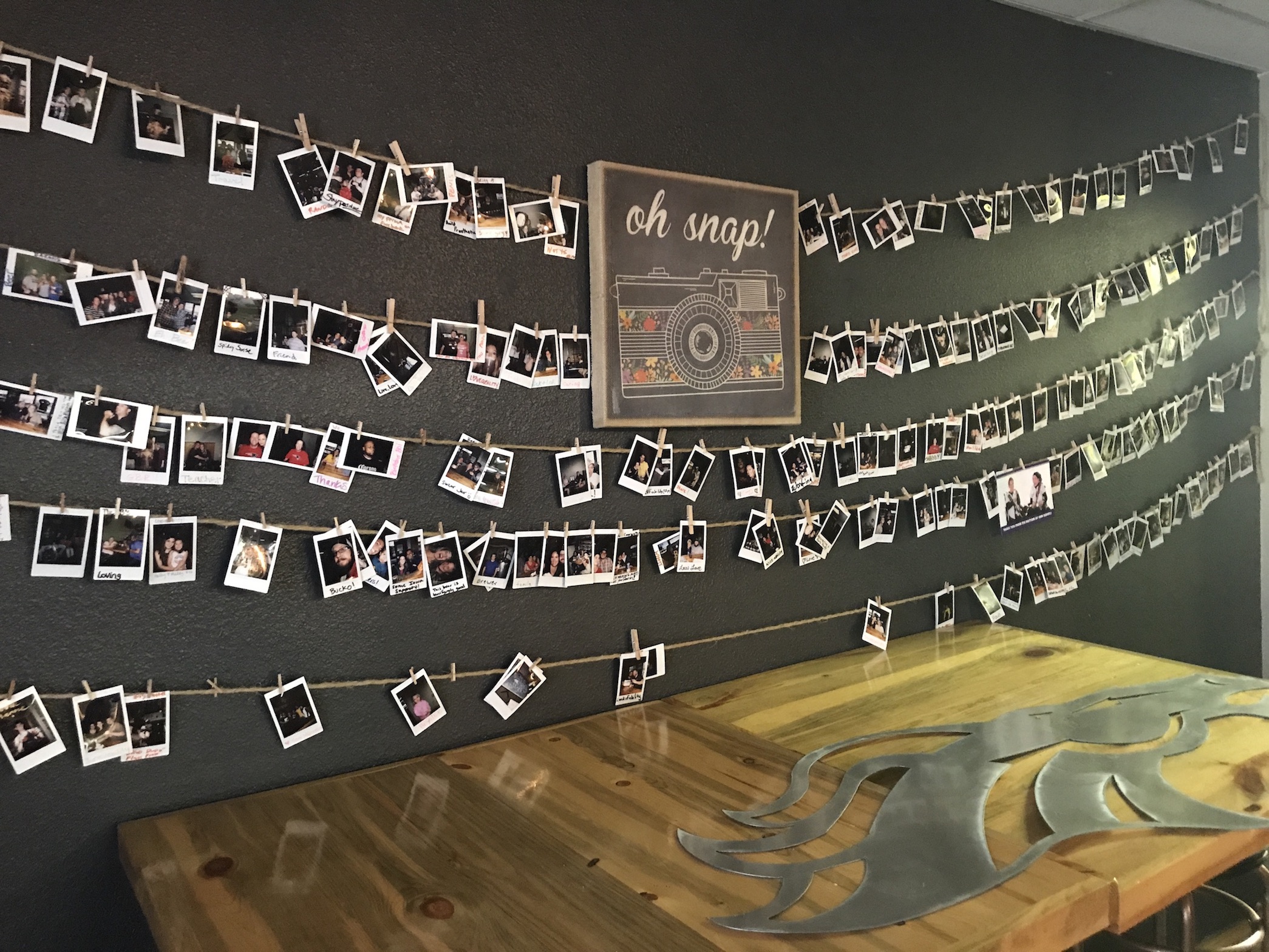 Rounding out the brewery's theme, a "Wall of Ability" invites customers to pose for photos and then write out one of their abilities or how they help others on the picture's border. As for the taproom employees, Fixter notes with pride how far they've come in just one year—including a previously nonverbal beertender who is now verbal thanks to working at Brewability.
"He was only speaking a few words and now he's just totally out of his shell, it's really awesome," she says. "Especially our regulars, they see it and they're like, 'holy cow, Patrick just said three sentences to me!'"
---