No Comments
Haymarket Brewing | Pink Sock Monkey Raspberry Wheat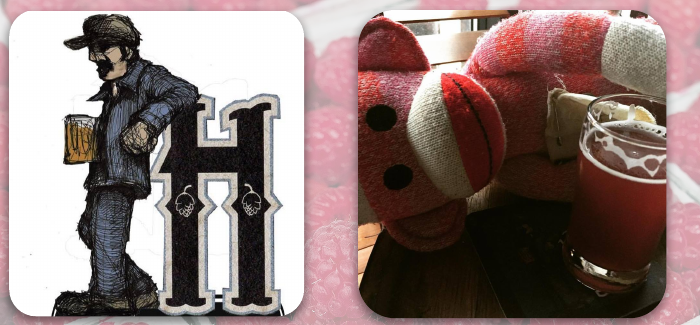 Haymarket Brewing in Chicago (and now also in Michigan) owes its name to one of the most notable moments in labor history: The Haymarket Affair. But, this is no time for a history lesson, this is a time to get to know a brewery renowned for creating beer intended for drinking, not sipping; for enjoying after a hard day's work, not kept in cellars. And Pink Sock Monkey Raspberry Wheat Ale is one of those beers.
Haymarket commits itself to workers — no matter the color of the collar — and Pink Sock Monkey Raspberry Wheat reminds us all that artisans and craftspeople enjoy a long legacy of cherished American professions, from blacksmith to brewer. Haymarket deftly weaves its way through the craft beer world by creating beers that simultaneously exude refinement and also approachability. Yes, those are often overused buzz words, but in this case they are perfect descriptors.
Now, before we get to the beer, you must get to know the person, uh, monkey, that serves as its inspiration. Her name is Citra Rose and she is a pink sock monkey brewing mascot. As Haymarket says, Who doesn't love a sock monkey? Citra Rose is Haymarket's sock monkey, and she is pink — really pink. What better way to honor her faithfulness to the brewery than to create a beer in her honor.
ABV: ~ 5%
First brewed years ago, its 2018 return arrived in time for several Illinois Craft Beer Week (ICBW) events, allowing me an opportunity to revisit the beer.
The beer at its core is an American Pale Wheat Ale comprised of plenty of wheat malt. Haymarket then adds 120 gallons of real raspberry juice to the brew. In contrast to the growing trend of profoundly fruit forward and juicy beers, the Haymarket Pink Sock Monkey offers beer fans an alternative by providing a beer that refrains from hiding the base beer.
Given its existence as a wheat beer, the beer pours pink, but it's a hazy shade of pink along with a few shades of orange or brown (depending on how the light hits it). The gentle kiss of raspberry aroma fooled me a bit because I imagined it would be more pungent. Regardless, the waft of fresh raspberry scent set the stage for the tasting that followed.
The flavor consists of bountiful notes of raspberry. This is not to say the raspberry presents similarly to sauce found on a dessert, but instead the raspberry flavor reminds one of having the berries added to summer tea or lemonade. You can't miss it, but you also never tire of it. Indeed, the tart and sweet nature of the raspberry plays evenly against the wheat's earthy spice and the carbonation that tickles the tip of tongue. In a word — lovely.
For those in the Great Lakes region, I highly encourage you to find either location sitting on both shores of Lake Michigan, Chicago and Bridgman, MI. (It is my dream to take a boat from one side to the other one day.)
Haymarket has enough brewing-award hardware to fill an entire wall, if not more. Haymarket, in addition to its solid beer portfolio, offers superb food and a downright neighborly attitude that begs one to stick around awhile. As Haymarket proclaims, "Beer and Sausage Bring Everyone Together."
And you never know. If you are there, you might just meet Citra Rose. If you see her, tell her you like the beer. Even pink sock monkeys need a pat on the back once in a while.
---