No Comments
Creature Comforts | Bibo Pilsner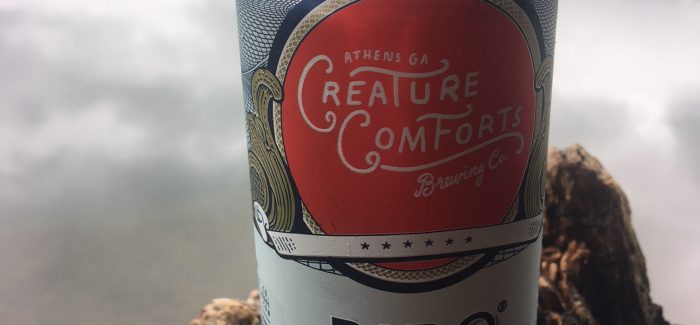 When you're in the dog days of summer, it can be difficult to feel refreshed. Luckily at PorchDrinking, we were able to find a beer to help cope with these elongated heat-heavy days. Meet Bibo, a refreshing pilsner by Creature Comforts Brewing Co. in Athens, Georgia.
If you've ever traveled in or through Georgia (or the South in general) during August, then you've likely experienced some toasty, humid temperatures, that can make you feel like immediately retreating to the comforts of an air-conditioned room. This can leave one feeling particularly parched and evoke a craving for a refreshing brew to help cool off and even feel rejuvenated. One such brew with these qualities is Bibo by Creature Comforts. This beer is a "true pilsner with ingredients from four different countries". The name, Bibo, was coined after Albert Einstein's parrot, which he received as a gift for his 75th birthday. Bibo means "I drink" in Latin. The hop build includes Classic Czech Saaz and Huell Melon hops from Germany. This dry and refreshing beer has a pleasantly present grain body to it with hints of sweet corn and an appropriate amount of black pepper bitterness. The brewery's intention for Bibo is to have a "new world twist on an old world style."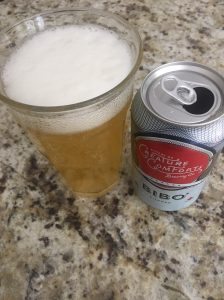 The appearance is clear and upon tasting, is quite crushable at 4.9% ABV. During a brief stint in northern Georgia near where the brewery hails from, I found it to be the perfect fix to handle the warm summer days. Bibo is one of Creature Comfort's year-round brews and can be found in 6 pack cans around Georgia, as well as available on draft in local bars and restaurants.
This delicious pilsner is worthy of your taste buds and is available on draft and in six-packs of 12oz cans from their tasting room, as well as in the Athens, GA & Atlanta, GA markets. I'd go so far as to recommend a trip to their local taproom on your next venture anywhere nearby Athens, GA. Turn to Bibo as a surefire way to beat the heat or just to help you feel refreshed year-round!
---