No Comments
Moonraker Brewing | Holy Hermit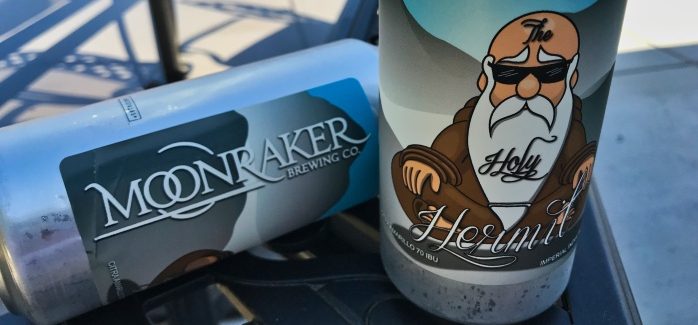 Located in the heart of California's Gold Rush county, Moonraker Brewing Company sits in an unassuming business park in the City of Auburn, a mere 700′ from neighboring Knee Deep Brewing.
Walking in their front door, it seems like you might not be in the right spot. No bar, no taps anywhere to be found. However, as you make your way towards the back, the space opens up into a large indoor/outdoor area, that screams beer hall. It also has a few small rooms that give it a bit of a "loungey" feel.
On my most recent visit, co-owner Dan Powell just happened to be behind the bar when I went up to get my flight. I know, flights, right? But with so many great beers, I needed to do a little sampling before deciding what to take home. They happened to be changing kegs for one of my selections, so Dan was gracious enough to give me a free replacement taster, while the keg was changed, and then brought me my original choice when it was ready. A free taster might not be the end all, but he certainly didn't have to, let alone bring it to my table. Service and great beer!
The choice for this day, Holy Hermit.
The Holy Hermit is a New England style hazy Double IPA. It comes in at 8.5% ABV with 70 IBUs. This beer is hopped with generous amounts of both Citra and Amarillo. It also uses Golden Promise as it's base malt. Golden Promise is an all-purpose base malt that really allows the hops to shine without getting muted by the grain.
The beer is light orange in color, with a bit of a golden haze. The head is a creamy white but dissipates rather quickly. While the head may be gone, the beer is well carbonated. You might think by the appearance that this beer would be heavy, but it's quite dry and leaves your palate quickly.
https://www.instagram.com/p/BnopKCKBYdo/?taken-by=moonrakerbrewing
The Holy Hermit has a huge fruity aroma that wafts through the air as you pour out the beer. Pineapple and tropical fruit aromas, topped ripe peaches make this beer an incredible fruit pie in a glass.
As you drink the Holy Hermit, the fruit aromas fill your senses. There is a perfect hop bitterness that doesn't allow any unwanted sweetness to stick around. This beer definitely drinks on the softer side of an IPA, but the residual bitterness keeps things in check. The peach flavors come in strong as you drink and the beer warms up. The pineapple takes a back seat while some mango flavors start to become more noticeable on the back end. This is a perfect fruity IPA, without any fruit additions. Hops are magical.
Moonraker is known for brewing up killer IPAs. In fact, they just won a silver medal in the 2018 Great American Beer Festival for their Double IPA "Northern Lights." While distribution is limited, their brewery/tasting room is located only about 30 minutes from downtown Sacramento, and 90 minutes from North Lake Tahoe. If you find yourself in the area, do yourself and make the trip. Totally worth the stop.
---