No Comments
Claimstake Brewing | Hit Me With Your Best Hops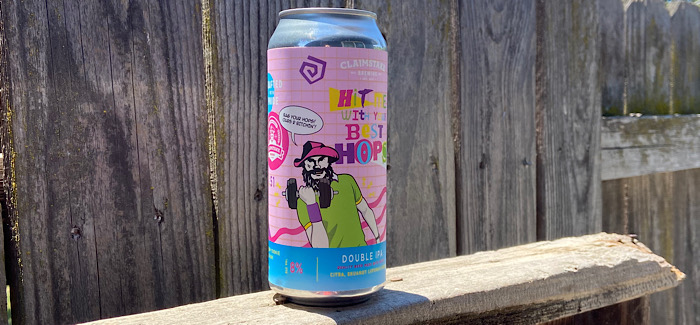 Are you looking for some old-school dank bitterness with some new school hops? Hit Me With Your Best Hops, just might be the answer. Claimstake Brewing has definitely dialed up the bitterness but did it in a way without knocking you out.
The first thing that hits you when you pour this beer is the ripe tropical fruit aroma. Envision sitting in the backyard on a summer day, waiting for the burgers to come off the grill and you're getting tempted by a warming bowl of fruit salad on the table. It's hard to pick out an individual fruit, the fruit aromas meld into a cornucopia of delight.
This beer is all double IPA. At 8% you do get that alcohol body and sweetness. Then that classic West Coast hop bitterness comes in to balance it all out. The hop flavors start out with underripe strawberry and guava. As you drink and the beer warms, you start to get citrus and herbal flavors.
The bitterness comes in with a touch, or maybe a punch of grapefruit pith. The hop bite really rounds the fruit, leaving a clean finish.
This beer was brewed for a "beer crawl" during Sacramento Beer Week. They teamed up with four other breweries in Rancho Cordova to feature a Double West Coast IPA. If you're thinking, where is Rancho Cordova? And why do they have five breweries? Check this out Barrel District You just might need to plan a trip. Five breweries, two distilleries and one meadery. Who can really ask for more? Rancho Cordova is just a few miles outside Sacramento.
Claimstake Brewing has been at it since 2015. Located in Rancho Cordova, CA, they have a great local following and it's well deserved. They have been producing incredible beers and have one of the friendliest crews working the bar. If you find yourself in the area, do yourself a favor and stop in.
---