No Comments
5 Questions with Firestone Walker's Master Blender, Jim Crooks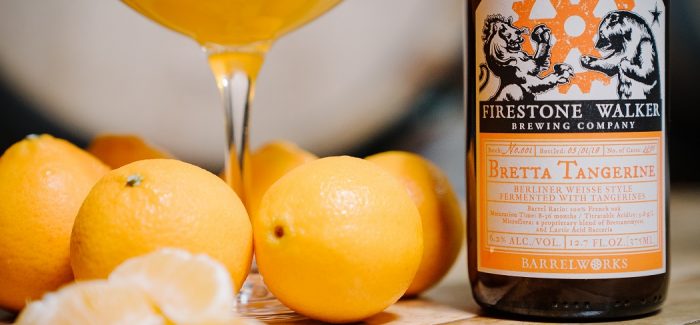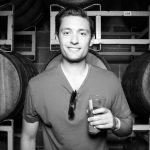 Being a master blender is much like being a mad scientist. It takes an innate knowledge of the craft, a bit of daring, and a bit of flare. The job inherits a lot of risk thanks to how unpredictable wild yeast can be. Thankfully, California-based Firestone Walker has the man up to the task.
Jim Crooks, affectionately called Sour Jim, has run Firestone Walker's Barrelworks wild yeast facility since its introduction in 2014. During that time, he's worked on unique barrel blending projects like Feral One and newer ventures like their recently-released Rose-style beer that uses locally-sourced Paso Robles grapes. Crooks has produced a lot of innovative offerings over the past five years, but the best may be yet to come given their focus on blending the lines between beer and wine with the help of locally-sourced ingredients. We asked Jim five questions about his role, why he focuses on fresh, and what comes next for Barrelworks. Here's what he said.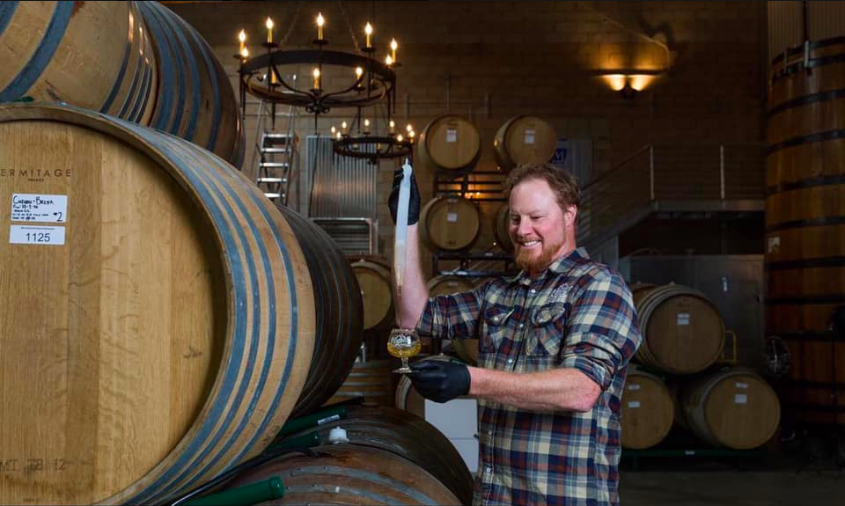 How did you find your niche as a master blender?
Somewhere around the age of 15, I became bored with my mom's usual array of meal options. I'd look into the pantry and see boxed prepackaged foods, most of them made from a sizable paragraph of illegible ingredients. I started asking mom if I could come shopping with her and became enthralled with the fresh vegetable, seafood and meat sections of the grocery store.  My curiosity into flavors became a real experience when I became the responsible party for cooking at least one meal for my family a week. It was this experience that led me to cooking professionally for 6 years. Ultimately and by way of a Food Science degree, I found myself with the title of Quality Control Manager for a quick growing brewery, Firestone Walker. I found out quickly and by necessity, in order to keep up with the demands of a fast-paced production schedule, that blending beers could be used as a tool for the meeting of product label specifications such as alcohol content, as well as color and bitterness. I learned that blending could also enhance aromatics and flavor and open up a world of synergistic effects in the realm of new beer design. Barrelworks was born from years of brewing practice, sensory analysis education, and new beer design.
Explain your fruit sourcing program: What do you focus on when sourcing local ingredients?
At the current time, almost every beer we produce includes some type of fruit in it. Whether it be local or sourced outside of the surrounding area my first concern is always quality. The beers we make always start with a design phase. We might have an idea about what fruit we want to use and how we want to utilize it, but if we can't find really good fruit, then there is no use in making the beer period. Sometimes fresh and local means really amazing fruit, but sometimes it doesn't equate. Even in our backyard where fruit grows in abundance, I've sourced IQF products from as far away as Poland. The reason? The quality. I choose fresh fruit whenever possible, but not without first sampling the fruit on a small scale. I like to know where the products are coming from, and if possible, I meet the people involved. We've gone as far as asking to be present during harvest and or selection. Ideally, you want to guard against any questions or variables around the use of the fruit that would be cause for future issue in the beer.
https://www.instagram.com/p/BuZhY_1AOi7/
Why is having a solid blending beer like your Bretta Weisse base so important to a successful barrel blending program?
From experience, we have found out that having a complex and expressive recipe does not necessarily translate to making a great sour beer. Fruit beers ideally start off with a very basic base beer that can easily showcase the finer attributes of the fruit being used.  Any distraction from the fruit can add contrast and unduly take away from overall experience. Bretta Weisse by way of a very simple recipe with mild yeast/bacteria characteristics happened to turn into a beautiful canvas for fruit beers as well as being a solid blender.
What is the biggest common misconception around yeast in the craft beer market?
I think craft brewers often underestimate the importance of having accurate tools and methods to monitor yeast health, viability, and proper pitch rates. Yeast is the most important ingredient in the mix period.
What are you looking to do next with Barrelworks?
This next year we will be focusing on our relationships with our local craftsman and chefs, working with our local fruit farmers in hopes of finding unique high-quality ingredients and also plan on foraging native and wild fruits and botanicals from the local surrounds to make beers with unique terroir. We will continue the Terroir Project which showcases the growing beer/wine hybrid beer style and plan on expanding on this collaborative idea.
Photo Credit: Firestone Walker
---