No Comments
Ultimate 6er | Six Beers Between Summer and Fall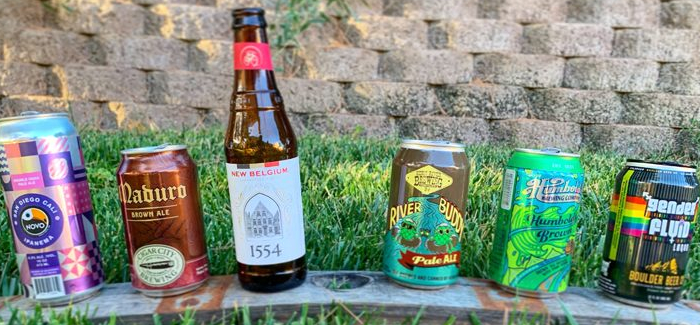 In some places in the country such as Southern California where I'm from, the weather can vary from day to day during this time of year. Some days you want to combat the sweltering heat with nice light or refreshing beer. Other days it's becoming that nice fall season weather where you want to start drinking those darker and heavier beers. Here's a list of beers to help you take on the week during the transition from summer to fall!
https://www.instagram.com/p/B2dmncDlDj7/?utm_source=ig_web_copy_link
Gender Fluid by Boulder Beer Co. is a German Pilsner-style lager that is crisp and refreshing. Aptly named for a portion of profits going to the Human Rights Campaign,  Gender Fluid is reminiscent of the easy drinker when you're working on your car. Slightly dank with a light green and grassy aftertaste, you'll also find flavors of Asian pear and light crackers in this beer. Enjoy Gender Fluid in a tall glass to see the bubbles trailing up in this super clean and balanced beer.
---
https://www.instagram.com/p/xWyeiPnluZ/?utm_source=ig_web_copy_link
Cigar City Brewing Maduro Brown Ale is toasty, nutty, with flavors of roasted pecan, and a hint of apple and fruit. A great drinking beer for those leaf changing fall days!
---
https://www.instagram.com/p/B2mHDQ3lOVV/?utm_source=ig_web_copy_link
Novo Brazil Brewing's IPANEMA is a Double IPA made by an internationally awarded brewery who has a Brazilian soul. This beer is fruity with flavors of melon, stone fruit, sweet apricot, a bit of orange ring candy and gummy worms. A deceptively smooth and easy drinker that clocks in at 8.3% ABV.
---
https://www.instagram.com/p/B2f6hKUFcbB/?utm_source=ig_web_copy_link
New Belgium Brewing 1554, part of their Belgian collection, is a Belgian Dark Ale. Made to resemble the dark brews enjoyed in Belgium Taverns in 1554, as the brewery says it's "not a porter, not a stout—it's 1554." This brown ale is toasty with a palate of walnuts, toasted cashews, light cracker, and a hint of smokiness. You also get a bit of cocoa nibs and light roast coffee on the end.
---
https://www.instagram.com/p/BnFY_VQBX-v/?utm_source=ig_web_copy_link
Kern River Brewing's River Buddy Pale Ale has a gentle malt back bone with a balanced bitterness. The beer is a little dank and green with a hint of pine but overall not overwhelming. This is  extremely sessionable and definitely a perfect river and summer beer.
---
https://www.instagram.com/p/BOUy4D0DZz8/?utm_source=ig_web_copy_link
Humboldt Brewing's Humboldt brown is brewed with hemp seeds and full of caramel and medium toasted bread, with hints of fruit- dried apricots and prunes, raisins. With a clean finish, it coats the tongue with a smoothness that goes down great, snow or shine!
---