No Comments
The Weekly Buzz | March 23 – 29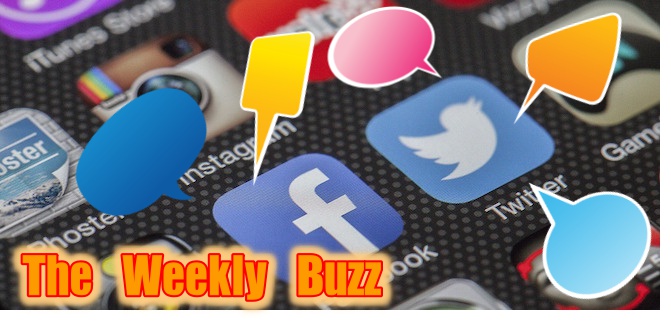 This is a glorious day. It's Friday, and I'm about to have an entire weekend off. This only happens about once a month, and I could not be more stoked. My weekend beer plans are already in the works. Have you started planning yet? Maybe these social media posts will help! Sharpen your pencils and pull out your day planner. This is The Weekly Buzz.

Drink beer. Eat cookies. Support the Girl Scouts.
We were excited to work with lots of restaurants to raise money for the Girl Scouts of Western Washington! Thanks Girl Scouts for this snappy snap of Shalini proving that beer goes with cookies too! 😉 pic.twitter.com/geSwC1IOn3

— Optimism Brewing Co. (@OptimismBrewing) March 23, 2018
---
What's next? A 3/8 IPA?
We've been brewing so many double and triple IPAs recently, we thought we'd dial it back for a minute… introducing:

100s OF MONEY
Single Hopped Mosaic Half IPA
4.6% ABV | 30 IBU

On tap now, for tasters, pours, and growler fills. We're open noon-10pm today, see you soon! pic.twitter.com/1kvg7W36RC

— Pure Project (@purebrewing) March 23, 2018
---
A Public Service Announcement from Cigar City
2010 was a great year for Cigar City Brewing, but not canned 12 packs of Jai Alai good! If you nab a canned 12 pack of Jai Alai stating "canned on 3/2010" it's a nostalgic typo. We apologize for the confusion & appreciate your understanding 🍻 pic.twitter.com/OOR1EGkkSM

— Cigar City Brewing (@CigarCityBeer) March 23, 2018
---
Beer is always better when it supports a great cause!
Beer for a good cause! Did you know that proceeds from #BoonvilleBeerFest ticket sales benefit local non-profits such as the AVFD, AV Land Trust, and AV Animal Rescue? Get yours today! https://t.co/9UpHQ5EvNQ pic.twitter.com/VeKkGTUeJb

— Anderson Valley Brew (@avbc) March 23, 2018
---
Mark your calendars for this anniversary celebration!
It was almost five years ago Stone Brewing World Bistro & Gardens – Liberty Station first opened its doors. Half a decade and a couple gold medals later, we're commemorating five years of great times and amazing beers in San Diego this May! https://t.co/cFiU6wdaLJ pic.twitter.com/gGP4WeqnbL

— Stone Brewing (@StoneBrewing) March 23, 2018
---
Did you drink to the puppy in your life?
It's #NationalPuppyDay and we could really use some woofers in our mentions, so send us a pic of your dog and we'll randomly choose one very good boy or girl to receive this toy + treats combo! pic.twitter.com/fTfUiWkxFv

— Boulevard Brewing Co (@Boulevard_Beer) March 23, 2018
Can't every day just be #NationalPuppyDay? pic.twitter.com/vC4mZbi2M0

— The Brooklyn Brewery (@BrooklynBrewery) March 23, 2018
Not quite the weather we were hoping for on #NationalPuppyDay, but we'll still have a dry place to bring your pups and cold bier at today's Dog Day Friday! pic.twitter.com/NWp9ELJJC9

— UrbanChestnutBrewing (@urbanchestnut) March 23, 2018
It's #NationalPuppyDay! Celebrate w/ a pint at Starr Hill!

Our #CheersForCharity partner this month is @CASPCA, an org dedicated to advancing the compassionate treatment of animals. $1/pint goes towards @caspca's shelters, medical care, behavioral services, education, &outreach pic.twitter.com/udV7kd5l4J

— Starr Hill Brewery (@StarrHill) March 23, 2018
It's #NationalPuppyDay. #BrewUntoOthers & show us pics of your brew dog! #YARDS pic.twitter.com/lDjCaHlkJN

— Yards Brewing Co. (@yardsbrew) March 23, 2018
---
I want to go on this adventure with them!
https://instagram.com/p/BgwWLTjALV2/
---
We're putting out an APB on a bobble-head that looks like a brewer!
---
Beer jobs! We found beer jobs!
HIRING: Our production brewery in Cleveland is looking to add a Canning Line Associate/Keg fill/Keg washer. Position would be exposed to a little bit of everything on the packaging side. Must have flexibility with schedule. Send resumes to [email protected] pic.twitter.com/IWVYDWPguN

— Platform Beer Co. (@PlatformBeers) March 26, 2018
https://instagram.com/p/Bg1R_megQgw/
https://instagram.com/p/Bg1eN_HDE4Z/
We are looking to fill a position within our sales team, representing Half Acre in the south and west suburbs of Chicago. Check out details on the position and learn how to apply: https://t.co/J5Bra30VZv pic.twitter.com/lStbUkRZBw

— Half Acre Beer (@HalfAcreBeer) March 29, 2018
---
Sharpen those harpoons! It's time to hunt whalez!
https://instagram.com/p/Bg3_kiGA9jB/
---
I don't even like loading the dishwasher.
A lot goes into the beer we make for y'all, it's not just all brewing. Brewers could possibly rival any ocd housekeeper. @doodlesdurango satisfies her ocd itch w/ #valverebuilds #breakdown #cleancleanclean #strangebrew pic.twitter.com/qACvhhEXOT

— StrangeCraft Beer Co (@StrangeCraftCo) March 29, 2018
---
Do you know where to find craft beer at the ballpark?
Happy #Baltimore @Orioles #OpeningDay! If you're going to the game, make sure to grab a #HeavySeas beer inside Camden Yards at the locations listed below: pic.twitter.com/9Ty08Ny72F

— Heavy Seas Beer (@HeavySeasBeer) March 29, 2018
---