No Comments
Stepping Up Your Beer & Wing Game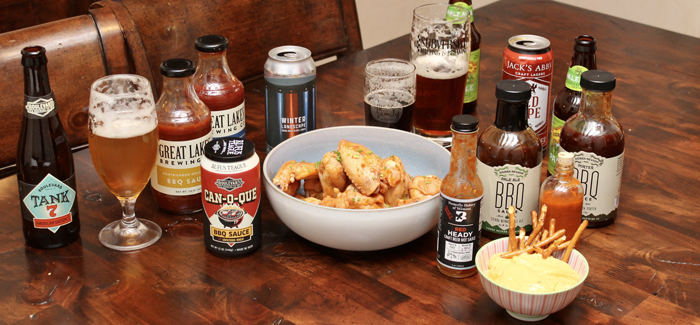 I love the Super Bowl solely because of the food. Chips and guac, Italian heroes (or wedges, as they call it where I'm from) and chili are all great, but wings are my favorite. Since beer and wings go hand in hand, it's fun to take this pairing a step further and combine the two. There are many ways to do this and we've provided a few easy ideas.
Since my cooking instructions fall into the style of a little bit of this and a little bit of that, I have provided links to other sources for more details. You can do each of these methods individually, or you could complete them all in the same batch, with the same beer, for super beer nerd status.
First, a few comments on preparation, especially for those who haven't made wings before. There are many ways that you can prepare wings at home, each with their pros and cons. I don't like frying largely because of all the oil. Smoking and grilling are two great methods that are easy and make delicious wings, but may not be convenient given the time of year or if you live in an apartment.
My favorite method, because it's most convenient and makes great wings, is to dry brine them (pat them dry, coat with kosher salt, place on a rack and put them in the fridge for a few hours, brushing off the salt when done) and then lightly coat them with baking powder before putting them in the oven. Patting them dry, adding salt and putting in the fridge all help to remove moisture from the skin, helping it crisp up while keeping the meat moist.
I cook them on a greased rack at a low temp, around 250F for about 20-25 minutes, then at 425F for an additional 20 minutes or so. I like this method because it makes less of a mess, is a little healthier and produces a wing that tastes like it was fried, but is not as greasy. For more details on crispy baked wings (including a recipe for IPA Sriracha Chicken Wings), check out this post from The Beeroness (aka Jackie Dodd).
Marinade
A marinade is all about adding some flavor to the chicken before you cook it. It can also help to tenderize the meat. This is different from a brine (wet or dry) which is more about locking in moisture. I like to use onion, garlic, a little oil, salt, pepper and a little acid, perhaps from citrus fruit or some type of vinegar. Then, pour in the beer of your choice. As with most of the ideas here, it's generally safest to stick with traditional styles of beer. I like a simple Helles or Vienna lager, but I've also used Hitachino Nest White Ale.
Throw all of these ingredients into a container with the wings and let them sit in the fridge for a few hours. Once you are done marinating (up to 24 hours), remove the chicken from the liquid, pat them dry and then follow the steps above with the brine and baking powder.
For my White Ale wings, I stuck with the Japanese influence and made a quick sauce with mirin, soy sauce, honey, ginger, garlic, light brown sugar, salt and pepper. Craft Beering has a great post with more details on marinades and a bunch of recipes.

Batter
Beer-battered chicken is pretty easy, but a little messy. Preparation generally includes the addition of eggs, flour, seasoning and beer, obviously. I coat the wings in flour, shake off excess, then dunk in the batter. Next, shake off the excess batter before submerging the wings in oil that is around 375F. It is very important to make sure the oil is hot enough or the batter will not get crispy and the wings will be a soggy mess.
This is a pretty good recipe from Food & Wine, despite their note for the beer addition ("18 ounces crisp beer, such as lager or pilsner". Hey, Food & Wine, that's like a recipe for coq au vin that calls for a dry wine, such as a red or a Burgundy), and another recipe from the Beeroness using a Blonde Ale.
I recently made my own with Tools of the Trade, a Pale Ale from Industrial Arts, using a different recipe (the primary difference was the absence of buttermilk). I find it's tough to detect the flavor from the beer in a batter. The greatest contribution the beer adds is a unique texture in the batter from its carbonation.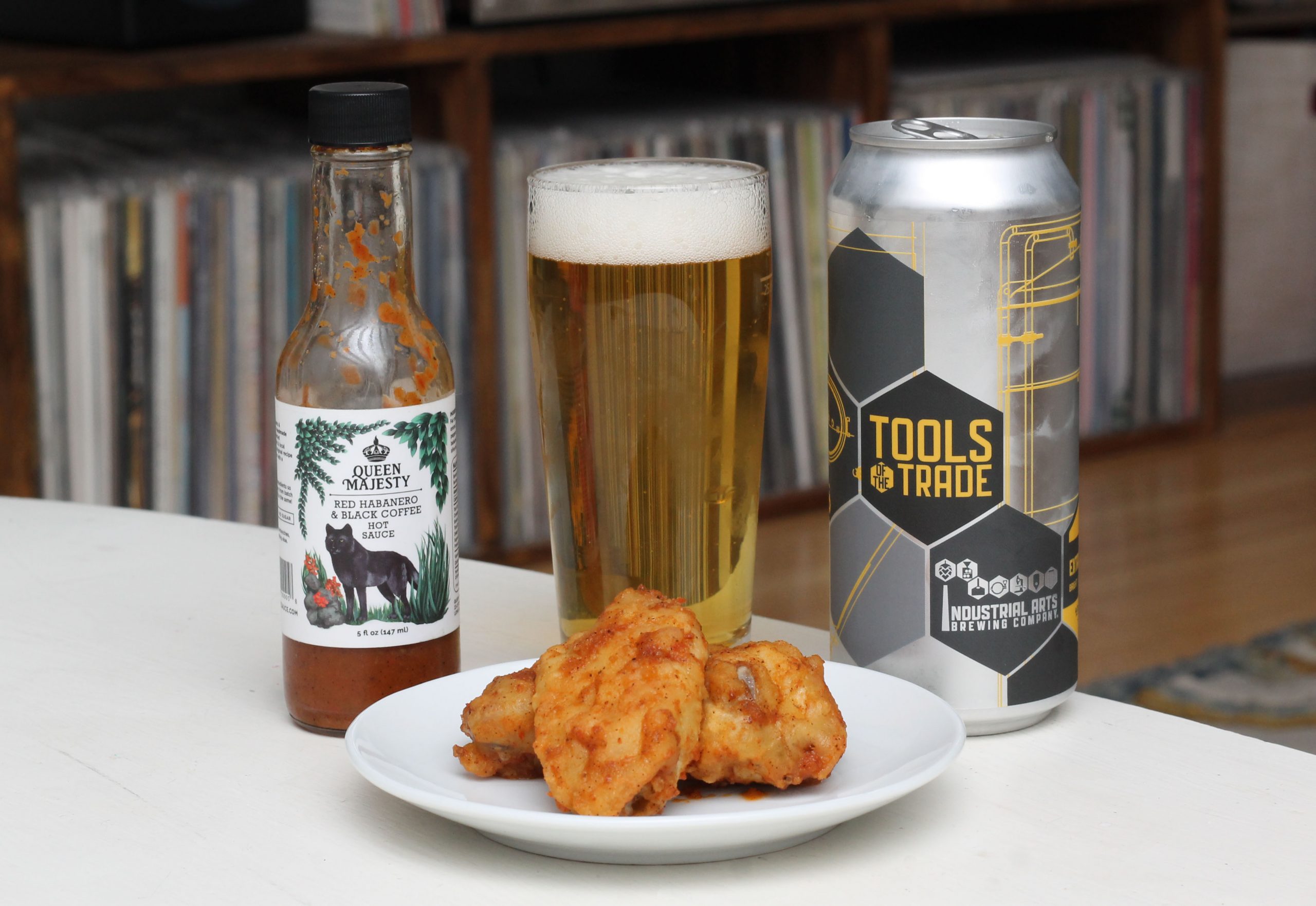 Sauce
There are a couple of ways to combine beer and wings with sauce. An easy one is to seek out the breweries and others that make sauces with beer in them. Once your wings are done cooking, you simply coat in the sauce and you're good to go. If you're not looking to get too involved in the kitchen at all, you could buy cooked wings without sauce and simply add your beer sauce.
Great Lakes Brewing Company, Sierra Nevada Brewing Company and Boulevard Brewing each make barbecue sauces with their beer and they're all delicious. Boulevard's, which is produced by Rufus Teague, gets kitschy points for being packaged in a can: "can-o-que," they call it. Stone Brewing is also in the sauce game.
I'm happy with a variety of sauces, but I do prefer hot ones; one of my favorite hot sauce makers, Butterfly Bakery of Vermont, has several products with beer from local breweries. Representing the diversity of the Vermont brewing scene, they have a sauce with The Alchemist, a founder of the New England IPA; one from the Bavarian-inspired von Trapp Brewery and a couple from Queen City Brewery, which brews an array of classic styles. All of these sauces go well with wings and a variety of other dishes.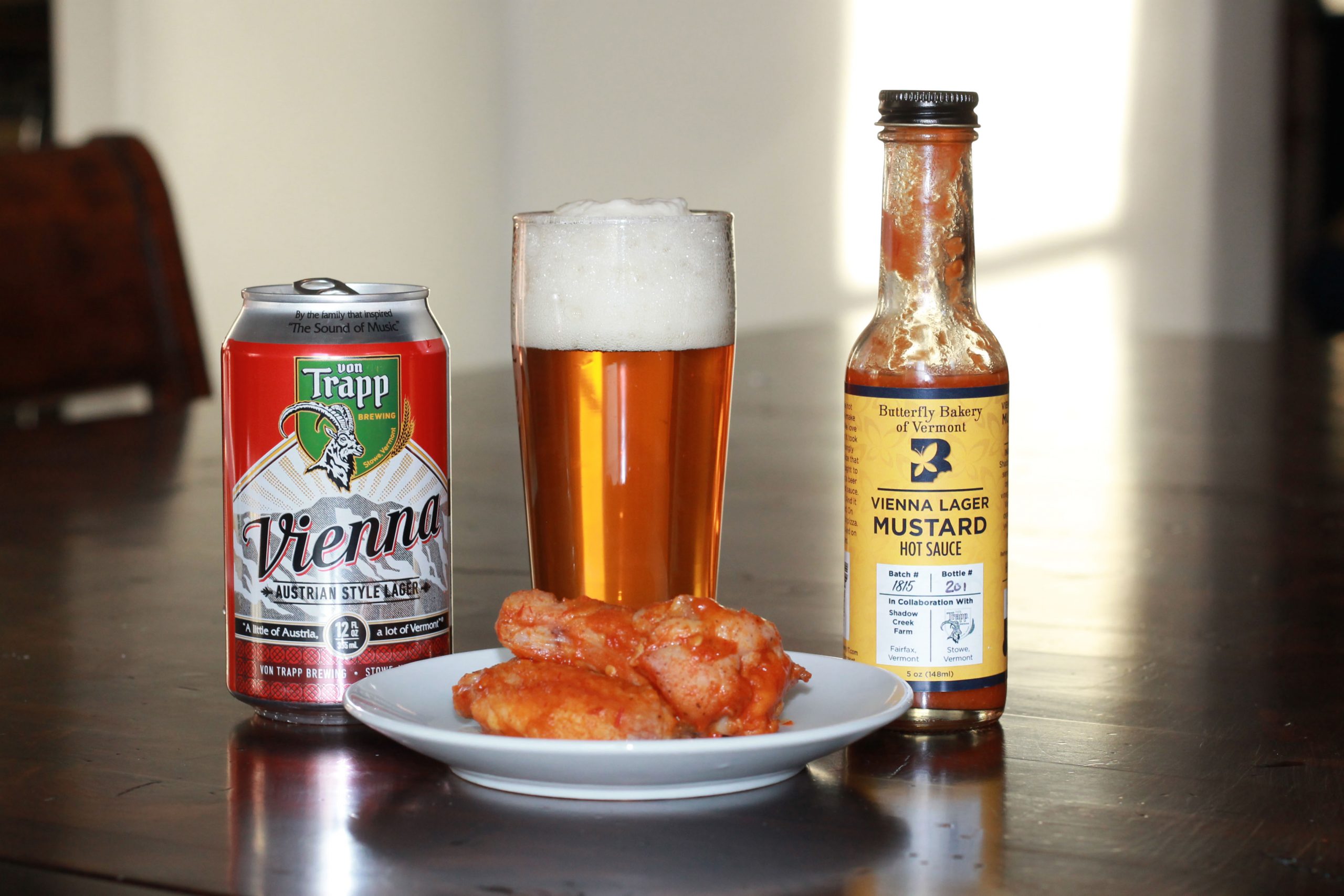 While these may be convenient and tasty, making your own sauce is fun and rewarding. I just made an Amber Lager habanero hot sauce, which includes a few habaneros, some pequin peppers and a couple of chipotles. I added roasted red peppers, caramelized onions, garlic, light brown sugar, salt, and a little white vinegar. This particular batch included Red Tape, an Amber Lager from Jack's Abby.
The Beeroness, of course, has excellent hot sauce recipes, including this amber ale hot sauce and this stout and sriracha beer barbecue sauce. Bell's Brewery has a great recipe on their website for an easy hot sauce made with their classic Two Hearted Ale.
Dip
To top off your beery chicken wings, ditch the blue cheese and ranch and opt for beer cheese. This incredibly easy recipe from Bon Appétit makes a phenomenal dip. I've used Newburgh Brewing Company Brown Ale. For a great warm dip, here's one last recipe from The Beeroness.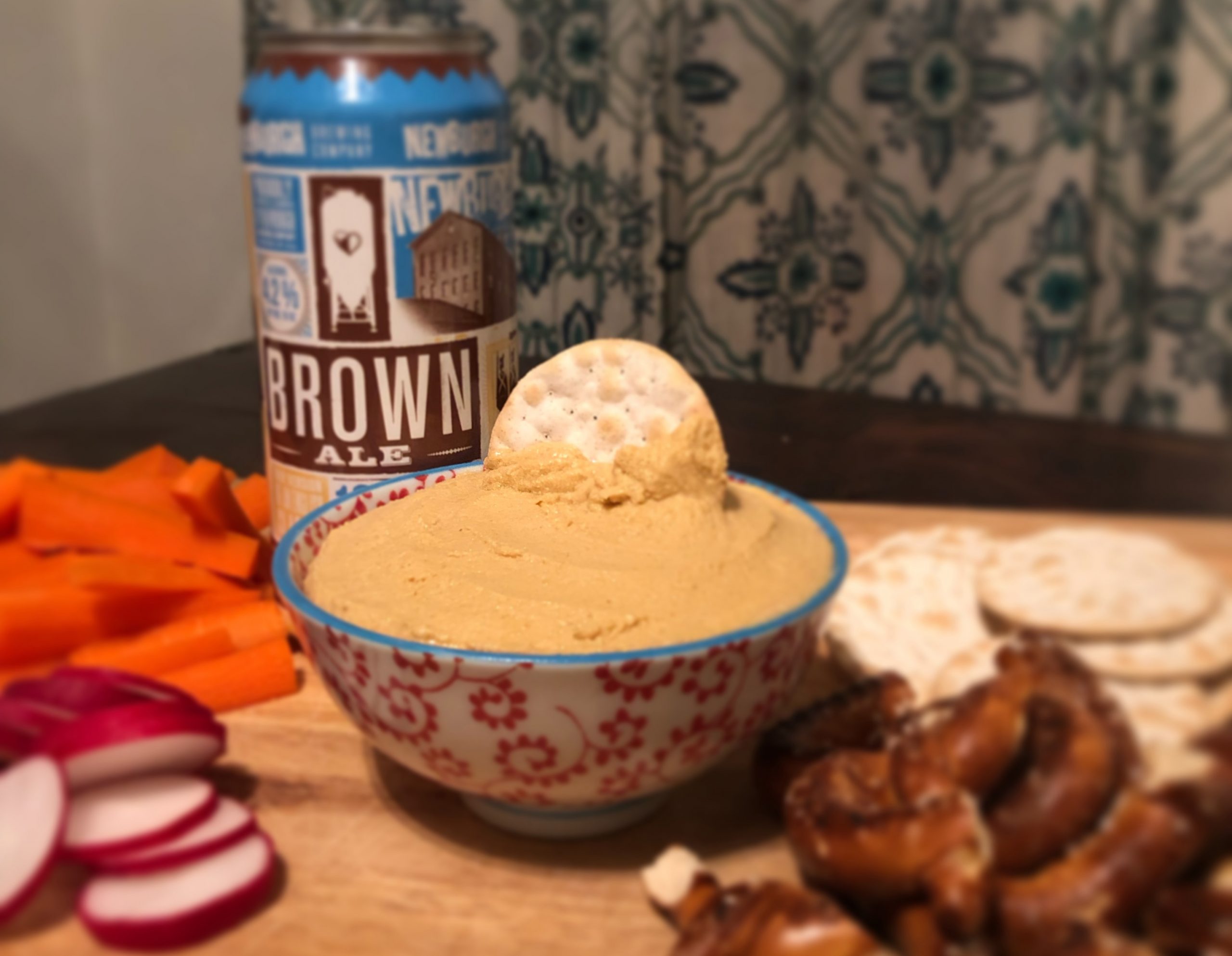 Kat Wolinski had a great post on VinePair a couple of years ago about the history of beer cheese (includes a recipe). Check it out.
One final idea, if you're into micheladas, you could go for the coup de gras and make a beer hot sauce michelada. Serious Eats has you covered with this simple recipe.
Go team beer!
---