No Comments
Industrial Arts Brewing Company | 2019 Summer Landscape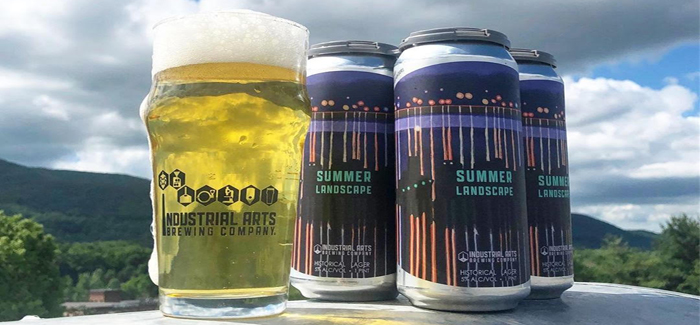 With the 2019 release of Summer Landscape, Industrial Arts Brewing Company moves into the second year of its Landscape Series. These seasonal beers are meant to highlight New York State ingredients, and are entirely produced with materials grown within the state. This latest version is another success for the brewery.
When initially creating the series, Brewmaster Mike McManus noted the idea was to make a 100 percent New York State product, and the brewery felt the best way to make the ingredients stand out was to brew lager beer. Last year's version of Summer Landscape was a spelt lager, while this year they have created a "Historical Lager" made with 6-row pilsner malt and yellow corn. The hop bill includes Nugget, Glacier, Willamette and Mt Hood. As they have done in the past, the brewery obtained ingredients from Hudson Valley Malt in Germantown, and Pedersen Farms in Seneca Castle.
While very different than the spelt beer, it is similar in that it has everything you want from a summertime lager. The beer is light and refreshing with a reasonable ABV (5 percent), but with enough backbone provided by the malt to keep it from being watery, yellow fizz.
The beer is crystal clear in appearance with a pale straw color. There's good head retention, and its aroma is a little spicy with notes of corn. The flavor profile is consistent with the aroma. There's a bit of sweetness from the corn, which is kept in check by the husky 6-row malt. It's all nicely cleaned up by the herbal and spicy hops, ending with a clean and dry finish. Despite the hop varieties noted above, the beer seems to express Noble hop character more so than American. I suspect the hop bill leans heavier on the Mt. Hood and Willamette hops rather than the Nugget and Glacier.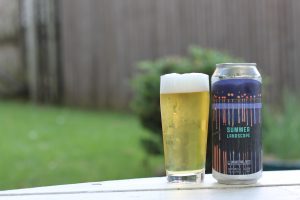 In addition to shining a light on the local agricultural community, the Landscape Series is also a philanthropic endeavor. Ten percent of sales go to a local non-profit with a mission that is in keeping with the spirit of the series. For this release, the funds will be donated to the Sparkill Creek Watershed Alliance.
The artwork that accompanies each version is created by local artist Ursula Schneider. They each depict the Hudson River at differing times of the year, matching the season of the release. While the 2019 Summer Landscape beer itself is different, the artwork remains the same, and that consistency and respect for the art is appreciated.
Industrial Arts is stepping up production for the first time in the series with this release, making two batches at around 75 barrels each. Distribution is restricted to New York State, where it can be found on tap or in 16-oz cans.
Feature image courtesy of Industrial Arts Brewing Company.
---