No Comments
10 Questions with Strange Craft Beer to Celebrate 10 Year Anniversary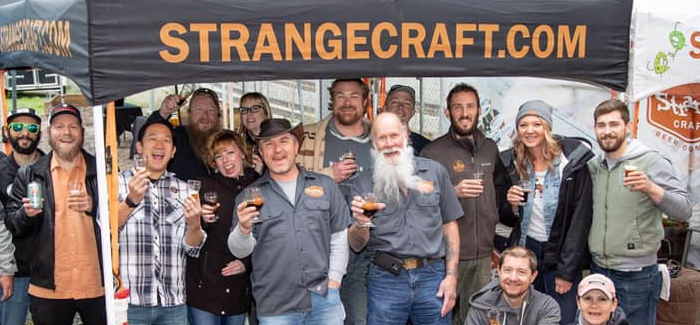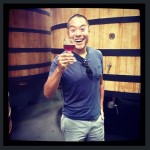 A decade can feel like a lifetime in the craft beer industry. Such is the case for Denver's Strange Craft Beer Company, who last Tuesday celebrated their 10 year anniversary. When they first opened in 2010, they became just the 10th brewery in operation at the time within the city of Denver, and now that number has swelled to approximately 80.
Over the span of the next 10 years, Strange would go on to weather litigation with a homebrew shop in Massachusetts, go on to win four GABF medals and two World Beer Cup awards, begin packaging their beers for limited distribution to local liquor stores, expand operations to open an outdoor biergarten, and founder Tim Myers would also help to mentor and usher in a new wave of brewers that now make up the Colorado craft beer scene as we know it today.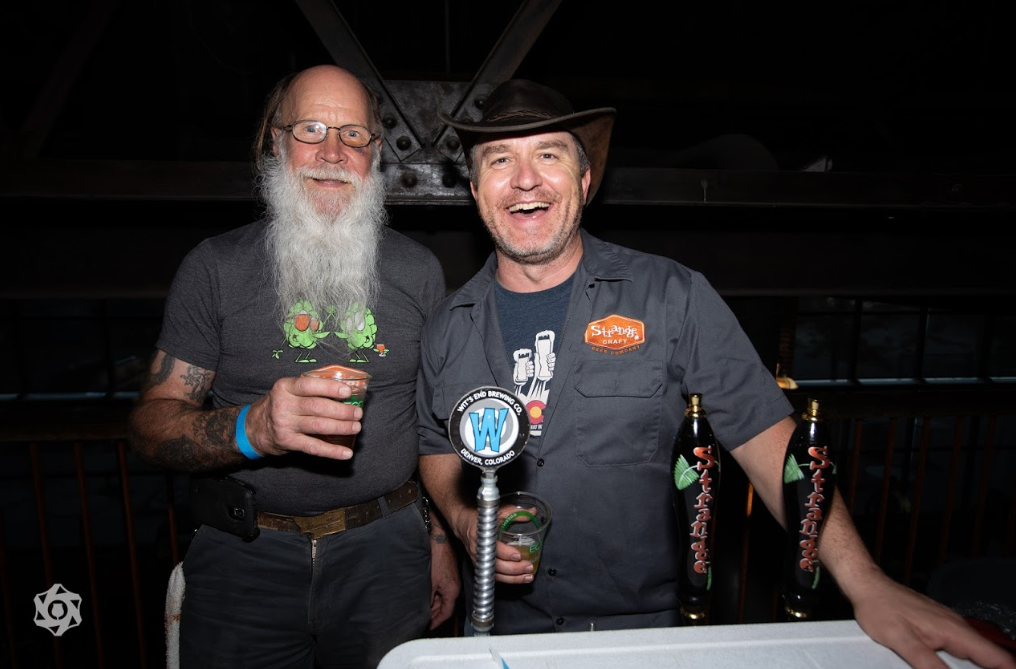 We caught up with Tim to hear more about what the last 10 years has meant to him and the Strange Craft team, as well as what to expect on the horizon.
PD: Strange Craft was one of 10 breweries in operation within the city of Denver when y'all opened in 2010. Aside from just the sheer number of options available now, what's been the biggest difference between the beer scene then and the beer scene now?
Tim: We were just talking about this the other night. With so many options now, new breweries have got to be on point for quality. There is no grace period anymore. Craft beer enthusiasts have been spoiled (is that the right word?) with so many outstanding breweries that they can be picky now with their beer dollars. When we opened, our beers were delicious and aromatic, but not the most visually appealing. I like to joke that we were the first Hazy brewery, we just didn't know that was a good thing or how to market it.
PD: You often talk about the influence that Kevin, Michelle and at the time Bill over at Dry Dock had on helping get Strange Craft off the ground, what was the biggest takeaway you had from their tutelage?
Tim: The biggest takeaway was that a taproom brewery was possible, that I didn't have to be a huge packaging facility or a brew pub to be successful. When I talked to Brian Dunn at Great Divide he talked about the huge cash flow challenge of filling and selling 6-packs in the beginning. In the 90's packaging breweries had a hard road to travel. I have huge respect for the brewers that made it work and succeeded and I also empathize with those that tried and failed. But Kevin was selling pints across the bar for the same price that a packaging brewery was selling a 6-pack to a liquor store. Just run the numbers, 16 ounces in a glass that gets filled in maybe 20 seconds, then washed and reused over and over. Compare that to 72 ounces of beer in a six pack, with like $1 or more in glass bottles you'll never see again, plus labels and caps, plus the labor to fill them, store them, sell them, distribute them. You're talking like 50 cents margin—MAYBE. Until you can reach a huge economy of scale, it's like climbing the Great Dune at Sand Dunes NP. One step up, two steps back, over and over and over. Kevin had a nice variety of tasty, quality beers, with a nice revolving beer list. 7 barrel batches instead of 70 barrel batches allows for a great number of different choices on tap. From Bill I learned that every one of those batches was a direct reflection of him. It was like he put his name on every single pint and it better be quality brew. Utmost respect and that made me totally up my brewing game before we opened. If I was going to be making the beers and selling the beers direct to customers, I'd better be proud of every beer I made. And don't be afraid to dump a bad batch. Reputation for quality is everything
PD: Since opening Strange Craft, you've gone on to help mentor and assist many other of the state's now prolific brewers ranging from Stephen Kirby at Hogshead, to Jake Gardner at Westbound & Down, Jeremy Gobien at Copper Kettle, Scott Witsoe who started Wit's End, and Kelissa Hieber head brewer and now owner of Goldspot just to name a few. Do you feel that the generosity of the folks at Dry Dock coupled with the fact that you're one of Denver's elder statesmen of brewing makes it your responsibility to create an inclusive and open brewing community?
Tim: Yeah, I've always wanted to pay it forward. I was such an annoying pain in the ass with all my questions before opening Strange. But brewers like Kevin or Brian or Bill or Peter were always so generous and patient. It's like karma. I'd better be as generous and patient or karma will come up and bite me in the ass one day. And something before I opened that resonated with me – this industry is like no other. Businesses that should be competitors helping each other rather than acting like cutthroat competitors. It was that realization that confirmed in my mind that this was the right career choice.
And yes, the generosity I experienced at Dry Dock is something I've tried to instill in those who have come after, have hung out at Strange, have brewed with me or simply asked me for advice. Those that also display that generosity after their brewery opens are the ones the public flocks to. Those that don't, well, I just don't have the time or patience for them. And probably, the craft beer public won't either.
PD: Like most breweries, Strange Craft has experienced some bumps along the way, most notably the early lawsuit with that homebrew shop in Massachusettes early on. Looking back on that incident, what did you learn through that process, and how has it shaped the business since?
Tim: Ha, that was a tough part of Strange's history. A lot of sleepless nights worrying if we were in the right, should we just cave, should we fight… But I'm a stubborn s.o.b. (which is probably why I'm still in the same out-of-the-way location) and just the principle of the whole thing lit a fire in my belly not to give in. But my biggest takeaway from that whole ordeal was from the Save Our Strange event. I had no idea how many people Strange had touched in such a short time. But the outpouring of support that day was overwhelming. It was so touching to hear so many words of support, hear so many stories of the first time somebody tasted Strange or visited the brewery. Incredible! If I harbored any doubts about the future of Strange before, they were all thoroughly put to rest and replaced with a solid resolve to see the thing through till the end. To this day, I feel like I would be letting all those wonderful supporters down if we didn't continue to Keep it Strange. It is a driving force of my life.
PD: Over the years Strange Craft has gone on to win four GABF medals and two World Beer Cup awards, what do you attribute to your all's success when it comes to competitions?
Tim: Luck. No really. Pure luck. There are so many amazing beers out there brewed by so many amazing breweries that I really have no idea how the judges can decide every year. Yes, we might have a slight advantage maybe with the quality of our brews. Oh I know, I know. I'm supposed to preach about neurotic attention to detail, agonizing over every step, lovingly coaxing each batch to zymurgistic perfection, but it would all be egotistic b.s. No, Strange has been blessed with luck six times in 10 years. Maybe it's karma. I don't know. But with thousands of brewers making tens of thousands of great beers, we are pretty damn lucky.
PD: On the topic of your beer, Strange Craft has been known for experimentation, I believe you all have brewed over 231 recipes along the way. What's the biggest takeaway that you hope customers experience when trying Strange Craft's portfolio?
Tim: It's funny. Someone will taste Cherry Kriek and then apologize if they don't like it, worried that they might offend me. So I tell them it's okay, we've got 15 other beers they can try. Now if we go through the whole beer board and they can't find anything they like, then we will have words. I dunno, I guess I'm always searching for that next great idea, that next amazing recipe. I like to challenge people with their preconceptions of what beer should taste like. Knock down some walls, bust open some barriers. I often find when I'm working the bar that a new customer isn't really sure what their looking for. That to me is a fun challenge. Let's start them down the road to exploring or expanding their concept of what beer can be. But at the same time, a new recipe can't be too challenging. It also has to be refreshing. It has to be a pleasant experience from the first sip to the last drop in the pint glass. A beer that is incredibly flavorful and challenging is not going to be a success if the beer drinker can only handle a couple sips before the palate is overwhelmed. There has to be balance.
PD: In looking at today's craft beer landscape as a whole, what do you love most about what's happening in craft beer?
Tim: I love the willingness to experiment, to try new flavors, new concepts of what beer can be. That's what Strange has been doing for 10 years and it's nice to see more and more brewers comfortable, or daring, enough to throw convention out the window. I also love the renewed focus on quality. I'm not saying quality took a back seat, but I don't think it was necessarily a stated focus. But with so many brewery options now, focusing on quality, stating that it's a focus then living up to that statement, is really great to see.
PD: Similarly is there one trend, or one thing about today's scene you don't particularly love, or wish would pass?
Tim: If I say Hazy IPAs will you hate me? I just can't drink em. It's not my bag man. But all kidding aside, the ever increasing number of breweries distributing cans has created a cutthroat side to the craft beer industry that I don't think is sustainable. So many cans, so little shelf space. I talk to brewers not much larger than Strange that are losing 50 cents or even a dollar on every 6-pack they distribute. WHAT?! How is that a good business model? "Oh, it's part of our marketing strategy." Or, "We're just grabbing shelf space before its gone." A very strong reason Strange will stay a taproom brewery.
PD: How has the COVID pandemic affected how Strange Craft operates, and what can fans expect around re-opening normally?
Tim: Whole new world, huh? Was just telling someone Thursday how horrible I felt on our anniversary. We were slammed with folks coming in to get beer and wish us well, which is wonderful and heartwarming. But the entire time, I had my back to everybody while I filled Crowlers to keep up! So impersonal. So distant. I felt like I was ignoring the very people who were keeping us alive, who helped us reach ten years. The mug clubber I confessed to that Thursday told me I was being an idiot and everybody understood we were busy and that I wasn't ignoring them. But you see what I'm saying? I miss and crave the personal interaction of chatting over a few pints. Don't get me wrong, we have been extremely blessed by tons of support from our loyal regulars during the COVID shutdown and I am eternally grateful for that. But a taproom brewery is for social interaction. That's our main reason for existence. Two months of this "new normal" has felt like two years. If I don't pour someone a pint in the near future, I might just have to… argh!
My taproom manager Tyler and I have worked hard to create a system where everyone should feel safe coming to Strange. We will have two entrances, one for the taproom and one for the biergarten. We can safely fit three tables in the taproom and eight or nine in the biergarten so there shouldn't be a problem with social distancing. The entire Strange crew has had two months already to practice proper social distancing and responsible service. So we are confident that we can provide a safe environment. We'll have a doorman ensuring everyone has a mask on. Hand sanitizer before you walk in the door. We are preparing all new furniture that should be easier to deep clean regularly. We're ready. Just waiting for the green light from Gov Polis and Mayor Hancock.
PD: What's on the horizon for Strange Craft? What do you hope for this brewery in the next 10 years?
Tim: Well…First off we owe ourselves a massive celebration or three to do up a 10th Anniversary right. We had big plans for the entire year. So we'll do some iteration of that when its safe. I'm not too concerned about the actual dates. More about safely celebrating, but we'll figure it out. Main plan for the future is a second location. I can brew way more beer at Zuni than I can sell across the bar. So finding the right spot in the right neighborhood or town has been top of the to-do list for the last two years.  Almost pulled the trigger on a couple of spots, (one that would have opened this month, wouldn't that have been ironic?!), but just couldn't come to terms on the spaces. Like I said before, I'm stubborn. It's gotta be right. But we'll find it, we'll get it open, it'll be great, and then I'll be working twice as hard as I'm already working. And I'll be smiling the whole time (hopefully).
Ten years ago, if you had asked ten people would Strange make it to ten years, nine would probably have said doubt it, hope so, but doubt it.  Well we made it! Ten years of turning strangers into friends. Seems like something is working. So here's to the future, whatever it brings. We'll keep brewing great beers and making people happy. Come by for a pint when they let us. I'm the guy with the hat. Cheers!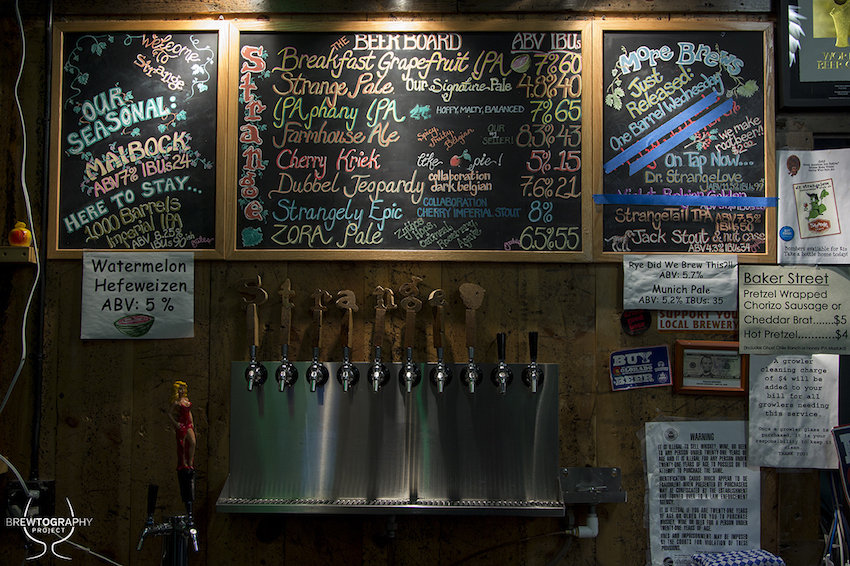 ---