No Comments
Wasatch Brewery | Landbier Swiss-Style Lager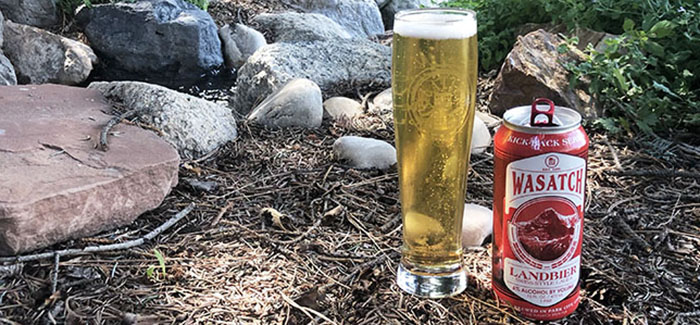 In modern-day American craft beer terms, a brewery founded in the mid-1980s is an industry pioneer. For Nils Imboden, head brewer at Wasatch Brewery, a trip to Europe puts that in perspective.
"The last time I was back there, 'Oh, you work at a brewery?' he said. "Yeah. 'How long you been around? 1986. 'That's cute, kid."
Not deterred by a little good-natured ribbing, Imboden returned with a plan. And that plan resulted in the Landbier Swiss-Style Lager, a new addition to Wasatch Brewery's Kick-Back Series.
Landbier, which translates to "country beer," pays homage to Imboden's European heritage. It features Southern German-grown floor-malted barley, Swiss Tettnang hops, and a Zurich lager yeast. Imboden even had his cousin in Interlaken ship water samples to Park City so he could match the water profile.
"People who know me know I appreciate balance in beers," Imboden said. "And clean flavors that are subtle yet can stand apart. I think this is a great example of that."
Wasatch's Landbier is crystal clear, effervescent 6% ABV Euro lager. A puffy white cap of foam tops the beer. It includes aromas of doughy bread and crackers.
On the tongue, flavors of crisp crackers and cereal come through, with a light caramel maltiness. It features just enough earthy/grassy noble hops to balance the sweetness.
https://www.instagram.com/p/CEAWKMBHObi/
Wasatch Brewery: A Utah Original
Many of Utah's iconic craft beers—Polygamy Porter, Apricot Hefeweizen, Evolution Amber Ale—originated at Wasatch. They're just as well-loved today as when they hit the market years ago.
That doesn't mean Wasatch Brewery, which remains a key player in Utah's craft beer scene, isn't focused on the future.
In 2000, Wasatch joined forces with Squatters Craft Beers to launch the Utah Brewers Cooperative. And in 2017, that cooperative became part of the CANarchy Craft Brewery Collective.
The strategic moves ultimately provided flexibility to turn the 15-barrel brewhouse in Park City into an R&D facility of sorts.
"There does need to be that innovation," said Imboden, who spends his days brewing at the top of historic Main Street in Park City. "And that's really where this facility comes in."
The popular Kick-Back Series, of which Landbier is part, hit the market in 2019. The 16-ounce can series aims to become a library for "unique, different" beers.
---