No Comments
Cooking with Beer | Kaiser Butternut Squash Soup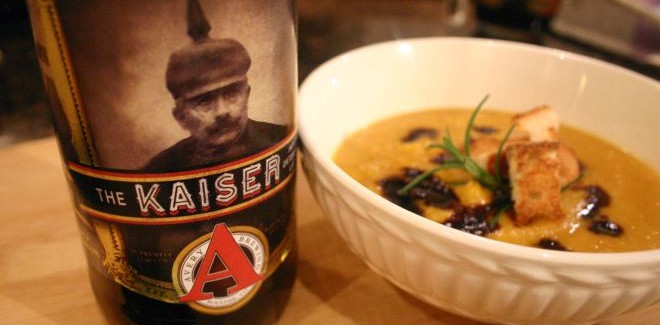 It's the middle of October, the shelves are filled with gourdy beers and the temperatures are falling outside. If there's one thing I love about fall evenings, it's sitting inside and stuffing my face full of delicious treats. On this particular day, I decided butternut squash soup would be the perfect meal to accompany my Netflix binge-sesh. This ain't your run of the mill butternut squash soup either – I filled it with apples, fennel, onions and garlic. To give it an extra kick, I tossed in a good amount of Kaiser – an Imperial Oktoberfest Lager by Avery Brewing that is chock full of festive spices. The final product is finished with a balsamic reduction drizzle and a few sourdough croutons. Make this meal, cuddle up on the couch, and never leave your house again.
Serving Size: 8 big bowls of soup
Ingredients
1 large butternut squash
1 medium yellow onion
1 fennel bulb
2 honeycrisp apples
3 cloves of garlic
1 tablespoon of chopped fresh rosemary
salt and pepper
olive oil
2 ½ cups Kaiser by Avery (Imperial Oktoberfest Lager)
½ cup whipping cream
2 cups chicken broth
¾ cup balsamic vinegar
5 pieces of sourdough bread
Directions
Peel the squash, remove the seeds, and cut into 1 inch chunks.
Chop the apples, onion, and fennel bulb into chunks as well.
Toss in olive oil and rosemary, then season generously with salt and pepper. Throw in the whole, peeled, garlic cloves and cook the veggies at 425°F for 50 minutes.
Before:
When finished, let cool for 10 minutes and then puree in a blender or food processor.
After:
I let mine blend for about 5 minutes to get it really smooth and added some of the beer to help it out a bit. Pour the puree and any leftover beer and cream, as well as the chicken broth, into a large pot and bring to a boil. I suggest covering your pot with foil because when the soup bubbles, it kind of explodes all over your kitchen.
Reduce the heat to a simmer for 15 minutes. This is important because Kaiser is a pretty big beer. When I say big, I mean in flavor and in alcohol (it rings in at 9.5% ABV). If you don't cook off the alcohol for a while, chances are, you'll get drunk on the soup. Take your time, cook off the booze, and allow this soup to be edible for all people, young and old.
While you wait, work on the balsamic reduction and croutons. Bring the balsamic vinegar to a boil and then reduce to a simmer for about 10 minutes – my ¾ of a cup turned into a little less than ¼ of a cup. Next, cut up a few pieces of sourdough, spread them out on an oiled sheet pan and broiled for 5 minutes – until you have a bunch of pieces of toasty bread chunks. When you're broiling, keep a close eye on the bread because it will burn fast.
At this point, you have all the pieces of the puzzle and now you just have to put them together. Ladle some soup into a big bowl, drizzle some balsamic reduction on top, and drop in some croutons.
---