No Comments
Crooked Run Fermentation's Oktoberfest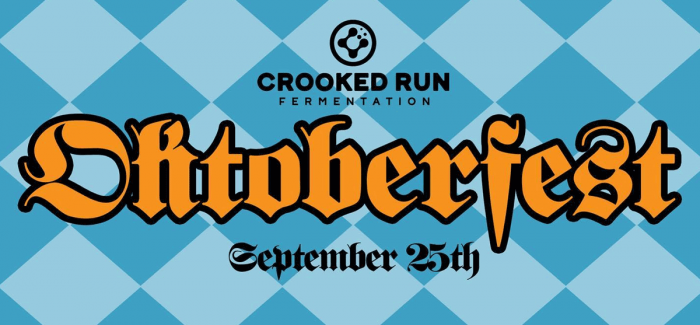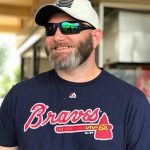 Daylight is starting to dwindle down a little earlier nowadays. There are slightly cooler temperatures in the air of the evenings and long into the night. It's turning downright cold in some areas and we are starting to see pumpkin spice everything all the time everywhere! Those are some tell-tale signs that fall is right around the corner. With the coming of fall brings one of the most celebrated times in the beer community, Oktoberfest! Breweries across the land will be holding their versions of Oktoberfest starting in September and running through October. Crooked Run Fermentation in Sterling, VA invites you out to their Oktoberfest festival on Saturday, September 25.
This is the Second Annual Oktoberfest celebration that Crooked Run has hosted. Not only will you be able to enjoy incredible beers from Crooked Run, but they also have an amazing list of 12 guest breweries from across the east coast that will be in attendance. You can find those breweries listed below.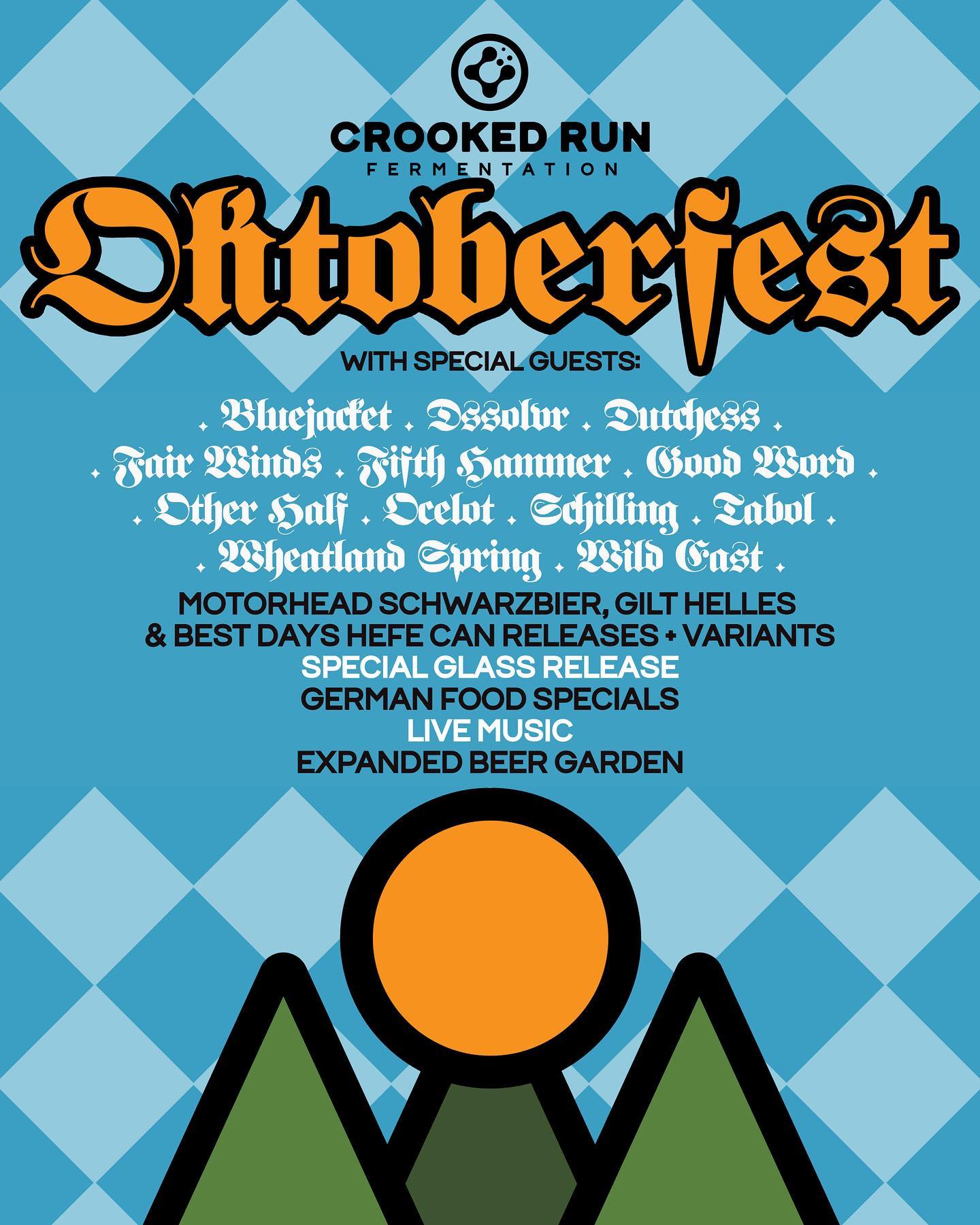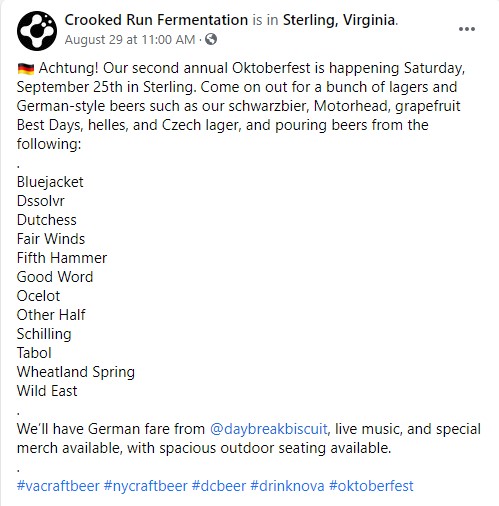 Crooked Run Fermentation will offer can and draught releases of Motorhead Schwarzbier, which is their classic German-style black Lager that's dark, smooth and easy-drinking. Motorhead is brewed with Pilsner malt, with debittered black malt and a has a very light chocolate flavor and color.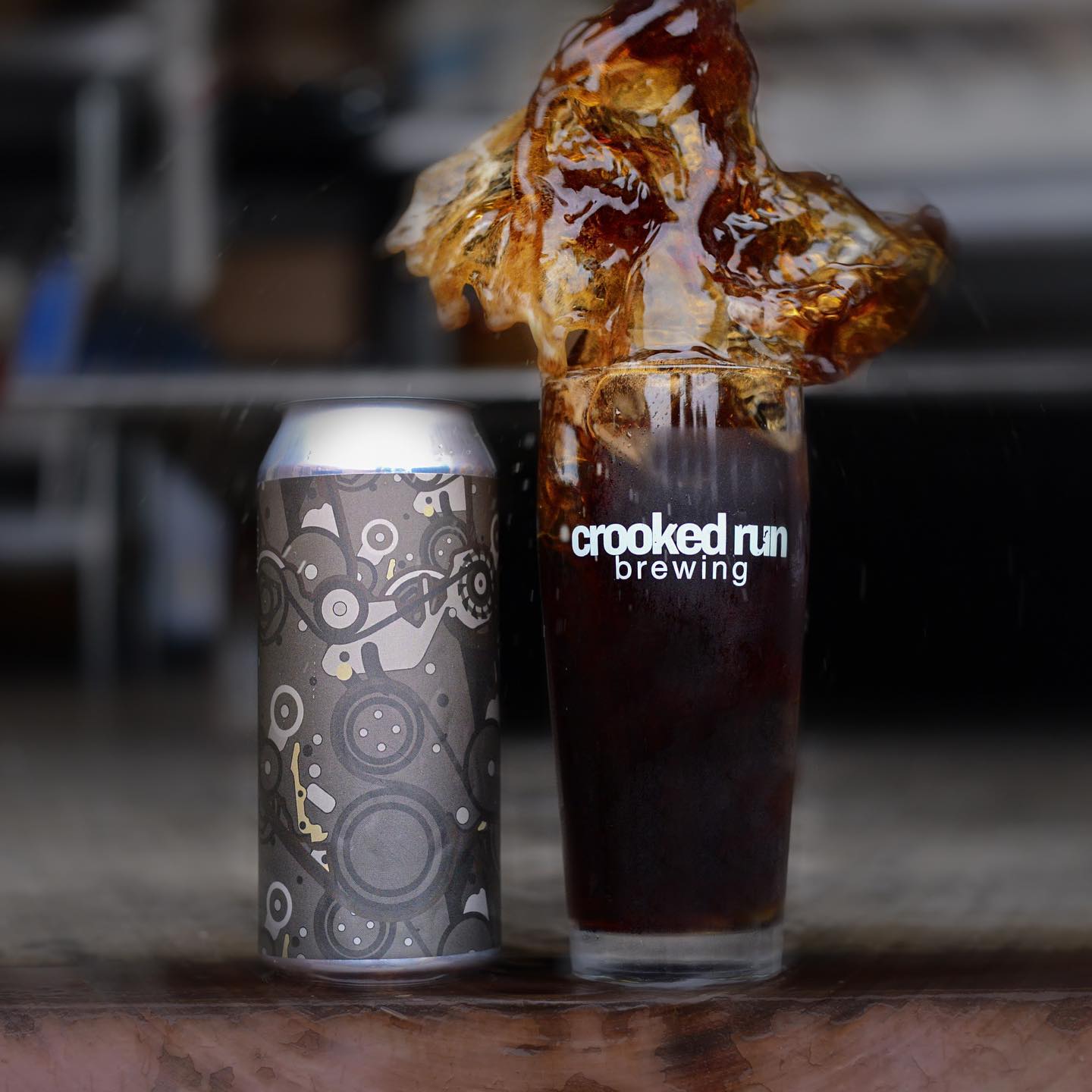 In addition to Motorhead, Crooked Run will also have some other special releases like Gilt Helles, Best Days Hefeweizen, as well as German Chocolate Cake and Black Forest Cake, both special variants of Motorhead.
If this sounds like a good time to you, it really does to us, then make plans to visit Crooked Run Fermentation in Sterling, Virginia on Saturday, September 25, and be sure to let them know we sent you!
To be safe, Crooked Run has implemented extra safety measures and this event will be held outdoors.
Want to learn more about Crooked Run Fermentation, or about this event? Be sure to check out their website and/or Facebook page.
Feature image by Crooked Run Fermentation
---