No Comments
3 Highlights from Revolution Brewing's First Outdoor Oktoberfest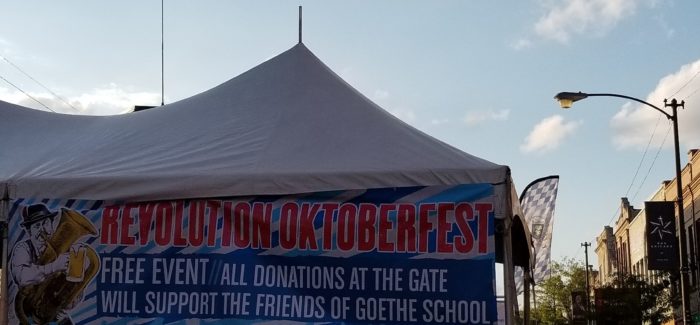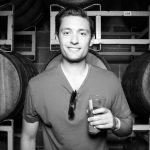 With its swanky brewpub and vast brewing facility, Revolution Brewing has one of the largest craft brewing foot prints in Chicago. After this weekend's Oktoberfest celebration, you can add a quaint stretch of Milwaukee Avenue to the space Revolution Brewing utilizes to celebrate its immensely popular brews.
For owner Josh Deth, the choice to expand Revolution's Oktoberfest to the adjoining portion of Milwaukee Avenue next to the brewpub was simple:
We wanted the fest to grow. Moving it allowed for local vendors to join us, more beer stations, more food stations.
https://www.instagram.com/p/BZrm1tVD769/?hl=en&taken-by=revbrewchicago
According to Deth, the newly-expanded street fest/Oktoberfest hybrid also allowed Revolution Brewing to secure a strong music lineup and give the surrounding Logan Square community an opportunity to come together for a fun, family-friendly event. The results are in; Revolution's first Oktoberfest outside was a hit, for many reasons. Here are my three highlights when I attended the block party on Friday evening.
The [Vast] Selection of Beer
Revolution got its big reputation due to the intensely-hopped IPA and pale ales they produce, but their Oktoberfest celebration gave them the opportunity to showcase some of their other varieties. Their traditional Oktoberfest brew, one of the best-selling Oktoberfests in the Chicago area, is a well-balanced lager with equal notes of malt and bitterness, giving it a sweet yet crisp finish. Revolution upped the presentation by selling Oktoberfest, along with Rev Pils and Fist City, in a bright blue, plastic 22oz stein, which added to the fun and allowed you to drink the beer on the street and in the brewpub.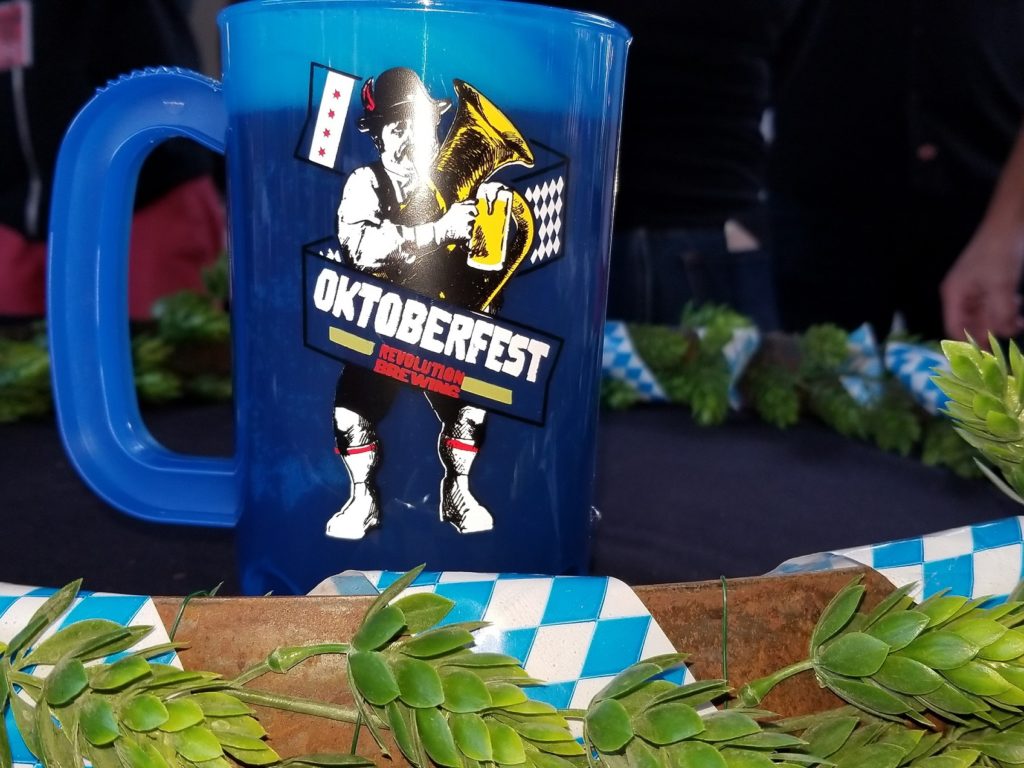 The event also gave beer nerds a taste of Revolution's most sought-after barrel-aged and specialty beers, including the 2015 Very Mad Cow and Batch 1000 Helluland. Still, the beer that I came away most impressed with was their new, wet-hopped IPA, Farm to Fist. Wet-hopped beers are in-season, so my ears perked up when Revolution announced this new variety – and boy did they deliver. Farm to Fist gave me several different hop notes on first sip, but finished with an immensely satisfying juiciness that made it more than memorable. I will definitely order this one the next time I visit – unfortunately, I have a feeling that this beer will go fast.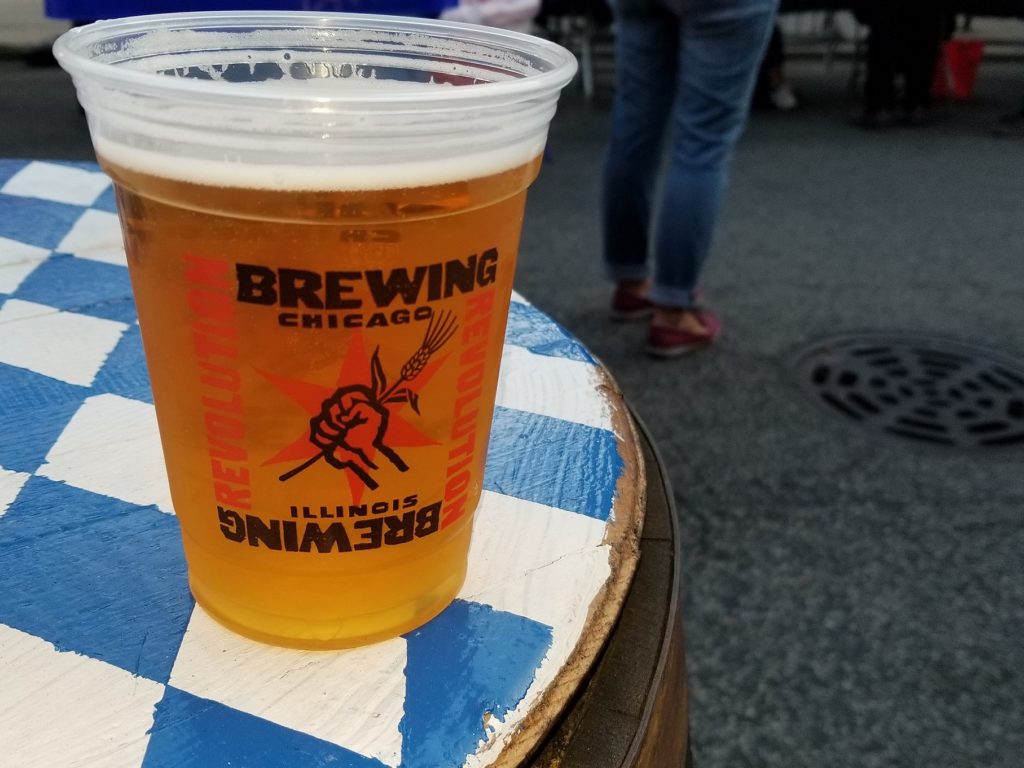 Another nice beer perk was that patrons had freedom to venture from the brewpub to the street and back again with a beer in hand, adding to the street fest vibe and elevating the Oktoberfest celebration overall.
Brewpub Food with a German Flair
I'd be remiss if I didn't talk about the delicious German-inspired food Revolution served both in their street tents and in their brewpub. With things liked hand-rolled pretzels, roasted chicken quarters and kraut-topped brats, Revolution gave event goers a wide array of decadent food options to compliment the copious amounts of beer consumed.
Preppin' for the weekend! Our bakery crew is busy cranking out 1000s of pretzel & our chefs are smoking meat. https://t.co/E4Z4qGxe9G pic.twitter.com/u5m7Tqj1Ek

— Revolution Brewing (@RevBrewChicago) September 28, 2017
The best thing I tasted was their Schnitzelwich sandwich, which delivered a tasty, deep-fried pork schnitzel with pickled onions and mustard on a firm pretzel bun. I almost ate it as fast as I drank my beer, which is saying something.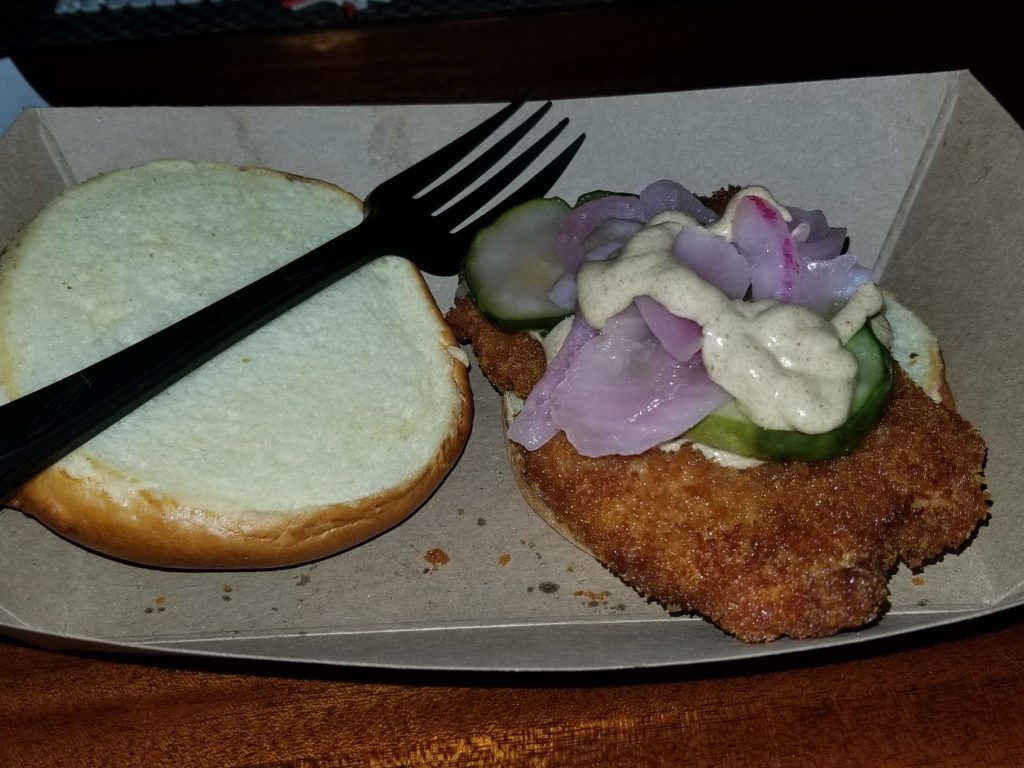 It Brought the Community Together
With the Chicago skyline and a colorful sunset in the backdrop, Milwaukee Avenue delivered a picturesque extension to Revolution's Oktoberfest traditionally indoors Oktoberfest celebration. The scene felt so inherently Chicago with the Blue Ling whizzing by as local band Varsity delivered an awesome punk rock set to the growing crowd surrounding the stage.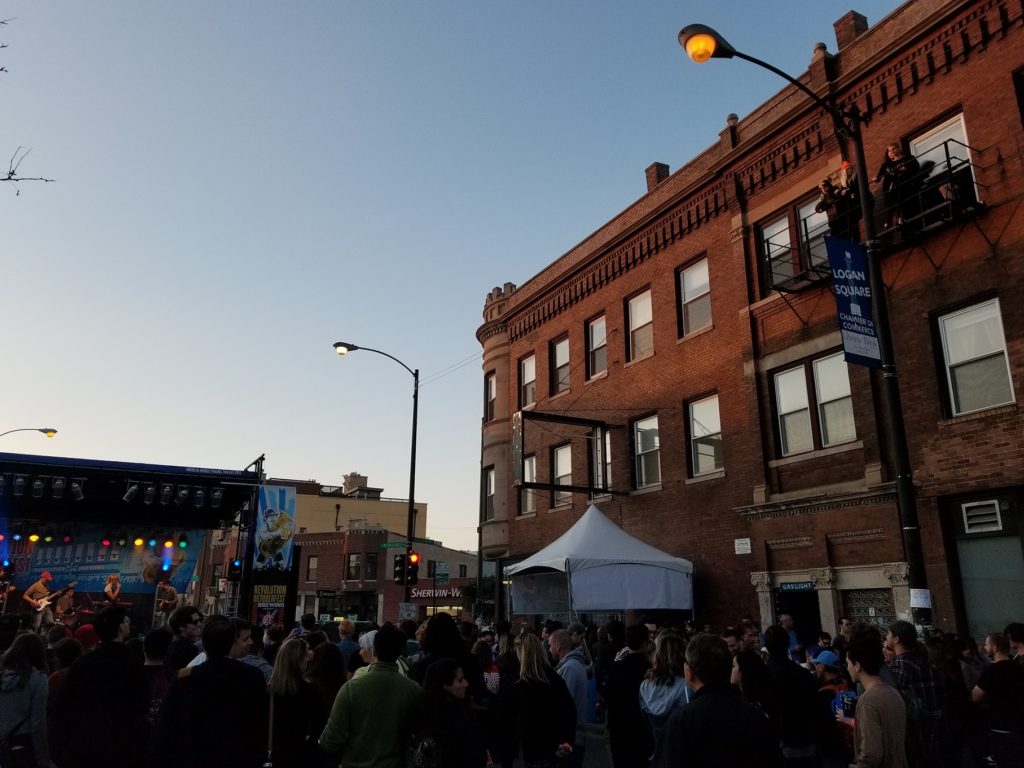 There were kids, dogs, people observing from an adjoining rooftop, and even a wedding. Revolution's Oktoberfest truly brought everyone together in the spirit of community, a good time, and great beer. Did you attend Revolution's Oktoberfest? Feel free to share your thoughts in the comments below. Prost!
Feature image credit: Taylor Laabs
---