No Comments
The Weekly Buzz | June 30 – July 6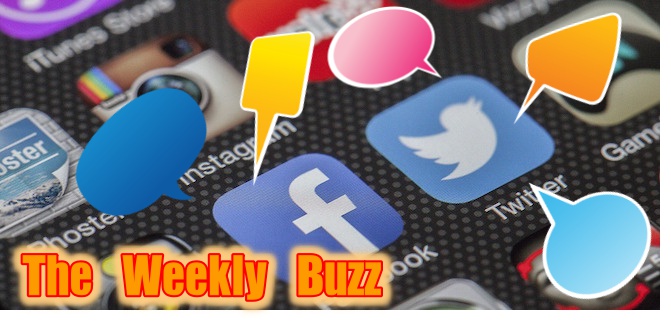 It's a federal holiday, an extra day off from work and, above all else, a celebration of independence. The Fourth of July is a celebration of our nation's independence but, this week, we also found ourselves in a discussion about the independence of craft beer. In this edition of The Weekly Buzz, we'll explore life, liberty (from Big Beer) and the pursuit of happiness. There's no better way to pursue happiness than by enjoying a fresh, American-made craft beer, so I suggest you drink one while reading!

Yogi got more selective about which pic-a-nic baskets he steals!
It's #FreshSqueezedFriday! Francis can't BEAR to be without her Fresh Squeezed IPA. Real photo taken by Lake Tahoe Ranger, Erik W. pic.twitter.com/araPkziRTG

— Deschutes Brewery (@DeschutesBeer) June 30, 2017
---
Are you going to start looking for the seal?
As a member of the 5,000+ strong group of independent craft brewers, we're excited to use this seal moving forward. https://t.co/YjN0bprjwX

— Allagash Brewing Co (@AllagashBrewing) June 30, 2017
---
Thank God! The old one was… challenging.
Rejoice! Our new parking lot is complete. #troegsway pic.twitter.com/Y3wfL03g2U

— Tröegs Brewing (@TroegsBeer) June 30, 2017
---
Wanna be a nerd IN A BREWERY?!
https://www.instagram.com/p/BV-UR0VAYEe/
---
See?! These beer accountants even got to brew!
The Craft Beer Accounting Group brewed a Prickly Pear Cream Ale with [email protected] @DryDockBrewing @oskarblues @upslope @DenverBeerCo pic.twitter.com/CcZlRFMsV2

— Left Hand Brewing Co (@LeftHandBrewing) June 30, 2017
---
Wear your best Mad Max cosplay!
Save the date! September 9: Stone's Throw Down in RVA! Badass beers & bands. Brown's Island. Details and lineup July 11! pic.twitter.com/xrOpZo66o5

— Stone Brewing RVA (@StoneBrewingRVA) June 30, 2017
---
Tickets go on sale Monday!
https://instagram.com/p/BV-UzNUFytB/
---
Looks like my annual Rehoboth Beach pilgrimage is going to get better!
https://instagram.com/p/BV-xkXGlyMO/
---
San Mateo just got a whole lot better!
https://instagram.com/p/BWAkK9SF_ft/
---
Poutine is a beer's best friend!
So you're deciding how to celebrate #NationalCanadaDay, Eh? Just come down to the UCBC Bierhall for our Poutine of the Week, Guy. #Poutine pic.twitter.com/wZrbHXN0z2

— UrbanChestnutBrewing (@urbanchestnut) July 1, 2017
---
As if any of you needed another reason to hang out in Pittsburgh…
10 Pittsburgh Events Not To Miss In July https://t.co/e7Ybd53g43 — including our Libations Week Kickoff! Thank you, @NEXTpittsburgh pic.twitter.com/1ijB3PfRXG

— PGH Libations Week (@pghlibationweek) June 30, 2017
---
This brewery pitched in during a local tragedy. Condolences to Bianca's family.
In response to the recent local tragedy in West Goshen, Levante wishes to help support Bianca Roberson's family. https://t.co/HHow8Q4Up1 pic.twitter.com/neCobQuYr7

— Levante Brewing (@LevanteBrewing) July 1, 2017
---
Guess they saw AB-InBev's response to the BA's new seal…
Today, ABInBev reminds us that "the amount of energy necessary to refute bullshit is an order of magnitude bigger than to produce it."

— Modern Times Beer (@ModernTimesBeer) June 30, 2017
ABInBev's goal is to make it easier to say "fuck it" than to care. It's a deeply cynical strategy that is employed by the very worst people

— Modern Times Beer (@ModernTimesBeer) June 30, 2017
---
I should have just scrolled past this…
https://instagram.com/p/BWEbZ6fF82O/
---
Sounds like my kind of party!
JUST ANNOUNCED: https://t.co/EWxDl5oVAr pic.twitter.com/WtHZoPQoqh

— Hi-Wire Brewing (@HiWireBrewing) July 3, 2017
---
Happy Anniversary!
Coronado Brewing Company Celebrates the Big 2-1 with New Beer & Party – https://t.co/MjsqN6QvvY pic.twitter.com/UrEkq7LJq4

— Coronado Brewing Co. (@CoronadoBrewing) June 29, 2017
---
Oh, Canada!
https://www.instagram.com/p/BVsIdDbg5Nw/?taken-by=collectivebrew
---
Here are a few Independence Day sentiments from our nation's brewers!
Our forefathers wouldn't want you drinking corporate, industrial, flavorless beer. Don't let them down. Use https://t.co/8IFHSn0okm pic.twitter.com/OfgI9rj9t2

— Stone Brewing (@StoneBrewingCo) July 3, 2017
We'll be taking a break from celebrating our independence, to give employees a chance to celebrate our Nation's. Rev will be closed on 7/4. pic.twitter.com/ZnukHHt8i0

— Revolution Brewing (@RevBrewChicago) July 3, 2017
Detailed in a letter to his officers, Washington's recipe used molasses to give caramel notes to #TavernPorter #4thofJuly #tasteslikefreedom pic.twitter.com/APXkIlb3ap

— Yards Brewing Co. (@yardsbrew) July 1, 2017
https://instagram.com/p/BWF7Oq8BVcT/
https://www.instagram.com/p/BWIpO1ogLSX/
Cheers to freedom! We hope you're celebrating #IndependenceDay with great food, great company, and great beer. Happy Fourth of July 🇺🇸 🍻 pic.twitter.com/Wk5msV1KCZ

— The Bruery® (@TheBruery) July 4, 2017
Revolutionary times call for revolutionary ales. #4thofJuly #Yards #AlesoftheRevolution #TavernAle #TavernPorter #TavernSpruce pic.twitter.com/3qsCKfFVy3

— Yards Brewing Co. (@yardsbrew) July 4, 2017
Rules of Engagement for the 4th of July:
1: Be safe
2: Have fun
3: Drink good beer #IndependenceDay pic.twitter.com/MDIjSNxjGs

— Firestone Walker (@FirestoneWalker) July 4, 2017
Happy fuhCAN Fourth of July!

🎆 🇺🇸 🍺 pic.twitter.com/Jzm0AxwoNV

— Oskar Blues Brewery (@oskarblues) July 4, 2017
https://instagram.com/p/BWIIbpZluYP/
---
Learn more about spent grain!
Our spent grain goes to good use for local farmers. @schlaflybrewer steps beside the kettle to tell us more: https://t.co/ddpByOoCOU pic.twitter.com/6pApIW5Z8Z

— Schlafly Beer (@Schlafly) July 6, 2017
---
Catan isn't going to settle itself, people!
Go analog for #gamenight & reconnect with your inner circle. https://t.co/fNFOa6y3CG #boardgames #tabletop #gabeer pic.twitter.com/QqeUahKR6e

— Reformation Brewery (@ReformationBrew) July 6, 2017
---
You had me at Kathleen Madigan… and beer.
Check us out this weekend at the Wine, Beer, & Comedy Festival https://t.co/6pMlLdoanx pic.twitter.com/KsXPha32PO

— Full Pint Brewing Co (@fullpintbrewing) July 6, 2017
---