No Comments
How Craft Beer Gave Back in November 2017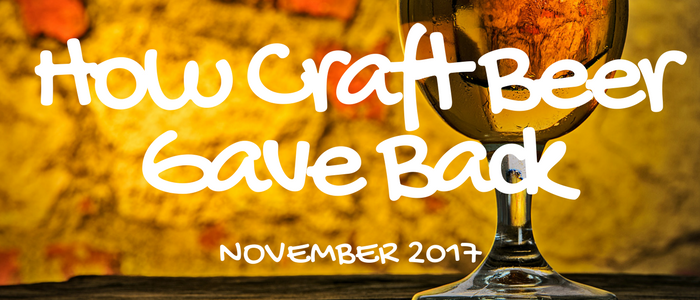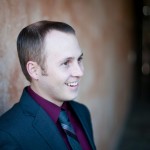 Welcome to the beginning a new monthly roundup! I will be sharing some of the great, creative and impacting community efforts that our brewery friends conducted over the past month. My goal with this column is to hopefully inspire you—our beautiful, motivated reader—to start your own partnership with a charity and begin a long-lasting, top-notch fundraiser. Whether you own a brewery, work at a brewery, or just drink at a brewery, you can make a positive change in other people's lives.
So, let's see what's been happening around the nation during November.
Northern California Fire Recovery Efforts (USA)

Very sadly, more than 30 people were killed and 8,400 structures were burned down from the Northern California wildfires in October. As I'm currently writing this, new fires in Ventura, California, are forcing thousands to evacuate.
One of Northern California's most famous breweries, Russian River Brewing resides in Santa Rosa, California, where most of the damage occurred from the Tubbs Fire. Russian River Brewing for the past few years created a Sonoma Pride beer series. With this beer series, they transformed it and are now donating 100 percent of proceeds to recovery efforts by partnering with the King Ridge Foundation. Russian River is still coordinating a promotion that for every $25 donated directly at www.SonomaPride.com, people get a chance to win line-cutting privileges for the 2018 Pliney the Younger release at the brewery.
https://www.instagram.com/p/Ba7mJXwhJst/?taken-by=russianriverbrewingofficial
In addition, Russian River also asked their fellow breweries to brew a beer to raise money for recovery efforts. Currently, 61 other breweries and business across the U.S. are donating 100% of proceeds of one of their own signature beers to recovery efforts, all under the Sonoma Pride label. As of December 1, according to Russian River Co-Owner and President Natalie Cilurzo, over $400,000 in donations are raised!
To see which breweries and businesses are participating in the Sonoma Pride effort, visit www.SonomaPride.com.
---
Even More Northern California Fire Recovery (USA)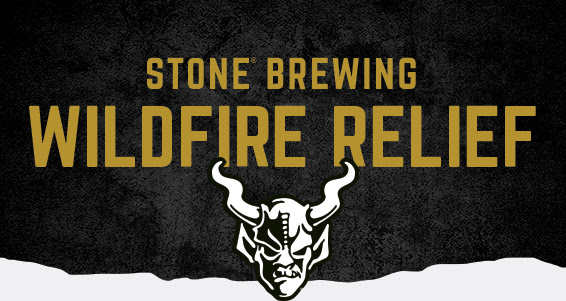 In addition, Stone Brewing in San Diego, California, shared in a press release that $72,000 of its October sales to were donated to Direct Relief, for emergency services related to the fires.
"We're relieved to know that our fledgling team at our soon to open Stone Brewing Napa location, and our friends at Russian River and Bear Republic are safe. Employees, colleagues, friends, family and neighbors of everyone in that region, however, have been dramatically affected," said Dominic Engels, Stone Brewing CEO. "Rallying our supplier brand partners proved to be enormously impactful, and I'm humbled by the enthusiastic response and outpouring of support that we received surrounding this effort."
To do this, Stone raised funds by designating portions of sales from cases from breweries in its distribution. This includes the following breweries: Avery Brewing Co., Boochcraft, Eel River Brewing, Fremont Brewing, Kern River Brewing Co., MadeWest Brewing Co., Mason Ale Works, Maui Brewing Co., Mikkeller Brewing, Modern Times Beer, Oskar Blues Brewery, Ska Brewing, Smog City Brewing Co., The Bruery, The Lost Abbey, Victory Brewing Co., Wandering Aengus Ciderworks.
---
Using Leftover Bagels to Brew Beers for Charity (New York)
On November 30, in Melville, New York, people went to a special kind of beer festival where all the brews were made partially by leftover bagels. Why? Well, on Long Island, bagels are produced, produced, produced. Thus, many bagels end up going to waste, as they are no longer fresh. The event showcased how big the problem of bagel waste is and raised money for charities Island Harvest and Rescuing Leftover Cuisine.
https://www.instagram.com/p/BcFk6FAlqFF/?taken-by=barragebrew
The special bagel brews were made by: Barrage Brewing Co., Blind Bat Brewery, The Brewers Collective Beer Co., Greenport Harbor Brewing Co., Sand City Brewing Co., Spider Bite Beer Co., Square Heads Brewing Co.
---
4th Annual Boots for Beer (Michigan)
For the last week of November, folks in Northern Michigan could stop by a brewery, drop off a pair of boots and get a free pint. The boot drive is put on by Goodwill Northern Michigan with the participating breweries. Furthermore, the breweries turned it into a competition as the brewery who collected the most boots won the Golden Boot trophy.
Participating breweries in the Boots for Beer campaign were: The Little Fleet, Right Brain Brewery, Rare Bird Brewpub and The Filling Station.
---
Wynkoop Brewing Company Launches Monthly Charity Tap Program (Colorado)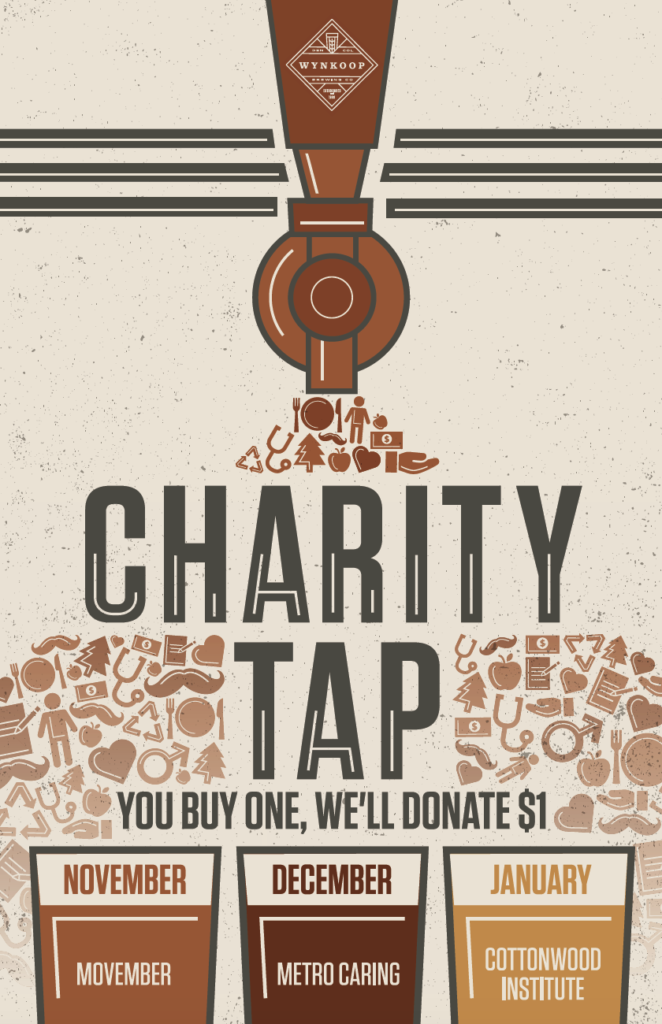 At the beginning of November, Wynkoop Brewing dedicated one of its taps to donate $1 to one charity each month. "We are excited to actively give back to our community and to charities the Wynkoop team is passionate about," said Lee Driscoll, co-owner of the Wynkoop. "With the holiday season on the horizon, it's a great time to start this program, and we're looking forward to continuing it year-round. It's great to be able to support so many of the people, causes and organizations that have helped us grow over the last 29 years."
Here is the list of the first few charities Wynkoop will be supporting:
November 2017—the Colorado chapter of the Movember Foundation, a national organization that raises money for prostate and testicular cancer research as well as mental health and suicide prevention among men.
December 2017—Metrocaring, which operates one of Denver's largest hunger relief programs.
January 2018—Cottonwood Institute, a Denver-based non-profit that connects underserved youth with the outdoors.
---
Platform Beer Co. Starts Two New Giving Back Initiatives (Ohio)
This brewery has two locations and two new charity programs. Platform Beer will donate $1 from every beer sold on its Non-Profit Tuesdays. In addition, for every case of Platform's New Cleveland Palesner sold in Northeast Ohio, $1 will be donated to charity.
https://www.instagram.com/p/Bbxc_hyAov3/?taken-by=platformbeerco
If your brewery has significant donation campaigns that you would like to share please email: [email protected]
---