No Comments
The Weekly Buzz | April 21 – 27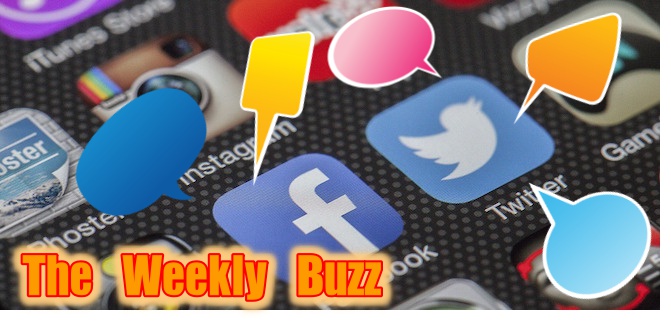 Ugh. I just realized that I have to mow my lawn today. It is out of control. On the bright side, I get to enjoy a lawnmower beer (or 5). I suggest that you do not follow in my footsteps. Yard work is bull crap. Instead, you should sit on your porch, crack open a fresh beer and hope someone else mows it for you. You can even read this week's edition of The Weekly Buzz. Reading tweets about beer is WAY more fun than pushing a lawnmower. If you follow this advice, you'll be much happier (until your municipality fines you for the length of your grass).
I have scientific interest in both…
Topographic map of a newly discovered planet or bottom of our freshly emptied coolship? You decide. pic.twitter.com/o3gG1IR69M

— Allagash Brewing Co (@AllagashBrewing) April 27, 2017
---
Mark your calendars, San Diego!
[ SAVE THE DATE ] On May 6th, @SDRhythmBrews is BACK in #Vista, CA! ? 50+ Breweries • 3 Bands • 1 Helluva Day.
Tix: https://t.co/2OQqhhKwvc pic.twitter.com/XR9Y0vVrJc

— SD Brewers Guild (@sdbrewers) April 22, 2017
---
C'mon, Chicago! Get your tickets now!
Get #BUG tix? 100+ breweries. Just sayin' https://t.co/NXDdig0P3g @AlterBeer @DESTIHLbrewery @OakParkBeer @PollyannaBrewCo @werkforcebrew pic.twitter.com/WCF3R6CtMX

— Chi Craft Beer Week (@Chibeerweek) April 21, 2017
---
I heard that he played a 23-day guitar solo.
Dreams do come true. @treyanastasio at @420fest pic.twitter.com/EHsSxOPp9f

— SweetWater Brewery (@sweetwaterbrew) April 22, 2017
---
Check out the schedule for some summer fun!
Arts & Amps is back! See our summer schedule of live music, art, and beer here: https://t.co/YoZqG0ayQW pic.twitter.com/VjKJrSwCpZ

— Karl Strauss Brewing (@KarlStraussBeer) April 22, 2017
---
Knowing is half the battle!
PSA for those of you who are probably wondering…the miniature train that circles City Island is not an active participant in #HBGBeerWeek

— Jon (@JonReginella) April 21, 2017
---
Happy Anniversary!
We're now kicking off our 3 Year Anniversary weekend & couldn't be more excited! We hope to see you soon. Cheers! #3yearscurious pic.twitter.com/EeLKlslRzj

— Creature Comforts (@creaturebeer) April 22, 2017
---
I'm your huckleberry…
Feeling berry refreshed this morning @RuggedManiac #florida. Good luck today runners! @UFObeers @Harpoon_Florida ?? pic.twitter.com/Q4XBdxrg0m

— Harpoon Brewery (@harpoonbrewery) April 22, 2017
---
Protect the Earth. It's the only planet with beer. #EarthDay
It takes energy to make beer and there are steps we can make to conserve, produce and reuse energy. #EarthDay https://t.co/4mvehLeEjk pic.twitter.com/FNhCN2nT23

— Ninkasi Brewing (@NinkasiBrewing) April 22, 2017
Happy #EarthDay! Join us at #RockyMtnTreeFest on 5/13 as we plant 9K trees https://t.co/A3V8n3yFcs pic.twitter.com/nxMTILYQi6

— CAN'd Aid Foundation (@CANdAid) April 22, 2017
https://instagram.com/p/BTMbKF6BcWM/
https://instagram.com/p/BTMbB0egYW0/
Happy #EarthDay! We've got a long line of new bike racks coming soon to our brewery! #bikeandbrewerytour #bikesandbeers #worthsharing pic.twitter.com/I4szqEMAn2

— Deschutes Brewery (@DeschutesBeer) April 23, 2017
---
Why are you not in Pittsburgh?!
https://www.instagram.com/p/BTKM_8kAcin/
---
Hop farmers, we salute you.
https://instagram.com/p/BTMa1kcgbeb/
---
I didn't know! Why didn't anyone tell me?!?
In case you didn't know, @CrookedStave has released 750s! pic.twitter.com/iyCB111o65

— Brewtography Project (@brewproj) April 21, 2017
---
Enter to win!
Ready to win a Dead Guy Tattoo & a trip to Rogue World Headquarters? Set. Go: https://t.co/VEYaTFrFcg #MyDeadGuyInk pic.twitter.com/seBnoDP5gx

— Rogue Ales & Spirits (@RogueAles) April 24, 2017
---
Don't forget the 9 D's of Dodgeball: dodge, drink, duck, drink, dip, drink, dive, drink, and dodge.
It's that time again! Our annual Battle of the Breweries Dodgeball Tournament for @Chibeerweek is 5/21! Tickets: https://t.co/tDxsi9W2cG pic.twitter.com/IPWq3ucnYy

— Goose Island Beer Co (@GooseIsland) April 24, 2017
---
We love to see breweries give back to their communities!
It's our coworker Benevolence Day! We're building houses w/ @Habitat_org, clearing trails @nature_org & at the mill! #BeerAndBenevolence pic.twitter.com/Wqv1O59Zmn

— Dogfish Head Brewery (@dogfishbeer) April 24, 2017
---
Will there be a Maypole?
Ring in spring with us at our annual Maifest celebration, Saturday May 13th at the Midtown Brewery & Biergarten! https://t.co/nCIFJRT4ZZ pic.twitter.com/2aKbcWwdDz

— UrbanChestnutBrewing (@urbanchestnut) April 25, 2017
---
Goes great with a paper bag full of blue crab!
Welcome back, Dead Rise. pic.twitter.com/1IqefnZoqF

— Flying Dog Brewery (@FlyingDog) April 24, 2017
---
Ditch the extract kits! Learn to brew with grain!
Join us for our free all-grain brewing demonstration this Saturday: https://t.co/ynVWoj8E7G pic.twitter.com/heEELgFk26

— Bells Eccentric Cafe (@EccentricCafe) April 26, 2017
---
Make reservations. Dine out. Fight AIDS.
Tonight at @BrewersTable: @DineOut4Life 2017. You can make your reservation here: https://t.co/vFfHzqdlK6 pic.twitter.com/AoAt1RCPHb

— surlybrewing (@surlybrewing) April 27, 2017
---
Great news for NC breweries!
Grateful that #HB500 has passed the NC House. Thank you Reps @ChuckMcGrady @BillBrawley @priceyharrison and @JonHardister #ncbeer #ncleg https://t.co/E1OoVP5vs3

— NC Craft Brewers (@ncbeer) April 27, 2017
---
Sounds like deal!
Suns out! Stop by the brewery today for a SHADE CATCHER session pale ale… because we've got the best specials in Hodgkins all week!!! #specialswag #breweryboards #clever

Posted by Blue Nose Brewery on Tuesday, April 25, 2017
---