No Comments
The Weekly Buzz | March 3 – 9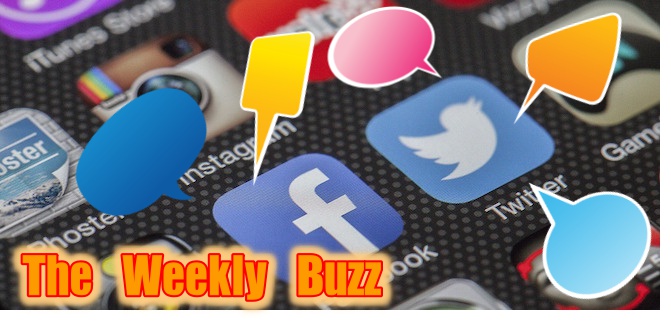 Wednesday was International Women's Day and breweries took to social media in droves to celebrate the women who make the brewing industry tick. Whether you're talking about CEOs, janitors, brewers, bartenders, accountants or salespeople, the modern brewing industry wouldn't be able to function without these brilliant and hardworking team members. Since I don't think there's any other news this important, I present you a special International Women's Day Edition of The Weekly Buzz.
I would personally like to thank all of the amazing women behind PorchDrinking. Without all of you, this publication wouldn't be as awesome as it is today. The content schedule wouldn't get made, my spelling and grammar mistakes would go largely unnoticed, we wouldn't have such a diverse pool of ideas to write about, and our overall quality would drop. I raise a glass to all of you!
Last but no least, I want to thank my girlfriend, Laina. As a woman in the brewing industry, she's an inspiration to me and our daughters. She's my first source for all things related to the science of brewing, and I usually don't need a second. Whether it's at work or at home, she gives maximum effort to get every job done.
Without my usual commentary and in no particular order, I present The Weekly Buzz.
#SheInspiresMe pic.twitter.com/SY0MGzCo9t

— New Belgium Brewing (@newbelgium) March 8, 2017
Celebrate the women who inspire us every day. #HerVoiceIsMyVoice #InternationalWomensDay pic.twitter.com/vqdvBZnJF8

— New Belgium Brewing (@newbelgium) March 8, 2017
---
In celebration of #InternationalWomensDay we are brewing a @pinkbootsbeer with the women in our industry today! Stay tuned for more photos! pic.twitter.com/tgYlAGXOMx

— Avery Brewing Co (@AveryBrewingCo) March 8, 2017
#InternationalWomensDay #BigBootsBrew2017 pic.twitter.com/585M8mDWQn

— Avery Brewing Co (@AveryBrewingCo) March 8, 2017
Cheers to all of our kickass lady friends who joined us today to brew! #BigBootsBrew2017 #InternationalWomensDay pic.twitter.com/PTG6b2Mya0

— Avery Brewing Co (@AveryBrewingCo) March 8, 2017
---
As you can see from our tweets today it takes a lot of hard working women to keep Ninkasi afloat. We love and appreciate all of you! Cheers! pic.twitter.com/aUCP7vDkUD

— Ninkasi Brewing (@NinkasiBrewing) March 9, 2017
#internationalwomensday
Jules, Lab Technician pic.twitter.com/Ronk3PLvSW

— Ninkasi Brewing (@NinkasiBrewing) March 8, 2017
#internationalwomensday
Sam, Senior Accountant pic.twitter.com/ARjhZr1U2I

— Ninkasi Brewing (@NinkasiBrewing) March 8, 2017
#internationalwomensday
Darla, Accounts Payable pic.twitter.com/OPiwrSQsvT

— Ninkasi Brewing (@NinkasiBrewing) March 8, 2017
#internationalwomensday
Sondra, Distribution Ordering and Inventory Coordinator pic.twitter.com/TvSSP0sxq0

— Ninkasi Brewing (@NinkasiBrewing) March 8, 2017
#internationalwomensday
Cheryl, Chief Operating Officer pic.twitter.com/yeSyhTSwpJ

— Ninkasi Brewing (@NinkasiBrewing) March 9, 2017
#internationalwomensday
Alyssa, Market Manager pic.twitter.com/dF15aMaBmo

— Ninkasi Brewing (@NinkasiBrewing) March 9, 2017
#internationalwomensday
Kristi, Sustainability Coordinator pic.twitter.com/23BBBe5b1h

— Ninkasi Brewing (@NinkasiBrewing) March 9, 2017
#internationalwomensday
Lori, Accounting pic.twitter.com/D4NEqrxinB

— Ninkasi Brewing (@NinkasiBrewing) March 9, 2017
---
https://www.instagram.com/p/BRY65r5gdki/
---
#RaiseYourAnchor to the women at Anchor. From the brewhouse to the bar, we're supported by women in each department. #internationalwomensday pic.twitter.com/5YynGFFV3j

— Anchor Brewing (@AnchorBrewing) March 8, 2017
---
Simply put, you wouldn't have Founders without these women (& the ones out selling, sleeping after 3rd shift, etc.) #InternationalWomensDay pic.twitter.com/XR3tJVxqTD

— Founders Brewing Co. (@foundersbrewing) March 8, 2017
---
https://instagram.com/p/BRZZ1l8jaRN/
---
https://instagram.com/p/BRZqqUUjBkB/
---
https://instagram.com/p/BRZmdnXAw6p/
---
https://instagram.com/p/BRZs8bNDDj6/
---
https://www.instagram.com/p/BRZ2ca2hTpl/
---
https://www.instagram.com/p/BRZrJ_NDHzC/
---
Sarah went from a part-time packaging and tour guide position to full-time production brewer in under 2 years. #internationalwomensday pic.twitter.com/PTyT4mIPVh

— Hi-Wire Brewing (@HiWireBrewing) March 9, 2017
---
Happy International Women's Day to our talented women here and around the world! Cheers, ladies 🙂 #internationalwomensday #womensday pic.twitter.com/7zg4HRwEK5

— Ballast Point (@BPbrewing) March 9, 2017
---
The women at Sierra Nevada brewed a Sahti with Juniper berries, Cardamom, molasses, and cloves for #internationalwomensday pic.twitter.com/tEjp5KEuz8

— Sierra Nevada Beer (@SierraNevada) March 9, 2017
---
https://www.instagram.com/p/BRZcJdbAsgO/
---
Just a few of the many women behind your favorite beer. Cheers to all women everywhere #internationalewomensday #iwd pic.twitter.com/QSM3j2Zbne

— Uinta Brewing (@UintaBrewing) March 9, 2017
---
It's #InternationalWomensDay and we are stoked about all the women who make #21A great. Lady Liberty included. pic.twitter.com/0pAFJIuDKR

— 21st Amendment (@21stAmendment) March 8, 2017
---
Happy #InternationalWomensDay to all of you ladies out there! Come "Kill The Keg" of Love At All Cost with us – $3 drafts & $7 crowlers!!! pic.twitter.com/LPvPItLFhD

— Black Shirt Brewing (@BlackShirtBrew) March 8, 2017
---
Happy #InternationalWomensDay! Cheers! pic.twitter.com/DGbO8JPUFj

— Saranac Brewery (@SaranacBrewery) March 8, 2017
---
Aeronaut staff proudly wearing red tonight to honor #InternationalWomensDay! ❤️❤️❤️ pic.twitter.com/YoAS7BwEQ7

— Aeronaut Brewing Co. (@AeronautBrewing) March 8, 2017
---
Elise Miller: elected President of Miller Brewing in 1937. She stayed committed to quality through WWII challenges. #InternationalWomensDay pic.twitter.com/2qcquSMgFR

— MillerCoors (@MillerCoors) March 8, 2017
---
Cheers to International Women's Day! We are thankful for these strong ladies. Show the women in your life some love today! pic.twitter.com/fgv3oma2jI

— Rip Current Brewing (@RipCurrentBeer) March 8, 2017
---
Why not spend some time on #InternationalWomensDay at a brewpub that is 50% woman owned? @HopvineBrewing #craftbeer https://t.co/00O4xYE0ga

— Hopvine Brewing Co. (@HopvineBrewing) March 8, 2017
---
Happy #internationalwomensday from #bigbootsbrewday! #threeweavers #womenwhodrinkcraft #womenwhobrew #labeer #sdbeer #pinkboots pic.twitter.com/F7SxBejVXt

— Eagle Rock Brewery (@eaglerockbrew) March 8, 2017
---
https://www.instagram.com/p/BRZFl2FjHmO/
---
Although they're not all pictured, cheers to ALL our lady co-workers we're fortunate to work w/ day in & day out! ? #internationalwomensday pic.twitter.com/HIzPLgsoFV

— Dogfish Head Brewery (@dogfishbeer) March 8, 2017
---
Cheers to all of our ladies here at DuClaw, and all the women who make craft beer great! #NationalWomensDay #CraftBeer #DuClaw pic.twitter.com/1REsEUFaGA

— DuClaw Brewing News (@DuClawNews) March 8, 2017
---
Perfect day to announce SHE'Boogie Bop! Coming soon!#InternationalWomensDay https://t.co/Sczv4jmBCV pic.twitter.com/J8fahFjeuJ

— Oskar Blues Brewery (@oskarblues) March 8, 2017
---
This #InternationalWomensDay, we celebrate all the women who bring boldness to beer. pic.twitter.com/yGU2oauzl4

— Anheuser-Busch (@AnheuserBusch) March 8, 2017
---
We are humbled to work in such a fun industry with some amazing women. Happy International Women's Day from 2 of our Rat Ladies! pic.twitter.com/bj3961cQa3

— River Rat Brewery (@RiverRatBrewery) March 8, 2017
---
https://www.instagram.com/p/BRYs3rkBwXn/
---
Brewing with @OurBrewingCo and @HollandGPO for #IWCBD ! #craftbeer #girlslikebeertoo #girlsrule pic.twitter.com/XMCkTsXFTH

— Grand Rapids GPO (@GrandRapidsGPO) March 8, 2017
---
Carol Stoudt became the country's first female brewmaster when she brought flavorful beers to Pennsylvania in 1987. https://t.co/aQE6T43pzC pic.twitter.com/tfjJZnWkKz

— BeerAdvocate (@BeerAdvocate) March 8, 2017
---
It was #BigBootsBrew2017 day @JacksAbby and @harpoonbrewery today. https://t.co/lxCgFm8b1D pic.twitter.com/BQXeMd8IWw

— Norman Miller (@RealBeerNut) March 8, 2017
---
Cheers to @PinkBootsIA and #BigBootsBrew2017! ? #PeaceTreeBrewing #InternationalWomensDay pic.twitter.com/8IzGfObOJU

— Peace Tree Brewing (@peacetreebrew) March 8, 2017
---
Happy International Women's Day! We're celebrating by collaborating with our friends at @lowercasebeer for #BigBootsBrew2017 @PinkBootsSEA pic.twitter.com/MDQROhldAS

— Optimism Brewing Co. (@OptimismBrewing) March 8, 2017
---
Representing. #BigBootsBrew2017 #pinkboots #iowa #internationalwomensday pic.twitter.com/JS61nsx3zt

— Pink Boots Iowa (@PinkBootsIA) March 8, 2017
---
#BigBootsBrew2017 is poppin off! pic.twitter.com/lPa8PPgZBH

— The Dandy Brewing Co (@DandyAlesYYC) March 8, 2017
---
Hooking up the wort way across the brewhouse- 5 ladies, 5x faster! #internationalwomensday #BigBootsBrew2017 #eppigbrewing pic.twitter.com/uwMP55Fm34

— Eppig Brewing (@EppigBrewing) March 8, 2017
---
In honor of #InternationalWomensDay, brewers Moriah & Nadine are brewing Susan Brew Anthony as part of @pinkbootsbeer's #BigBootsBrew2017! pic.twitter.com/lDrHewrmJn

— Iron Hill Brewery (@IronHillBrewery) March 8, 2017
---
We're raising a glass to #InternationalWomensDay Thanks to all the hard working ladies in the #craftbeer industry! pic.twitter.com/HHlU81zmfx

— Boulder Beer Company (@BoulderBeerCo) March 8, 2017
---
https://www.instagram.com/p/BRYs1hrDU18/?taken-by=cloudburstbrew
---
On #InternationalWomensDay and every day, we are proud to be women in business and we are inspired by the women that…

由 Stoup Brewing 发布于 2017年3月8日
---