No Comments
The Weekly Buzz | July 21 – 27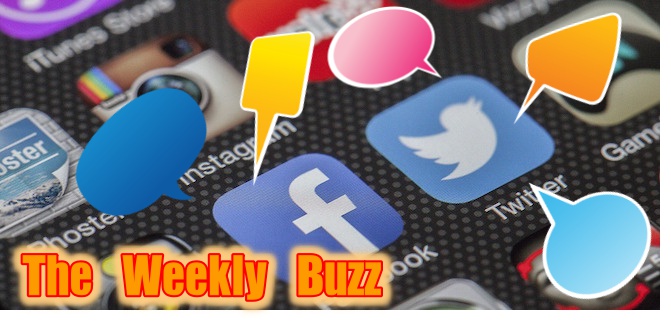 If you've ever spent 12 hours in an amusement park with three young children, then you have a rough idea how my week has been. Although our family trip to Kennywood was ultimately a lot of fun, it did leave me in need of a beer or five. I'd like to toast all the parents out there for surviving these kinds of endeavors. As it's the weekend once again, I invite you to raise a glass and enjoy The Weekly Buzz.

Enjoy a few beers and support some pups in need.
https://www.instagram.com/p/BW0G6DBFVGg/
---
Speaking of dogs… I think yours would love a snack.
https://instagram.com/p/BW2Sh_nFoMP/
---
This is a beautiful machine with and even more beautiful purpose!
https://instagram.com/p/BW2Y6gLHV46/
---
This is a great way to support ocean research!
https://instagram.com/p/BW0qawlgj89/
---
These are a few of my favorite things!
This is our favorite holiday! Who's ready to celebrate Pie & Beer Day tomorrow with 20 other Utah Breweries and over 8,000 pieces of pie? pic.twitter.com/qpHNNF8bnN

— Uinta Brewing (@UintaBrewing) July 24, 2017
---
They're coming to a few new counties!
Our tasty Wild Leap beers are now available in Columbus, Georgia and surrounding counties! #WildLeap #CraftBeer #GAbeer #ColumbusGA #Cheers pic.twitter.com/7AwURAH9be

— Wild Leap Brew Co. (@wildleap) July 23, 2017
---
A literal ton. I want it now.
https://instagram.com/p/BWyVWMPjTIi/
---
I think the kids would call this "Savage AF."
When your brewery gets an invite to a 10 Barrel Brewing event that's supposed to "bring the neighborhood together"… pic.twitter.com/ZyaQ7SLRcq

— Modern Times Beer (@ModernTimesBeer) July 24, 2017
---
Are you in need of a crash course?
We have the ability to transfer all our beer knowledge to you in one fell swoop at our Beer 101-301 Crash Course. https://t.co/5A8ugctlCj pic.twitter.com/bKexRA9txT

— Flying Dog Brewery (@FlyingDog) July 24, 2017
---
Imagine all the Head Hunter IPA they'll be able to brew!
.@FatHeadsBeer to break ground on new production brewery/restaurant Tuesday in Middleburg Hts. https://t.co/xwlJefW2PT pic.twitter.com/s5I9eBa7LS

— Rick Armon (@ArmonRickABJ) July 24, 2017
---
Go win some 3-day passes!
Raffle for @RiotFest 3-day passes this Saturday. All proceeds donated to charity. We will have vendors, bands, clowns, carny food! #crazy pic.twitter.com/r5fX23NraN

— Baderbräu (@Baderbrau) July 24, 2017
---
There's so much good beer in this region. This chapter is in for a great time!
Welcome to our newest chapter, @PhillyBurbsGPO!

Check 'em out: https://t.co/XGwiHi7pK6 pic.twitter.com/OknB4PXFrV

— Girls Pint Out (@girlspintout) July 25, 2017
---
Get your tickets while they last!
Tix for this event are selling fast! They can't be purchased at the door so be sure to get yours soon. https://t.co/wYhSv5BuOh pic.twitter.com/XJ9GG56Glz

— Creature Comforts (@creaturebeer) July 25, 2017
---
Mark your calendars!
With 47 beers on tap and music by @monophonicsfunk, you dont want to miss our Anniversary Party on Aug 5th! Tickets: https://t.co/JQgBjwf2zw pic.twitter.com/NBa3JWVVvg

— Avery Brewing Co (@AveryBrewingCo) July 25, 2017
---
I'll never complain about seasonal drift again.
Yes, we know it's only July, but Atom Smasher Oktoberfest is almost here! #TwoBrosBeer #Oktoberfest pic.twitter.com/X5ekryrVWC

— Two Brothers Brewing (@TwoBrothersBeer) July 25, 2017
---
Would you like to serve some craft beers?
https://instagram.com/p/BW_QaISlWDN/
---
This should bring great beer to a lot of new markets!
We've teamed up with @21stAmendment & @DaFunkwerks to bring you an innovative new project. Read more on our blog: https://t.co/EHHe130BlB pic.twitter.com/NgBRzWq45S

— The Brooklyn Brewery (@BrooklynBrewery) July 26, 2017
---
Let's celebrate craft beer's independence!
Support #IndependentBeer & jam 8/5 at Leftapalooza @BootstrapBrew @mountainsunpub @WildCiderCo @stvraincidery https://t.co/OVPlXZaHDg pic.twitter.com/6UR9an4njj

— Left Hand Brewing Co (@LeftHandBrewing) July 27, 2017
---