No Comments
The Weekly Buzz | November 24 – 30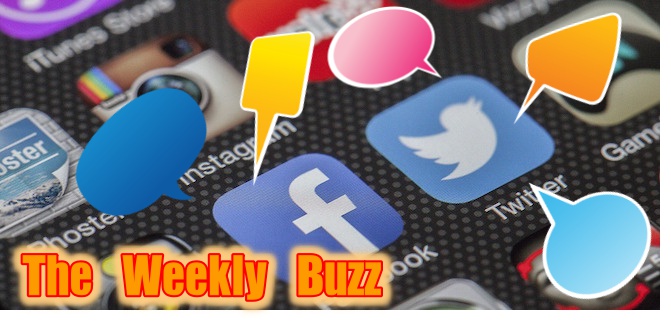 So, which of you maniacs woke up ungodly early to hunt for Black Friday beer releases or discount video game consoles? I did neither. I went to my job and nursed my Thanksgiving hangover like a responsible grown up. With every passing minute, I grew more and more enraged by BCBS posts. First of all, I don't really care what beer you bought, and, secondly, it's just really fancy Budweiser. There's no need to flood every beer forum with pictures of your "haul". Anyway… Other things happened this week, too. Here they are in an all-new edition of The Weekly Buzz.

I hope they don't use VASELINE or MAGAZINES in this one! TANGERINES would be OK, though.*
Do you realize it's been 3 years since our last music collaboration?! You've been asking for it, and we're beyond excited to announce our 2018 music collaboration partners … @theflaminglips! More details – including our full 2018 beer calendar – to come on Monday, Nov. 27! pic.twitter.com/GuY7JDcJ73

— Dogfish Head Brewery (@dogfishbeer) November 24, 2017
*I do not apologize for my old man music joke.
---
Anyone go hunting for Whalez on Black Friday?
"Aye, aye! and I'll chase him round Good Hope, and round the Horn, and round the Norway Maelstrom, and round perdition's flames before I give him up. And this is what ye have shipped for, men! to chase that white whale on both sides of land, and over all sides of earth, till he spouts black blood and rolls fin out. What say ye, men, will ye splice hands on it, now? I think ye do look brave."

–Moby-Dick, or The Whale by Herman Melville
#BlackFriday, stout style. pic.twitter.com/GvcARU1nFG

— Bell's Brewery (@BellsBrewery) November 24, 2017
---
How did you spend Small Business Saturday?
Happy #SmallBusinessSaturday! Don't forget our extended #HappyHour. From 12-7pm bring in a receipt from any other #Phoenixville business with today's date & get $1 off all drafts! Today thru Dec. 24th, enter to win a case of beer with every $25 gc purchase! #shopsmall #stable12 pic.twitter.com/tQSAusDYwF

— Stable 12 Brewing Co (@Stable12Brewing) November 25, 2017
💥Support Local today for Small Business Saturday💥

We hope to see you for a quick bite or a pint.

We haVe amazing specials:
🤤Tuna Poke, Jambalaya Pasta, Pork Belly Burnt Ends, and Drunken Ribeyes🤤#SmallBusinessSaturday #vabeer #vacraftbeer #drinklocal #eatlocal pic.twitter.com/EDVRvDZTIr

— Ornery Beer Company (@OrneryBeer) November 25, 2017
It's Small Business Saturday! Our friends at the @WHChmbr are hosting an event where you can get special deals from local businesses, including 515. Get your deal passport Saturday morning starting at 9:30 a.m. at Grounds for Celebration in WH. https://t.co/7SaD7YVRPR #ShopSmall pic.twitter.com/Sd7L8gDiFe

— 515 Brewing (@515Brewing) November 25, 2017
---
Thar she blows!
Hunahpu's Day 2018 will be on March10th. Get your tickets now ➡️ https://t.co/690S63NOAU pic.twitter.com/WIXb5nSCel

— Cigar City Brewing (@CigarCityBeer) November 26, 2017
---
This dog is a goddamn hero.
Dog with bottle opener collar = Holiday MVP #YARDS #BrewUntoOthers pic.twitter.com/YPRg4Wyx1L

— Yards Brewing Co. (@yardsbrew) November 28, 2017
---
Happy Birthday!
Everyone stop what you're doing & help us wish @FW_Brewmaster a happy birthday!! pic.twitter.com/A4YphywfAW

— Firestone Walker (@FirestoneWalker) November 27, 2017
---
Mark your calendars, central PA!
Feeling pretty fresh with this new cover image 💯 pic.twitter.com/lyPcfLMYS8

— Harrisburg Beer Week (@HBGBeerWeek) November 28, 2017
---
Got any plans for 2018?
Sam's announcing our 2018 beer calendar! C'mon and join us! https://t.co/nylMx4MJ9K

— Dogfish Head Brewery (@dogfishbeer) November 27, 2017
---
Happy Anniversary!
Join us as we celebrate 22 awesome years with live music, specials, and the release of Hop Project NO.005: Double IPA. pic.twitter.com/rErWvBJvMb

— Sly Fox Brewing Co (@SlyFoxBeer) November 27, 2017
---
So many whales this week!
Orcas came to visit us in the Gastineau Channel this weekend! Photo courtesy of Ricky Metcalfe. #livelifealaskan #alaskanbeer #orcasquad pic.twitter.com/neVCv0qJQn

— Alaskan Brewing Co. (@AlaskanBrewing) November 27, 2017
---
I'd totally go camping there.
All is calm in the #foederforest today…🌲🌲🌲 Tried our Wood Cellar Reserve series yet? Learn more: https://t.co/ouCzuF2pd6 pic.twitter.com/adyOQU5IOs

— New Belgium Brewing (@newbelgium) November 28, 2017
---
So many hashtag holidays this week! Thanks to all the breweries who gave to good causes on #GivingTuesday!
If you've enjoyed a glass of Lunch from us you probably know that it's named in honor of a whale spotted off of the Maine coast with a bite out of her fin. We brew this beer in honor of the work done by @AlliedWhale use #GivingTuesday to support their efforts & adopt a whale

— Maine Beer Company (@mainebeerco) November 28, 2017
On this #GivingTuesday we're taking a look back at everything we've been able to accomplish in 2017 through our Beer & Benevolence program here at Dogfish Head! 🍻 https://t.co/avry2UDh9X pic.twitter.com/6EaeyYKVkT

— Dogfish Head Brewery (@dogfishbeer) November 28, 2017
It's no secret we have a huge soft spot for the Center for Wildlife's animal ambassador Henry. If you're looking for a worthy cause to donate to on #GivingTuesday check out the amazing work that @sustainwildlife does here in Maine #Dowhatsright pic.twitter.com/ZHTNBa0vhW

— Maine Beer Company (@mainebeerco) November 28, 2017
#GivingTuesday is here! Donate today and help distribute water, build bikes, donate instruments and plant trees https://t.co/tnMvvLUuwH pic.twitter.com/E60SvVqMme

— CAN'd Aid Foundation (@CANdAid) November 28, 2017
Help us give back to the kids in the @CityofBrighton! Grab a gift tag from our Giving Garland and bring back a toy by December 12th. Presents will be distributed to local children by the @BrightonPolice #GivingTuesday #ColoradoGivesDay pic.twitter.com/h2pypVq8Q2

— Big Choice Brewing (@BigChoiceBrew) November 28, 2017
It's #GivingTuesday so come in a drink good beer and give back to the Denver community with our Tap Room Giving program! This is the last week to support @MetroCaring and @FoodBankRockies https://t.co/HOHTkGmSbc

— Great Divide Brewing (@greatdividebrew) November 28, 2017
🎉It's #GivingTuesday, and here's a great way for you to give back to your local community. 🚲Donate money, bicycles, or bike parts at our Homeless Gear Bicycle Expo in Fort Collins this weekend🚲. More info here: https://t.co/31oCnLxstb

— New Belgium Brewing (@newbelgium) November 28, 2017
---
Do you have any thoughts on Avery's sale of a 30% stake to Mahou San Miquel?
A note from Adam on our recent partnership: pic.twitter.com/o3SjyQ2dAc

— Avery Brewing Co (@AveryBrewingCo) November 28, 2017
---
They are deadly serious about quality.
QC the @ScofflawBrewing way. pic.twitter.com/wQ9hlYktYY

— Scofflaw Brewing Co. (@ScofflawBrewing) November 29, 2017
---