No Comments
The Weekly Buzz | March 17 – 23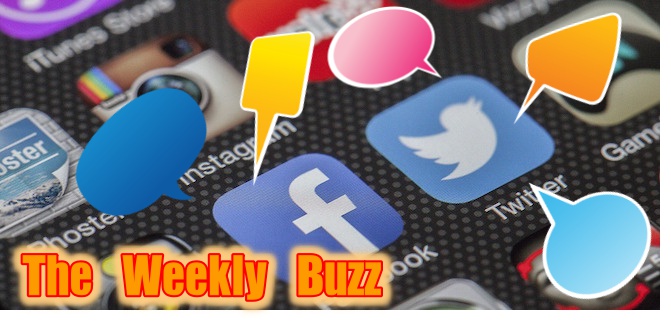 Have you ever had to work on your day off? If so, did you ever stay even longer because a coworker couldn't show up for his normal shift? I did that today. I worked 12 hours instead of spending that time drinking beer. Responsibility sucks. Hopefully you'll be able to enjoy a few beer in my honor, but, whatever you do, don't pour one out for me. That would be a terrifying waste of beer. Crack open a fresh one and be glad that the weekend is about to begin. This is The Weekly Buzz.
How many of you broke this cardinal rule?
On today of all days please remember that beer should be presented in it's natural state. #nogreenbeer #justsayno pic.twitter.com/vXIZKGOyqt

— Black Abbey Brewing (@BlackAbbeyBrew) March 17, 2017
---
Maybe that last post was a bit hasty
Update! We're not dead yet. Brewery operations have commenced while we wait for new ownership. Details: https://t.co/0XhfWtvpp4 pic.twitter.com/AUP3DEx5Q5

— Speakeasy Beer (@SpeakeasyBeer) March 17, 2017
---
This beer is going to… rock…
Friday done right. First batch of Hot Rocks in three years! Nothing like brewing with nearly 1,000 degree granite! #PortBrewingCo pic.twitter.com/W3PziV7Bev

— The Lost Abbey (@lostabbey) March 17, 2017
---
Fill up your calendar with all these events!
There's always something great happening at the brewery! pic.twitter.com/3K9Dqi5N8U

— Sly Fox Brewing Co (@SlyFoxBeer) March 18, 2017
---
Are you an aspiring artist?
Want to display your art in our Tasting Room? Click here to apply! https://t.co/EWs7p9mHpN

— Ninkasi Brewing (@NinkasiBrewing) March 18, 2017
---
Great work supporting a great cause!
We've been able to donate $1000 to @ACLU in the past month thanks to you. Class War bottle sales + Papillon reservations = #solidarity

— Off Color Brewing (@OffcolorBrewing) March 18, 2017
---
Keep your eyes peeled for this one!
Our tequila sour, Tequilacerbus, will be available on March 27 at our taproom and will hit shelves nationwide soon! https://t.co/kD2PI686wL

— Avery Brewing Co (@AveryBrewingCo) March 18, 2017
---
Mitch Steele has finally named his new project in ATL!
https://www.instagram.com/p/BRt2WXVhA54/
---
You need plenty of stamina.
The problem with St. Paddy's on a Friday is keeping it going for another 48 hours.

— Flying Dog Brewery (@FlyingDog) March 18, 2017
---
It's gonna be a good time!
Officially, The Official Grand Opening Weekend! March 24-26 #letsgetweird https://t.co/wzU7bg7cBr

— Evil Genius Beer Co. (@EvilGeniusBeer) March 18, 2017
---
She did it! 8 days, 88 miles and 61 breweries ALL ON FOOT!
https://www.instagram.com/p/BR13UUTgEFc/
---
We all know who's in charge here.
https://instagram.com/p/BR29G-kFAij/
---
Do you think beer and politics mix?
Our boycott is strong. Our city will soon break the pipeline of $ from our bars to @SpeakerRyan #DONTDRINKBALLAST
We Will Win. pic.twitter.com/oH9Oi1cEud

— Revolution League ? (@TheRevLeague) March 20, 2017
---
It's back!
Briney Melon Gose is back, and here's where you can find it: https://t.co/6FiqzLlqZB #gose #bahlhornin pic.twitter.com/1nl8hm7rqC

— Anderson Valley Brew (@avbc) March 20, 2017
---
On shelves near you this spring!
Spring is here w ?+ ?! 
coming soon. Saison au Miel is a dry and crisp farmhouse-style ale brewed w CO wildflower honey #SaisonAuMiel pic.twitter.com/Sg59tY3vLz

— Left Hand Brewing Co (@LeftHandBrewing) March 20, 2017
---
Another spring seasonal!
In honor of the #firstdayofspring, we're drinking Preseason Lager! How are you celebrating? pic.twitter.com/6qT2i88fPW

— Goose Island Beer Co (@GooseIsland) March 20, 2017
---
That beer is just unfair!
It's the #firstdayofspring & #MLB spring training is in full swing! Kick off the Orioles 2017 season with us on April 1st with Gose O's! pic.twitter.com/LgZ6x59Y5w

— DuClaw Brewing News (@DuClawNews) March 20, 2017
---
It's the golden rule!
#BrewUntoOthers is about raising awareness & support for people & organizations in our community making a real difference. pic.twitter.com/iAUnlIBUy8

— Yards Brewing Co. (@yardsbrew) March 20, 2017
---
Want to lend a helping hand?
We need your help pouring beer at the Upslope Get Down music (5/20)! Join the team & help us Get Down here: https://t.co/i0iLebqwe2 pic.twitter.com/l561woV2bb

— Upslope (@upslope) March 21, 2017
---
Where do we sign up?
Indeed Brewing is pumped to present #Whirlygig2017 – 3 days of live music, good food & great beer. RSVP: https://t.co/XSQMNPSFC9 pic.twitter.com/eRLG2orwt4

— Indeed Brewing Co. (@indeedbrewing) March 21, 2017
---
…but somebody's got to do it.
Before beer leaves our warehouse, BLVDians who've completed sensory training taste it to make sure it's exactly as we intended. Rough gig… pic.twitter.com/VHnMMScC8A

— Boulevard Brewing Co (@Boulevard_Beer) March 21, 2017
---
Coming soon to a city near you!
Bigger acts, more cities, more fun. Check out the 2017 #TourdeFat schedule, and get your tickets now: https://t.co/bJ978Z1hUL pic.twitter.com/zabTNv3RQw

— New Belgium Brewing (@newbelgium) March 21, 2017
---
Looking for that dream job?
We're hiring! Open roles in Sales, Production, Brewing, and at our SF Pub. Now's your chance to land that dream job. https://t.co/YWcpc7Joj6 pic.twitter.com/lGhKNkH160

— 21st Amendment (@21stAmendment) March 22, 2017
---
That's a mighty tall can.
Reaching new heights with the 19.2oz can (seriously, it's really tall). #AllDayIPA #SessionBoldly pic.twitter.com/T9Gw1enMQa

— Founders Brewing Co. (@foundersbrewing) March 23, 2017
---
The number one thing to do in Pittsburgh!
Announcing the launch of the Penn Brewery Mug Club! Get more details and enrollment info at https://t.co/jMOa1sgmdS . Prost! pic.twitter.com/2Zt1zx8zeX

— Penn Brewery (@PennBrewery) March 23, 2017
---