No Comments
The Weekly Buzz | July 6 – 12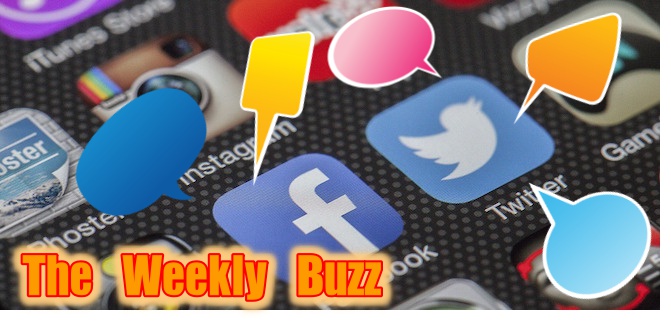 Are you tired of hearing me complain about my job? Well, you're in luck! My ridiculously long work weeks are coming to an end soon, and I couldn't be happier. How does my employer expect me to waste time on Twitter while working a 70-hour week? Joke's on them! I do it on the clock. Anyway, here's all the nonsense that I discovered while I while shirking my responsibilities. This is The Weekly Buzz!

Can't go wrong with lots of crisp, golden beer!
Love pilsners? Hey, us too! Join us for Pils & Love Festival on Saturday, July 28th at @FW_Propagator. We've got over 50 breweries serving up their best pilsner, check out the full lineup & grab your tickets now: https://t.co/wBbR6tH9Zc #pilsandlove #pilspride #lagerislife pic.twitter.com/JRNQEaHibV

— Firestone Walker (@FirestoneWalker) July 6, 2018
---
Bacon is a beer's best friend!
The @CuredFest is only 2 weeks away on July 21 & we are so psyched to be a sponsor! https://t.co/Qk5oHv0HJp #CuredFest pic.twitter.com/pJ00kPUcnU

— Starr Hill Brewery (@StarrHill) July 7, 2018
---
MMMMM…mutton…
https://instagram.com/p/Bk3-A6Un5uM/
---
I'm going. Are you?
Craft Beer Powerhouse Panel Headlines 2018 @BrewersofPA Meeting of the Malts on August 23rd. Will we see you there? #PABeer

Details: https://t.co/aCGKdbb4oN pic.twitter.com/dJvY3k5MmW

— Breweries in PA (@BreweriesinPA) July 10, 2018
---
Running is terrible, but at least this is for a good cause!
Looking for your next race? Come join us at the #JimmyFund5K & Fun Run on July 22nd! Since every great run deserves a great beer, we'll be serving cold Harpoon beers at the finish line. @TheJimmyFund https://t.co/aHGXvdVJ1L

— Harpoon Brewery (@harpoonbrewery) July 10, 2018
---
That color though…
Big ole bucket of purple corn germ that we spent the last hour separating. Look at that color 👀 #chicagobeer #chichademolle pic.twitter.com/qi7y69J3tP

— Off Color Brewing (@OffcolorBrewing) July 10, 2018
---
Want to bring beer to the masses?
Interested in a career in craft beverages? We're looking for a new Wholesale Delivery Driver to join our team. Help us deliver independent craft beverages to the wonderful people of Massachusetts! Apply at: https://t.co/FaDpF3C2e2 | #beerjobs #hiring pic.twitter.com/x5smpjdf7D

— Night Shift Distributing (@NSDistro) July 10, 2018
---
Saving our planet should be a priority.
Beer is awesome and climate change is real. Period. We have partnered with with Inspire because we don't want our planet to be a shit hole. Get a $50 gift card to our taproom. https://t.co/D6E1S1FqxK #climatechange #philly #phillybeer #Philadelphia

— St. Benjamin Brewing (@stbenjaminbrew) July 10, 2018
https://www.instagram.com/p/BlDw2PJFuNR/
---
Mark your calendars!
Get geared up for a big day of bikes, SLY FOX BEER and family fun. Visit https://t.co/rc5JSgfe4j to find out more! pic.twitter.com/FHgiVQujpr

— Sly Fox Brewing Co (@SlyFoxBeer) July 10, 2018
---
This pint could save a life!
Today we brewed a special beer with a special hop blend. For every pint of #AlesForALS sold, we will make a donation for ALS research. #endals pic.twitter.com/1nxCmM6Dmh

— Bell's Brewery (@BellsBrewery) July 12, 2018
---
I strongly condemn the actions of this crowd.
England fans in Hyde Park waste about $10,000 in beer on team's first goal against Croatia pic.twitter.com/lfCxGZfqNW

— Darren Rovell (@darrenrovell) July 11, 2018
---
I got next!
https://instagram.com/p/BlJDDBUFiS_/
---
Enter to win!
Who wants @PhilaUnion tickets & #YARDS? #DOOP #BrewUntoOthers https://t.co/IXbFd681KX

— Yards Brewing Co. (@yardsbrew) July 12, 2018
---
Wesley Crusher cosplay is required.
NEXT THURSDAY, OG beer geeks, @StoneBrewing [Liberty Station] celebrate our hometown becoming the center of the nerd universe during @Comic_Con 2018 with #HopCon 6.0: The #w00tstout Festival😝
Jump on the #SDBEER App for details and tickets: https://t.co/KqxauP27l3 pic.twitter.com/gfRkBX3Kaj

— SD Brewers Guild (@sdbrewers) July 12, 2018
---
You had me at "air conditioning."
We have free parking, very effective air conditioning and cold, cold beer. Get to Summit! pic.twitter.com/JvF1kYE6PI

— Summit Brewing (@summitbeer) July 12, 2018
---
Got plans for the World Cup Finals?
We can't get enough of the World Cup and wanted to get in on the Finals action. Join us at our SF Pub on Sunday at 8am for a game watch, complete with beer and brunch specials! 🇫🇷⚽🇭🇷🍻 pic.twitter.com/jQOaK6VvFg

— 21st Amendment (@21stAmendment) July 12, 2018
Wherever you're watching, you can now stock up on cases or 4-packs of Amsterdam Pils for the World Cup! ⚽🏆 pic.twitter.com/eprtiNW03G

— UrbanChestnutBrewing (@urbanchestnut) July 12, 2018
---
Surprise! It's a beer garden!
Only a few days away! Will we see you in #Philly at our pop-up Beer Garden on #SpringGarden? Live music, to-go beer, food trucks, plus we're releasing our Tank to Table No. 07 Dry-Hopped Double IPA featuring strawberry shortcake hop notes! RSVP here: https://t.co/kILrMR9Gom pic.twitter.com/OfFFR9Mnnr

— Victory Brewing Co. (@VictoryBeer) July 9, 2018
---
Is the poi fresh?
Luau prep is underway at the Almanac headquarters! Have you gotten your tickets for Sunday yet? https://t.co/cia2GLaJMW #luauparty #craftbeer #celebratesummer pic.twitter.com/tLc8W8kSab

— Almanac Beer Co (@AlmanacBeer) July 12, 2018
---
Are you going to the CA Craft Beer Summit?
We have a full lineup of amazing speakers for #CABeerSummit! Dont miss the Tap Talk from Julia Herz, Craft Beer Program Director for the @BrewersAssoc, where you can get up to date on the latest in the independent beer movement. See the full schedule here https://t.co/LaO2E26zDB pic.twitter.com/U0Cx7Q389t

— CACraftBrewers (@CACraftBrewers) July 12, 2018
---