No Comments
Hairless Dog Brewing Co. | NA IPA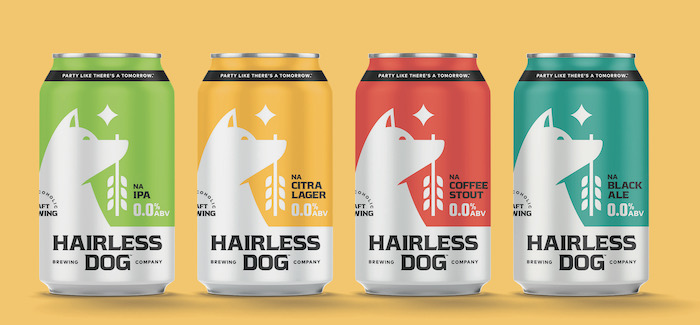 Ah, January–that month when the misdeeds of the previous weeks (or more) of debauchery catch up, and New Year's resolutions are front and center. For some, this means getting back into an exercise routine or "eating better". For others, Dry January is the key to starting the year off right.
I completed my first Dry January last year. To be honest, it was easier for me to simply stop drinking altogether than try and find a non-alcoholic (NA) beer that was worth drinking. However, this year's experiment might look a bit different because of Hairless Dog Brewing Co.
Booze-less Brainstorming
The idea for Hairless Dog Brewing Co. occurred, appropriately, over a cup of coffee. Jeff Hollander and Paul Pirner had been friends for many years but had recently reconnected at a holiday party at which both were abstaining. Though the pair had been fans of the craft beer scene, they realized that there really wasn't much to enjoy in the NA realm.
"(Since there) was not a lot out there, we needed to make our own," said Hollander, CEO and co-founder of Hairless Dog Brewing Co. "We wanted a bold and interesting craft beer experience that truly contains no alcohol."
After several years of testing and experimenting, Hairless Dog opened in late 2018. The pair created what was, for them, a large run – 1000 cases. It sold out in Minneapolis "instantly."
"Our distributors were, like, we've never seen a product move like this before," Hollander said. "We were, like, 'they (the customers) know there's no alcohol in there, right?'"
It became clear to the pair that there was an audience for what they were creating: NA beer that people wanted to drink for what it was rather than what it wasn't. Hairless Dog now cans four different NA beers: an IPA, a Citra Lager, a Black Ale and a Coffee Stout. New flavors are slated for release in early 2021.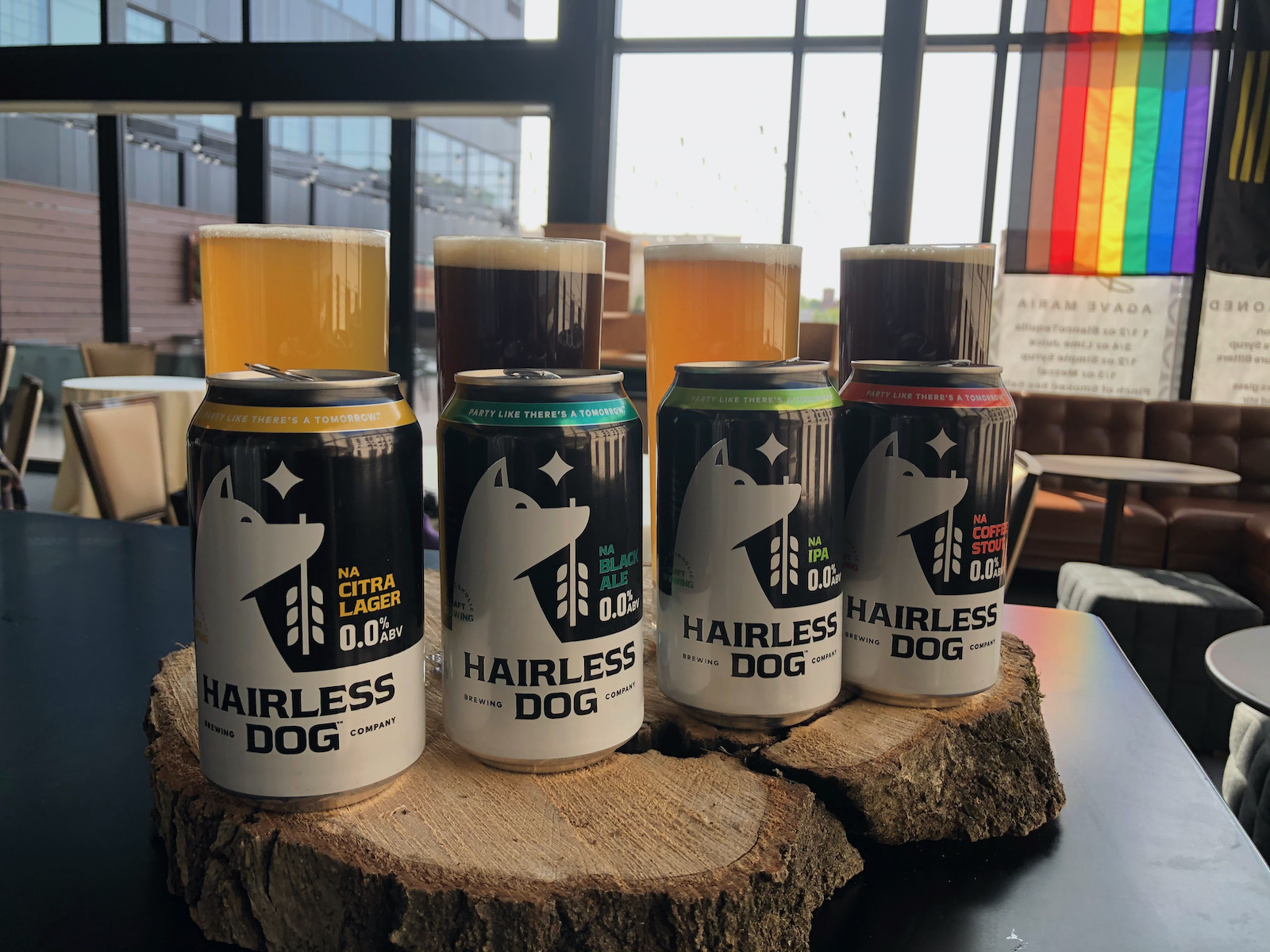 Never-Ever Beer
There are several elements that differentiate Hairless Dog from other NA beers. First off: When you pour this, it's apparent you're not dealing with a taste-less watered-down brew. The color, smell and appearance are just what you'd expect from a fully loaded craft beer: The IPA pours a rich golden color with a substantial head. Then, there's the taste–these beers pack a flavor punch that would not be amiss at your favorite local brewery. The IPA has all of the hoppy goodness you want without sliding into overly bitter; there's a bit of citrus as well but overall this beer is well-balanced and flavorful. If you tried it back to back with a full-strength brew, you might be able to pick apart some small differences, but if you're abstaining, you won't miss the alcohol at all.
The process that Hairless Dog uses to create its beers also sets it apart.
"We're truly the only 0.0% ABV craft beer made in America," explained Pirner, COO and co-founder, said. "We don't produce the alcohol in the first place, so we don't need to remove it. As a result, we don't have to remove the other stuff that comes out with the alcohol. We can retain the mouthfeel, the pour…and the craft beer experience as well as the flavor."
Other breweries that produce NA or 0.5% ABV beers typically brew a batch of beer, then heat it after fermentation to drive off the alcohol; the temperature and duration of the heat applied to drive off the alcohol can determine how much alcohol is left in the beer. Reverse-osmosis is another technique for bringing down the alcohol content. However, these processes can change the flavor and consistency of the beer. Hairless Dog's innovative brewing process never introduces alcohol, which makes them the first truly 0.0% ABV craft NA beer in the country.
"We said, if we're going to do this, if we're going to make non-alcoholic beer, it has to contain no alcohol. 0.5% ABV isn't good enough in our opinion," Hollander said. "If 0.5% is good, then 0.0% is better."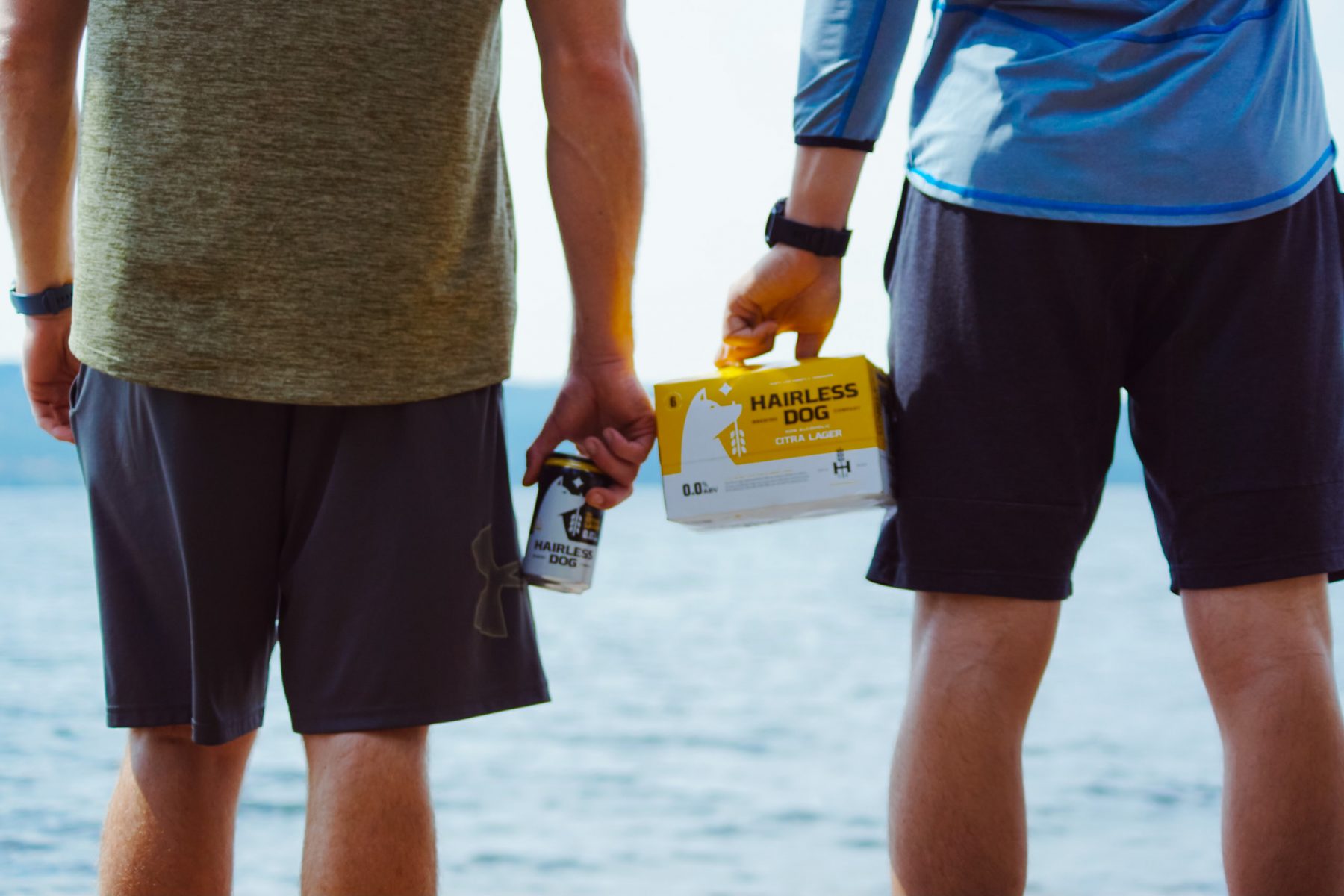 NA Beer for the New Year
Hollander and Pirner said they saw a slowdown in the early days of the COVID-19 pandemic when people were primarily stocking up on essentials. However, in June, the demand for Hairless Dog returned–Hollander said they couldn't keep it on the shelves.
"The COVID-19 pandemic has forced a lot of people to reevaluate their alcohol intake," Pirner said. "The health and wellness trend has been going on in America for a long time–yoga pants are part of our culture. It figures that as everyone is thinking about what they put in their bodies, they'll finally get around to alcohol."
Hairless Dog NA beers can be found in more than 30 states; you can also buy from the website. Try a mixed case or sign up for a monthly subscription!
---