No Comments
Ratio Beerworks Announces Second Location & Addition of Brewer Philip Joyce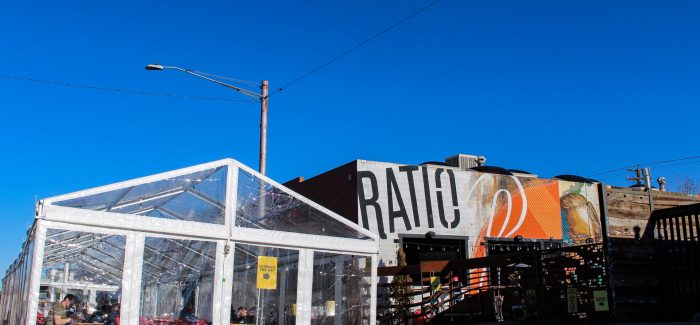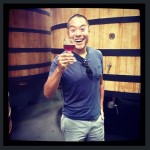 Since its inception, Denver's Ratio Beerworks has played to the beat of their own punk rock show. Eschewing the traditional brewery vibe, Ratio fills its mid-mod themed taproom with music from the Menzingers, Misfits, and Descendents, and pioneered unconventional events like their punk rock drag show, weekly comedy nights, live acoustic performances from bands like The Flatliners and Andrew W.K., and an artist-driven experiential beer release around their Barrel-Aged Stout, Genius Wizard.
And while many of today's modern breweries have rushed to enter the game of canning their beer and chased after trends like Pastry Stouts and Hazy IPAs, Ratio has, since its inception, opted to take a more measured approach by focusing nearly entirely on draft-only sales up until the pandemic, and built their brand behind classic styles with a modern twist like Dear You French Saison, Domestica American Standard Ale, and Hold Steady, a Chocolate Rye Scotch Ale.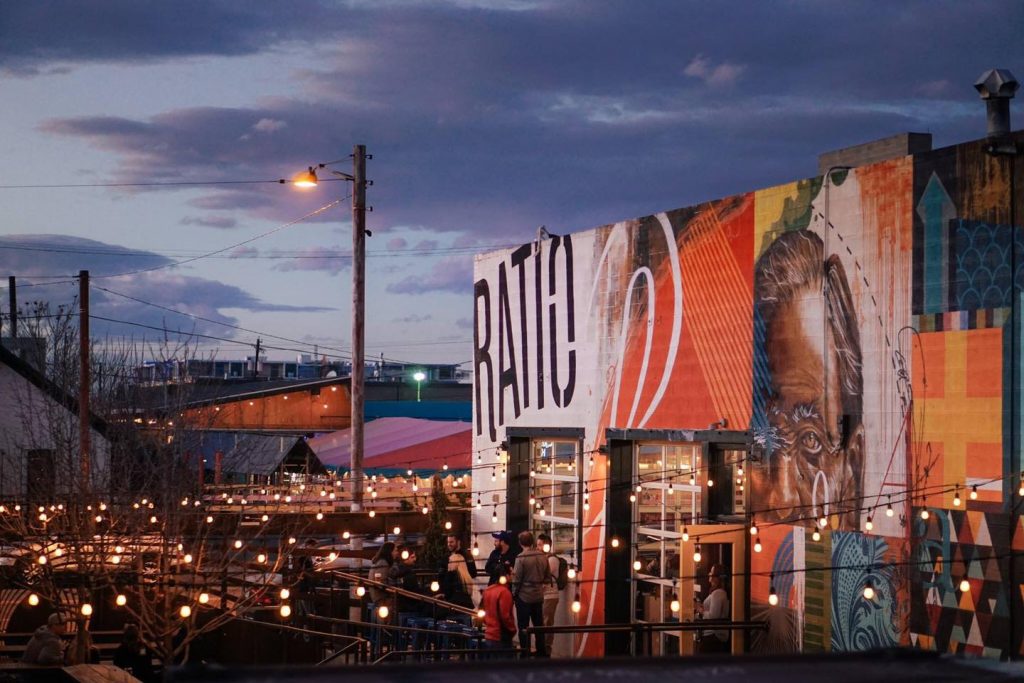 Now, just six years after opening at the corner of 29th and Larimer, Ratio Beerworks is about to embark on its next big evolutionary phase by extending its reach beyond RiNo with the addition of a new production brewery and taproom in the former Declaration Brewing space in Denver's Overland neighborhood while also adding a powerhouse brewer to join their team.
Ratio co-founders Jason zumBrunnen and Scott Kaplan had been exploring the possibility of expansion for some time but joked that in some ways, it took a global pandemic to cause them to pull the trigger.
"Amazingly, besides all the negative sides of a viral pandemic impacting our business, friends, and neighbors, strangely there were some silver linings, and one of them was challenging our pre-set notions on expanding," said zumBrunnen. "We were slightly conservative about taking our next step and 2020 was supposed to be when we were going to sign a lease for a production facility, design can labels, and finally get into canning," zumBrunnen continued. "But the pandemic taught us that we don't have time to deliberate and it forced our hands into canning. Prior to the pandemic, we were 99% reliant on draft sales, and as a result, we were 100% screwed."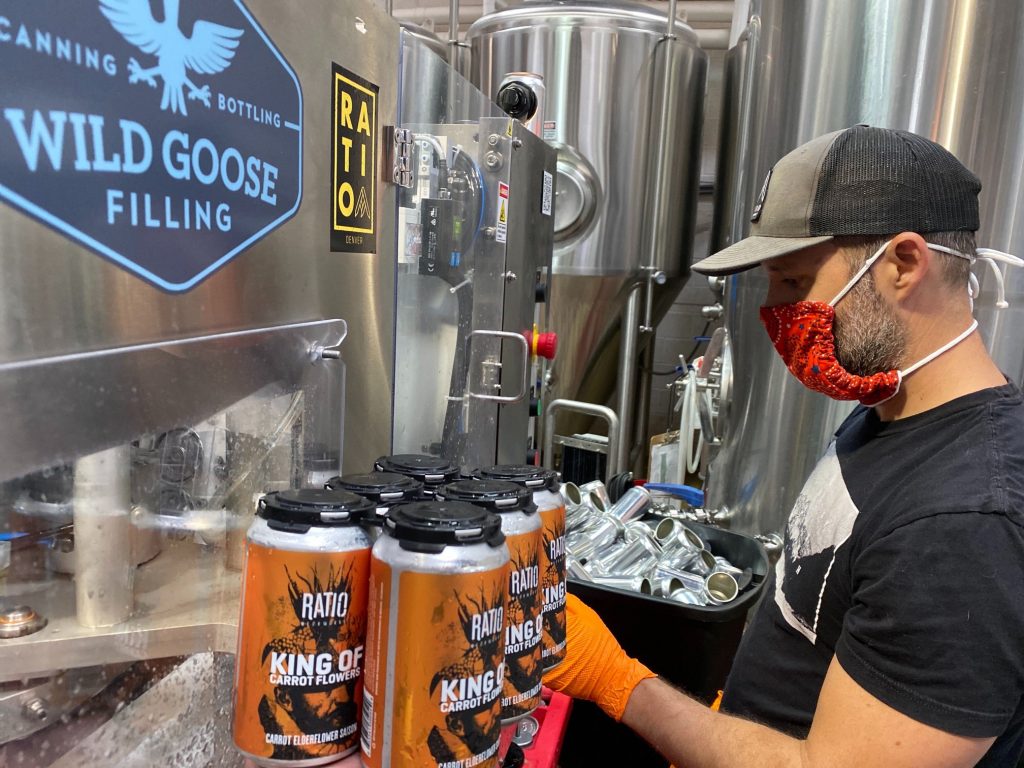 Declaration Brewing first started having issues when they decided to sell their property and brewing equipment to local investment firm BaseCamp Brew Capital in 2018. And while the brewery continued to operate for another two years after the sale, Declaration eventual filed for bankruptcy at the beginning of 2020 and defaulted on rent payments. BaseCamp Brew, still believing that a good brewery tenant would be a great fit to anchor the space, found an opportunity by reaching out to Ratio Beerworks.
"We are excited for a long-term partnership with Ratio Beerworks," said BaseCamp Brew manager, Kent Davis. "We look forward to reactivating the building and believe we have found a great fit with the Ratio team. They are a well-respected and local brewery, they have a great team for this expansion and also make some great beer."
For Ratio, the decision to open a second taproom and production facility was fueled by their desire to build on the momentum of their recent entry into canning. But expansion plans also needed to fulfill multiple criteria which included the right location, the right timeframe, and the right cost. "Over the years, we've invested so heavily into building our brand around, counter-culture, arts, music, and a DIY approach, so when we began exploring the idea of opening a new location we were a bit concerned that if we opened too far outside of the city, it might hurt the brand," explained zumBrunnen. "Additionally, going this route helps to significantly cut down on the time and cost that would be associated with building out a brand new facility."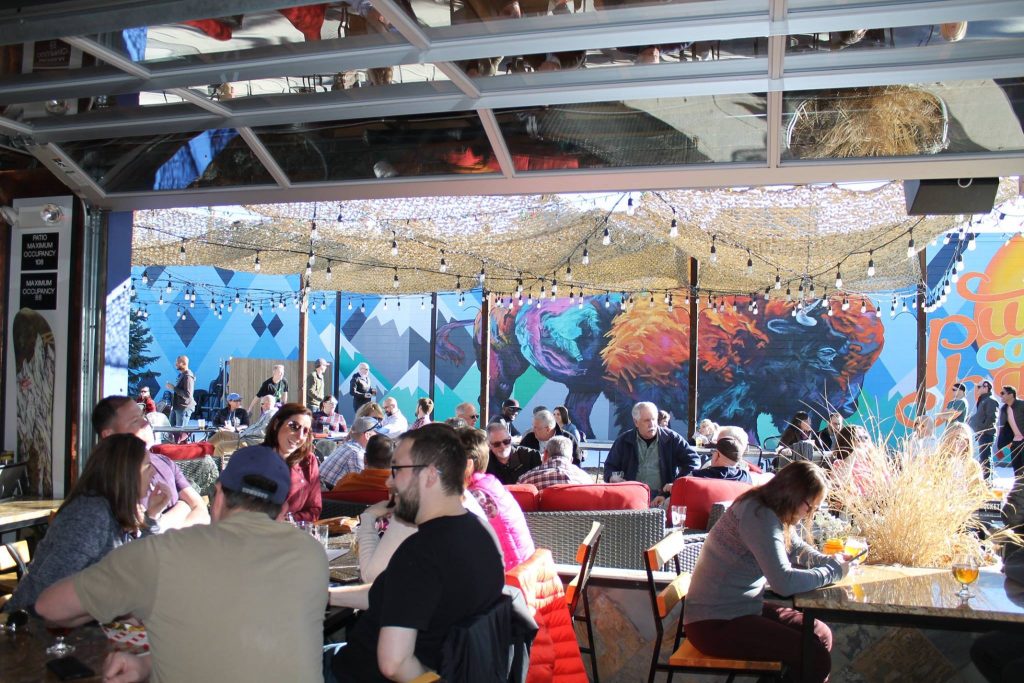 Ratio plans to open the new location by the summer of 2021, but zumBrunnen also noted that there's still a lot of work to be done to renovate the 9,000 square foot space and 9,000 square foot patio.
"We'll completely renovate the interior design from furniture, to bar, to fixtures, to updating the outside space," said zumBrunnen. " We love the bones of the building, it reminds us a lot of when we moved into Larimer in that it's an industrial neighborhood with a large production space and an expansive oasis of a patio, but we want to make it our own and make it feel like Ratio."
The new 2030 South Cherokee Street location will also allow Ratio to significantly grow brewing operations including more R&D-related projects at both locations as well as increased canning production of specialty brands like King of Carrot Flowers, their cult-following Carrot and Elderflower Saison, as well as finally launching flagship brands like Domestica American Standard Ale and Dear You French Saison in cans.
Coincidentally, Ratio has also announced the hiring of Philip Joyce, one of the state's more acclaimed rising young brewers formerly of Westbound & Down Brewing, and co-founder of Amalgam Brewing, as their new Lead Brewer.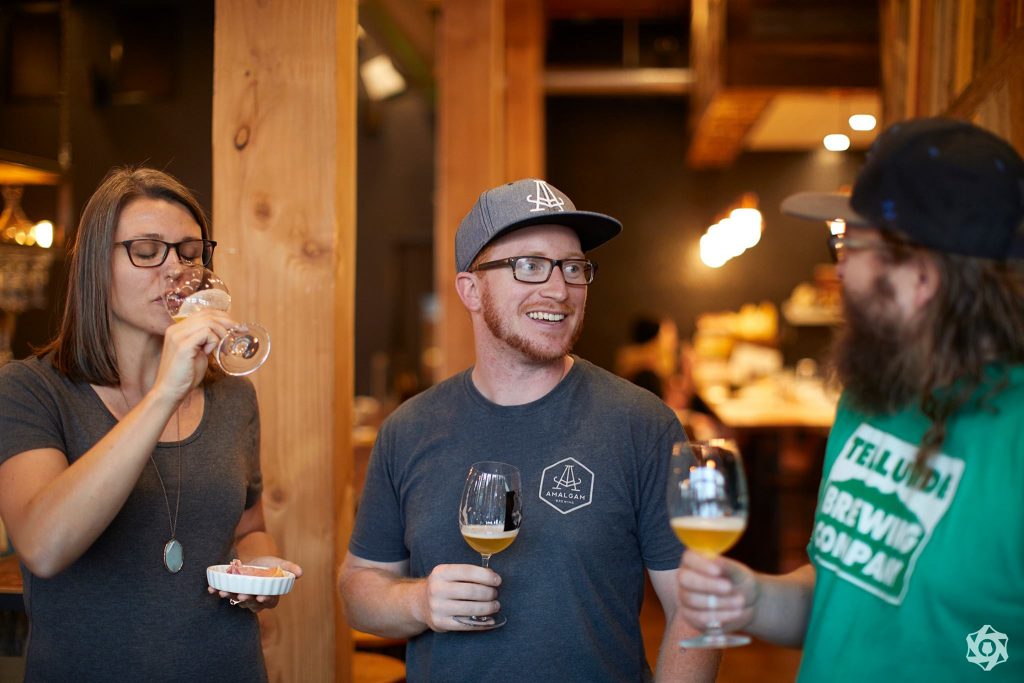 For Joyce, after two and a half years working for one of Colorado's fastest-growing breweries in Westbound & Down (WB&D), the opportunity to lead and mentor a new wave of brewers, while also expanding his experience with production brewing, was the driving factor in the decision to join Ratio. 
Joyce first splashed on to the Colorado craft beer scene in 2013 when he helped launch Powder Keg Brewing as their head brewer. During his five-year stint with the Niwot-based brewery, he quickly cultivated a cult following for his special projects releases including acclaimed barrel-aged Stouts like Supervoid and Breakfast @ Que's, and equally impressive sour and wild offerings like Palisade Reunion and Quartet. 
A year prior to Powder Keg's closure in 2018, Joyce teamed up with business partner Eric Schmidt to launch Amalgam Brewing, a small batch brewery focused on specialty wood-aged projects, in an alternating proprietorship that allowed their spin-off project to lease space and share production time with Powder Keg while operating a wholly separate business focused on specialty barrel-aged beer projects. When Powder Keg closed, the two moved their operations to Denver's Midtown neighborhood by leasing a warehouse space dubbed the Cultural Center. Around that same time, Joyce joined Westbound and Down as their Special Projects Brewer, which coincidentally led to the Idaho Springs-based brewery renting space from Amalgam at the Cultural Center to simultaneously grow their own special projects division around barrel-aged beers.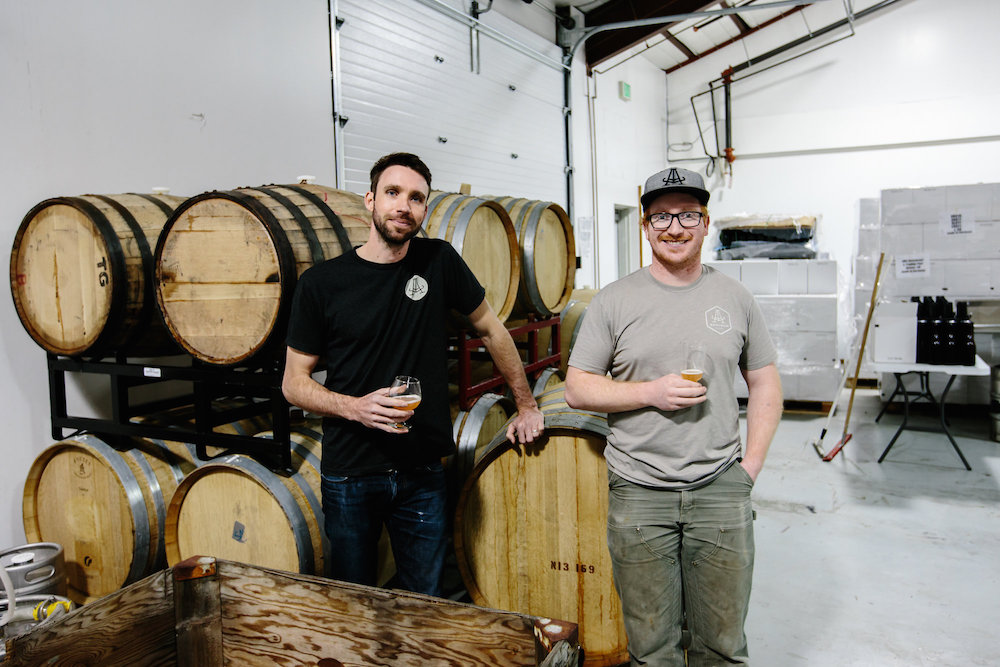 And while Joyce found fulfillment in cultivating a burgeoning barrel program for WB&D, he ultimately was pulled by the opportunity to lead a team and gain greater experience in production brewing.
"At WB&D I had great creative opportunities with our special projects with a focus on mixed culture and wood-aged beers," said Joyce. "That was my creative domain, but I get to do that with Amalgam as well, so I had been looking for ways to take my creativity and influence other parts of the brand.
"Fortunately and unfortunately there are four extremely creative individuals who were or could be head brewers at other breweries, all competing for creative input on clean beers," continued Joyce. "I think that's an incredible thing because it pushes us to make great beer, but I wanted an opportunity to influence the clean beer trajectory for another brand."
As a former teaching assistant, Joyce has always been drawn to the opportunity for leadership. And while the initial plan was for WB&D to grow significantly in the last year with the addition of an expansive production facility in Lafayette, which would allow for greater opportunities around building a bigger team, that expansion has been delayed temporarily by the pandemic.
"I always look for opportunities where I can teach and help people learn best practices and talk about why we do things the way we do them," said Joyce. 
"The transition that I made from a full-time desk engineer to brewing without any real professional experience was totally influenced by folks like Andy Parker, Jon Cross, Chris Bell, and Jesse Brookstein, who I met at Avery," continued Joyce. "They were the ones who taught me how to clean a tank in a professional sense, how to CIP it, how to design recipes. Those guys were a huge wealth of knowledge and had a huge influence on my generation of brewers and now it's exciting for me to serve as a resource for the next generation of brewers. They are still incredible mentors and brewers and I'm really excited for the opportunity to do that at Ratio and carry on that same kind of inspiration.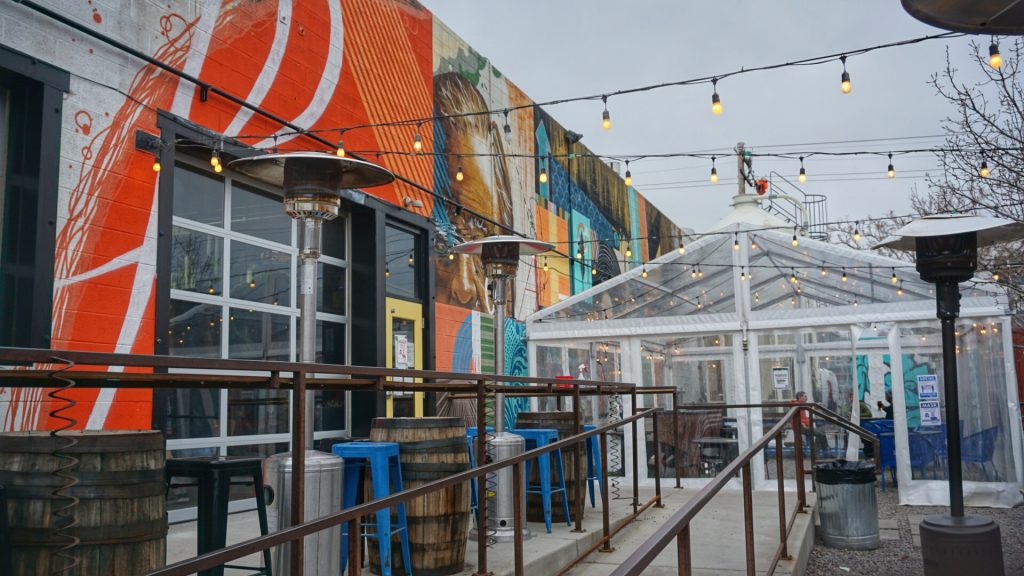 Joyce saw Ratio's expansion plans as the perfect alignment in his professional development growth with more opportunities around Ratio's packaging and clean beer programs while also helping to influence an organic specialty program.
Because the branding and brand strategy are so strong at Ratio, I want to make sure I approach new recipes cautiously within the brand strategy realm," said Joyce. "I'm still excited about helping to grow the barrel-aged program there and I think I can help provide a lot of experience. But I've also become really familiar with canning beers at Westbound and recipe design that considers packaged longevity."
Co-founder Jason zumBrunnen echoed those sentiments and explained that he had been following Joyce's professional career from afar and was thrilled to see him apply for the position.
"I've been extremely impressed by his spirit of creativity and what Amalgam was already starting to do," said zumBrunnen. "You could tell just by meeting him this is someone who was going to do well in craft beer in CO. "I was really excited by his disciplined approach toward teaching and leading a team, that was really what we've been needing most in a lead brewer, all the innovation and creativity he brings is the cherry on top."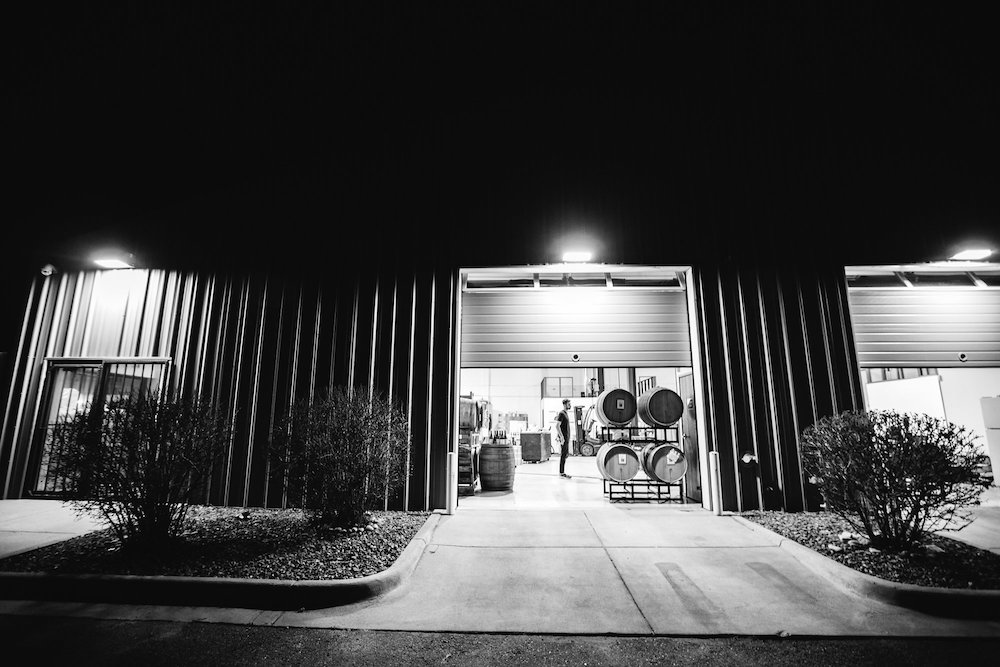 Rabid fans of Amalgam can rest assured that the move to Ratio won't significantly impact how the brewery will operate moving forward. Joyce explained that the Cultural Center will continue to rent out space to WB&D, and that they still have plans to brew their base wort in Idaho Springs on occasion, but that they've also begun brewing at Bierstadt Lagerhaus to help grow their operations for the future as well.
"One batch of beer at Bierstadt is more than two times the amount of beer that we brewed last year for Amalgam," said Joyce. "It's a long-term commitment to how we want to grow the Amalgam brand. There are a lot of similarities between lager brewing and traditional lambic brewing, so I'm excited to see how the capabilities of their brewhouse with decoctions will affect the process in how we brew our beer."
Timing and opportunity have led to this perfect confluence of significant moves for both Joyce and Ratio Beerworks. Beginning Monday, Joyce will officially join the Ratio team, and almost poetically, Ratio takes over the lease at 2030 South Cherokee Street.
---