No Comments
Maine Beer Co. Prides Itself in Doing What's Right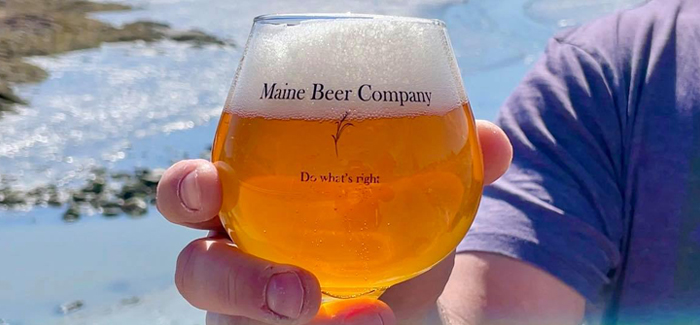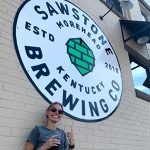 It's easy to be a brewery that makes good beer. What's harder is being a brewery that makes good beer and does the right thing. When brothers David and Daniel Kleban founded Maine Beer Company in 2009, they set out with a mission to do what's right – no matter what. For themselves. Their staff. And the planet.
When looking at the aftermath of the financial collapse of 2008, the two brothers thought there had to be a better way of doing business.
"And when they founded the company, they said, we're going to do things differently," Anne Marisic, Maine Beer Company's marketing and communication manager, said:
"We're going to do what's right. And that involves taking care of our people, making great beer and taking care of the planet."
The Kleban brothers were way behind in tackling climate change, so they acted quickly. From the very beginning, Maine Beer has been a member of 1% for the Planet, a global non-profit that inspires businesses to donate one percent of their annual sales to environmental non-profits.
To do this from the beginning and successfully, the Kleban brothers thought they could act as stewards to other businesses in the craft beer and local community. During the first year of business, Maine Beer Company did not make a profit, but they were still able to donate $100, and that's what mattered. Doing what's right no matter what.
That $100 donation, in the beginning, was the foundation that Maine Beer has been built on. And that's what Maine Beer Company preaches to themselves and to other businesses who have followed their lead. That giving 1% no matter the amount, is worth it.
"And we often advise other businesses who have started at 1%," Marisic said. "One group that I talked with, they were like, there's no way we can give like you. And it's like, you're giving what you can and that's the whole philosophy behind that if we all gave just 1%. And we could really make a dent in all of this."
View this post on Instagram
Maine Beer Company donates to local non-profits such as Protect Our Winters, Dian Fossey Gorilla Fund, Center for Wildlife, Maine Coast Heritage Trust, Royal River Conservation Trust, Appalachian Mountain Club, College of the Atlantic's Allied Whale, Friends of Katahdin Woods and Waters National Monument, Bicycle Coalition of Maine, Wolfe's Neck Center, Freeport Conservation Trust, Skyline Farm and the Maine Audubon.
This mission of doing what's right has created a company culture that makes their employees want to become better people, to do better things. As part of Maine Beer's 1% of the Planet membership, 100 percent of staff tips in the taproom are donated to environmental nonprofits outside of the ones Maine Beer already support. Each month, staff members nominate a new local non-profit to benefit from the scholarship, and a committee of staff members from each department vote on the submissions and select a nonprofit to receive the scholarship.
"It's a way of expanding our giving, but also getting the staff really involved," Marisic said. "It's been a lot of fun. We've created some really good relationships with nonprofits. One of the thoughts behind it is, hey, maybe we can link up with someone, and create this really dynamic relationship and they become one of our larger partners. But it's just a great way for our staff to be able to help direct some of our giving. And, for us to see where their interests are and what they're excited about."
The hardest part of owning a brewery is naming a beer. Through Maine Beer Company's partnerships, they have been able to highlight some of the non-profits they partner with their beers.
Through their partnership with the College of the Atlantic's Allied Whale, Lunch IPA, one of Maine Beer Company's most popular beers, is named after a whale who has been spotted off the Maine coast since 1982. King Titus Porter is dedicated to a silverback gorilla that has benefited from the continuous efforts of the Dian Fossey Gorilla Fund. Prince Percy Pilsner is named after one of the Center for Wildlife's spotted turtle animal ambassadors. And Wolfe's Neck IPA pays tribute to the Wolfe's Neck Center, a sustainable coast farm in Freeport, Maine.

"We treat it more as a springboard for sharing the work of our nonprofits than we do for getting you to buy beer, which is usually not how marketing works," Marisic said. "And why it was really exciting when I took this job to be like 'Oh, I get to talk to people about giving back, that's cool.' But David Kleban has always said, you know, we've got this white label, and you know, thousands and thousands of people look at them, so why not tell the stories."
"So much of beer names is storytelling. And when that story serves a larger purpose, that's always really exciting," Marisic continued.
View this post on Instagram
Maine Beer Company's taproom in Freeport features solar trackers and solar panels to offset around 51% (223,762 KWh) of the brewery's energy usage. The brewery is currently working with Nexamp, a leader in the clean energy space, offering solar and energy storage solutions, to become completely reliant on clean energy.
To learn more about Maine Beer Company's partnerships with environmental nonprofits and their efforts in sustainability, visit mainebeercompany.com.
---