No Comments
The Craft Beer Marketing Awards Enters Its Third Season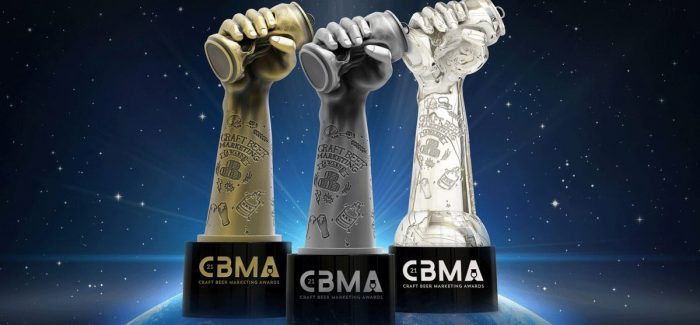 The Craft Beer Marketing Awards (CBMAS) will be holding its third year of competition in 2022. The first ceremony was held in 2020, but had to go fully virtual due to global COVID-19 shutdowns. Although this timing was unfortunate, it went over extremely well, so the CBMAS was held as a hybrid ceremony in 2021, where more than 195 awards were presented. The plan is to hold a fully in-person awards ceremony (with a virtual feed) during the week of the May 2022 Craft Brewers Conference in Minneapolis.
All Great Ideas Start With a Pen and a Napkin
The CBMAS was founded in 2019, when the founders, Jim McCune and Jackie DiBella, realized that, while there were multiple awards for the drinks themselves, there were no awards programs for innovations in craft beer marketing. As DiBella told us: "Design, website, video, even taproom designs—there was no recognition anywhere for any of that." As they got to talking about this over beer, they began to write down their ideas on a napkin, and it took off from there.
View this post on Instagram
Above: CBMAS founders Jim McCune and Jackie DiBella pose at the CBMAS booth at Craft Brewers Conference (CBC) 2021.
They decided to launch the CBMAS, the first global awards program of its kind to recognize the artistic and visual design aspects of both craft beer culture and retail marketing within the overall beverage industry. DiBella explained that the simplest description of the awards is that they are for "everything but the liquid." Awards (AKA, "Crushies") can be for anything from can design or website design to innovative social media marketing and even marketing and design efforts for collaborations.
A Competition for All
Given the diversity in today's craft beverages world, the competition isn't limited to beer only. Awards are given for beer, hard seltzer, cider and even non-alcoholic beverages. As long as it's craft and you can drink it (excepting spirits), there's an award for it.
"Everyone can enter at the regional level, but you also have the option to compete globally," said DiBella. "You can see how your stuff stacks up against the world."
Entries are divided up into five regions across the globe: The Americas, the United Kingdom, Europe, APAC (Asia and Pacific—including Australia and New Zealand), and MENA (the Middle East and North Africa). The panel of over 350 judges spans the globe and includes beer journalists, social media beer influencers, designers and beer lawyers.
Although the early bird entry period ended October 29, craft beverage producers and their design and marketing partners have until January 14, 2022 to enter. Judging will take place from February 7 to March 25, 2022.
For a full list of 2021 winners, visit the 2021 CBMAS winner's Gallery.
Feature photo contributed by CBMAS.
Disclosure: One of the CBMAS judges is PorchDrinking's very own Tristan Chan, who remains impartial and transparent as always.
---