No Comments
Fifty West Brewing Co. | Maibock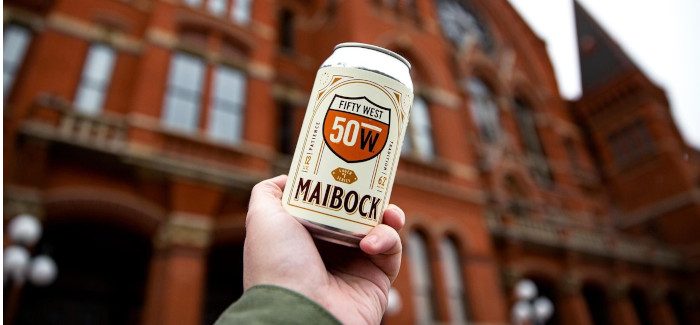 It's Bock season! Just as Oktoberfest celebrates the transition from summer to the colder months, German brewers also feel the need to brew celebratory beers for the period when the daytime begins to warm up, but the evenings and mornings are still chilly. Maibock, from Cincinnati's Fifty West Brewing Company is the perfect beer to fit the bill.
While the celebration of this season hasn't been adopted on a near global scale as with Oktoberfest, many breweries start tapping the kegs of Bocks they've had lagering in anticipation for the season. Fifty West joins its fellow regional brewers for the annual Bockfest in early March, and brews up its share of malty lagers to kick off the season. Their Maibock is an exemplar of what makes the season special.
Will Maibock tick your box?
Maibock is not only the name of the beer, but also the name of a style. Mai (pronounced "my") is German for May, but often starts coming out of the kegs in early March. It's the ideal springtime beer and, like its cousin Helles Bock (or Heller Bock), is malty, mildly bitter and highly refreshing. Although it tends to have a fairly high ABV, isn't as hefty as a Dopplebock.
"We really enjoy drinking Dopplebocks but at the end of the day we can't drink a lot of them," noted Head Pub Brewer Ryan Hayes. "We want a beer that we can sit outside when the weather's getting warmer and drink two or three of and not get completely full. Maibock ticks that box for us." 
View this post on Instagram
This one's for the brewing geeks
Hayes has been brewing Fifty West's Maibock for five years, which is almost as long as the brewery has been serving its Maibock. Like most brewers, Hayes likes to tinker in the brewery, but the recipe has remained essentially the same, with only minor tweaks. Fifty West's Maibock is a blend of Pilsner, Vienna and Munich. While Hayes noted that they want the malt presence to be there, they also want the beer to have a clean, refreshing finish. To accomplish this, Hayes dialed down the toastier malts a bit and changed up the yeast to allow it to ferment it a bit colder. This also means that it takes up to eight weeks to fully ferment.
Tettnang hops give Maibock an herbal, spicy and minimally bitter hop presence. Hayes adds some on the hot side of brewing and sprinkles more in throughout the process to ensure a perfect balance between aroma and bitterness. "We feel the bitterness puts a good finish on every sip," said Hayes. "When a beer's only a little bitter, the bitterness goes away and welcomes you back for another sip."
Fifty West also naturally carbonates their Maibock, using a spunding valve to adjust pressure during the last 20-25 percent of the fermentation process. This gives it a smooth and balanced mouthfeel with "tiny little bubbles," as Hayes noted, laughing that most people may not notice it, "but we like it."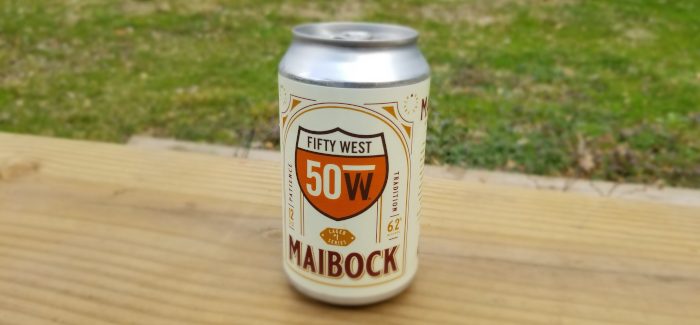 Drink Maibock like a pro
If you want to enjoy Fifty West's Maibock the way it was intended, crack one open on a warm spring evening as the evening chill begins to sneak in. Note how the initial sip makes you think of enjoying a light, refreshing lager in the coming summer months, but the malty backbone still helps to warm the chill. When he's having a sip, Hayes enjoys how it is "light to medium bodied, with notes of honey; it's a little bit bready, but has a nice hop presence–just enough to clean up that medium malt-forward finish."
Enjoy it how you want to enjoy it but we recommend you give it a try while you can!
Feature image provided by Fifty West Brewing Co.
---