No Comments
Over 175 Breweries Participating in April 6 Colorado Pint Glass Day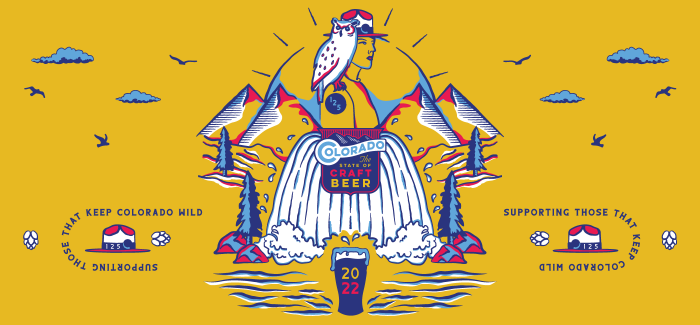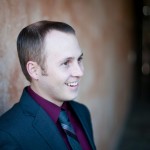 The return of Colorado Pint Day will occur on Wednesday, April 6, 2022. The annual fundraiser takes $1 from each pint glass sold going to the Colorado Brewers Guild. Excitingly, over 175 brewery locations across Colorado will be selling these collectible pint glasses.
"Every year we see more interest in Colorado Pint Day and are beyond excited to have more breweries than ever participate. This will make it easier for beer lovers across the state to get their hands on this one-of-a-kind glass," says Shawnee Adelson, Executive Director of the Colorado Brewers Guild. "We can't wait to see the state decked out with Colorado Pint Day glasses out on April 6!"
2022 Colorado Pint Day Glass Design
This year, the pint glass celebrates the 125th anniversary of Colorado Parks & Wildlife. To start, the design is by Anna Long, a graphic designer and marketing manager from Copper Kettle Brewing Co. and CEO of Norlo Design. Long's artwork was the winner of a competition among brewery employees across the industry in Colorado.
Upon examination, Long's Colorado Pint Day glass includes a great horned owl and a park ranger looking out over the mountains and above flowing waters. Furthermore, written on the edges is the phrase "Supporting Those That Keep Colorado Wild."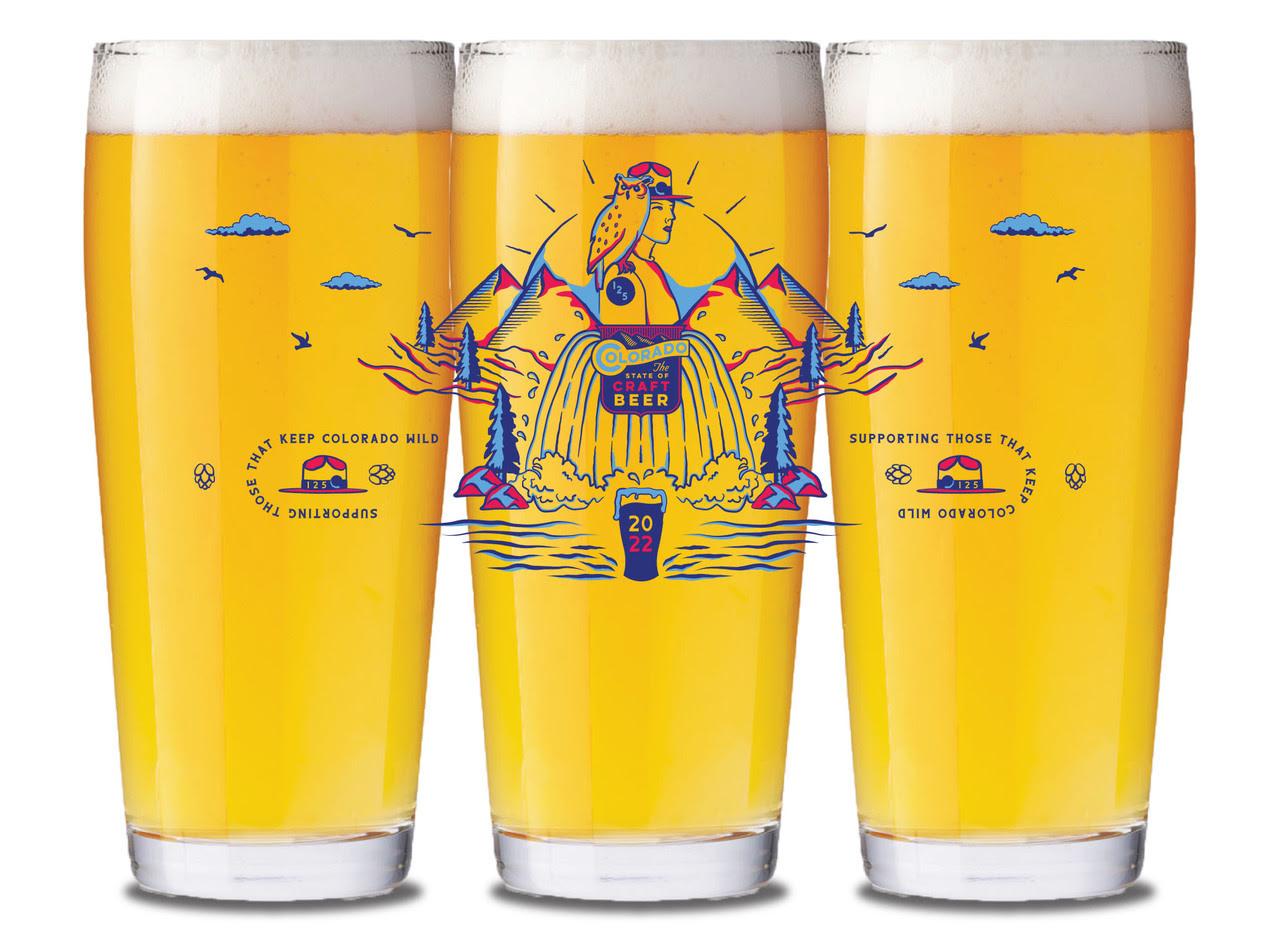 Additionally, the 179 brewery locations mark a record for the number of places to sell glass. However, the Colorado Brewers Guild encourages fans to check with a brewery before going to buy a Colorado Pint Day glass as they expect the collectibles to sell quickly.
Here is a list of all 179 participating locations, in alphabetical order:
105 West Brewing Company
300 Suns Brewing
4 Noses Brewing Company
6 & 40 Brewery
Angry James Brewery
Aspen Tap
Baere Brewing Company
Ball Brewing
Barnett & Son Brewing Co
Barquentine Brewing Company
Barrels & Bottles at Camp George West
Barrels & Bottles Brewery
Bent Barley Brewing Company
Berkeley Alley Beer Co
Beyond the Mountain Brewing Company
Big Trout Brewing Company
Black Forest Brewing Company
Black Forest Brewing Company – East
Black Shirt Brewing Co
Blue Spruce Brewing – Centennial
Blue Spruce Brewing – Littleton
Blue Tile Brewing
Brass Brewing
Bristol Brewing Co.
Broken Compass Brewing
Broken Compass Brewing – Main Street
Bruz Beers
Bruz Off Fax
BURLY Brewing Company
Cabin Creek Brewing
Call to Arms Brewing Company
Camber Brewing Company
Cannonball Creek Brewing Co.
Capitol Creek Brewery
Cerberus Brewing Co.
Cerveceria Colorado
Chain Reaction Brewing
Cheluna Brewing Company
City Star Brewing
Coal Mine Ave Brewing Co
CODA Brewing Co.
Cohesion Brewing Company
Comrade Brewing Company
Copper Club Brewing
Copper Kettle Brewing Co
Counter Culture Brewery + Grille
Crystal Springs Brewing Co
Dead Hippie Brewing
Denver Beer Company
Denver Beer Company – Arvada
Denver Beer Company – South Downing
Dos Luces Brewery
Downhill Brewing Company
Dry Dock Brewing – North Dock
Dry Dock Brewing – South Dock
Elevation Beer Company
Epic Brewing Company
FH Beerworks
Fiction Beer Company
FlyteCo Brewing
Fossil Craft Beer Company
Fraser River Beer Co
Fritz Family Brewers
Frolic Brewing Company
Gilded Goat Brewing Company
Gilded Goat Brewing Company
Goat Patch Brewing Company
Great Divide Brewing Co.
Great Divide Brewing Co. – Barrel Bar
Great Frontier Brewing Co.
Green Mountain Beer Company
Halfpenny Brewing Company
Hideaway Park Brewery
Holidaily Brewing Company
Holidaily Brewing Company – DTC
Horse & Dragon Brewing Company
Iron Mule BreweryJagged Mountain Craft Brewery
Jessup Farm Barrel House
Joyride Brewing Company
Kokopelli Beer Company
LandLocked Ales
Lariat Lodge Brewing Co. – Evergreen
Lariat Lodge Brewing Co. – Littleton
Launch Pad Brewery
Left Hand Brewing Company
Liquid Mechanics Brewing Co.
Living the Dream Brewing
Locavore Beer Works
Lone Tree Brewing Co.
LUKI Brewery
MainStage Brewing
Manitou Brewing Co
Mash Mechanix Brewing Co
Mighty River Brewing Co
Mirror Image Brewing
Mockery Brewing
Monumental Beer Works
Moonlight Pizza & Brewpub
Mother Tucker Brewery – Louisville
Mother Tucker Brewery – Thornton
Mountain Cowboy Brewing Company
New Terrain Brewing Company
Novel Strand Brewing Company
Oasis Brewery
OCC Brewing
Odd13 Brewing
Odell Brewing Company
Odell Brewing Company – 5 Points
Odell Brewing Company – Sloans Lake
Odyssey Beerwerks
Outer Range Brewing Co.
Over Yonder Brewing Co
Paradox Beer Company
Peak View Brewing Company
Peaks N Pines Brewing Company
Peaks N Pines Brewing Company – Fountain
Phantom Canyon Brewing Company
Pikes Peak Brewing Co.
Pikes Peak Brewing Company Lager House
Platt Park Brewing Co.
Primitive Beer
Prost Brewing Co. & Biergarten – Denver
Prost Brewing Co. & Biergarten – Highlands Ranch
Purpose Brewing & Cellars
Ramblebine Brewing Company
Ratio Beerworks – Overland
Ratio Beerworks – Rino
Red Leg Brewing Company
Red Swing Brewhouse
Resolute Brewing Co.
Resolute Brewing Tap & Cellar
River North Brewery
River North Brewery – Blake Street
Rock Cut Brewing Company
Rockyard Brewing Co.
Sanitas Brewing Company
Seedstock Brewery Company
Six Capital Brewing and BBQ
Ska Brewing Co.
Smoking River Brewing Company
Snowbank Brewing
Something Brewery
Spice Trade Brewing Co
Station 26 Brewing Co.
Stodgy Brewing Co
Storm Peak Brewing Company
Storm Peak Brewing Company – Bus Stop
Strange Craft Beer Company
The Empourium Brewing Company
The Post Brewing Company – Boulder
The Post Brewing Company – Denver
The Post Brewing Company – Estes Park
The Post Brewing Company – Fort Collins
The Post Brewing Company – Lafayette
The Post Brewing Company – LoHi
The Post Brewing Company – Longmont
Timnath Beerwerks
Tres Litros Beer Company
Two22 Brew
Uhl's Brewing Co
Upslope Brewing
Upslope Brewing – Lee Hill
Ursula Brewery
Vail Brewing Co
Vail Brewing Co – Vail Village
Verboten Brewing
Very Nice Brewing Company
Weldwerks Brewing Co.
WestFax Brewing Company
Whistle Pig Brewing Company
Wibby Brewing
Wild Blue Yonder Brewing Co.
Wild Provisions Beer Project
WildEdge Brewing Collective
Wiley Roots Brewing Company
Windfall Brewing Co
Woods Boss Brewing Company
Yampa Valley Brewing Company – Craig
Yampa Valley Brewing Company – Hayden
Zuni Street Brewing Company
---