No Comments
Can't-Miss Beers to Try at the 2022 Collaboration Fest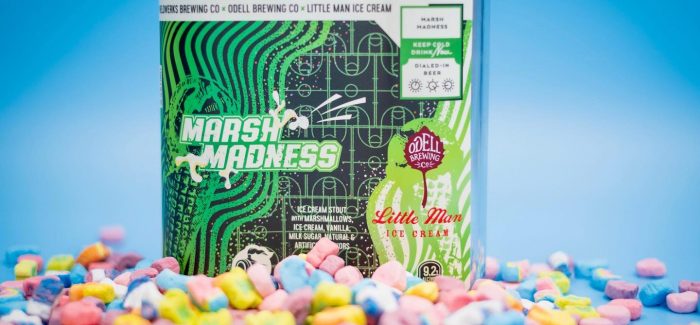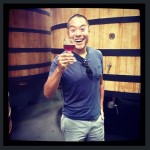 Over the years, Collaboration Fest not only serves as an exciting opportunity for like-minded breweries to team up on one-of-a-kind beers, but the fleeting low-stakes nature of the event also allows more freedom for exploration, creativity and fun.
This year's return of Collab Fest picks up exactly where the event left off three years ago with a several breweries trying out Cold IPAs for the first time, a slew of culinary inspired beers like a Ramen Beer, Ice Cream Stout and event a Nashville Hot Chicken beer.
We sifted through the full 2022 Collaboration Fest Pour List to identify some of the most interesting, bizarre, and exciting beers that are can't misses at this year's festival.
This article was made possible with the support of Britt Antley, Karen Mills, and Brian Phipps.
PorchDrinking is excited to share that we've teamed up with On Tap Credit Union for a series of special "secret tappings" at the festival available just to our readers. We've curated a special lineup of beers from our friends at Capitol Creek Brewing in Basalt, Knotted Root Brewing in Nederland, and Strange Craft Beer here in Denver that will only be available from the On Tap Credit Union booth and nowhere else at the festival. All you have to do is visit the On Tap Credit Union booth and ask for the PorchDrinking Beers to gain access.
60 and 40 Brewery & Coal Mine Avenue Brewery

Orange is the New Stout – Carrot Cake Blonde Stout
Why: In a world splintered by mixed feelings over pastry stouts this Carrot Cake-inspired Blonde Stout features all of the staple ingredients of a carrot cake: carrot, cinnamon, raisins, vanilla and walnuts
---
Baere Brewing Company and Funky Fauna Artisan Ales (OR)

Chêne Oververt – Saison
Why: The Baere team first befriend Michael while he was working at Our Mutual Friend brewery, so when he launched a Saison-focused brewery in Oregon they decided to collaborate on a Saison that was open-fermented in Cognac barrel that was used to finish Laws Whiskey.
---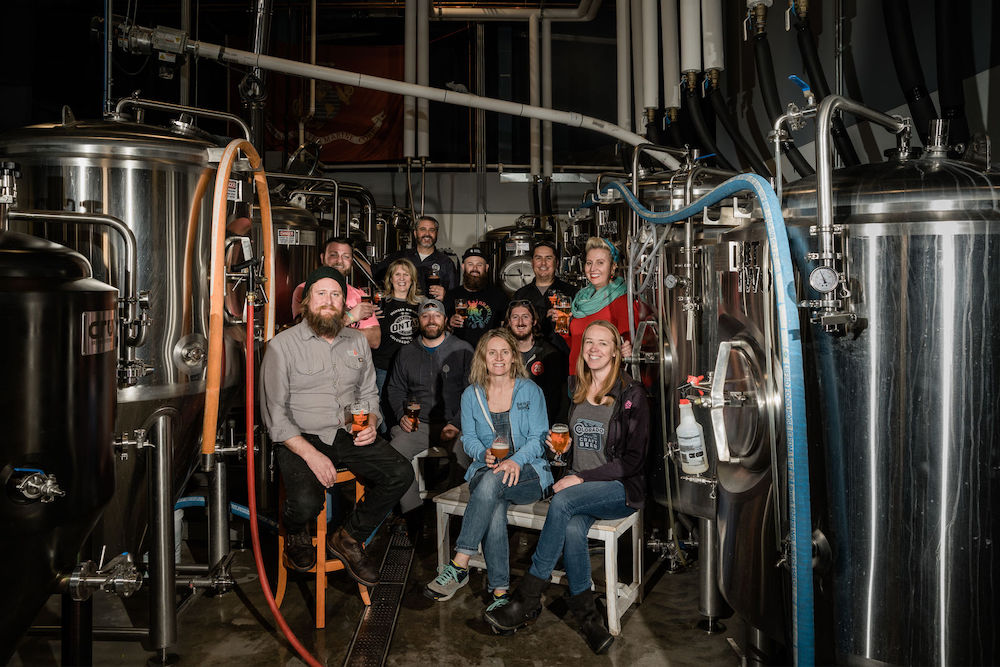 Barrels & Bottles Brewery, CBG Board Members and On Tap Credit Union

Welcome Back – Cold IPA
Why: This year's Collab Fest will feature a sea of Cold IPAs but this one brings together event organizers, the Colorado Brewers Guild along with our good friends at On Tap Credit Union with Barrels & Bottles Brewery!
---
Bierstadt Lagerhaus and Goldspot Brewing

Extra Vehicular Activity – Rye Dunkel
Why: "

Collaboration for me is always very organic. It should come from a mutual respect and trying to learn something from the experience, not brand engagement and how ridiculous a beer you can make.  Our in-state collab is with Goldspot made at Goldspot. Kelissa is a passionate talented person who is constantly trying to make better beer. She is an advocate for disenfranchised groups and a great human and that's why I like making beer with her." – Ashleigh Carter, co-founder of Bierstadt Lagerhaus.
---
Cannonball Creek Brewing Company and Riip Beer (CA)

1020 WC IPA – West Coast IPA
Why: Two of the country's more under-the-radar producers of West Coast-style IPAs finally team up, to make a… you guessed it… West Coast IPA, which means it's got to be tremendous.
---
Capitol Creek Brewery and Scratchtown Brewing Company (NE)

Peaks and Valleys – Cascadian Dark Ale
Why: This collaboration reunites friends from the Roaring Fork Valley. Members of the Scratchtown team spent time in the valley with Capitol Creek brewer, Jerod Day before moving out to Nebraska and now they are coming together for their third collaboration. This Cascadian Dark also gave the two breweries a chance to utilize a new hop in

Lotus Salvo, which was added in the whirlpool.
---
Cerebral Brewing and Lady Justice Brewing

Unconfirmed Details – Barrel-Aged Imperial Stout featuring barrel-aged cacao nibs
Why: With Cerebral opening up a second location on East Colfax just down the road from Lady Justice Brewing, this served as the perfect opportunity to collaborate with another neighbor down the road in Miette et Chocolat, on a barrel-aged stout with barrel-aged cacao nibs.
---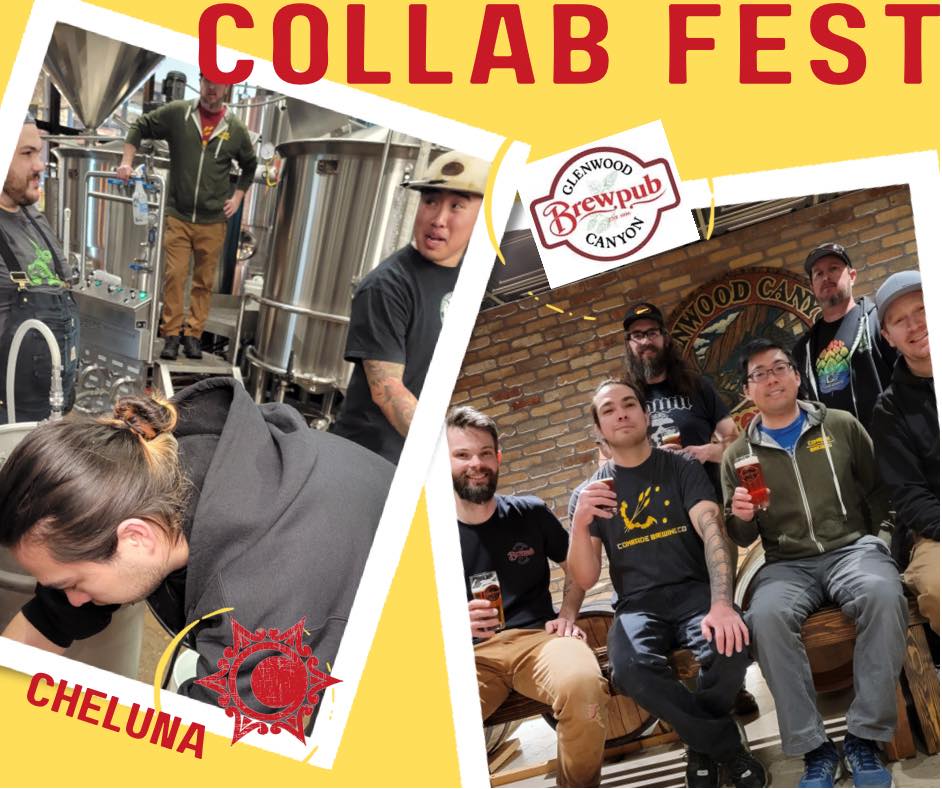 Comrade Brewing and Cheluna Brewing

Szech Juan – American IPA with Szechuan chiles/peppercorns and Tamarind pulp
Why: Drawing from Comrade Brewing co-founder David Lin's Taiwanese American background, as well as Cheluna Brewing co-founder Javy Perez's Mexican American roots, this IPA channels unique ingredients from both cultures.
---
CODA Brewing Co. and Uhl's Brewing Company

Duo Clash & Clash Duo – West Coast DIPA & Hazy IPA
Why: Two breweries who are known for pushing the boundaries on brewing techniques connected at the

Avon Brew'Au

beer festival and grew a mutual admiration for each other. So they both drew from each other's techniques to create two separate IPAs featuring familiar technical elements of each others' breweries. We're also hearing that Uhl's will be tapping a special barrel-aged beer at 4:30pm.
---
Cohesion Brewing Company and Hop Butcher For the World (IL)

Walter 11° – 11° Světlý Ležák (Pale Lager)
Why: In just under a year, Cohesion has quickly asserted itself as one of the top-tier Lager producers in the state and possibly the country. Meanwhile, Hop Butcher for the World has quickly become a young riser nationally for their hop-forward beers so this holy union between the two makes incredible sense for a hoppy Pale Lager.
---
Glenwood Canyon Brewing Company and Comrade Brewing

Thiol Enhanced American IPA
Why: The next frontier for hoppy beers is likely pointing to experimentation around unlocking the magic behind hop thiols. These are compounds found in hops that have also been present Sauvignon Blanc and Reisling wines, that when properly utilized can unlock a burst of tropical flavor in hops. In this collab between two hop-minded breweries, we're excited to see what exactly they can do with this new form of hop innovation.
---
Great Divide Brewing and Knotted Root Brewing 

Mitosutikku Jikan – Unfiltered Japanese Rice Lager
Why: Great Divide has become one of the more prominent rice lager producers in Colorado with their iconic Samurai Rice Lager, and Knotted Root is incredibly underrated for their Lager series as well. This should be a tremendous coupling that we can't wait to try.
---
Guanella Pass Brewing Company and Strange Craft Beer Company

Silverbrick "Cocktails Anyone" & Silverbrick "Have A Drink On Me" – Strong Ale
Why: Guanella Pass & Strange Craft are not only collaborating on this beer, but they're actually teaming up to open a joint restaurant and bar project in Georgetown. So this collaboration represents their deeper partnership in the mountains.
---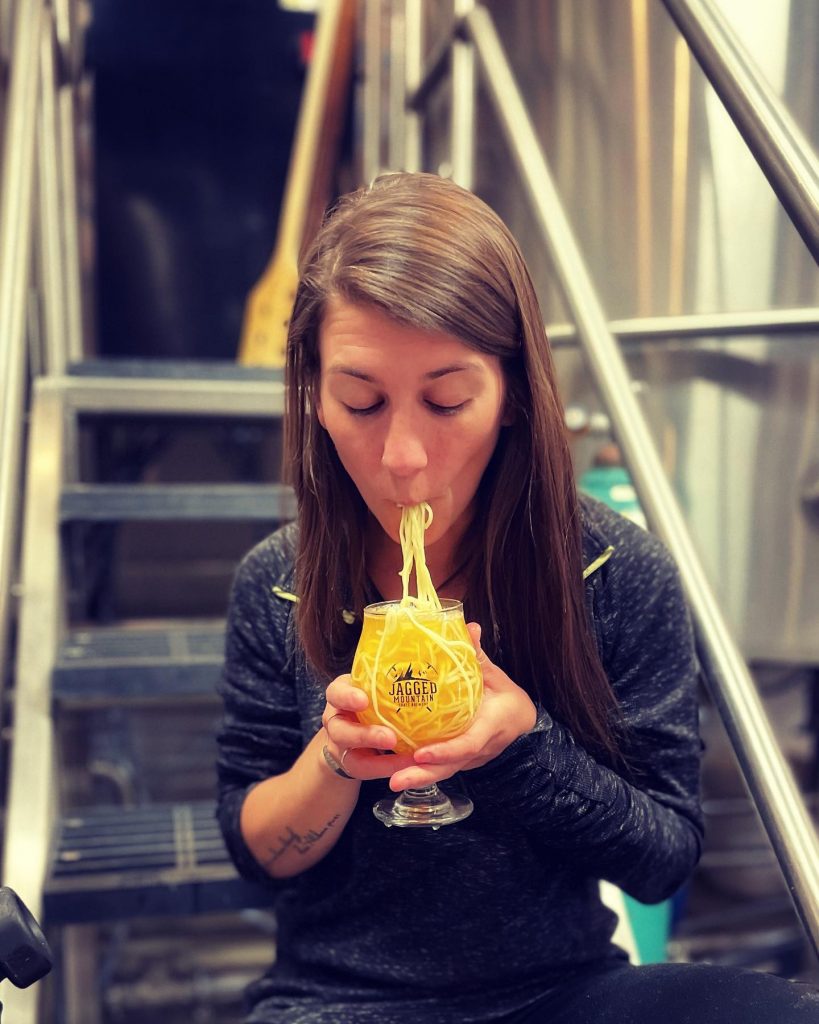 Jade Mountain Brewing and Jagged Mountain Craft Brewery

Ramen Beer
Why: "

This beer came about because I have always wanted to brew a savory beer. After collaborating with Jade Mountain back in October for our Mochi hazy IPA beer I knew I wanted to collaborate with them again. They make such unique beers that push creativity, while still being very drinkable. When we approached Shawn about doing a savory beer of some sort our crazy beer brains came up with a Ramen beer since they have an Asian style to the brewery and ingredients they use. We will be serving a blonde base beer made with ramen noodles, oyster sauce, Thai chilis and ghost pepper salt. The result is a lightly savory, slightly briney, highly drinkable "ramen" beer." – Alyssa Thorpe, Jagged Mountain Brewery
---
Jagged Mountain Craft Brewery and Los Dos Potrillos Cerveceria

Cerveza Sin Nombre – Smoked Beer with Passion Fruit and Lime
Why: Inspired by their love for mezcal, this beer channels those earthy, smokey, yet refreshing flavors while also bringing a splash of tropical fruit.
---
Knotted Root Brewing Company and BKS Artisan Ales

Burnt Ends and Greens – Imperial IPA
Why: "

We met Brian and Mary (the owners of BKS) at our taproom last summer. Brian was wearing a BKS hat and I said something like "BKS! I love that brewery!" to which he responded, "Awesome! We're the owners!", said Chris Marchio, Knotted Root Brewing. From there, the two breweries quickly became friends and collaborated on a beer called Burnt Ends, which was released in KC. For this version they decided to collaborate in Colorado on an Imperial IPA called Burnt Ends with Greens featuring Freestyle Waimea hops.
---
Liquid Mechanics Brewing Company and Boneyard Beer(OR)

West Coast Cartel – West Coast IPA
Why: Liquid Mechanic first became friends with brewer Tony Rau when he was working at Odell. Last year while he was working at Great Divide they collaborated on a West Coast IPA and now that he's joined the Boneyard team, they thought it was the perfect opportunity to incorporate them in Liquid Mechanic's new West Coast IPA collab series. This one features

Strata, Citra, Simcoe, and Motueka hops.
---
MainStage Brewing Company and Upslope Brewing Company

Hopfenweizen – Hefeweizen
Why: Sam Scruby had long been the brewer at Upslope Brewing before he recently left to start his own brewery in MainStage. For this collaboration, Sam returned and seized the opportunity to experiment on an exciting hybrid style featuring new hops, Talus and Contessa, a new malt in

Abruzzi Rye Malt, and Hefe yeast.
---
MobCraft Beer, Pearl Street Brewery (WI), Inventors Brewpub (WI), McFleshman's Brewing Company (WI)

Saison
Why: One of the more highly anticipated brewery openings this year features MobCraft Beer out of Milwaukee, which channeled their Wisconsin roots by partnering with breweries they've already collaborated with back home and featuring cranberries that are native to Wisconsin. "I just started messaging brewery buddies in Wisconsin and Pearl Street was the first to reply, Joe's brother lives in Denver so he was like Hell yeah I'll be there! Vintage and MobCraft have been close since 2013 when we first got off the ground, so Scott jumped right in, and finally Peter from Starkwether. Peter has won our crowdsourced vote three times, so we've spent LOTS of time brewing with him. He has since gone from home brewer to opening up his own place!" – Henry Schwartz, MobCraft Beer.
---
Mockery Brewing and Baere Brewing

MockingBaered Episode 7: Some Like it Hot! – Amber Ale with loads of smoked pineapple, agave, carrots, ginger, and a dangerous amount of extremely hot peppers.
Why: Channeling the wildly popular "Hot Ones Challenge" the Baere and Mockery team made an Amber Ale chock full of smoked ingredients and hot peppers.
---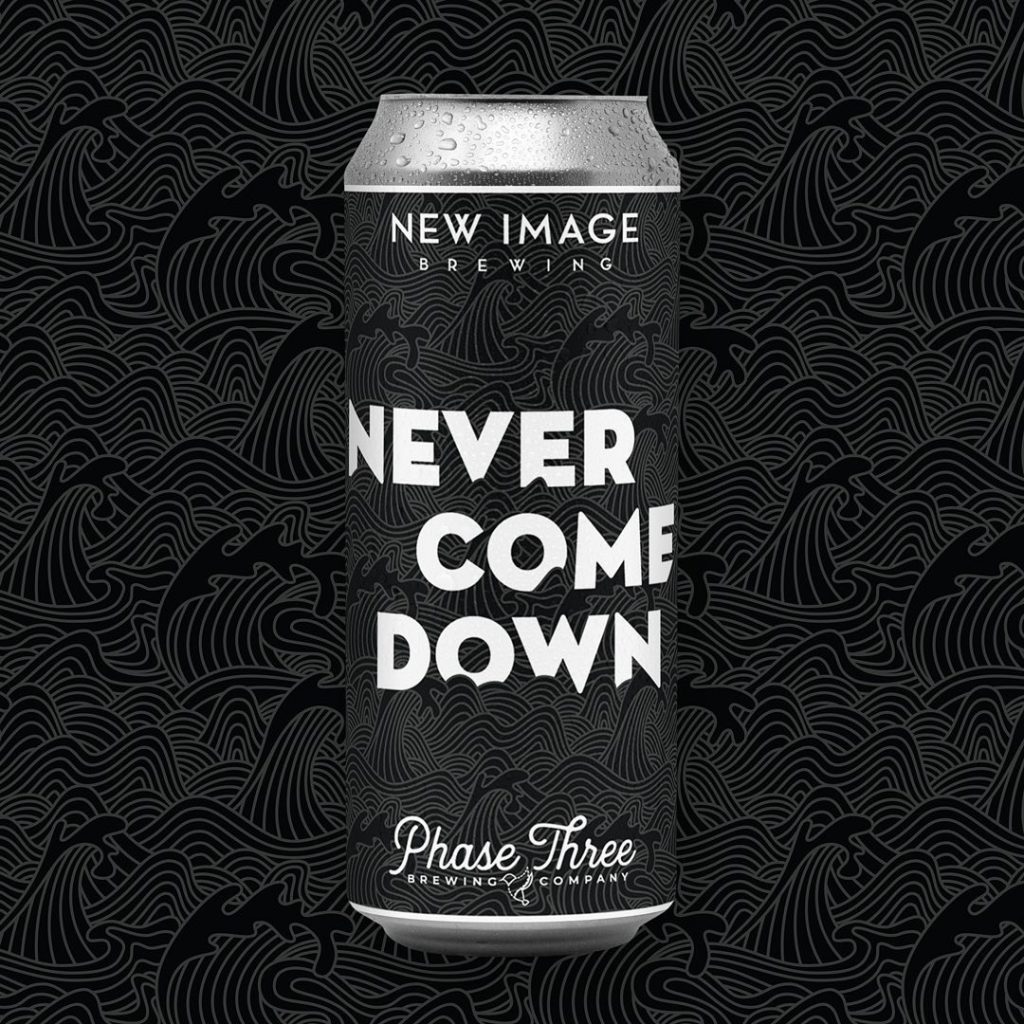 New Image Brewing and Phase Three Brewing Company (IL)

Never Come Down – Wood-Finished Stout Wine
Why: New Image in just the last year has joined the conversation as one of Colorado's best barrel-aged beer producers to watch, and in this collab, they partner yet again with another rising national barrel-aged stout producer in Phase Three. For this beer, they took their oldest stock of barrel-aged stout and aged it on sugar maple wood to create a barrel-aged stout/barleywine hybrid of sorts.
---
Odell Brewing – Sloan's Lake and American Homebrewers Association

Cherry Chika Stout – Cherry Stout
Why: In celebrating home brewers Odell collaborated with industry titans, Julia Herz and Paul Gatza to revive a gold medal-winning homebrew recipe for the occasion.
---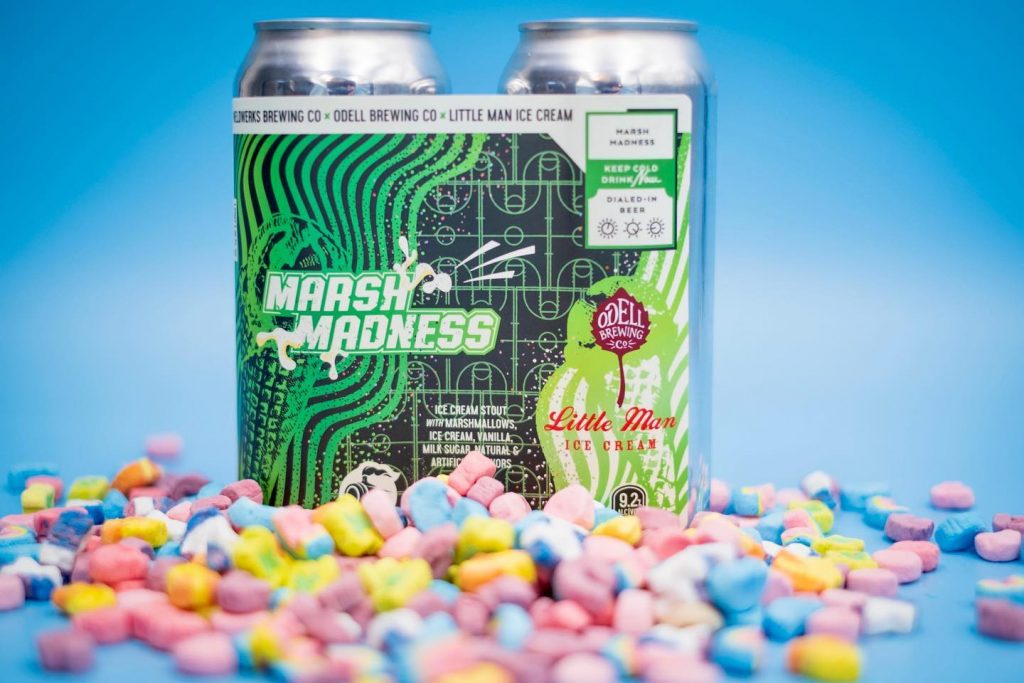 Odell Brewing Company, WeldWerks Brewing Company and Little Man Ice Cream

Marsh Madness – Ice Cream Stout
Why: "

After the great success we saw with our first Little Man Collaboration brew (Little Man's Salted Oreo Ice Cream Stout), we decided to team up with Little Man again for Collaboration Fest. In that discussion, we decided to add another brewer to that collab, and our top choice was Odell. 

We at WeldWerks have always been huge fans of Odell and their beers. Any chance we get to work with them and learn with them is always going to be taken. Little Man is a creative powerhouse in their field and it just really made sense to bring all of us together and see what comes out on the other side. I think the final product really showcases each of our creative prowess." – Skip Schwartz, Head Brewer, WeldWerks Brewing.
---
Peculier Ales and Tres Litros Beer Company

Citrus Maxima – Sour Hazy Double IPA
Why: Two of the state's brightest young breweries team up for a truly experimental beer. But what makes this union more special is that co-founders from each brewery used to live in the same neighborhood. "Collaboration fest is all about fun and trying out some common ideas of beer or deep diving into the fun and artistic side of craft beer. We decided to share our love of hazy IPAs, fruit, and vanilla and put them all together." – Nick Armitage, Peculier Ales.
---
Primitive Beer and Wild Provisions Beer Project

Biere au Méthode de Coupage – Spontaneous Beer on Raspberries
Why: Both breweries are already united in that Primitive's co-founder Brandon Boldt also brews for Wild Provisions, so technically one could claim that Brandon actually collaborated with himself, which is kinda cool. But in all seriousness, this beer was inspired by Cantillon's raspberry Lambic, and will serve as Wild Provisions' first entry in their traditional spontaneous beer program.
---
Purpose Brewing & Cellars and Alesone Brewing & Blending (OR)

The Remix – Barrel-Aged Sour
Why: Any time Peter Bouckaert collaborates with other world-class sour producers, beer drinkers should take notice and Alesong Brewing certainly fits that bill. This is an absolute can't miss.
---
Raices Brewing Company and Downhill Brewing

Key Lime Kettle Sour
Why: The brewers from the two breweries have a long friendship and each wanted to participate in CollabFest. The intentions were mentioned in a conversation without the other knowing neither one had a brewery partner to participate with. From there, it was decided that the two of us would collab on a beer together for the festival.
---
Ratio Beerworks and Cannonball Creek Brewing

Last Splash – New Zealand Style Pale Ale
Why: Two prolific Front Range producers have come together on a riff on Cannonball's award-winning Featherweight Pale Ale. This version features Nectaron hops giving it a burst of tropical notes.
---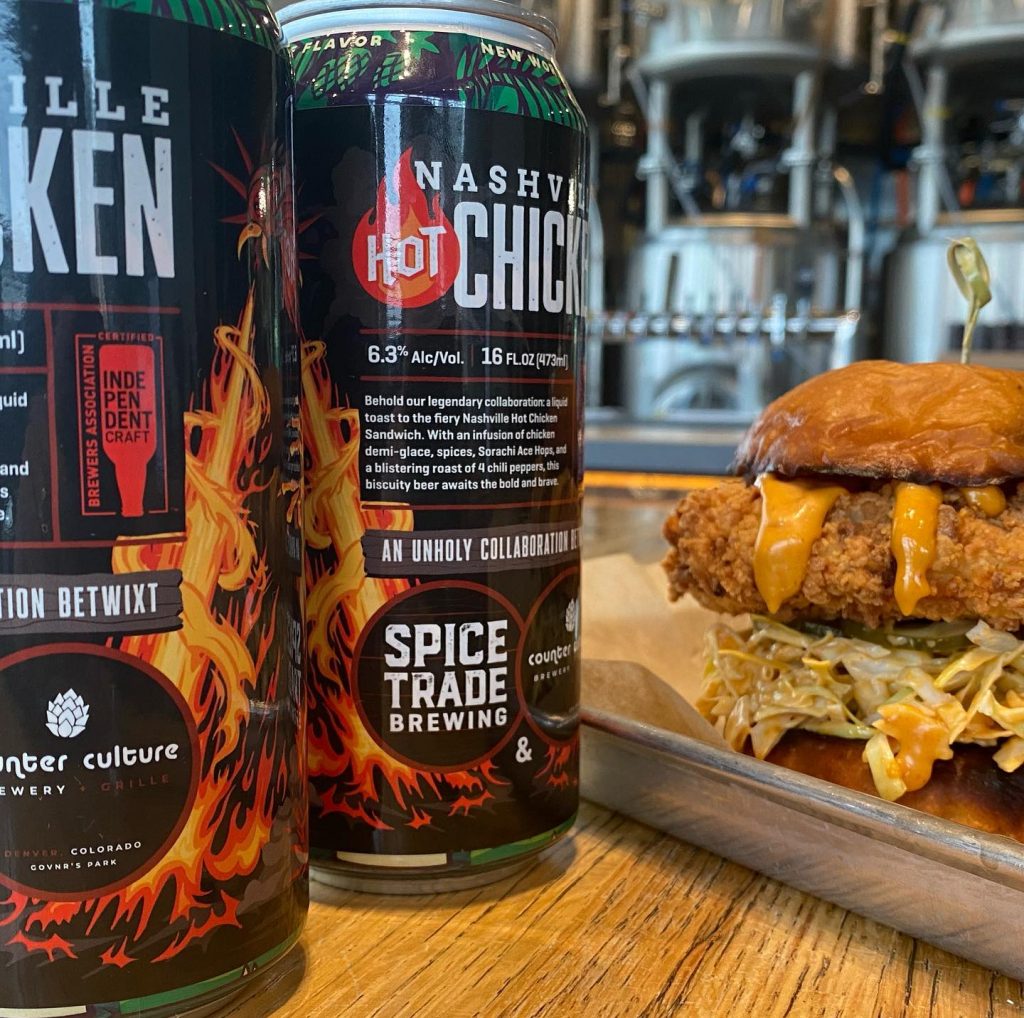 Spice Trade Brewing and Counter Culture Brewery + Kitchen

Nashville Hot Chicken – Red IPA
Why: The name pretty much says it all. But for these two culinary-inspired breweries, a Nashville Hot Chicken-inspired beer makes complete sense. They used a blend of spices, peppers, and chicken demi-glace,then dry-hopped the beer with a healthy amount of Sorachi Ace for a pickled finish.
---
Verboten Brewing and Launch Pad Brewery

Bourbon Barrel-Aged Barleywine
Why: Two of the state's most underrated clean barrel-aged producers have teamed up on a barrel-aged Barleywine blend. The result can only be poetic enough for the most discerning otters.
---
Wibby Brewing, Jack's Abby Craft Lagers (MA) and Maui Brewing Company (HI)

Jack's On The Rocks – Stein Rauch Maerzen
Why: While the steinbier technique of utilizing hot granite rocks to add a caramelized profile to beer is one that has been done before, it's still unique none-the-less. Add in some prolific Lager brewers and this becomes a must-try.
---