No Comments
Ultimate 6er | WBC Winners from Wisconsin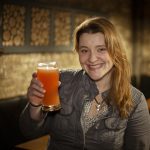 Cheese, brats, football, beer… with a claim-to-fame list like this, it's no wonder that breweries in Wisconsin took home six medals at the 2022 World Beer Cup. The WBC coincides with the Craft Brewers Conference, which took place in Minneapolis May 3-5.
After a rigorous judging process, three medals were awarded in each of 103 categories. The tables included classics like American lagers to porters and stouts all the way to unusual styles such as chili beers, gluten free beers and other "experimental" beers. This year, there were 10,542 entries in the competition, representing 2,493 breweries from 57 countries. Divide those by 226 highly-trained sensory judges… what a competition!
This Ultimate 6er highlights each of the World Beer Cup medal-winning beers from Wisconsin. While a couple of them were a bit difficult to find, even within the state, each one is definitely worth seeking out. After all, the best beer judges in the world chose them out of thousands of entries as shining examples of their respective styles.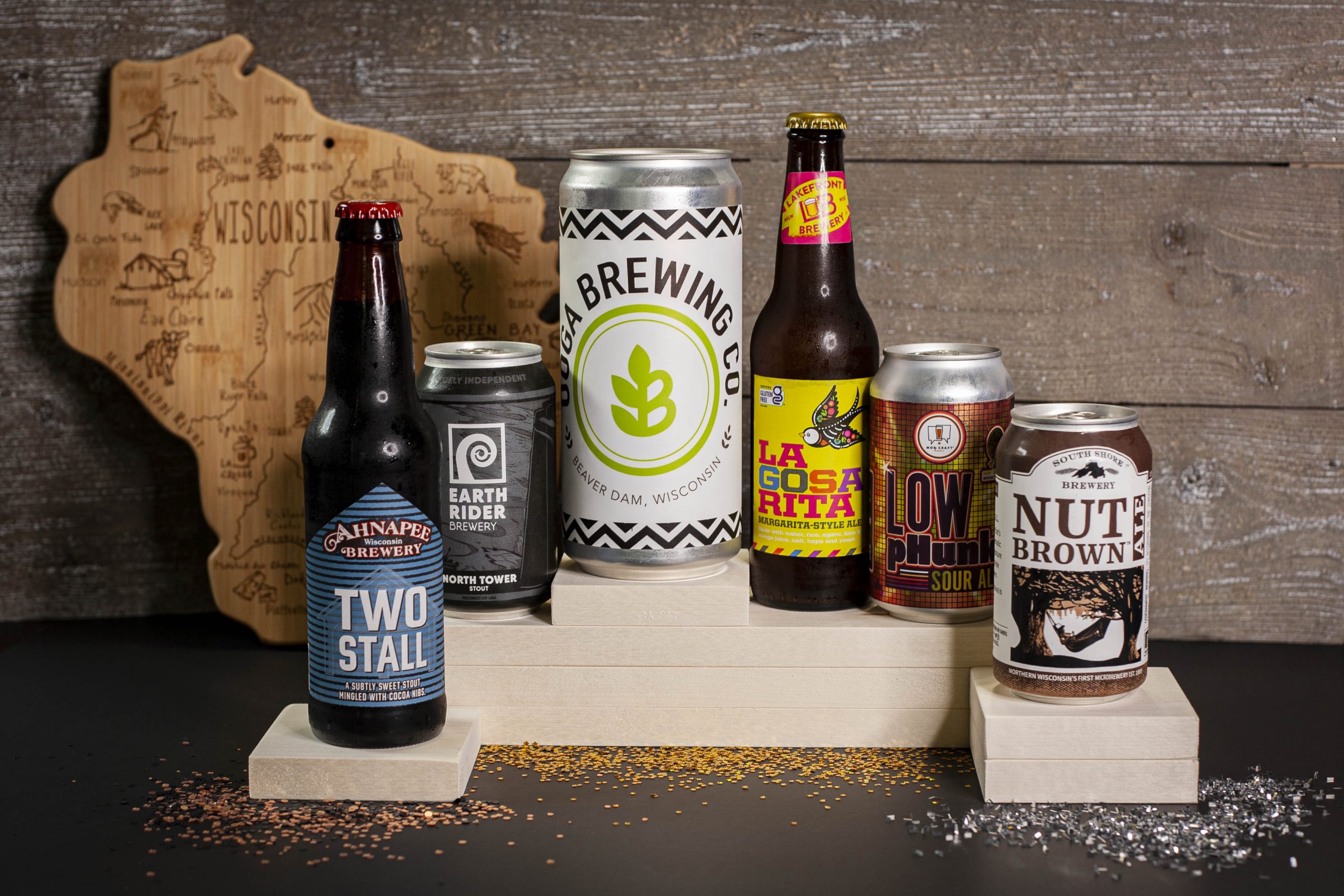 HOLLA! Jalapeno Cream Ale
Gold Medal, Chili Beer
HOLLA'ing from Beaver Dam, Wisconsin, Ooga Brewing Co.'s jalapeno cream ale is the perfect combination of a delicious, approachable cream ale and a fresh pop of pepper flavor. It's not overwhelming or spicy, but beautifully balanced and refreshing with just the slightest hint of capsaicin heat on the finish. HOLLA! is crisp, golden yellow and perfectly clear. Despite being in a crowler for a week, it's effervescent and pours with a thick, lasting foam.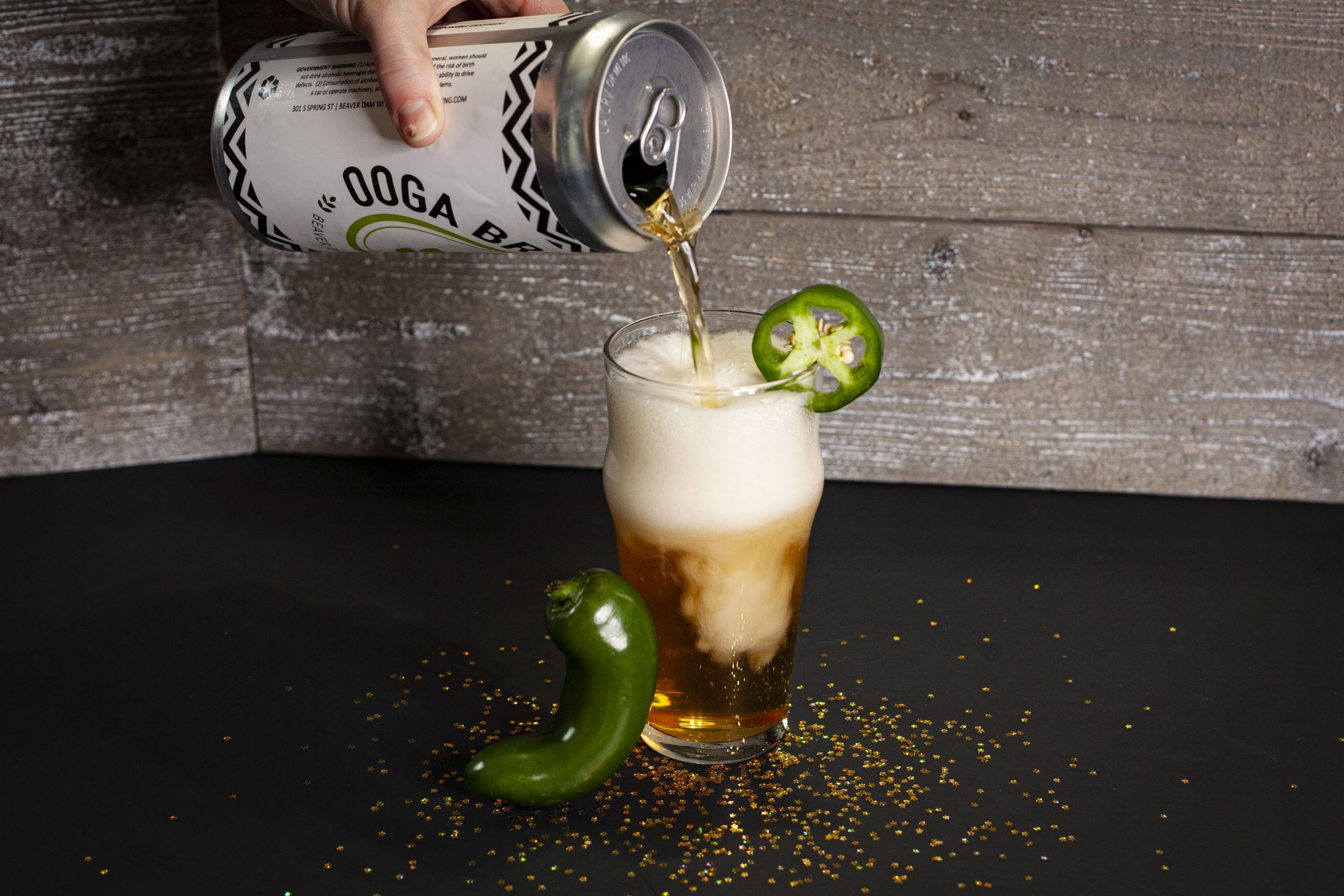 It's no surprise this unique, drinkable beer took home the gold medal in the chili beer category at the World Beer Cup.
"Sometimes an uncomplicated beer is nice," said Sarah Ferree, assistant brewer and taproom manager at Ooga. "It's a straight-forward American Cream Ale infused with fresh Jalapenos. Our first time at CBC was amazing… When they called our name at the awards ceremony we thought for a second that someone else entered a beer named HOLLA! We are so flattered that our peers enjoyed this beer as much as we do."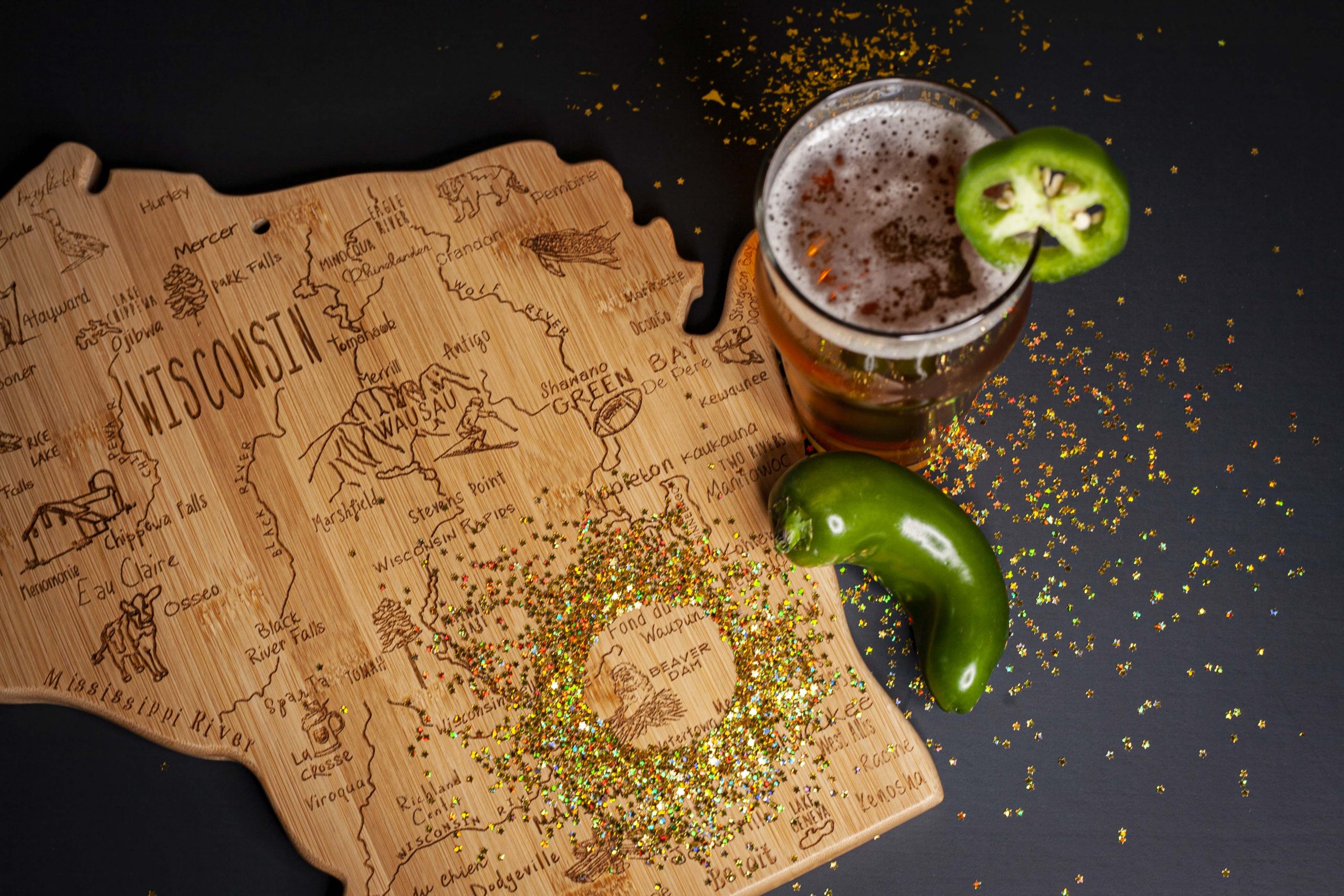 The singular problem with HOLLA! is that it is only available at their vintage auto shop-turned-taproom in Beaver Dam, a small city between Milwaukee and Madison. Ooga Brewing Co. doesn't can or bottle their beers for distribution, but cold, fresh pints are available at the bar. Crowlers and growlers to-go are filled upon request. It's worth it to try a flight of whatever is on tap; Ooga's brew team must use a magic mash paddle, because everything is top-notch.
---
La Gosa Rita
Gold Medal, Gluten-Free Beer
La Gosa Rita is perfect for a hot summer day. It is a light, refreshing and slightly tangy "margarita-style ale" that also happens to be 100% certified gluten free.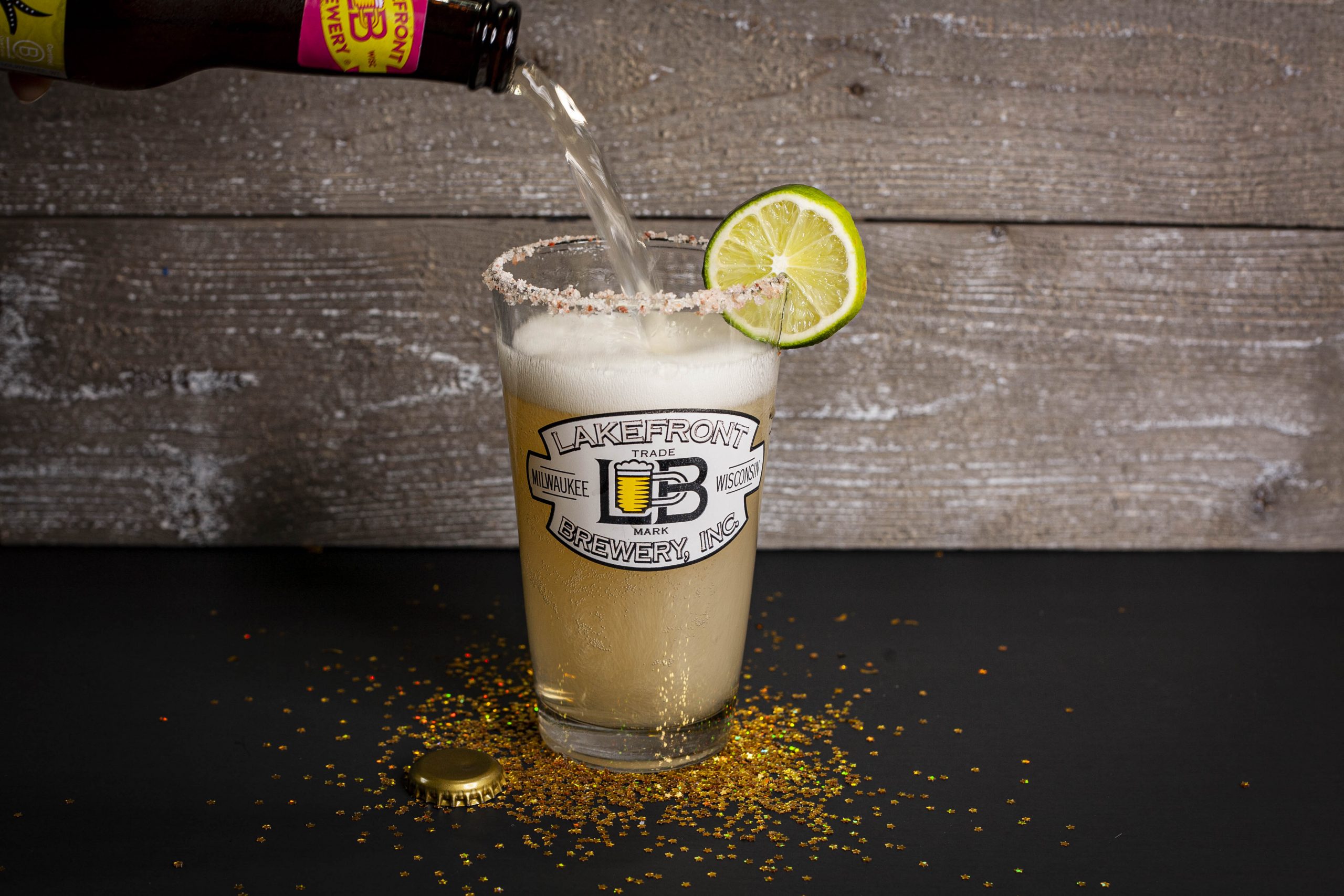 Technically designated as an IRC beverage (a fancy tax term for alternative-sugar fermented beverages like seltzers), La Gosa Rita is fermented from rice and agave nectar. The flavors of salt and lime juice blend with the slightly hazy base. Just a touch of mild, peppery Zeus and Willamette hops give it an extra zip.
"La Gosa Rita is my favorite summer drinking beer," said Kelsey Moses, who manages Lakefront's Excise Tax and Compliance matters. "I like to call it the Gatorade of beers… vitamin C from the lime, electrolytes from the salt… this is my 'healthy drinking beer'. Take that with a grain of salt," she laughs. "CBC was amazing. My first time going and we brought home a gold medal! Can't beat that!"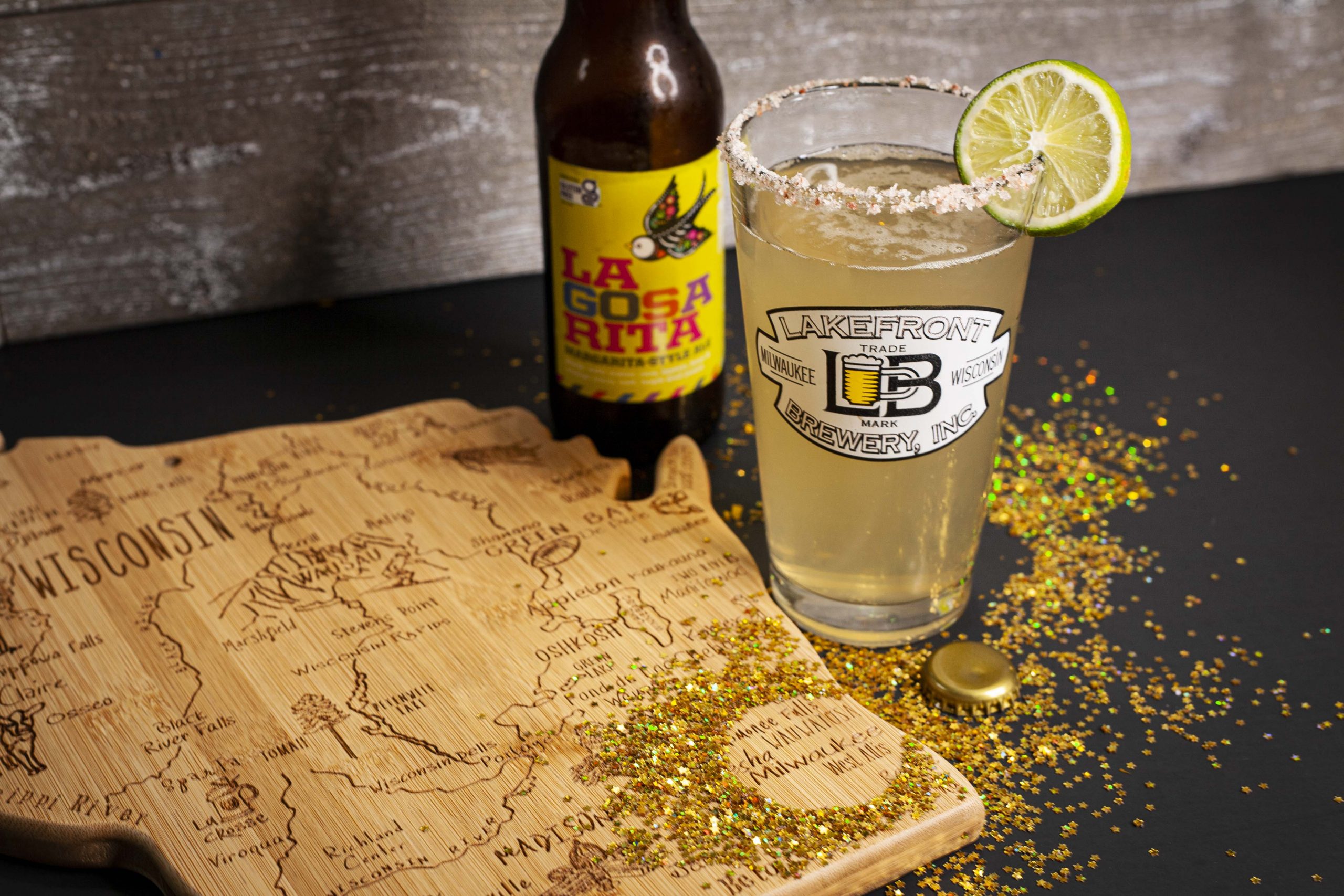 Find colorful cans and bottles of La Gosa Rita in the beer section at most Wisconsin bottle shops and grocers. Look for it near other Lakefront Brewery favorites such as Riverwest Stein (also available in NA), Fixed Gear and New Grist, their original gluten-free Pilsner style ale.
Looking for more Gluten Free options? Try Hinterland's Saving Gracie– now also available as a brown ale! 
---
Low pHunk
Gold Medal, American-Style Sour Ale
Low pHunk is an exceptionally balanced sour ale. It's crisp and clean with a mouth-watering pucker. Soft aromas of oak, acquired from the solera barrel-blending process, meld with scents of white grape and strawberry from the Belgian yeast fermentation.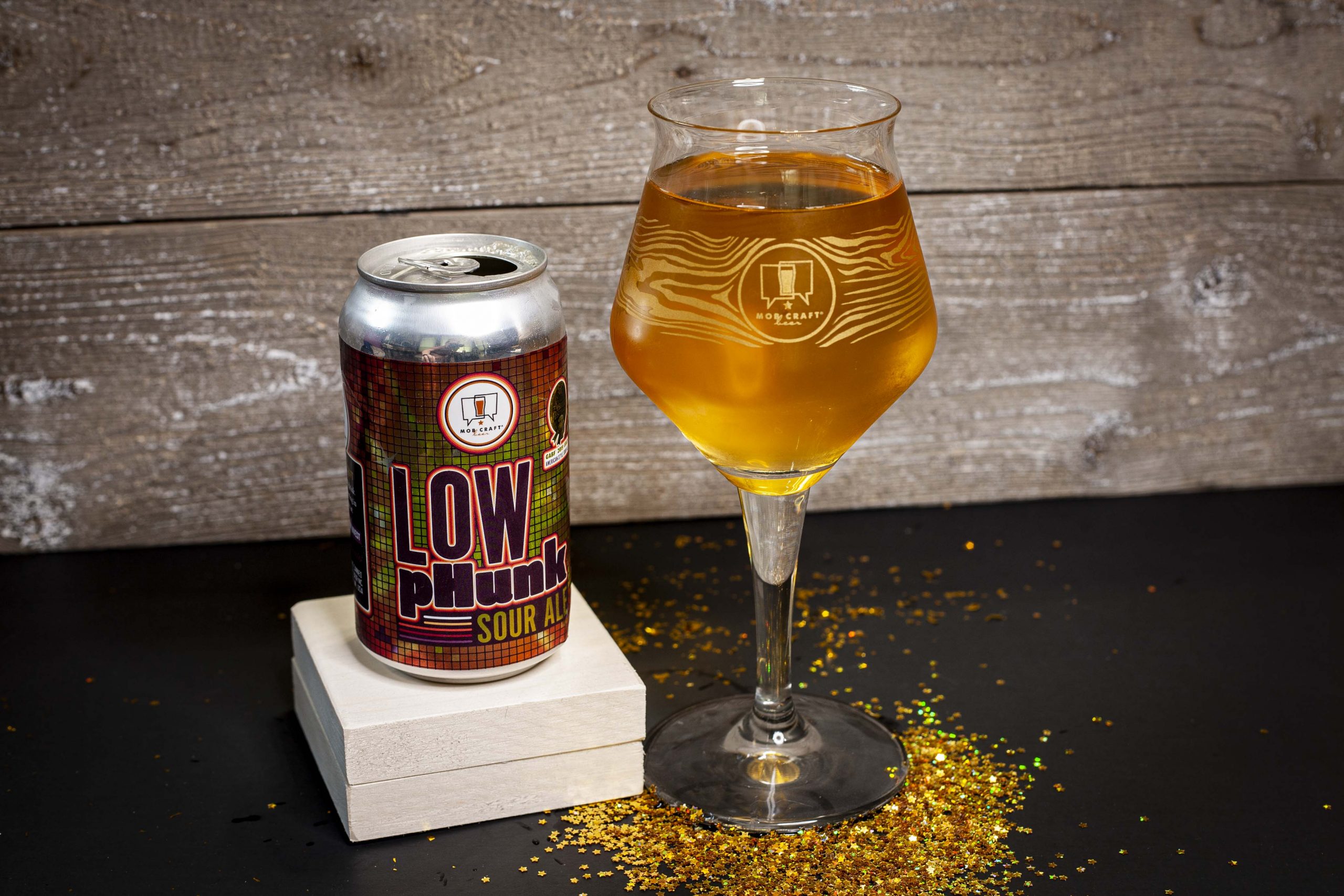 "We consistently package this beer twice a month… [it] is aged three months or more based on our 'Low pHunk shuffle' process," explains Adam Thomas, Director of Barrel Operations. "This allows us to have a quick, refreshing sour while also having the complexity of a well-aged beer."
Combining each fresh batch with previous batches inoculates it with lactobacillus, the bacteria that turns it sour.
Most ales have a final pH between 4 and 5. Low pHunk clocks in at 3.3, making it delightfully sour, but not on the verge of being stomach-acidy like some sours tend to be. This super-drinkable ale sparkles with flavors of guava and green apple. The malty body provides a backbone to support the tartness while still being light and refreshing.
"It's been a favorite of mine since long before I started working here," said Elise Strupp, Events and Programming Manager at MobCraft. "We also have a Low pHunk Radberry made with raspberry and ginger on tap at the brewery." Radberry is available in cans seasonally.
It seems Low pHunk has been a crowd favorite for quite some time. It also won gold at the 2019 Great American Beer Festival.
Find Low pHunk in cans alongside MobCraft's other core brews such as Bats#!t Crazy Coffee Brown Ale, Oddball Kolsch, and Gier Bier Lager. Or, visit the taproom to try one of the unique, crowd-sourced concoctions that churn out on a regular basis, then vote for the next one!
---
Nut Brown Ale
Silver Medal, English-Style Brown Ale
Deliciously nutty with hints of caramel and toffee, Nut Brown Ale lives up to its name. This satisfying beer is malty, roasty, and just a little bit salty. "This beer is a social, drinkable beer that's easy to share with everyone."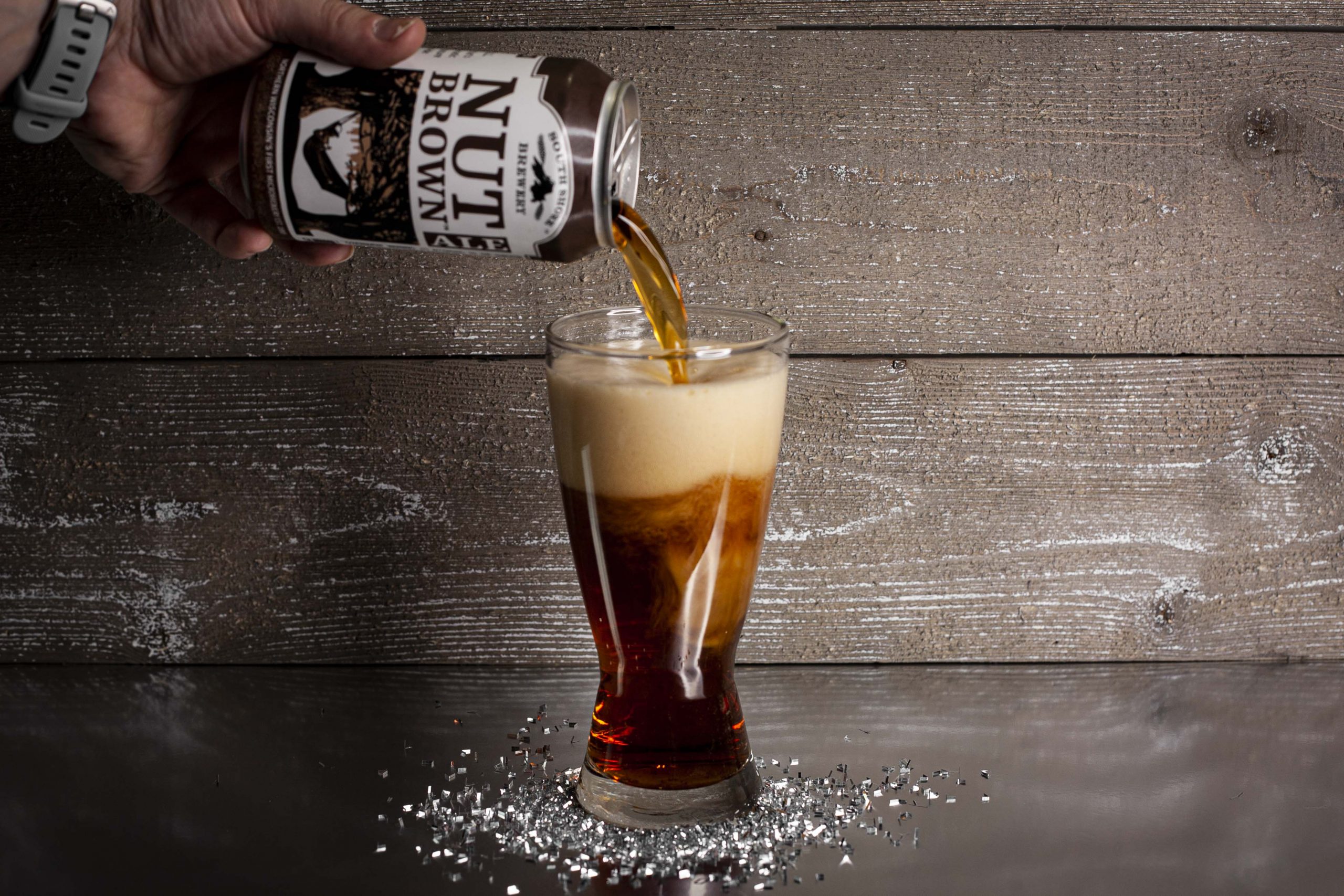 President and Brewer Bo Belanger says that "CBC was a bit epic this year for more reasons than winning the WBC medal". Exactly how it was epic was a long story, but simply being recognized by such a prestigious group of judges must be thrilling.
South Shore has been brewing for more than 25 years, claiming the title of "Northern Wisconsin's First Microbrewery". When they opened in 1995, Nut Brown was their first flagship beer. Over the years, they have perfected it into a timeless example of a classic brown ale.
"I believe our recipe hits a more sweet than bitter note. Isn't very aggressive alcohol wise," explains Belanger. "It took a long time for folks to not associate this beer as 'dark'. I don't drink dark beer was a phrase I continually heard and had to break down getting started."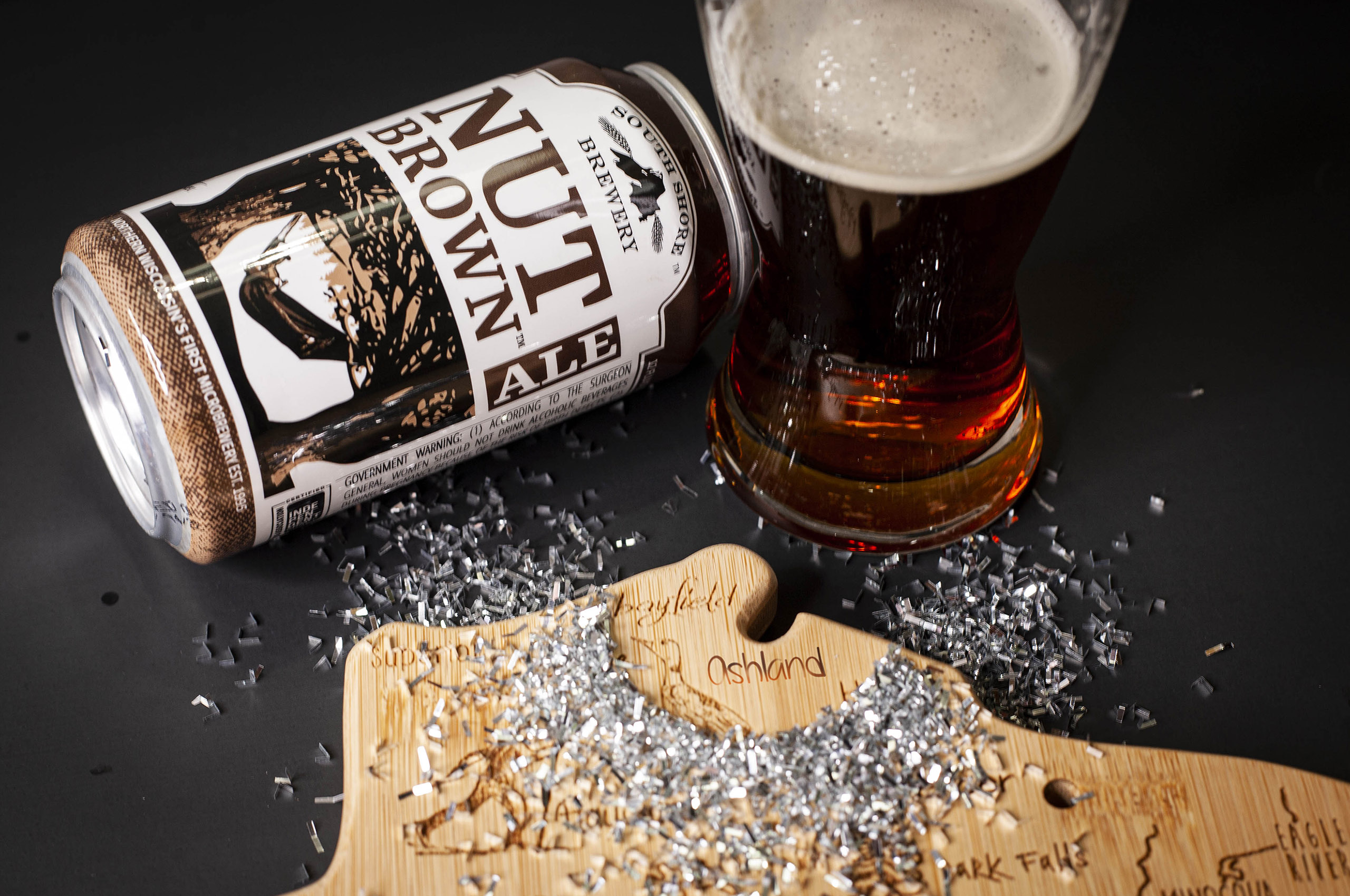 Find South Shore beers throughout Wisconsin, and in parts of Upper Michigan and Minnesota. Look for Nut Brown and their other core beers, including Inland Sea Pilsener, Northern Lights Ale, and Rhoade's Scholar Stout in 12 ounce cans and bottles.
---
Two Stall
Bronze Medal, Sweet/Cream Stout
This sweet, rich stout is a delectable, sip-able treat. And it's no stranger to taking home awards. Two Stall has won multiple medals in varying events. Most recently, gold at the 2020 Beer Wars, bronze at the 2021 US Open Beer Championships, and of course, bronze at the 2022 World Beer Cup.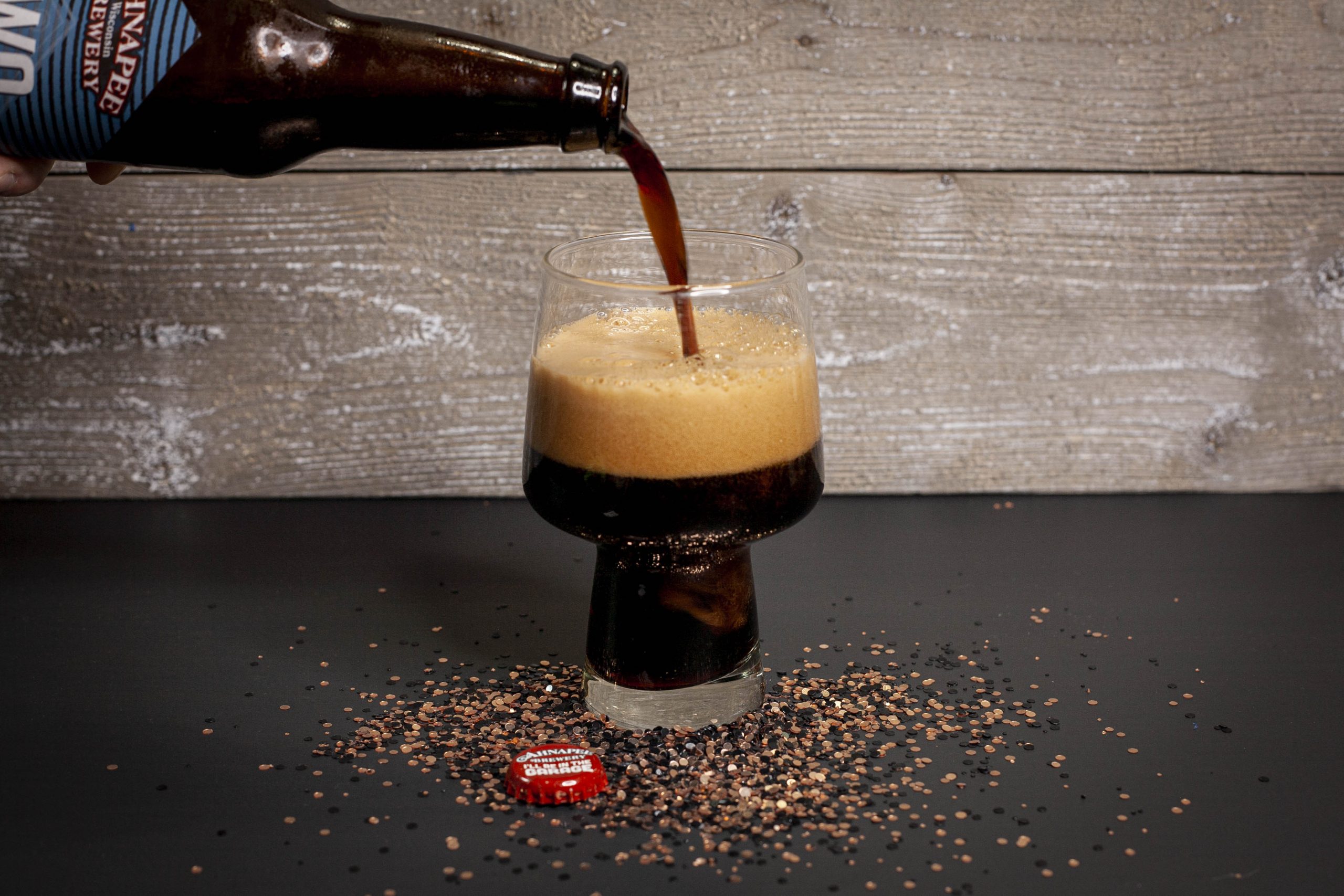 "The win at the World Beer Cup was definitely a proud moment," said Ahnapee Brewery's owner, Nick Calaway. "It's great to see one of our core beers, and one that aligns with our branding so tightly, win at the 'Super Bowl' of Craft Beer Awards!"
The name Two Stall refers to Ahnapee's iconic original taproom; the simple two-stall garage depicted in their logo. As a go-to craft beer spot in the lakeside town of Algoma, Wisconsin, this tiny tap room served barrels and barrels of beer since 2013… about eight barstools at a time. The original taproom recently closed, but they built a new, larger version just down the street, overlooking Lake Michigan. However, the symbolic two-stall garage remains integral to Ahnapee's brand. Their new production location in Suamico, Wisconsin, which opened in 2020, has a similar look and feel to the original taproom; just much more spacious.
Two Stall (the beer) is a beautiful example of a sweet stout; it pours dark and smooth with a creamy tan head. Rich, chocolatey flavor and a thick, malty body make it satisfying and warming- perfect for a cool fall day or as dessert, any day.
Any way you park it, Two Stall is a perfect fit. Find it in bottles throughout Northeast Wisconsin, and at select locations in the Milwaukee area.
---
North Tower Stout
Gold Medal, Oatmeal Stout
Unfortunately, this beer was hard to get in Green Bay. Only one 12 ounce can was available (for $7), and it was dated best by two years ago. Sources have confirmed, however, that this beer is fantastic on tap at the brewery near the northern tip of Wisconsin, on the shore of Lake Superior.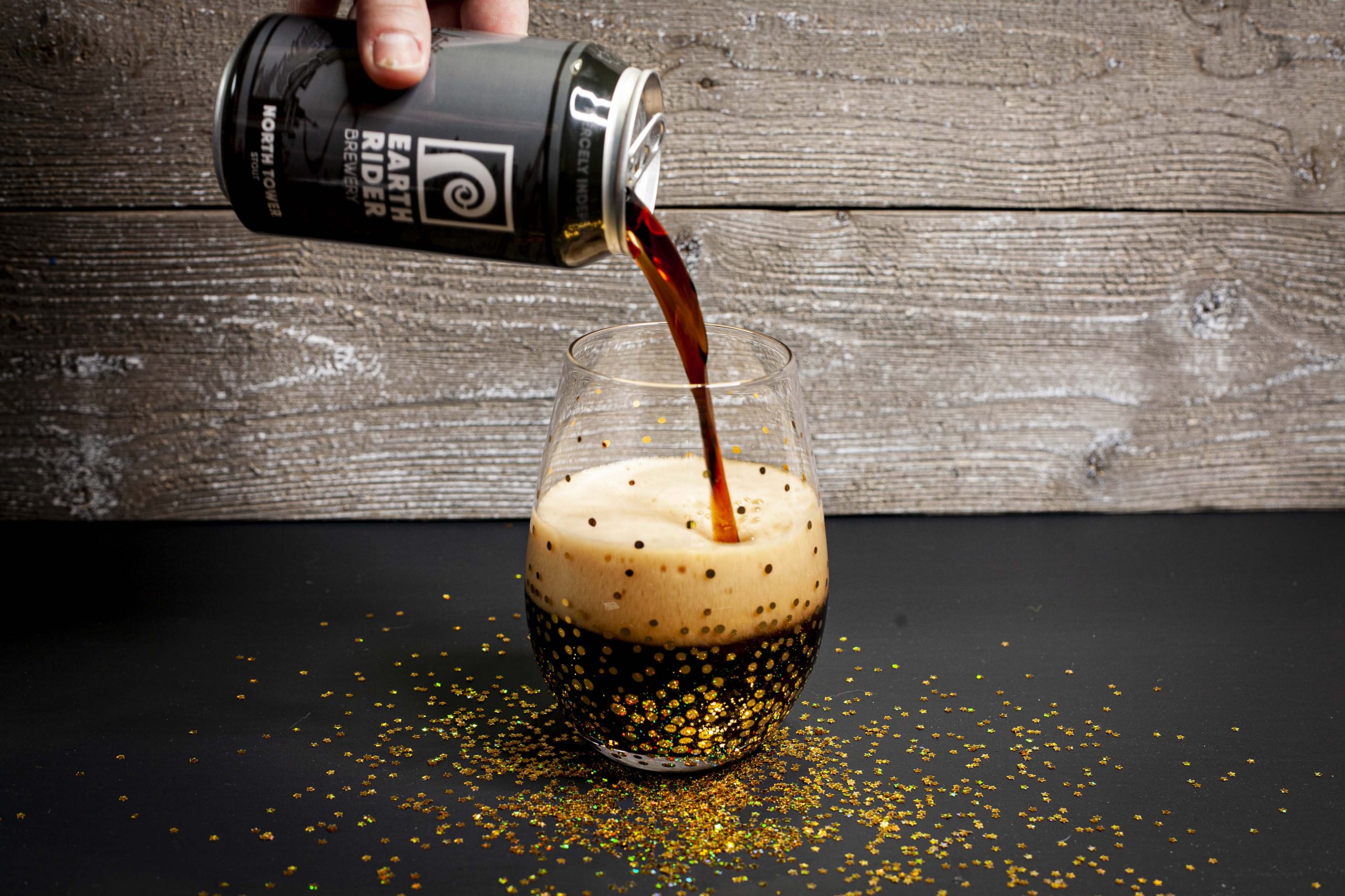 North Tower Stout pours dark and thick, and has a rich coffee-like bitterness. Despite the age of this particular sample, it didn't taste oxidized. However, some of the more delicate flavor notes may have dissipated over time. Earth Rider's website describes this stout as having "malty accents of chocolate, coffee, and dark fruit [that] are balanced with a restrained hop presence."
"Winning a World Beer Cup medal, let alone a gold, is one of the most honored validations of quality that a brewery can receive," said Earth Rider founder & CEO Tim Nelson. "Because North Tower Stout won back-to-back World Beer Cup medals in 2018 and again in 2022, I feel that that acknowledgement truly sets North Tower Stout apart."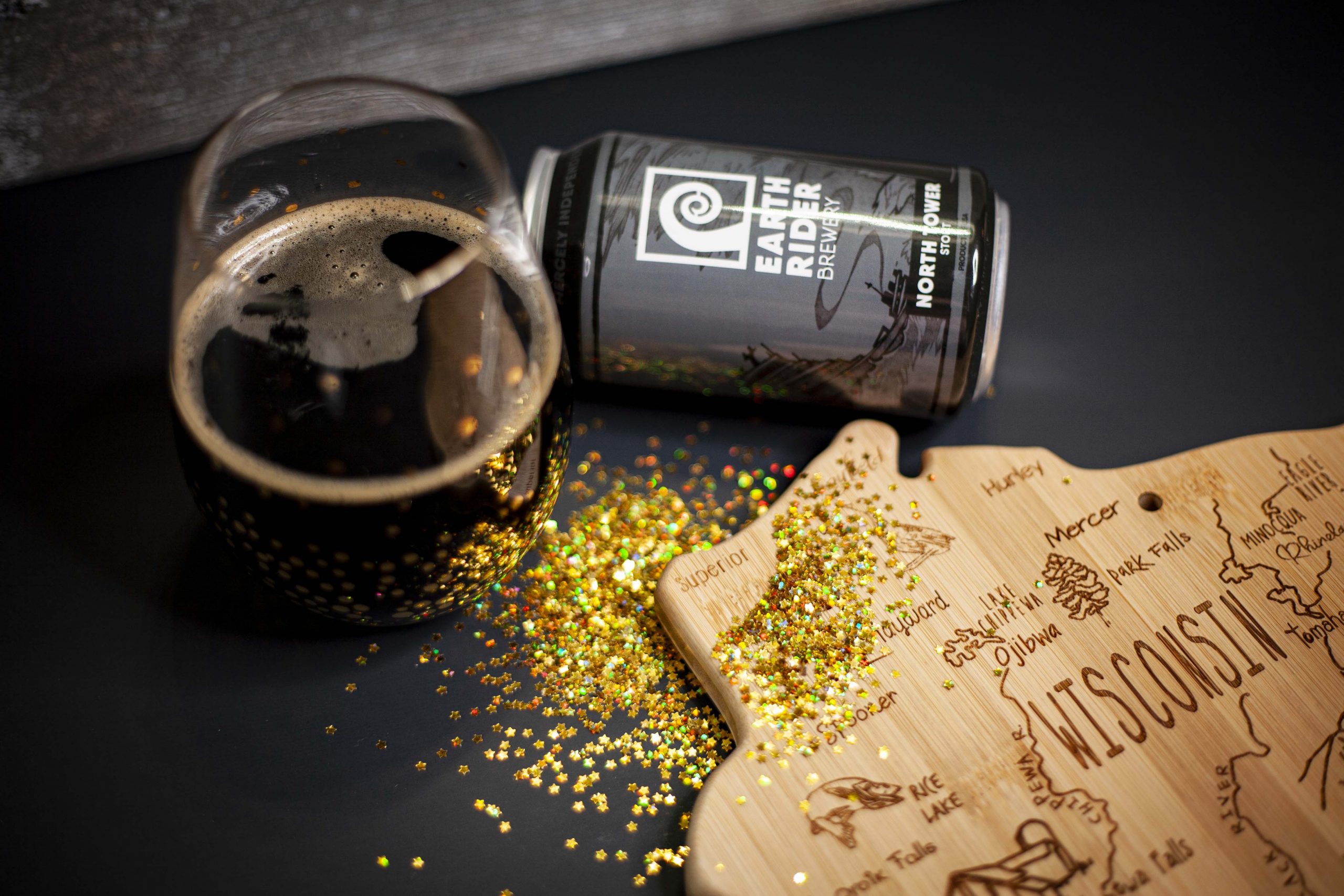 Want to see which of your favorite beers in your area took home some bling at the World Beer Cup? Check out the complete winners list here.
---