No Comments
Outside Pizza & Jagged Mountain Craft Brewery | Pizza Crust Pale Ale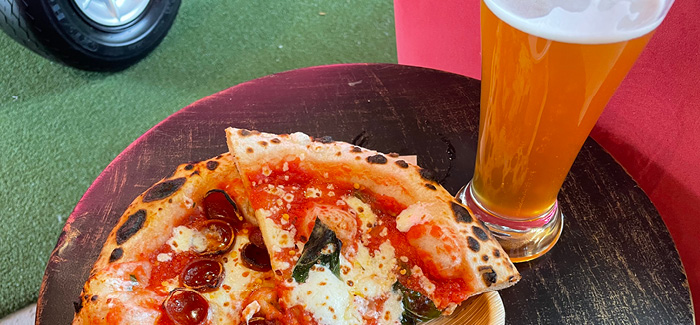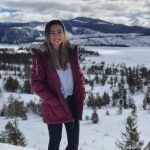 A pizza camper food truck has been bringing delicious pizzas to local Denver breweries, including Jagged Mountain Craft Brewery. Ashley and Ryan have been slinging pizzas out of their cute camper for just over a year now, with weekly staples and rotating pies, satisfying tastebuds all around the city. In honor of their first anniversary, they teamed up with Alyssa, head brewer at Jagged Mountain Brewing, to brew up a deliciously unique beer, Pizza Crust Pale Ale.
A little bit about Outside Pizza
"Outside Pizza started as an Instagram account featuring photos that we took of pizza outside," shares Ryan and Ashley. "We would take leftover pizza on hikes with us both as a snack and as the subject of some goofy photos. We quickly learned that there are a lot of hungry hikers out there that would give just about anything for a slice of pizza, so we thought it would be a really cool idea to post up at trailheads and sling some pies – thus the current iteration of Outside Pizza was born."
They continue, "We got our hands on an old camper trailer and built it out to become a pizza making machine! We mostly pop up to sell our pizza at breweries around the Denver area, but we still love doing outdoor events whenever we can."
Pizza Crust Pale Ale
View this post on Instagram
When it came time to celebrate their first anniversary, it seemed to be a no-brainer for them to team up with Jagged Mountain to create their anniversary brew.
"Jagged Mountain was the first brewery to give Outside Pizza a regular spot on their food truck schedule, and we couldn't be happier that they gave us a shot," they shared. "Alyssa is an awesome brewer who is unafraid to push the brewing boundaries, so we felt it would be a perfect match for us to get together and brew our Outside Pizza beer."
Ryan and Ashley continued, "We landed on the name 'Pizza Crust Pale Ale'. We wanted to brew a beer that is unique to Outside Pizza, so we decided to throw our pizza crust right into the mash. We cooked up a couple balls of dough in our pizza ovens that puffed up into light, airy bread pockets and we were hoping that addition to the mash would give the beer some nice bready characters. We make all of our dough from scratch using our sourdough starter which makes for a truly one-of-a-kind pizza, and therefore a one-of-a-kind beer. Our anniversary is in the middle of August and we wanted the beer to be accessible in the heat of the Denver summer, so we went with a simple pale ale recipe featuring Citra and Cascade hops, and we also threw in some additional pizza herbs as a 'dry-hop' to further drive home the idea that this is a pizza beer unlike any other."
View this post on Instagram
Because pizza and beer go hand in hand, the question has to be asked: "Have you thought about doing more beer/pizza pairings? Or highlighting beers that would go well with a certain pizza offering you might have that night?"
Ryan and Ashley responded, "We would LOVE to brew more pizza beers and do more pizza & beer pairings. We both have backgrounds working at breweries, so it is a natural fit for us to stay involved with breweries in some way. Jagged Mountain has a regular beer on tap called the Texas Suitcase that we have paired with one of our pizzas – We went with a Hawaiian-style pizza featuring pineapple and Canadian bacon that we of course named the Hawaiian Suitcase."
Where can you find them? 
You can find Outside Pizza's schedule here. They are at Jagged Mountain most Thursdays for the brewery's trivia nights. They are also at Ephemeral Rotating Taproom on Fridays throughout September, Cohesion Brewing every other Saturday, and Cerebral Brewing every other Sunday.
---