No Comments
South Carolina Brewers Guild to Host Inaugural 'Best of SC Craft Beer Festival'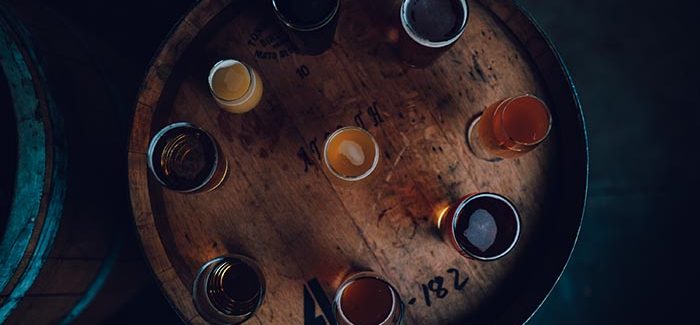 The South Carolina Brewers Guild will embark on a new tradition on October 15 in the state's capital, Columbia, by hosting the first annual Best of South Carolina Craft Beer Festival. This marquee event will present itself as the state's largest gathering of craft breweries on record.
Attendees will have a rare opportunity to partake in South Carolina's "largest ever gathering of the state's breweries that lets customers explore the state in a glass." The festival will feature over 50 participating breweries, including Birds Fly South Ale Project, Edmund's Oast Brewing Co., Revelry Brewing Co., Liability Brewing Co. and many, many more. 
All participating breweries must be South Carolina brewery guild members. This event will also serve as a fundraising effort for the SC Brewers Guild (SCBG) to help fund awareness and legislative efforts benefitting all of South Carolina craft beer. The festival will feature food, live music, a VIP experience (optional), and all the variety of SC beer you desire to sample.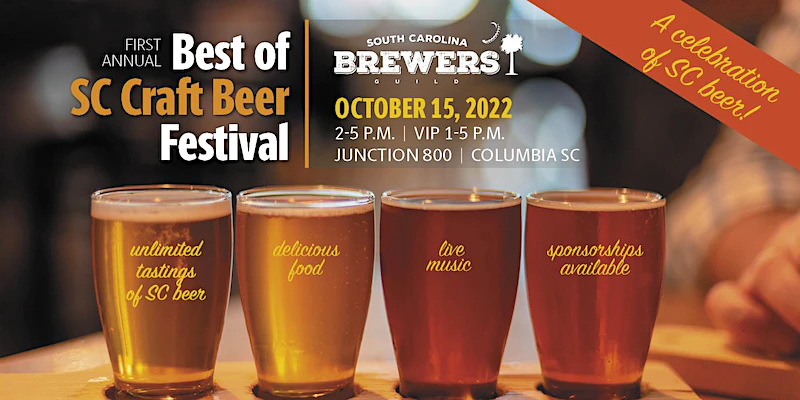 "South Carolina's craft beer scene has always been fantastic, but even many within our state haven't realized just how many great local drinks are made right here in their own backyard," says Pearce Fleming, President of the Guild and owner of North Charleston's Commonhouse Aleworks. "The Best of SC Craft Beer Festival is an incredible opportunity to showcase that, and to bring together the brewers and craft enthusiasts that make our beer industry so special. We look forward to using the awareness and focus an event like this brings to continue to modernize South Carolina's rules and regulations to support and uplift our small businesses, breweries included."
Interested patrons can purchase both general admission and VIP tickets through EventBrite via this link. General admission tickets include a commemorative tasting glass, unlimited craft beer tastings from breweries around the state, live music, and food available for additional cost. VIPs will enjoy commemorative tasting glass, unlimited craft beer tastings from breweries around the state, live music, one hour early entry to the event, access to the VIP lounge where food and non-alcoholic beverages are included, and exclusive tastings of SCBG award winning craft beers. General admission is from 2-5p.m. while VIP hours enjoy their experience from 1-5 p.m.
"With long-established beer scenes in neighboring states, South Carolina doesn't always get its due," explains Terry Horner, founder of Greenville's Liability Brewing Company and the Vice President of the Guild. "But we have everything from Hazy IPAs to traditional Pilsners, and from big Imperial Stouts to Fruited Sours, and much more in between. We're just excited to show people that our state has a brewing industry just as rich and worthy of exploration as anywhere else in the Southeast."
South Carolina Brewery List
Peak Drift Brewing Company
Peak Drift Hard Seltzer Company
Low Tide Brewing
Magnetic South Brewery
Liability Brewing Co.
Kite Hill Brewing
Holy City Brewing
Model A Brewing
Silos Brewing Co
Steel Hands Brewing
Edmund's Oast Brewing Company
The Southern Growl Beer Company
Indigo Reef Brewing Company
Carolina Bauernhaus Ales
Seminar Brewing, LLC
Slow Play Brewing
Lore Brewing Company
Plankowner Brewing Co
Fireforge Crafted Beer
Columbia Craft Brewing Company
Tidal Creek Brewhouse
Frothy Beard Brewing Company
Pangaea Brewing
Tradesman Brewing Co.
Savage Craft Ale Works
Legal Remedy Brewing
Hazelwood Brewing Company 
Sumter Original Brewery
New Realm Brewing Company
Southernside Brewing
Double Stamp Brewery
Two Blokes Brewing
River Rat Brewery
Wild Heart Brewing
Dust Off Brewing Co.
Shellring Ale Works
Angry Fish Brewing Co.
Lot 9 brewing Co.
Commonhouse Aleworks
River Dog Brewing 
Tideland Brewing
Holliday Brewing
Brewlab Charleston
New Groove Artisan Brewery
Pawleys Island Brewing Co.
Iron Hill Brewery and Restaurant
Replay Brewing 
Birds Fly South Ale Project
RJ Rockers Brewing Company
Good Times Brewing
HabiTap
Amor Artis Brewing
Hobcaw Brewing Company
Revelry Brewing 
Tetrad Brewing Company
Support South Carolina's growing craft beer scene in the most enjoyable way by attending this inaugural event and perhaps find your new favorite brewery and beer, all while benefiting a good cause. 
Event details
When: October 15th, 2022
Where: Junction 800 | 800 Gervais Street Columbia, SC 29201
Admission:
About the South Carolina Brewers Guild
The South Carolina Brewers Guild is a non-profit trade association advocating for and representing the state's thriving craft beer community through its pillars of education, outreach, and support. SCBG's more than 80 member breweries aspire to be leaders in the Southeast in product quality and social impact, furthering the vision of a better beer industry for customers, brewers, and the community alike.
---