No Comments
Southernside Brewing Co. | Descendant of The Stars Barrel Aged Molé Imperial Stout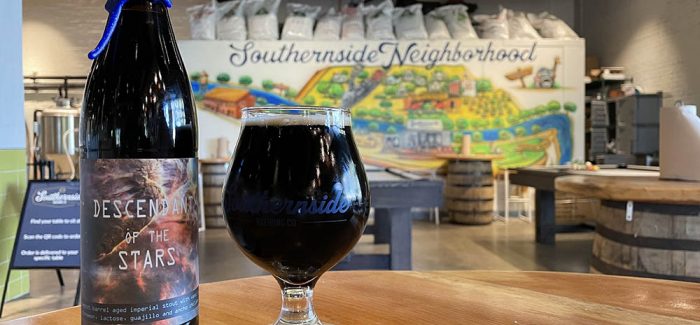 Set out for southern fusion flavors and a relentless pursuit of perfecting beer and you'll find yourself at Southernside Brewing Co. Located in the Southernside neighborhood of Greenville, SC, this brewery is just a handful of blocks from downtown and a stone's throw from where the likes of Shoeless Joe Jackson used to knock baseballs and steal bags on the diamond. Southernside is positioned to take its local patrons, as well as your taste buds to the next-level and beers like Descendant of The Stars Barrel-Aged Molé Imperial Stout will do just that.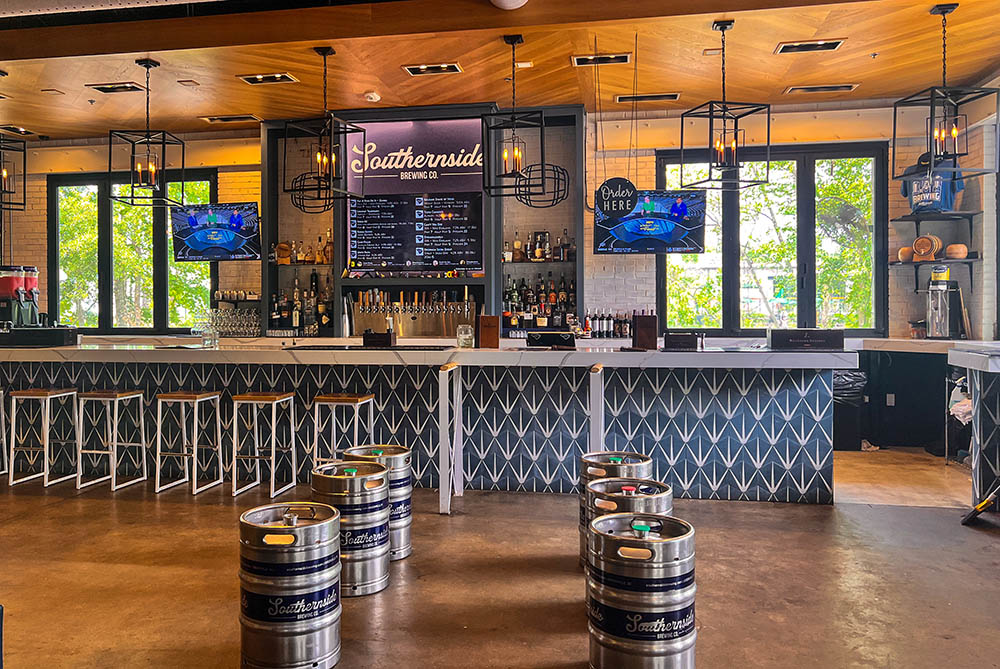 Creative recipes and experimentation can thrive when you're working on a 3 and 1/2 barrel system, as is the case at Southernside. "It gives us the ability to fine-tune and make granular comparisons while exercising creativity with our beers." says Kenny Driggers, head brewer.  They offer brewery guests everything from lagers, shandys, New England IPAs, and the aforementioned Barrel-Aged Molé Imperial Stout. Being highly-collaborative with their kitchen's chef and staff has created a great foundation for crafting locally-sourced ingredients and infusing them into their beers.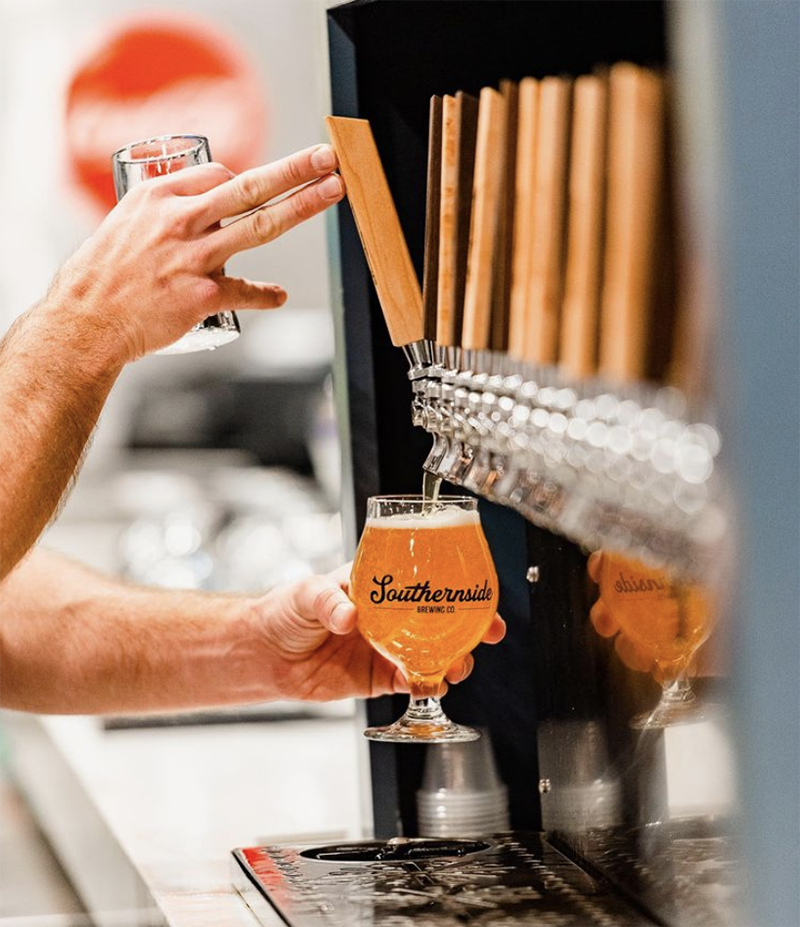 This is one of the pieces that makes Southernside distinct. Their kitchen does not simply act as an add-on to their brewery; rather, it is an integral and active participant in what they brew and how they extract flavors. It also aligns with their southern culture focus, bringing flavorful twists on staples such as a southern fried chicken sandwich, pork rinds, and fried pickles. With a southern inspired atmosphere and a consistent rotation of New American styled beers, there are innumerable reasons to head over to this brewery and enjoy something new. Being located on a 22-mile biking and running greenbelt (Swamp Rabbit Trail) they also like to offer ample health-conscious options for the passerby including low-calorie and lower ABV choices as well. Southernside focuses on being hyper-local and community based. "Our staff also work hard to educate our customers with respect about our beers and their flavors" said Driggers. With a small-batch focus their team is constantly releasing something new or a retake on a recognizable beer from their menu. "We're very harsh on our beers and are constantly trying to make them better." With 16 taps to offer only 5 are consistent "staples" that they bring back regularly.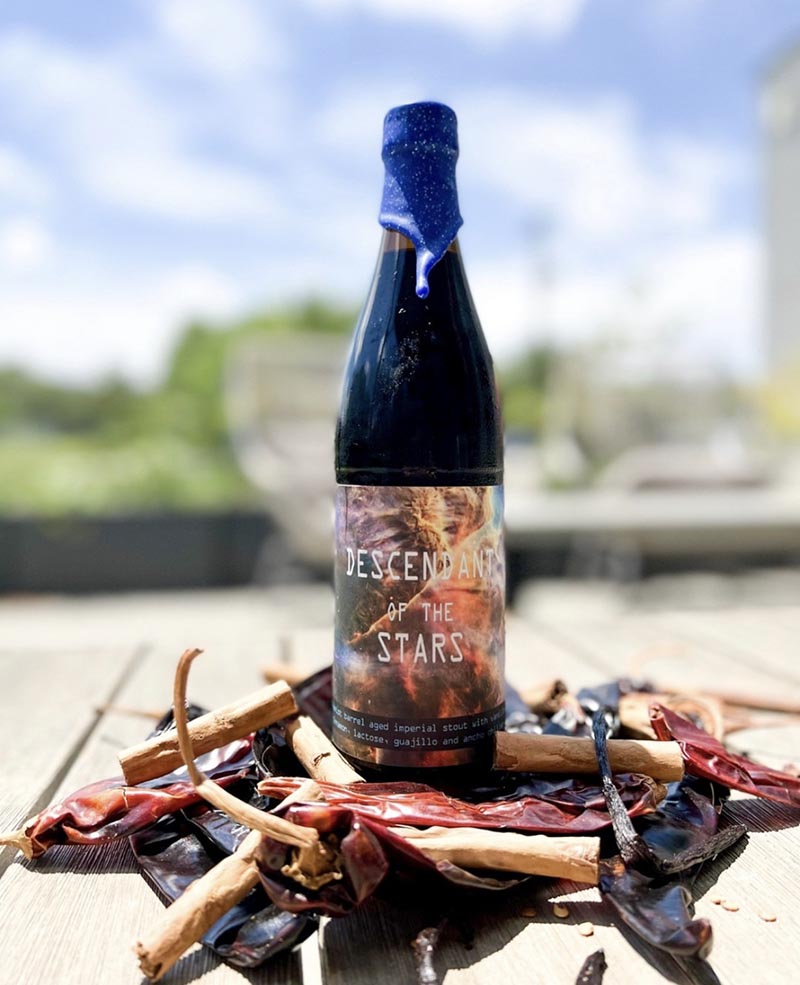 Descendant of The Stars is a showcase of the brewery team flexing their innovation and spirit. This Imperial Molé inspired Stout strikes all the right chords. Barrel-aged for 8 months in Chemist  (Asheville, NC) single-malt whisky barrels, it is complexly balanced with a fascinating tension of flavors. It contains all the characteristics of roasted chili peppers but without overwhelming heat, just a pleasant warmth from the chilis, and all the nuanced richness of chocolate without being too sweet. As is the case with nearly all of their beers, Descendant of The Stars is named after a song. The tune by Action Bronson gets your attention and has a bold beat, which fits well with this beer. No extracts are used in this beer (nor any at Southernside); it is brewed with high-quality cocoa nibs and locally sourced quajillo as well as ancho chili peppers, vanilla, cinnamon, lactose, and lightly carbonated. This beer is 13.6% ABV and is the second edition in their Barrel Bottle Program. The brewery also plans to reuse the base beer for future barrel age and bottle projects within this program. 
Descendant of the Stars was newly released in late August of 2022.  Though Southernside currently does not distribute, you can enjoy this beer at their spacious taproom and outdoor beer garden at 25 Delano Dr Unit D, Greenville, SC 29601 and/or purchase 500ml bottles to-go. "No beer is perfect, but on this one, we don't know much that we would change, if at all." said Driggers. As we head into autumn and enter into the ideal weather for stouts, be sure to put this one on your list as a must try. And if you want to bring a conversation piece to your next bottle share or to a table with friends, then consider Descendant of The Stars: a beer that unpacks complex flavors, which compliment and build on each other with each striking sip.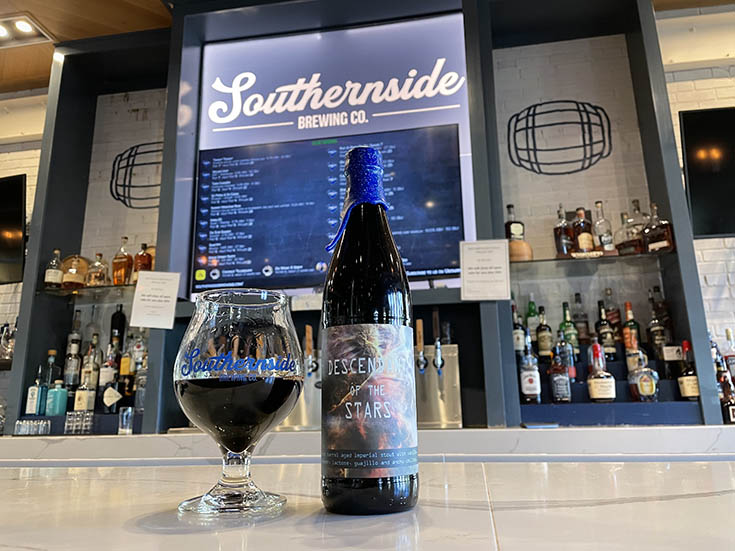 ---