No Comments
The Illinois Breweries That Produce GABF-Winning Hazy Beers (And That's Not All They Do)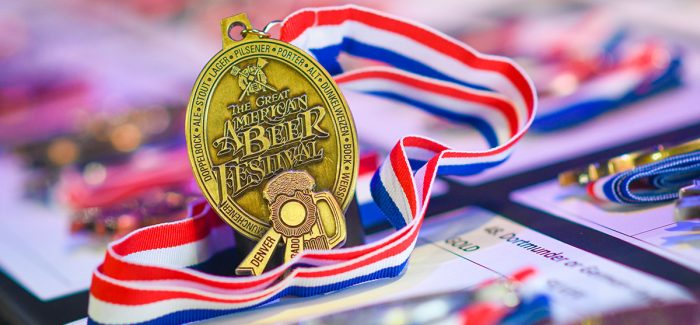 The Brewers Association introduced the Hazy/Juicy IPA category for the Great American Beer Fest awards in 2018, reflecting the style's presence and impact within the brewing world — and the first gold medal went to Chicago's Alarmist Brewing with its Le Jus. Eris Brewery & Cider won bronze in that same category for its Folken Haze. The next year, Old Irving followed with another gold for its ever-popular Beezer. Indeed, Chicago stood as king of the hazy-beer hill. All told, seven Illinois breweries have received a total of nine medals (four gold) in five years for the hazy/juicy Pale Ale, Strong Pale Ale, IPA and Imperial IPA categories. Here are the The Illinois Breweries that Produce GABF-winning Hazy Beers, and a little more about what they brew, serve, and offer.
2018 — Gold, Hazy/Juicy IPA Category
Chicago, Illinois
The Alarmist Brewing description says it all "Our flagship New England Style IPA. Did we mention it won the 2018 and first ever GABF Gold Medal for Hazy/Juicy IPA? Oozing with hop flavor from Mosaic and Citra hops. A bit of lactose for body and underlying sweetness. Hazy, juicy, whatever the kids use to describe this style these days. Overrated."
Come for the haze, stay for the…
Did you know Alarmist has also won two GABF bronze medals for its "Corn Fed and Midwestern Bred" Midwest Royalty American Style Lager. One might argue that Le Jus is not even in the brewery's top-five beers, which speaks to the quality of its beer portfolio. Have you had its Crispy Boy Pilsner or Pantsless Pale Ale? You should.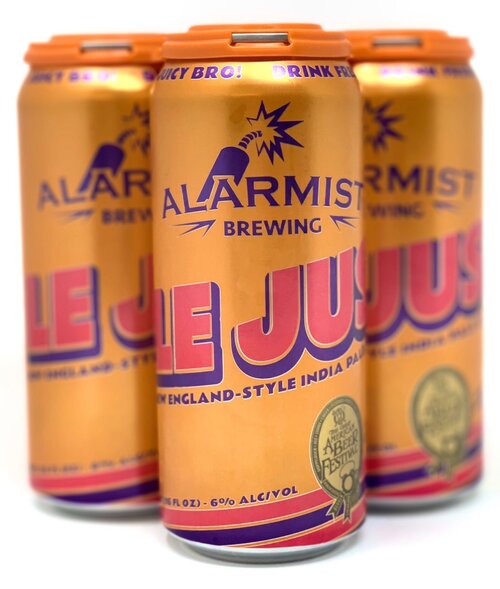 ---
Building brand awareness is a vital part of a craft brewery's success and medals are like jet fuel for marketing campaigns, but with participation costs hovering in the five-figure range, what kind of return on investment can breweries expect from Great American Beer Festival? PorchDrinking spoke to various breweries throughout the week of the festival to find out what the pros and cons are of participating in this legendary event.
---
DESTIHIL Brewery |  DeadHead IPA Series (Hazy/Juicy)
2021 — Two Medals: Haze of the Dead Imperial IPA (Bronze) & TourBus IPA (Gold)
Normal, Illinois
About the series: "Our DeadHead IPA series melds the alluring vibe of some of our favorite music with unbounded takes on the hoppy beers we love to drink, unleashing a whole new groove."
Come for the haze, stay for the…
DESTIHIL won a silver medal in 2022 for its Dosvidanya Mexican Chocolate (Chili Beer category), the brewery's sixth GABF medal. In fact, the Dosvidanya® series — BBA Imperial Stout, Rye BA Imperial Stout and Mexican Chocolate — have won a multitude of GABF & FoBAB awards. And, it goes without saying that DESTIHL produces plenty of popular sour beers. And there's the food, the barrel room, well, they do operate a 47,000 square-foot Brewery and Beer Hall, after all.
View this post on Instagram
View this post on Instagram
2018 — Bronze, Hazy/Juicy IPA Category
Chicago, Illinois
Eris notes, "New England IPA brewed to be as juicy as possible, because people love that."
Come for the haze, stay for the…
Eris is a restaurant, brewery, cidery, and offers cocktails and more. Folken Haze can be found from time to time, but Eris is more than just a hazy-beer brewery, to say the least. For sure, try the ciders. But, eating a meal on its outdoor patio and having any one of its many type of libations makes the visit to Eris more than worth it. And for history buffs, Eris won an award in 2019 for turning an old Masonic Temple into a brewery, preserving the historic building. The process took about four years (2014 – 2018); the brewery & cidery opened in 2019.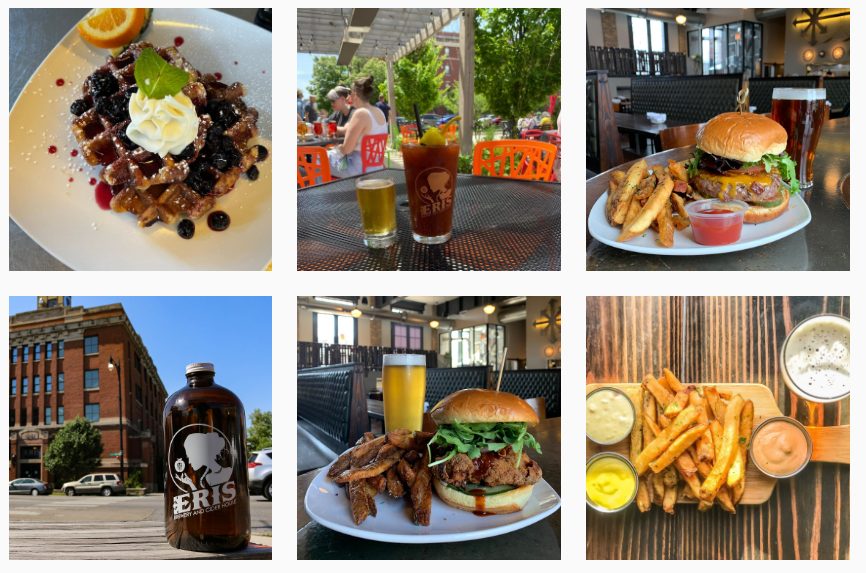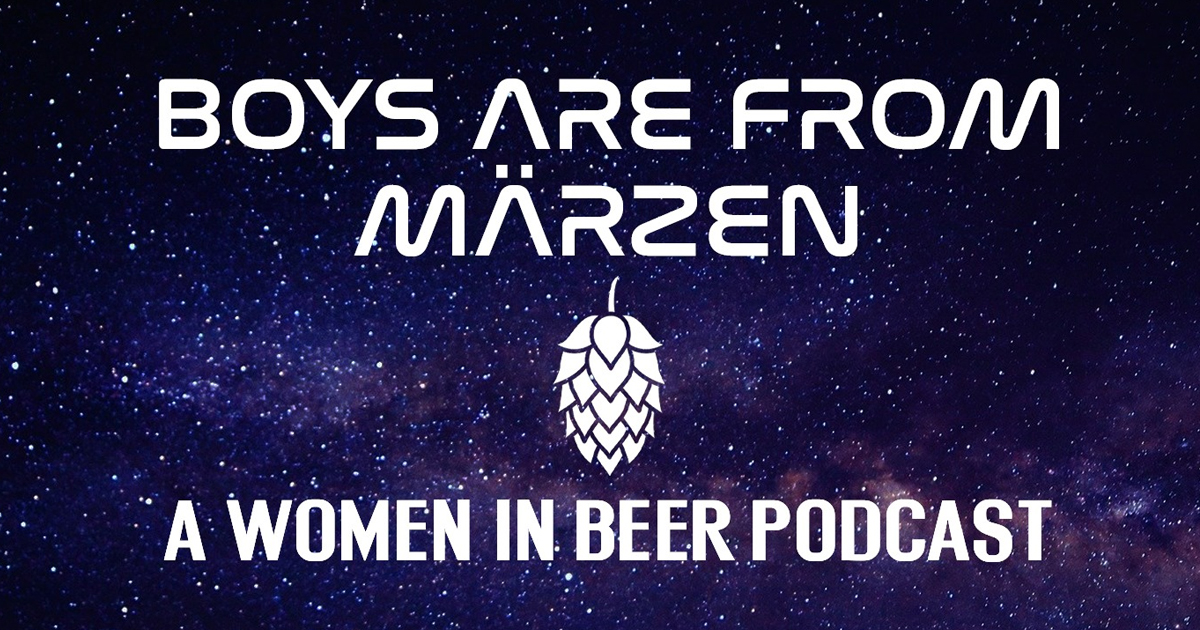 2019 — Gold, Juicy or Hazy IPA Category
Chicago, Illinois
These days, one can drink Beezer, Double Beezer, or Triple Beezer. The Citra & Mosaic hopped hazy IPA has grown into a Chicago favorite, and routinely served on the floor at GABF.
Come for the haze, stay for the…
Did you know the brewery also won silver for its Della Kolsch-Style beer in 2021? Pair it with one of Old Irving creative burgers or wings and, well, it'll bring joy to your life. Old Irving's seasonal beers and "Cushy Series" (Fruited Sour Ales) continue to grow in popularity. Also, the breweries Barrel-Aged Krampus series is slowly but surely becoming one of the best in the city.
View this post on Instagram
Penrose Brewing | Goofy Boots Juicy Midwest IPA
2020 — Gold, 2019 — Bronze | Juicy or Hazy Strong Pale Ale Category
Geneva, IL (western suburb of Chicago)
Penrose notes that Goofy Boots is "a circus full of intense hop flavors…Notes of candied lime, ripe peach, and dried mango swing from your palate, landing on a pillowy wheat finish."
Come for the haze, stay for the..
While its hard to argue that the unique Midwest IPA is worthy of drinking while visiting Penrose, the brewery has one of the best barrel programs – notably its wilds — in the city, if not beyond. It's Wild 18, a Dry Hop Wild with Brett, won gold at FoBAB in 2015. In 2020, its Wild 26, a Oak-Fermented Brown Ale with Cherries, took home a FoBAB silver medal. (And don't sleep on the brewery's Pils!)
Ravinia Brewing Co. | Diversey Station Juicy Session Pale Ale
2022 — Bronze, Juicy or Hazy Pale Ale Category
Chicago & Highland Park (northern suburbs of Chicago)
Ravnia says, "From an inkling idea of a Sessionable Hazy that we first brought to market in 2018 to a Kveik-brewed, juicy bomb that commemorates the rich history of brewing in Chicago, we're so proud of the hard work that our brewing team has put into fine-tuning Diversey Station over the years."
Come for the haze, stay for the…
Tacos. Seriously, don't forget the tacos (Chicago location). Okay, not just the tacos. Don't overthink it at Ravinia. They brew the so-called "simple" beers exceptionally well: IPAs, Hazy IPAs, Saisons — you name it. For IPA & Hazy IPA fans, Ravnia is a wonderful place to visit. There's also a full cocktail & spirit menu for you, or the non-beer drinker in your group, to enjoy.
View this post on Instagram
2021 — Bronze, Juicy or Hazy Pale Ale Category
Savoy, Illinois (a southern suburb of Champaign – Urbana)
Triptych Says: "Originally brewed in 2016 as a love letter to the trendsetters on the east coast, Dank Meme is a lightly golden pale ale brewed with plenty of oats and wheat. This beer is us not caring about aesthetics or clarity, in fact, not a single fining was given to this beer. Hopped like a boss with El Dorado and plenty of Citra in the finish. It is sure to make you say, 'O RLY? ME GUSTA!' or not, cause we all know that haters gonna hate… true story."
Come for the haze, stay for the…
Hazies! The brewery near the University of Illinois largely produces beer in small batches, resulting in numerous beers each year including an abundance of Hazies. They take Hazy beers seriously! So, if you like Hazies, Triptych is really a place for you. But, they also have a sneaky-good barrel program (and good stouts in general) along with plenty of lagers and "easy drinkers." They have been around since 2013 — and expanded, for a reason.
View this post on Instagram
---